Stories of the Bristow Family
There is big history. That is the story of the phases of existence over the last 14 billion years.
There is middle history. That is the stories of the written history of the world here on earth and national history and state history as taught in schools.
There is little history. That is the stories of the histories of individual families or communities or companies or other organizations.
These are a few stories of little history that I have compiled.
History is both incomplete and inaccurate as well as being biased to the viewpoint of the historian. To make this point I often tell people who have learned their history in our school system, and who often believe as a result that what they have learned is both complete and accurate, that what they have learned is a "lie". History is many things:
It is a list of significant events that have happened in the past including dates, places, what happened and why it was significant.
It is stories of adventure and war and romance and politics and discovery and creative endeavors and also failures and death and plagues and famine and natural catastrophes.
It is an understanding of the type of life necessitated by the needs of everyday living in various places and times.
It is a story of advances and setbacks both in man and in the world or universe as a whole.
It is a "what if?" story. It invites imagination of possibilities of other worlds and alternate histories.
These are the little history stories that I, an older man, believe to be true based on what I have been told and the research I have done and what I can remember. It is an incomplete story, but I write what I can of it in hopes that it may be of interest to some people in present and future generations.

Links to Stories (more stories below):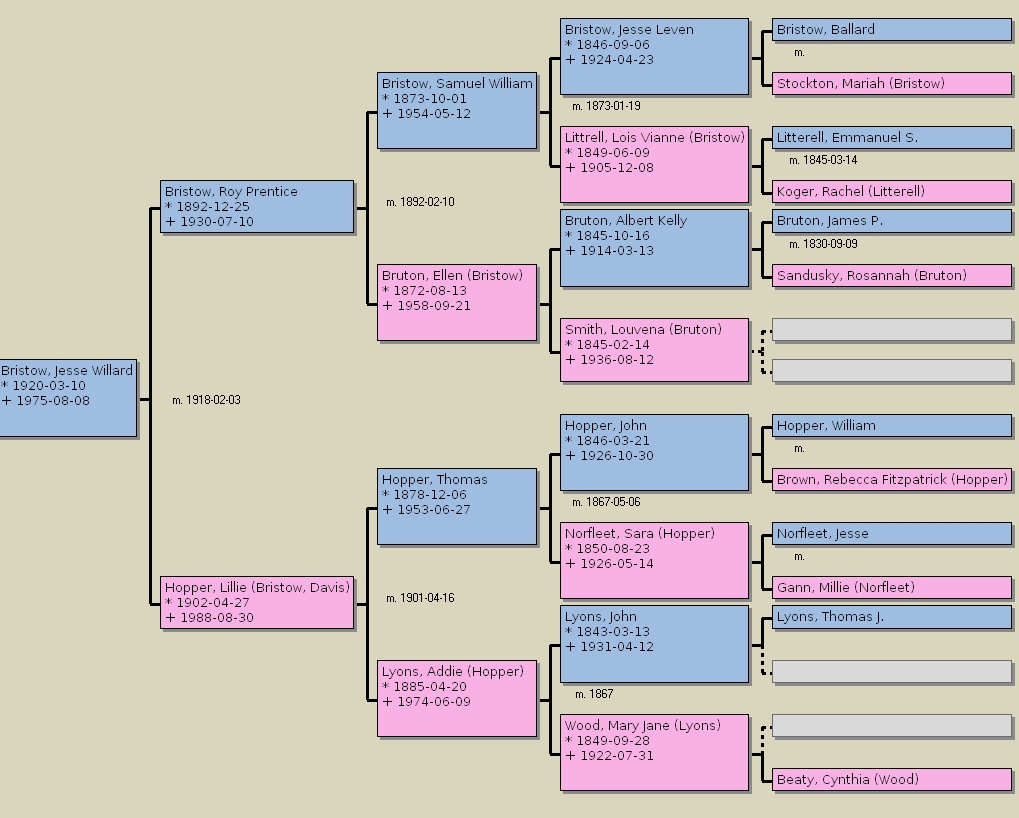 Mary Elizabeth Lyons Wright was the daughter of John Lyons and Mary Jane Wood. So she was a sister to Addie Lyons Hopper.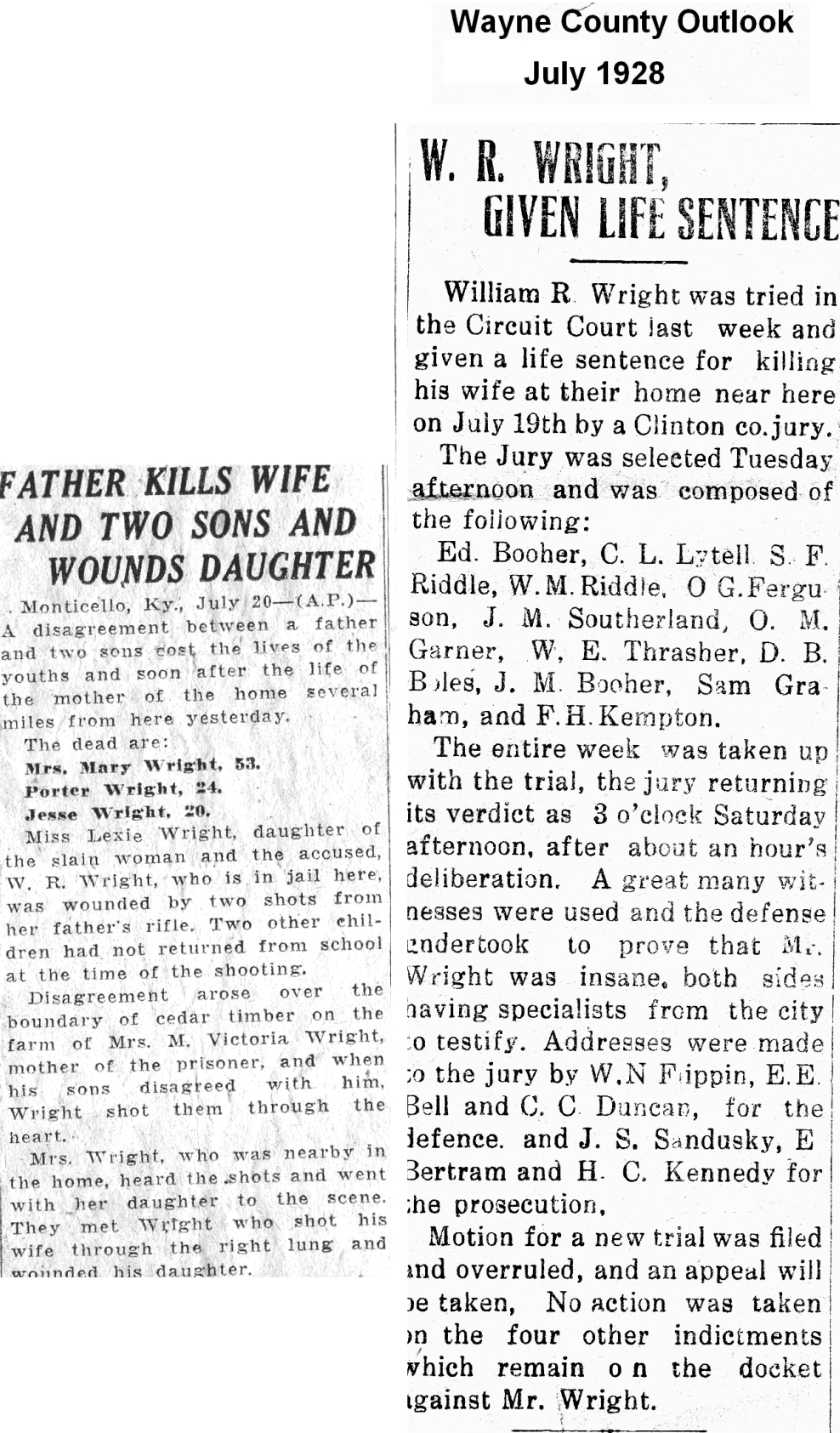 Newspaper Clippings

               
 
The will of John Bristow probated November 6, 1716 and recorded in Will Book
"B", page 51, Middlesex County, Virginia reads:
 
"In the name of God Amen I John Bristow being sick and week in body but
sound in memory do make this my last will and testamt First I bequeath my
soule to God that made itt & my body to the earth from whence it came & all
my worldly goods as follows:  Item I lend unto my loving wife Mary Bristow
one negro woman named Judy during my wifes natural life & then to return to
my estate againe  Item I give and bequeath unto my son Nicholas Bristow one
negro man named Jack to him and his heirs  Item I give and bequeath unto my
Daughter Anne Bristow one negro woman named Bess with incres to hur and hur
heires forever  Item I give and bequeath unto my grandson John Bristow sone
of Tho: Bristow one negro boy named Majgor (sic) to him & his heires  Item I
give and bequeath unto William Owen sone of Michaell Owen one negro garle
named Lotty hur and hur incres forever  Item I give and bequeath unto my
sone William Bristow one negro garle named Rose hur and hur incres forever
Item I give and bequeath unto my sone James Bristow one negro woman named
Giney hur & hur incres forever  Item I give & bequeath unto my two sones
Nicholas & James Bristow my land to be equally divided betoined them &
theire heires forever  Item I give & bequeath my hole personall estate to be
equally divided betoine my wife & children after my debts first paid &
Lastly I appoint my sones Nicholas & James Bristow Executures of this my
last Will & Testament as witness my hand and seale this 20 Day of Feb 1716
 
(Signed)  JOHN BRISTOW (Seal)
signed and sealed & delivered in Jre of us
       Will Daniell
       Will Daniell jnr.
Probated November 6, 1716"
 



               
S. W. Bristow's Family
 
By Duane Bristow, his great-grandson

Dr. Samuel W. Bristow practiced medicine in Clinton and Wayne counties of 
Kentucky during the first half of the twentieth century. Dr. Sam, as he was 
called, worked in an area with no hospitals or clinics, no nursing homes, and 
no pharmacies. Much of the time he worked in his patient's homes. He learned 
to practice medicine without X- Rays or medical labs. During his career he 
delivered over 2,000 babies including one set of triplets. According to my 
father who was born in 1920 and was a teenager during the Great Depression, 
Grandpa lived at Zula in Wayne County until the mid 1930s when he moved to 
Albany in Clinton County. He rode a gray horse to make house calls and had a 
kerosene lantern which he hung on the saddle horn because he often had to go 
on house calls late at night. After he moved to Albany he got an old black 
model T Ford and learned to drive that, although Dad said he never looked at 
the road when driving, but wanted to look at the farms and countryside along 
the way. He probably got in that habit riding the old horse. My grandmother, 
his daughter-in-law, tells me that he would often pass her father's house in 
the early 1900s asleep on his horse after staying up nights with a patient. 
The horse knew the way home so Dr.Sam didn't have to pay attention to driving. 
According to my dad, in the wintertime, Grandma Ellen, Dr. Sam's wife, would 
sometimes have to come out of the house with a hammer to break Dr. Sam's boots 
loose from the stirrups where they had frozen after he had crossed a stream on 
his return home. (I have the old kerosene lantern he carried on his horse. It 
still works but gives very little light.) 

And I remember Dr. S.W. Bristow, the surviving twin born to Jesse Leven and 
Lois Bristow in the Fall of 1873 in Beech Bottom in Clinton County where he 
grew up. He had a brother, Prentice, four years younger than himself and a 
sister, Gertie, eight years younger. In the winter of his eighteenth year, 
against his parents' wishes, Sam married Mary Ellen Bruton from Cumberland 
County. Because of disagreement over his marriage his parents refused to help 
Sam in his desire to attend medical school at the University of Tennessee. 
With the loyal support of his wife he got a job in a stave mill and worked his 
way through medical school graduating in 1901 at age 28. During this time Dr. 
Sam, as he came to be called, had two sons born in the first and third years 
of his marriage. Until they were 60 or 70 years old Sam and Ellen Bristow 
lived in constant poverty and often fear of starvation and left a legacy of 
frugality which was to influence their descendents for at least three 
generations. 

Although one of the first in his area to have electricity, a 
telephone, and, during the second world war, a car, Dr. Sam died in 1954 in 
his home in Albany, Kentucky never having had a bathroom. He taught school for 
a while and set himself up in medical practice in Hegira in Cumberland County, 
Kentucky. Later he moved his practice to Gap Creek, Zula, and Powersburg in 
Wayne County and around 1935 to a house on Washington Street in Albany, 
Kentucky. His mother died in 1905 and Dr. Sam did not get along with his step 
mother. His two sons married in 1917 and 1918 and by 1928 each had two 
children. His father died in 1924 when Dr. Sam was 51. 

In 1930 Dr. Sam's younger brother who was a doctor in Texas wrote inviting Sam 
and Ellen to let the boys take care of things while they visited him in Texas. 
They took him up on the offer and went to Texas returning in time for the 
funeral of their eldest son who had died of a bowel obstruction at the age of 
38. Although, he often was paid for medical services in produce and livestock, 
charging $4.00 for a house visit and $10.00 for delivering a baby, Dr. Sam was 
able to get enough money ahead by the second world war to acquire several 
tracts of land in Clinton and Wayne Counties. 

On October 10, 1953 Clinton, Wayne, and Cumberland Counties honored Dr. Sam by 
proclaiming Dr. Bristow Day with a day long program on the courthouse square 
in Albany. A large crowd attended including several hundred of over 2000 
babies Dr. Bristow had delivered. 

In May 1954 Dr. Bristow died quietly in his sleep leaving his wife, one son, 
seven grandchildren and four great grandchildren. Four years later Ellen died 
of cancer and his farm on Washington Street was named the Bristow subdivision 
with Bristow Street bisecting it. He and Ellen were buried at Gap Creek 
cemetery in Wayne County Kentucky. 

I have his ledger from the fall of 1933 through the spring of 1934. It is an 
old dry and brittle accounting journal about 4 X 7 inches. It is handwritten 
in pencil. Although mostly clear and legible, it is difficult to read in some 
places. For any who are interested I reproduce parts of that journal here. 
There are also some entries from his journal of 1949. 

Of particular interest to some will be such items as the charge for delivering 
a baby, which usually involved a house call and sometimes staying overnight 
with the family. He charged $10.00 for that in the 1930s. The charge for 
setting a broken arm was $2.00. The charge for pulling a tooth was 50 cents. 

Note: I may have some of the names spelled wrong due to difficulty in reading 
the journal. Also it is sometimes difficult to tell if an entry was charged or 
was paid because in the beginning of the book, grandpa put charges in one 
column and payments in another but later he began putting everything in the 
same column and making a checkmark when the patient later paid the charge. The 
reader should also recognize that grandpa not only ran a physician's business 
but also a farm and sometimes took payment in days work on the farm or in farm 
produce. 

September 1933

Note: - at this time he was at Zula in Wayne County KY

Sept. 1
    Charley Dalton - med - charged - 10 cts.
    Hardy Cross - pd. by cash - 1.00
    Wyet Alkins - pd. by cash - 1.00
    Gear Daniel - charged - 3.50 on Aug. 31 & 3.50 on Sept. 1
    Lewis Patton - med - pd. - 10 cts.
    Mrs. Patton - med by Lewis - pd. - 25 cts.
Sept. 2
    Hardy Cross - med - charged - 60 cts.
    Mrs. Patton - med - charged - 15 cts.
    W. H. Massengale - order self - charged - 1.50
    Brown Bass - charged - 1.50
    Lute Troxel - charged - .75
Sept. 4
    Lute Troxel - charged - 10 cts.
    Joe Hart - charged - 4.00
    Ret Clark - pd by cash - 5.00
    Tina Bates - Pd. - 10.00
Sept. 5
    Phillip Dalton - med by Walter H. - 10 cts.
    Harrison Lee - med - 50 cts.
Sept. 6
    Let Dabney - paid - 3.00 - med - 25 cts.
Sept. 7
    Bill Atkinson - 25 cts.
    Joe Hart - med - 60 cts. 
Sept. 8
    Let Dabney - 1.50 - med - 60 cts.
    Parker Marcum - 3.50
    W. H. Massengale - pd. Brown Bass - 2.25
Sept. 9
    Walter Denney - med - 50 cts.
    Arthur Perdue - 1.10 - cash
    Gerte - .75
Sept. 10
    Letie Dabney - med & visit - 1.40
    George Bridgeman - med - 10 cts.
Sept. 11
    Letie Dabney - med - 15 cts.
    Sherman Marcum - med for Mamie - 15 cts.
    Brown Bass - med - 20 cts.
    A. A. York - med by Willy - 60 cts.
    Let Dabney - paid - 1.50
Sept. 13
    Let Dabney - visit & med - 1.65
Sept. 14
    Sherman Powers - med - 55 cts.
    John Hurt - med - 1.40
    Tom Burris - med - 15 cts.
    Marvin Hicks - med - 10 cts.
    Let Dabney - med - 25 cts.
    Marvin Hicks - paid by 1 day's work - 75 cts.
Sept. 15
    W. H. Massengale - paid by 1/3 day's work - 25 cts.
    Marvin Hicks - paid by 1 day's work - 75 cts.
Sept. 16
    Roe Marcum - med - 50 cts.
    Herb Perdue - med for wife - 75 cts.
    Let Dabney - med - 60 cts.
    W. H. Massengale - paid by 1 day's work - 75 cts.
    W. H. Massengale - paid by cash - 1.00
Sept. 17
    Joe Hart - extract teeth - wife - 50 cts.
    Sheard Pierce - med - 1.00
    Rob Massengale - med - 75 cts.
    Lute Troxell - med - 25 cts.
    W. H. Massengale - med - Mamie - 25 cts.
Sept. 18
    John Throshed - med - paid - 1.00
    Johnnie Morgan - med - 60 cts.
    Tom Massengale - pd. by cash - 4.00
Sept. 19
    Boss Hicks - pd. by cash - 4.00
    Lorane Perdue - med - 55 cts.
    Let Dabney - pd. by cash - 1.50
Sept. 20
    Othey King - med - 65 cts.
    Let Dabney - visit - 1.50
    med by Walter - 45 cts.
    Jess Chaffin - O.B. Girl - Bal. - 8.00
Sept. 21
    Tina Massengale - pd. by cash - 4.00
Sept. 23
    Johnnie Burris - med - 10 cts.
    Conn Rains - med - 10 cts.
    Tom Massengale - 4.00
Sept. 24
    Jack Massengale - med - 15 cts.
    Dewey Carr - med - 10 cts.
    Geo. A. Massengale - O. B. Girl - 10.00
    Grdy Guffey - 20 cts.
    T---- Guffey - 15 cts.
    Andy Guffey - 30 cts.
Sept. 25
    Jack Massengale - 25 cts.
    Stank Shelton - O. B. Girl - 10.00
    Tom Massengale - visit - 4.00
Sept. 26
    Tom Massengale - med - 25 cts.
Sept. 27
    Luther Troxwell - med - 15 cts.
Sept. 28
    Sheard Pierce - med - 10 cts.
    Tom Massengale - pd. by cash - 4.00
    Purit - c. v. - 2.00
    Reneau Dalton - med - 30 cts.
Sept. 29
    Willie Denney - O. B. Boy - 10.00
    Jarvis C. Perdue - med - 75 cts.
    Mrs. Webb - paid - 1.50
Sept. 30
    George Bridgeman - med - 25 cts.
    H. C. Davis - cash - 1.00 - .05
    W. M. Bertram - see wife - 6.00

January 1949
Note: - at this time he was in Albany, KY

Jan. 1
    Bass Brown - 4.00
    Tildy Shelton - med - 1.25
Jan. 2
    Bass Brown - 4.00
Jan. 3
    Lute Daniel - 4.00
Jan. 5
    Bruce Bowlin - O. B. - 20.00
    cr. work ????? - 8.00
    team - 4.00
    work toilet - 3.00
Jan. 7
    Bass Brown - 4.00
Jan. 10
    Lute Daniel - cash - 5.00
    Howard Babs - chk. - 6.85
    Charley J. Brown - med - 2.50
    John L. Means - Albany - vis see girl - 3.00
Jan. 13
    Bass Brown - med - 1.00
    Charley Brown - office - 2.00
Jan. 19
    Preacher Witham - nite - 4.00 pd.
Jan. 20
    Preacher Witham - 3.00 pd.
Jan. 21
    Jones Benet - med - 1.00
    Levi Harmon - med - 1.00
Jan. 24
    Roy Brown - med baby - 1.50
Jan. 26
    Marshel Flowers - med - 1.00 - Frogue, Ky.
    Add York - pd. - 7.00
Jan. 27
    Add York - pd. - 7.00
Jan. 28
    Add York - 7.00
Jan. 29
    Brad Perdue - by cash - 2.00



               
The Bristow Family with roots in South Central Kentucky since the early 19th 
century was headed through the second quarter of the 20th century by Dr. S.W. 
Bristow, a widely known and honored country doctor in Clinton, Wayne, and 
Cumberland Counties. Though always poor, Dr. Bristow saved money all his life 
and invested it in land. 

Thomas Hopper, a twenty-one year old fiddle player, married Addie Lyons, a 
sixteen year old daughter of a strait laced farm family in April of 1901.  A 
year later on April 27, 1902 they began their family which would by 1917 
include eight children, with the birth of a girl, Lillie.  They lived at Happy 
Top near Zula in Wayne County, Kentucky.  Just down the road lived Doctor Sam 
Bristow, a well known country doctor in that area, and his wife Ellen and two 
sons, Roy and Mac.  The Hopper family included six girls and two boys.  Doctor 
Bristow had to pass by the Hopper house when he made housecalls and he was 
often seen riding by on horseback.  Sometimes he would return late at night 
with a glowing coal oil (kerosene) lantern hanging from the horse's saddle. 

Roy Bristow was ten years older than Lillie Hopper, the oldest of the Hopper 
children.  In February 1918 when Lillie was fifteen years old and Roy was 
twenty-five they decided to marry.  Lillie knew that her father wouldn't let 
her marry and in Kentucky she would have to have his permission.  She arranged 
with her mother to let her stay overnight Saturday night with her Uncle, 
Addie's older Brother, Ike Lyons.  Ike lived on a farm at the foot of Poplar 
Mountain about five miles from the Hopper's home.  His farm was just across 
the mountain from Duvall Valley and from there it was not too long a ride by 
horseback to Tennessee.  Lillie rode to her Uncle Ike's place in the afternoon 
and Roy rode his horse and met her there.  They started out riding and rode 
all night.  They got to Byrdstown Tennessee about daylight Sunday morning, 
February 3rd.  They found where a preacher lived and knocked on his door 
getting him and his wife out of bed and asked him to marry them.  He agreed.  
The preacher's wife had done her washing the night before and since it was 
winter she hung the laundry from clothlines stretched throughtout the house so 
that the heat from the stove would dry the laundry during the night.  Lillie 
and Roy were married standing among the laundry. 

They started housekeeping on a small farm on Pott's Creek that Roy had bought 
just down the road from his parent's home.  They worked hard on the farm and 
in March 1920 Lillie had her first child, a boy she named Jesse.  They seemed 
unable to make a living farming and word came that there was a railroad strike 
in Indiana and the railroads were scouting for Kentuckians to come to work on 
the railroads to break the strike.  In about 1922 Roy and Lillie took their 
young son and moved to Richmond, Indiana.  

The people there were frugal German and Central European stock unlike the 
Anglo saxon and French people of Kentucky and Tennessee.  They resented the 
back country hicks moving in from the South and taking their jobs.  The 
general pattern was that the husband would go to the North and find a job and 
a place to live.  Then he would send for or return and get his family.

As a result the southerners tended to move into areas where other southerners 
lived and when Roy found work and a place to live he went for Lillie and 
Jesse. Roy and Lillie and Jesse moved from house to house all over Richmond 
and took in other Kentuckians as boarders. Eventually Roy went into 
contruction work and traveled to Louisville and Chicago while Lillie and Jesse 
stayed in Richmond. There was a continuous turnover as Lillie's boarders would 
find a place to live and new arrivals would move in.  So Roy worked while 
Lillie ran a boarding house. 

When he returned to Kentucky to get his family Roy brought with him Bill 
Adler, a friend he had met in Indiana. When he moved his family to Indiana, 
Lillie's two sisters, Zella and Ollie went there too. Eventually Ollie married 
Bill Adler. Zella married Bill Gorsuch and they lived in Dayton Ohio.

In 1928 when she was 26 years old Lillie had her second boy, Larry.  The next 
year Roy was injured in an automobile accident and became unable to work.  
They were forced to return to the farm in Kentucky just at the beginning of 
the Great Depression.  

Doctor Bristow, Roy's father, had a brother, Prentice, who had moved to Texas 
and was a doctor there.  Prentice had begged Sam and Ellen to come visit him 
for a number of years.  In the summer of 1930 they decided to do that and were 
gone to Texas for a period of time that was probably two weeks or more.  
During the time that they were gone, Roy died from a bowel obstruction.  Dr. 
Sam returned and blamed himself for not being there.  He thought that he could 
have saved his son if he had not taken the only vacation he ever took.  He 
swore never to leave again. 

Lillie was left to live on a farm with a ten year old boy as her only help and 
to care for a two year old child.  Dr. Sam told her he would pay Roy's funeral 
expenses if she would sign a paper agreeing that she would never remarry.  She 
refused to do that and instead sold a twenty acre field off her farm to get 
money to pay for Roy's funeral.  It was over twenty years later before she got 
enough money ahead to buy back that field.  Because she would not agree not to 
remarry, Dr. Sam refused to furnish any support for Lillie and her two 
children.

When Roy died in 1930, Lillie's younger sister, Mae, moved in with her to help 
take care of the children. Mae was 17 at the time. In 1933 she married Elbert 
Beck and they moved to Indiana. 

Dan Davis was orphaned when his dad was killed in coal mines in Duvall Valley. 
This was at Christmas when Dan was small. His mother died shortly after. He 
lived with mean foster parents. He worked for a farmer named Byers in the 
Guinn Valley of Clinton County Kentucky.  He came down with pneumonia and a 
doctor removed one lung on the kitchen table of the little shack where Dan 
lived.  It took him two years to recover.  During his recovery the farmer's 
daughter cared for him and eventually he married Geneva Byers. They went to 
Michigan where he hoped to do farm work but he heard there was work in 
Richmond, Indiana and they moved there and lived next door to Roy and Lillie 
Bristow in the 1920's. Jesse and Lillie liked Neva. Geneva died from 
complications after an operation in 1934. Dan, always shy and bashful, was 
overcome with grief. 

In 1935 Lillie took her two children back to Richmond and married Dan Davis 
who had been widowed from his wife Geneva in 1934 and who had a son, Don.  Don 
was almost the same age as Larry. 

Jesse began high school in Richmond but after he had gone two years World War 
II started and he was drafted into the Army in 1941.  He married in 1942 just 
before being sent overseas where he was gone for almost three years.

Larry completed high school and joined the Navy after the war.  He stayed in 
the Navy until he retired in Florida years later.

In 1947 Dan and Lillie bought a house at 421 South 9th Street in Richmond. Dan 
worked for the Richmond Gas Company and in 1962 Dan committed suicide due to 
poor health. Lillie worked at that time and until she retired as a clerk in 
two or three department stores on Main Street in Richmond. 

In 1943 Doctor Sam Bristow bought several adjoining tracts of land in the 
Cowan community in the Guinn valley of Clinton County from Leo Sewell and 
Lloyd (Poore or Parragin). In 1946 Dr. Bristow sold most of this farm in the 
Parmley Hollow to his two grandsons, Jesse W. and Larry E. Bristow. Jesse had 
returned from the war and he and his wife, Nora, were doing factory work in 
Richmond.  Dr. Sam asked Jesse to return to Kentucky to be available to help 
take care of him and Ellen as they aged. 

In the Fall of 1949 Jesse Bristow built a house on the farm and moved in that 
winter. For the next 15 years until he was unable to work due to poor health 
Jesse and his wife worked to improve the farm and raise their two children. 

Jesse died due to lung cancer in 1975 and his son, Duane, and his family 
visited and cared for Lillie until her death from leukemia in 1988 at age 86.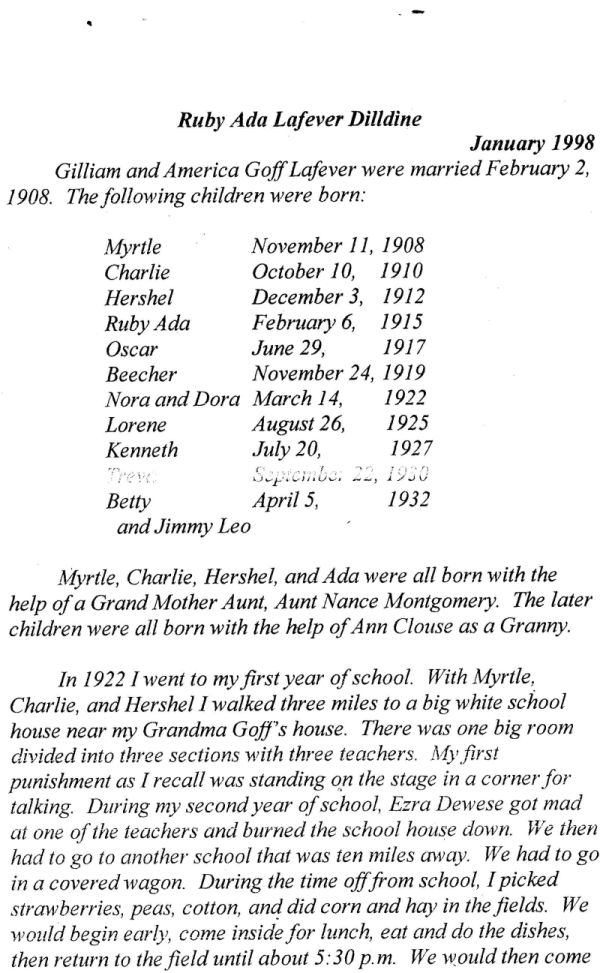 Ada's biography-1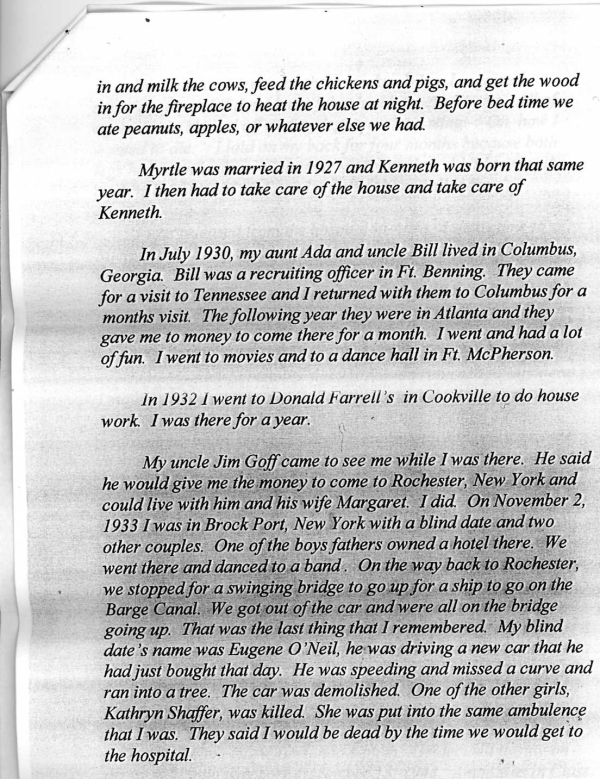 Ada's biography-2
Ada's biography-3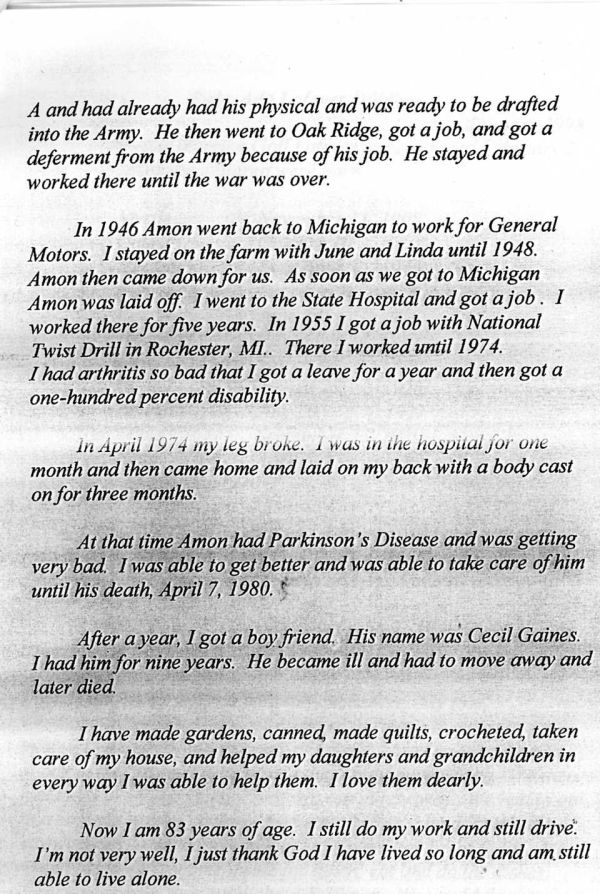 Ada's biography-4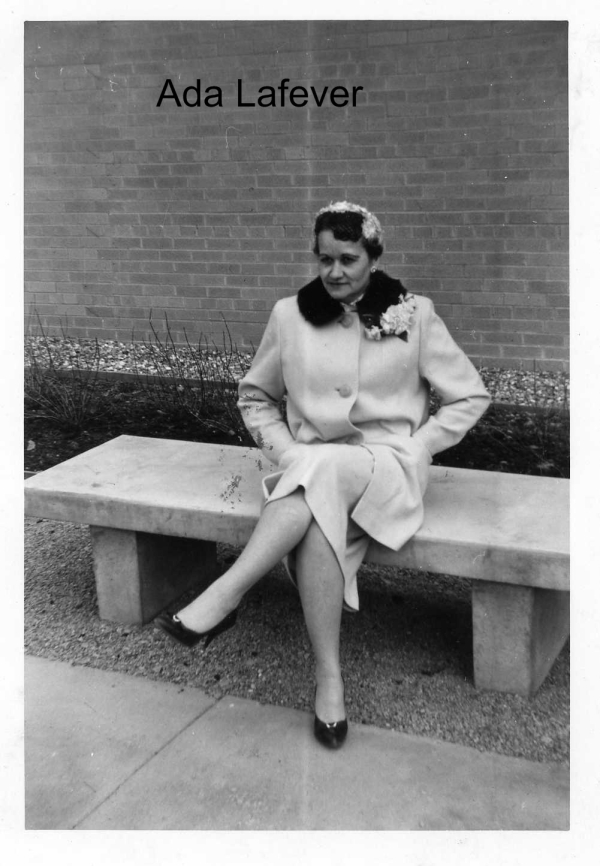 Ada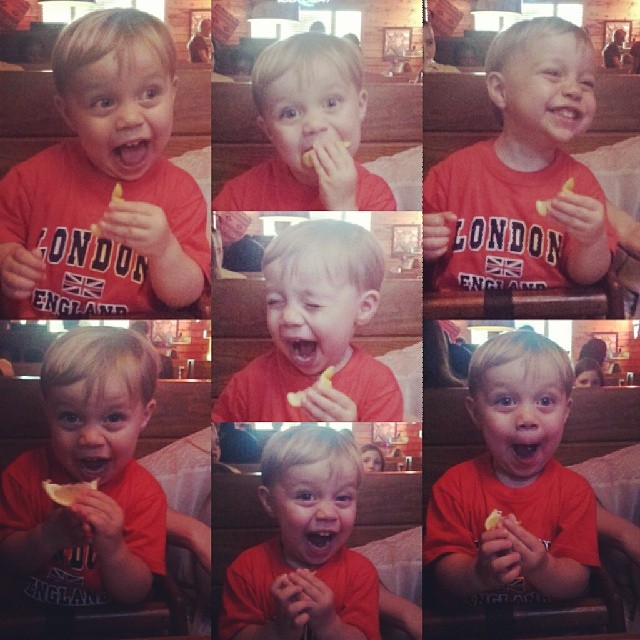 His first lemon!

               
Nora Lafever and her twin sister, Dora,  had six older brothers and sisters 
and four who where younger than them.  It was difficult living on a Tennessee 
farm in the middle of the great depression.  Nora's older brothers, Charlie 
and Herschel, had gone to Indiana to find work and ended up as farm hands for 
a farmer named Weaver.  When Mr. Weaver needed a housekeeper they suggested 
their younger sister, Nora, and sent for her to come to Indiana.  This was 
1937 and Nora was fifteen years old.  By the time she was twenty she had 
worked as a housekeeper for the Weavers and a nannie for Madge Reid, a school 
teacher in Richmond who had two children, and then worked at Perfect Circle 
making piston rings.  By then her older sisters, Myrtle and Ada, were married 
and Ada and her husband, Amon, were living in Michigan and Myrtle and her 
husband, Hose, lived on a farm in southern Tennessee.  Her sisters, Dora and 
Lorene, had also come North looking for work.  Lorene stayed with Nora for a 
while and worked with her at Perfect Circle.  Then Lorene moved on to Michigan 
and probably stayed with Ada and worked there.  Eventually she married and 
moved back to Tennessee to live on a farm with her husband, Claborn, and work 
in a garment factory. 

In 1942 both Nora and Dora married. 

In 1943 Ada had returned from Michigan to her and Amon's small farm in 
Tennessee and Nora's new husband, Jesse, had been sent overseas in the Army to 
fight in the Pacific theatre.  Ada was pregnant with her second daughter so 
Nora stayed with her for a while on the farm to help out.  By 1944 Ada had her 
baby and Amon returned to Tennessee to live for a while on the farm.  Nora 
returned to Richmond, Indiana and worked at Belden making wire and when 
Jesse's unit was returned to the states temporarily to an army base in Spokane 
Washington, she and another army wife drove a 1939 Buick she had purchased 
from Indiana to Washington where they stayed for a week or two with their 
husbands. 

In early 1945 the war was over and Jesse returned to Richmond to work at 
Belden with Nora.  In 1947 Nora had her first child, a son she named Roy 
Duane.  Later that year her brother, Kenneth, returned from his Army duty in 
the occupation of Germany and came to Richmond looking for factory work.  He 
stayed with Jesse and Nora and the new baby at first but soon bought an 
apartment house and moved into the attic of it so he could rent out all four 
apartments.  

In 1949 Jesse's grandfather, Dr. Samuel W. Bristow, sold Jesse a farm near 
Albany in southern Kentucky and asked him to move there to help take care of 
him and his wife, Jesse's grandmother, Ellen, as they aged.  So Jesse and 
Nora, who was again pregnant, and their son moved to Albany and stayed with 
the doctor and his wife while they built a house on the farm where they could 
live.  In January 1950 they had moved into the house on the farm and Nora gave 
birth there to a daughter, Karen.  During or after the birth she had a seizure 
and she continued having occasional seizures for the next thirty years.  
Eventually she was diagnosed with Multiple Sclerosis.  By the early 1970s she 
was unable to walk and had to use a wheel chair for the rest of her life.  She 
worked hard with Jesse on the farm as long as she could. 

In 1975 Jesse died from lung cancer and Karen, who had been teaching school in 
eastern Kentucky, returned to the farm to care for her mother.  In 1979 Duane 
who was a forester returned to the farm and built a house there and Karen 
married and left.  By the late 1980s, Nora had to go to a nursing home and 
eventually due to diabetes, both legs were amputated.  She died in a nursing 
home near Cookeville, Tennessee in 1994. 


Last revised September 2014.
Please send comments.
All contents copyright (C) 2014, Duane Bristow. All rights reserved.