The Family of Arthur and Annie Ewing Harlan
Written for their descendents because everyone should know something about their roots.
(Please click on my name above to send an email to duane@kyphilom.com with corrections and additions to the information on this page. Thank you.)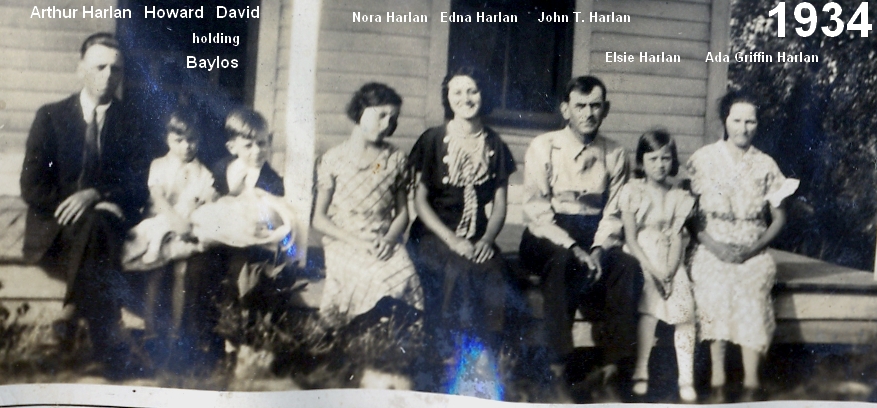 John Thomas and Arthur Harlan's families - 1934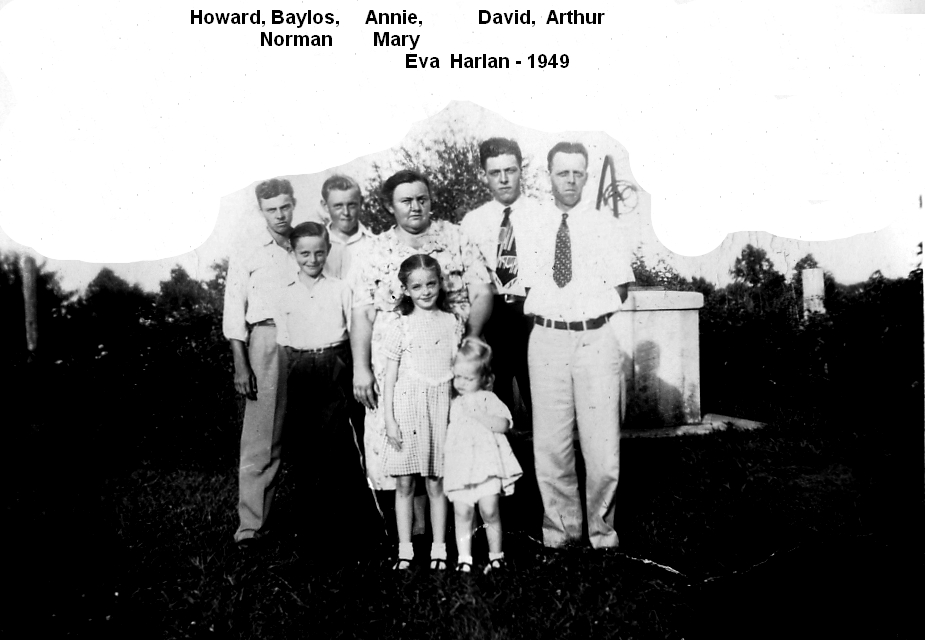 Arthur Harlan and family - 1949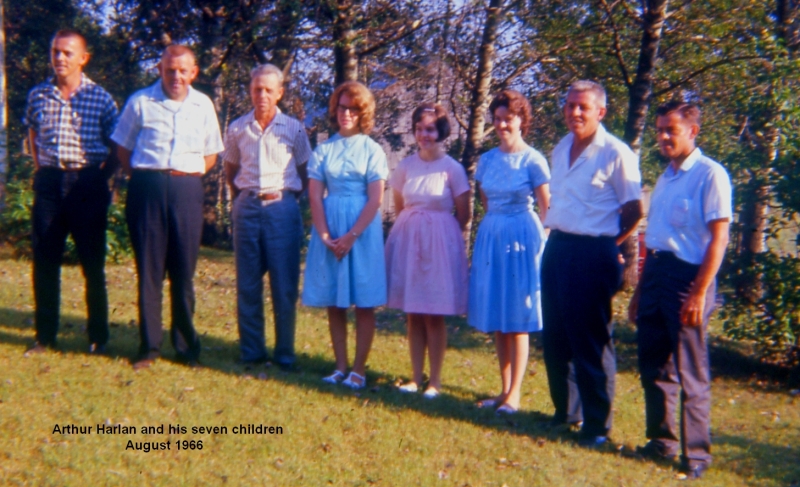 Arthur Harlan & his children after the death of his wife.
There is big history. That is the story of the phases of existence over the last 14 billion years.
There is middle history. That is the stories of the written history of the world here on earth and national history and state history as taught in schools.
There is little history. That is the stories of the histories of individual families or communities or companies or other organizations or even the life histories of individual people in the form of a biography or a lifebook.
History is both incomplete and inaccurate as well as being biased to the viewpoint of the historian. To make this point I often tell people who have learned their history in our school system, and who often believe as a result that what they have learned is both complete and accurate, that what they have learned is a "lie". History is many things:
It is a list of significant events that have happened in the past including dates, places, what happened and why it was significant.
It is stories of adventure and war and romance and politics and discovery and creative endeavors and also failures and death and plagues and famine and natural catastrophes.
It is an understanding of the type of life necessitated by the needs of everyday living in various places and times.
It is a story of advances and setbacks both in man and in the world or universe as a whole.
It is a "what if?" story. It invites imagination of possibilities of other worlds and alternate histories.
This is the story of a Kentucky family that I, an older man, believe to be true based on what I have been told and the research I have done and what I can remember. It is an incomplete story, but I write what I can of it in hopes that it may be of interest to some people in present and future generations. I wrote this story because I married into this family and there are now a number of people alive who are the great, great grandchildren of Arthur Harlan and Annie Ewing, people whom, I doubt, have much, if any, knowledge of the generations that came before them. I suspect that some of these people, as they get older, will appreciate this history.

Contents: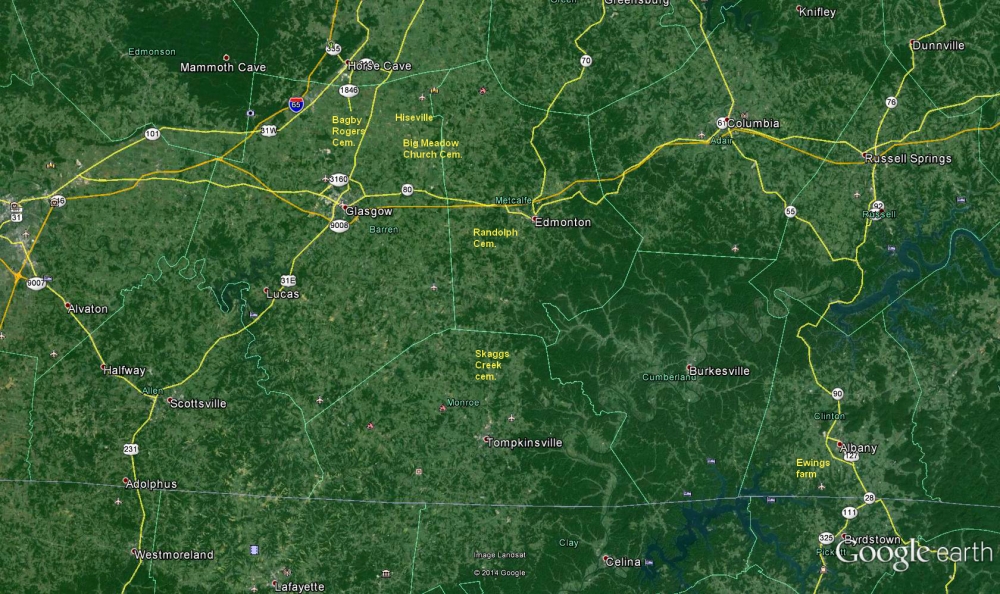 This is the area involved. (click for larger)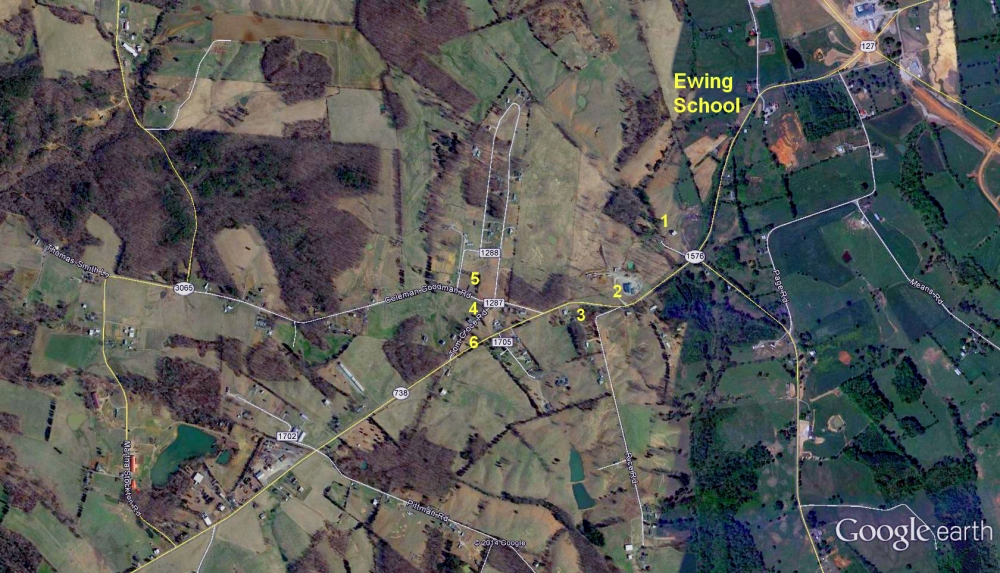 This is the Ewing farm area in Clinton County. (click for larger)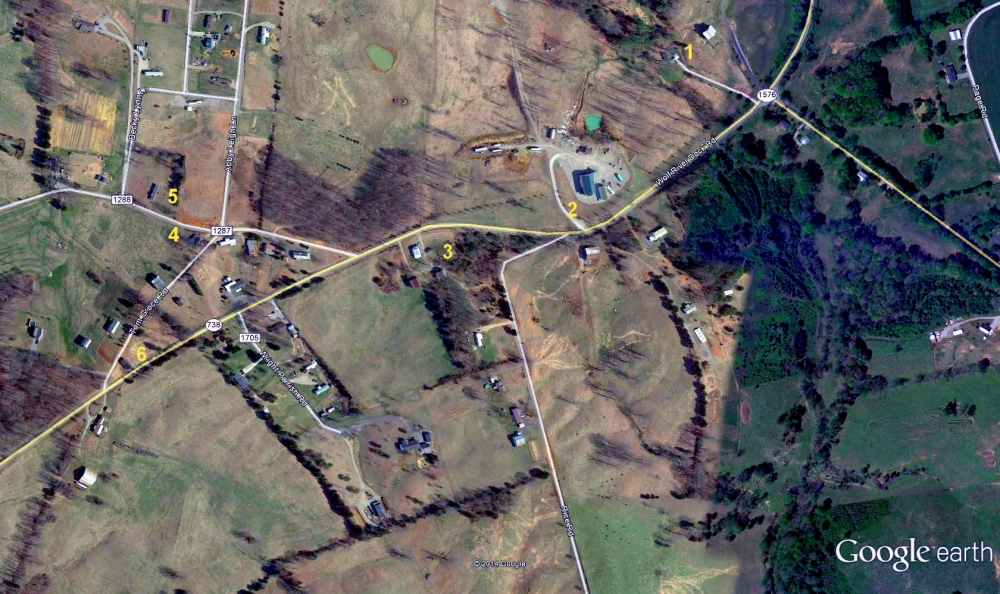 This is a more detailed map of the area involved. (click for larger)

On the detailed map above prominent landmarks and features are labeled and places where people lived (house sites) are numbered. These markings will be helpful in the discussions below.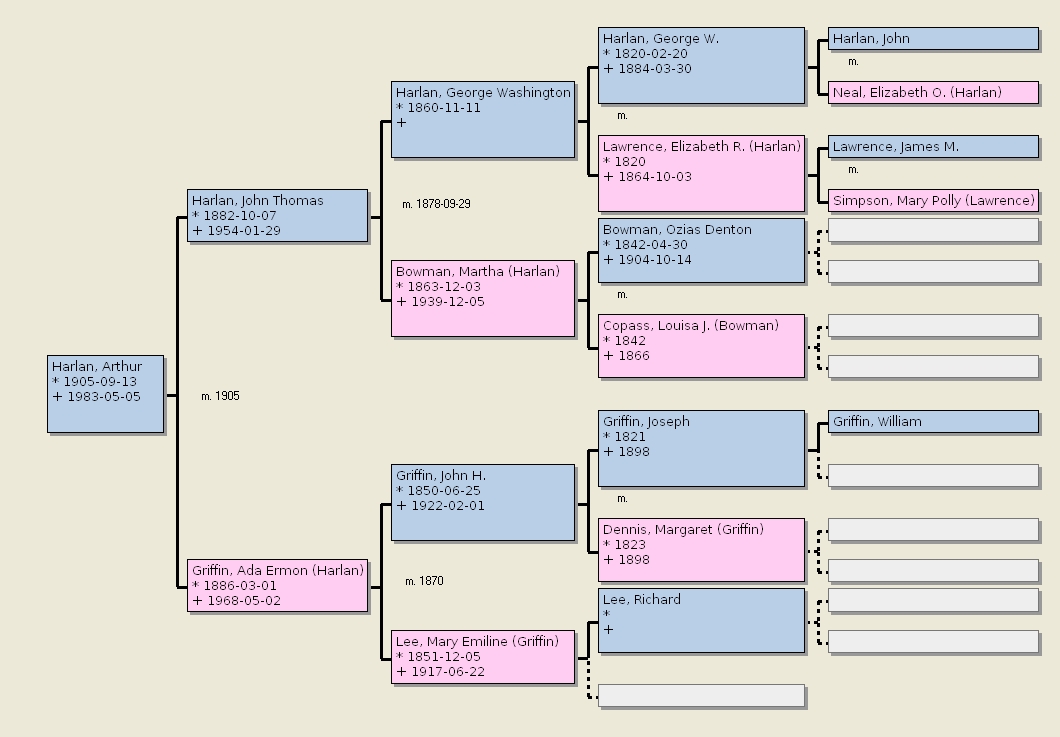 George Washington Harlan was born in 1860 and lived in Monroe county Kentucky. In 1878 he and Martha Bowman ran off to Clay County Tennessee to marry. She was 14 years old at the time. In the next 15 years, she had seven children, the last being Eary who was born in 1893. Within a few years her husband, George, died. We have not found his grave but think he may be buried in the Skaggs Creek cemetery in Monroe County.

George Washington Harlan was the son of John Harlan (1801-1836) and Elizabeth O. Neal (1801-1878).
               
George Washington Harlan was born on November 11, 1860 On 
September 29, 1878 when he was 18 years old he married Martha 
Bowman.  She was born in 1863 so she was 14 years old at the 
time.  She had had a daughter, Louisa Jane, by him two weeks 
before their wedding.  They had seven children together. 

The Harlan family said that George Washington Harlan died young probably 
around his 40th year.  So far I have been able to find no record of his death 
or his burial place.  It is interesting that his son Quintice's gravestone 
says "son of Martha Harlan" but does not reference his father.  Quintice died 
in 1911. 

Later Martha Bowman Harlan married Lucian Arnold who was five years younger 
than she was.  At that time Martha had five boys and two girls:

Arthur 
Floyd
Louisa Jane
John Thomas
Mary Belle
Quintice
Eary

It is possible that she had two more girls named Annie and Lillie but they may 
have been her or her husband, George's, sisters.

In 1903 Martha's daughter, Mary Belle, was 18 years old and her daughter, 
Louisa, was 25 and married.  That year both Martha and Mary Belle had babies 
by Lucian Arnold.   Lucian Arnold was 35 years old at that time and Martha was 
39.

Flora Belle Arnold, daughter of Mary Belle Harlan was born on April 26, 1903.
Luther Arnold, son of Martha Bowman was born on May 1, 1903.

During the next 24 years Lucian Arnold had six more children,  with 
Mary Belle Harlan. 

On May 2, 1938 Lucian Arnold was living separate from Mary Belle.  He went to 
her house and shot and killed her then walked back to his house and killed 
himself.  Lucian was 70 and Mary Bell was 53.  Martha was 74 and she died the 
next year.

When Lucian shot Mary Belle in 1938 two brothers (probably John Thomas and 
Eary) came from Albany with guns to kill Lucian according to Junior Bunch, son 
of John Bunch.  When they found he had already killed himself they stayed 
overnight with John Bunch and his family.  John Bunch's wife was Flora Belle 
Arnold, oldest child of Lucian Arnold and Mary Belle Harlan.  Junior Bunch was 
eight years old at the time.



Newspaper article about Lucian's death
Lucian Arnold was born in 1868 and was in his mid 30s when he married Martha Bowman Harlan. He was 70 when he died.
After her husband's death, according to Annie Harlan, Martha married Lucian Arnold and lived with him and her children in Barren County Kentucky. On May 5, 1903 she and Lucian had a baby boy they named Luther B. Arnold. Martha was 39 years old at the time. Martha died in 1939 at the age of 76 and is buried in Big Meadow Church Cemetery in Barren County along with her daughter, Mary Bell, and others in her family including her oldest daughter, Louisa Jane and Louisa Jane's husband, James Ewel Bray and their sons, Alf and Hobart Bray. Martha had a total of two girls and five boys.
Nine days before Martha gave birth to her son, Luther, Martha's daughter, Mary Bell, who was 18 years old had a baby girl also with Lucian Arnold. They named her Flora Belle. Lucian married Mary Belle and from 1903 to 1916 they had seven children.
In 1904 Martha's father, Ozias Denton Bowman, died at the age of 62 and was buried in the Skaggs Creek Cemetery in Monroe County along with Martha's mother, Louisa J. Copass.
When she was 22 years old, in 1925, Flora Bell Arnold married John W. Bunch, who we think was a cattle trader and a store clerk in Glasgow. They had two boys, Gaylord, first and then John junior. Flora died in 2001 and is buried in Neals Chapel Cemetery in Barren County along with her husband and her oldest son, Gaylord.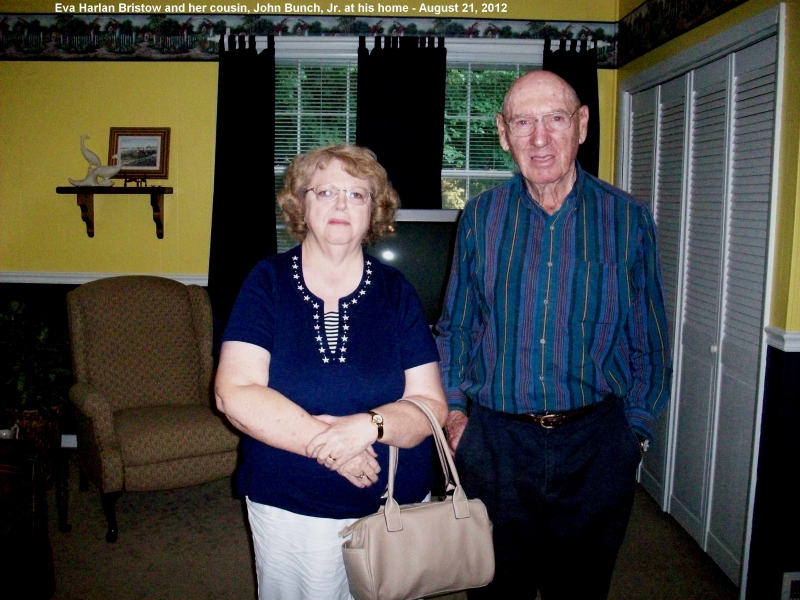 Junior Bunch with his cousin Eva Harlan Bristow - Aug. 21, 2012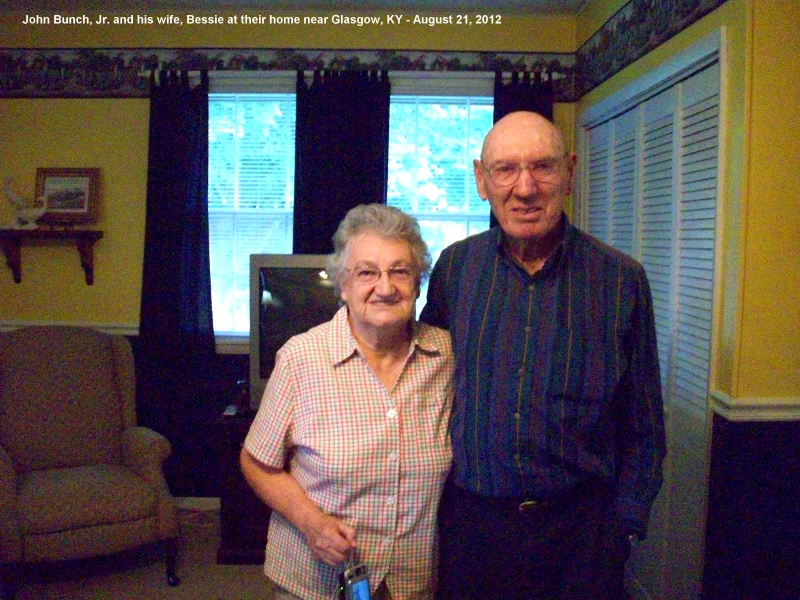 John Bunch Jr. with his wife Bessie - August 21, 2012
               
"Alf Bray Killed as Team runs away near Summer Shade

Alf Bray, 48 year-old farmer and part time minister of the Summer Shade 
community, was killed instantly on his farm Monday afternoon, May 13, at 3:00 
p.m. when a team ran away throwing him from the wagon as he was hauling water. 
He suffered a broken neck. The son of the late Jim and Louiza Harlin Bray, 
both of Monroe County, he was born July 18, 1908 in Barren County. Survivors 
include his wife, Mrs. Mahalie Gilley Bray; two sons, Kenneth and Gerald Bray, 
both at home; four daughters, Mrs. Alma Jane Goode, Summer Shade; Mrs. 
Wandalane Page, Beaumont; and Brenda Sue and Loretta Gail Bray,, both at home; 
five brothers, Hobart Bray, Albany; Otha Bray, Glasgow; Walter Bray, 
Louisville; Bubby Bray, Rt. 3 Glasgow, and Ossie Bray, Rt. 5 Glasgow; a 
sister, Mrs. Florence Gooden, Randolph. McMurtrey Funeral Home of Summer Shade 
has charge of arrangements and service will be held Wednesday at 1:30 at the 
Dripping Springs Church with interment in the Big Meadow Cemetery. Rev. Joe 
Richey will conduct services. The body will remain at the funeral home until 
time for services." 


Luther B. Arnold had cancer and committed suicide at the age of 73 in 1976 and is buried at the Randolph Cemetery in Metcalfe County Kentucky where his father, Lucian, is also buried.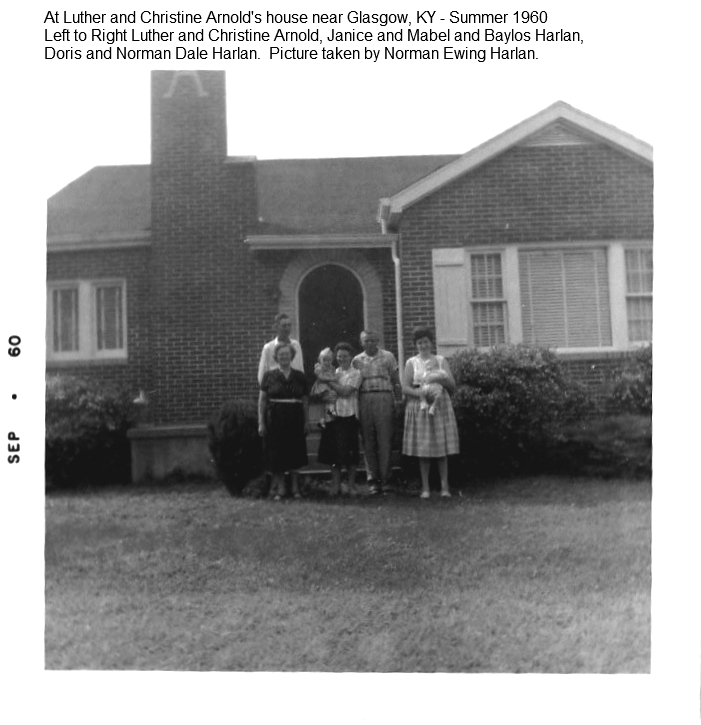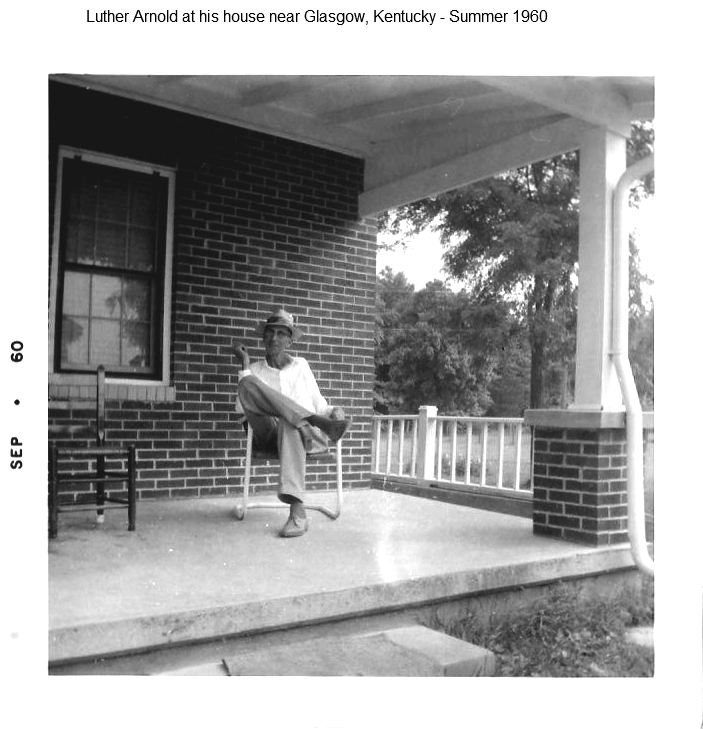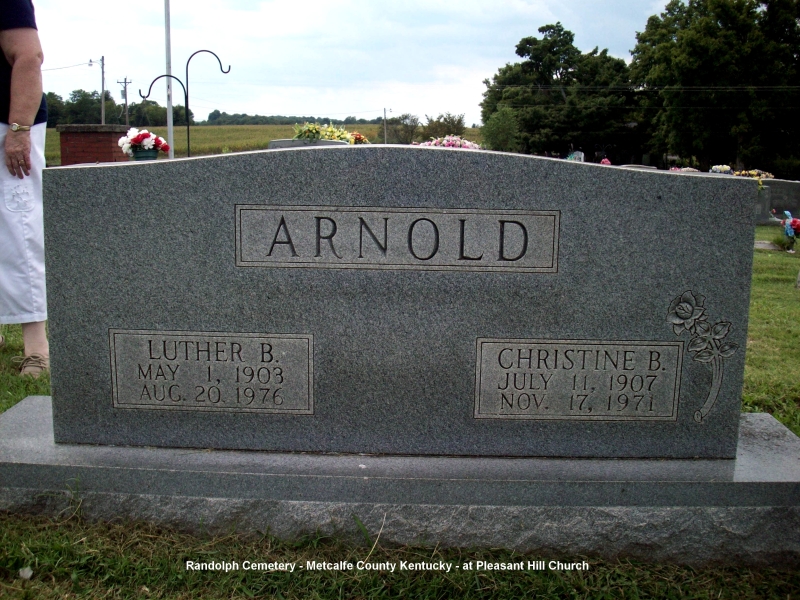 Luther and Christine Arnold's gravestone at Randolph Cemetery
John Thomas Harlan was born in 1882 and in 1905 he married Ada Ermon Griffin from Albany Kentucky. He was 22 and she was 19. They had their first baby, a boy they named Arthur, six months later. In the next 16 years they had ten children, three of which died as small children. John Thomas had a stoke and was bedridden for several years before he died in 1954 at the age of 72. He is buried with Ada, who died in 1968 at the age of 82, in Peolia cemetery in Clinton County Kentucky.
Children of John Thomas Harlan and Ada Griffin: 10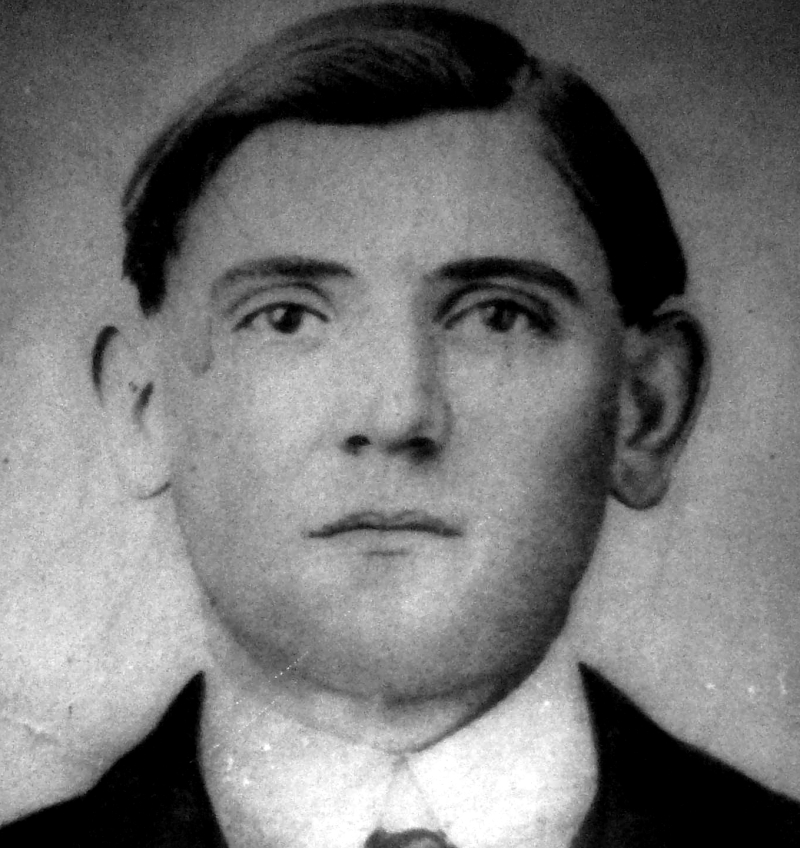 John Thomas Harlan
John Thomas was a moonshiner and a farmer and moved around with his family often to avoid the law. When Arthur was small, he fell against the still and burned his arm which left a permanent scar.
At one time, while John Thomas hid from the law, he asked his younger brother, Eary, to take John's family back to their home in Clinton County. Eary ended up living with them or nearby off and on for several years.
Eary must have fallen for Ada because, after John Thomas died, Eary asked Ada to marry him. When she refused he married her sister, Edna, who was also recently widowed. Eary had had two wives before that, Rachel Reece, and Vesta Lee Baise, both of whom he had outlived. He had three children with Rachel. Eary died in 1984 at the age of 90 and he and his first two wives are buried at Big Meadow Church Cemetery in Barren County Kentucky.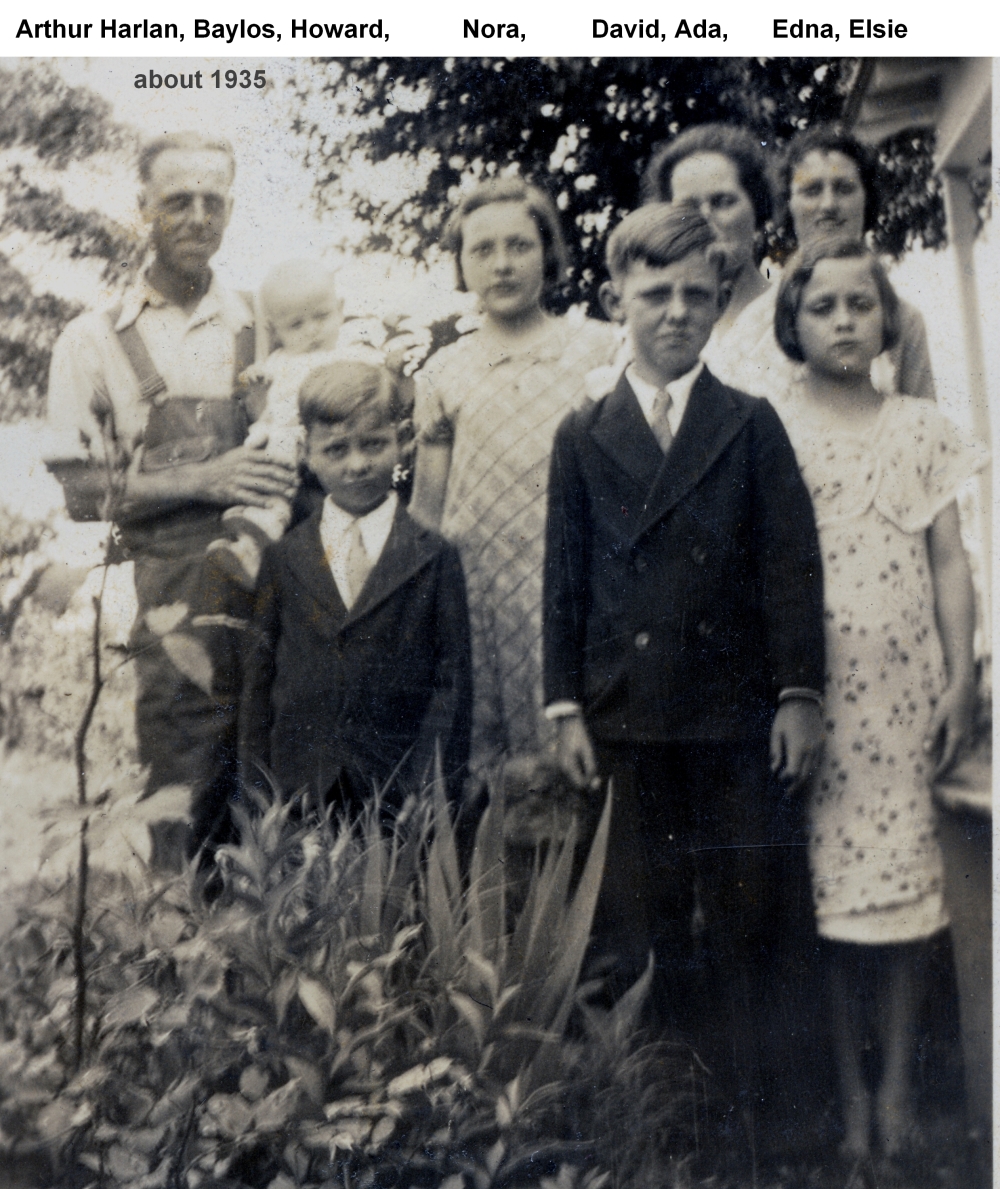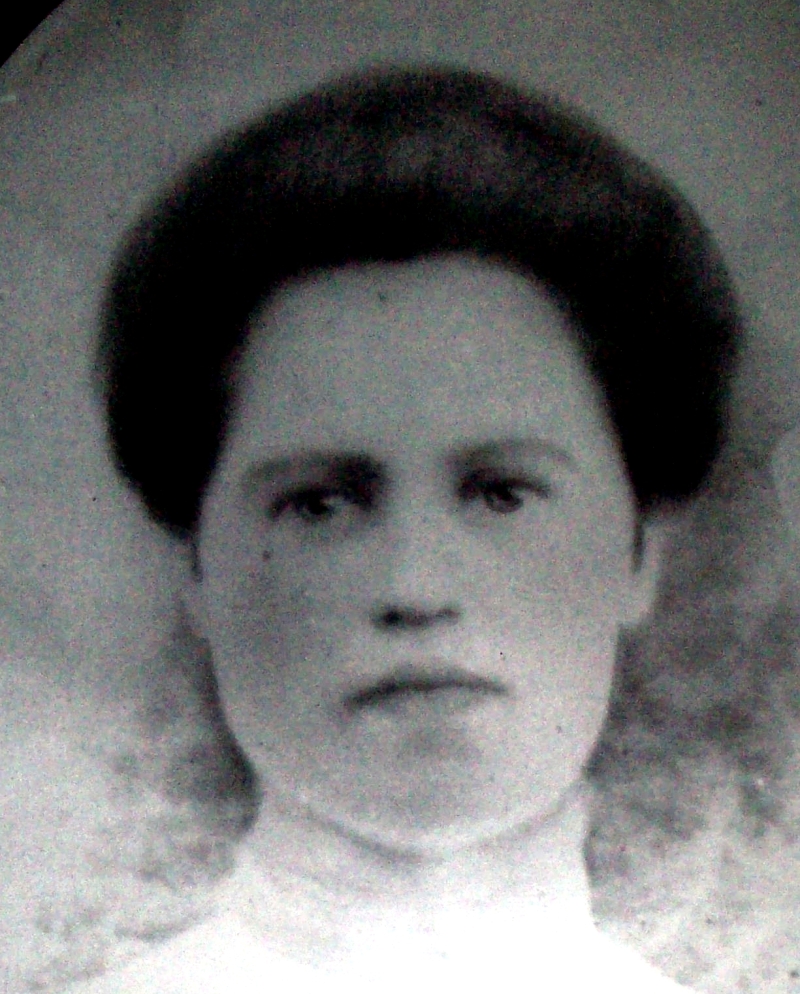 Ada Griffin Harlan
Ada Ermon Griffin (1886-1968) was the daughter of John H. Griffin (1850-1922) and Mary Emiline Lee (1851-1917). She had three brothers, Joseph William (1875-1963), John Issac (1878-1963) and Leo R. (1890- 1963) and five sisters, Ella Zachary (1885-1975), Margaret Jane (1872- ), Mary Alice Elizabeth Groce (1873-1957), Delia Ann Crabtree (1881-1934), and Edna E. Parrigin Harlan (1893-1975).

In 1905 when she was 19 years old Ada married John Thomas Harlan and six months later she had her first baby, a boy they named Arthur. In the next 16 years they had ten children in all, three of which died as small children. In her later years Ada walked bent over due to curvature of the spine. John Thomas had a stoke and was bedridden for several years before he died in 1954 at the age of 72. He is buried with Ada, who died in 1968 at the age of 82, in Peolia cemetery in Clinton County Kentucky. Most of the Griffin family is also buried in Peolia cemetery.
Children of John Thomas Harlan and Ada Griffin: 10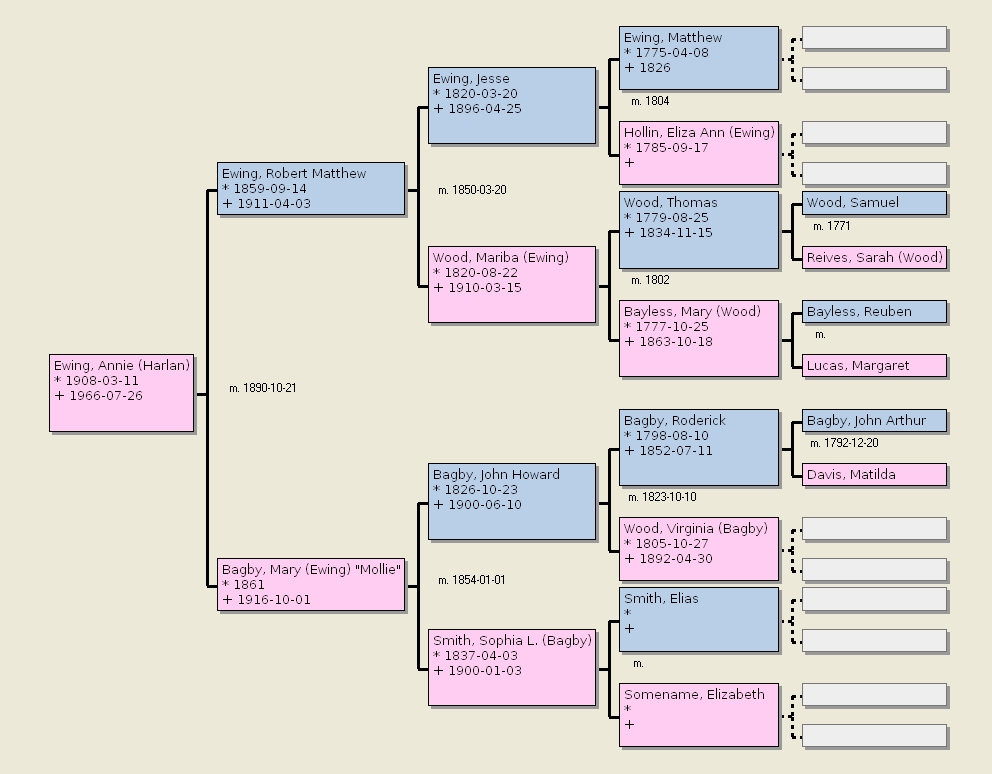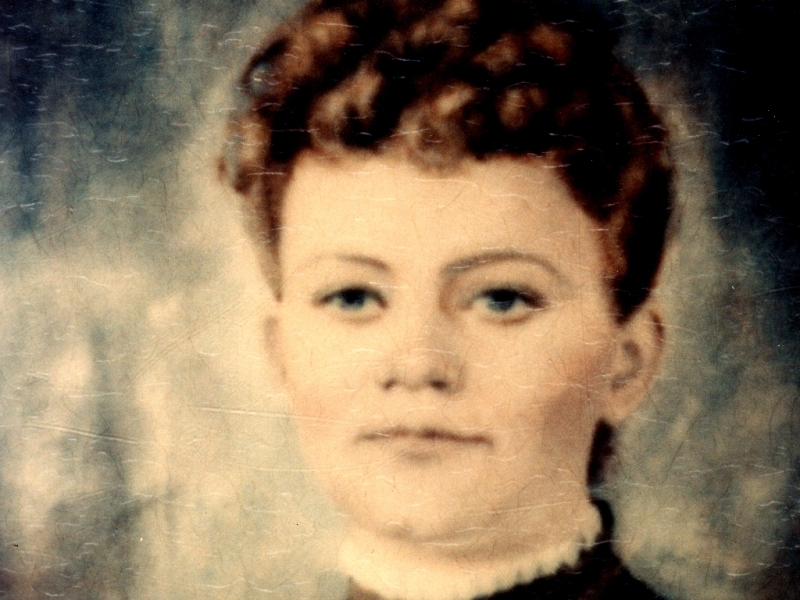 Mollie Bagby Ewing
John Howard Bagby was born in 1826 in Barren County Kentucky. In 1854, on New Year's day, when he was 27 years old he married Sophia L. Smith who was 17 at the time. During the next 21 years they had nine children, 4 girls and 5 boys.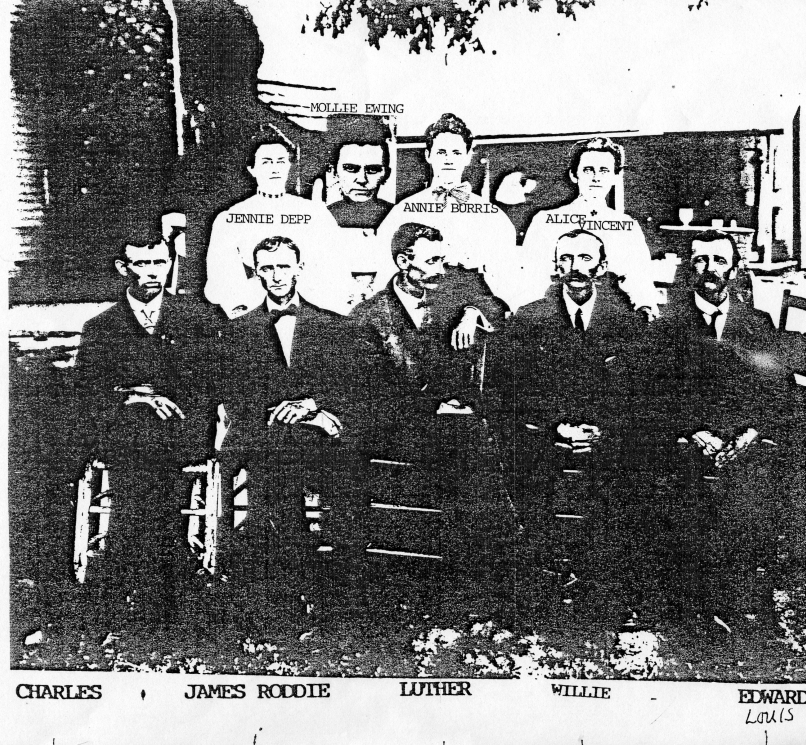 Children of John Howard Bagby and Sofia Smith Bagby
Children: 9
Sophia Smith died in 1900 at the age of 62 and her husband, John Howard died about six months later at the age of 73. They are both buried in the Bagby plot in the Hiseville Cemetery at Hiseville in Barren County, Kentucky.
John Howard was the son of Roderick Bagby (1798-1852) and Virginia Wood (1805- 1892). He was the grandson of John Arthur Bagby, Jr. (1762-1834) and Matilda Davis (1773-1856) and may have lived in the house they built north of Glasgow.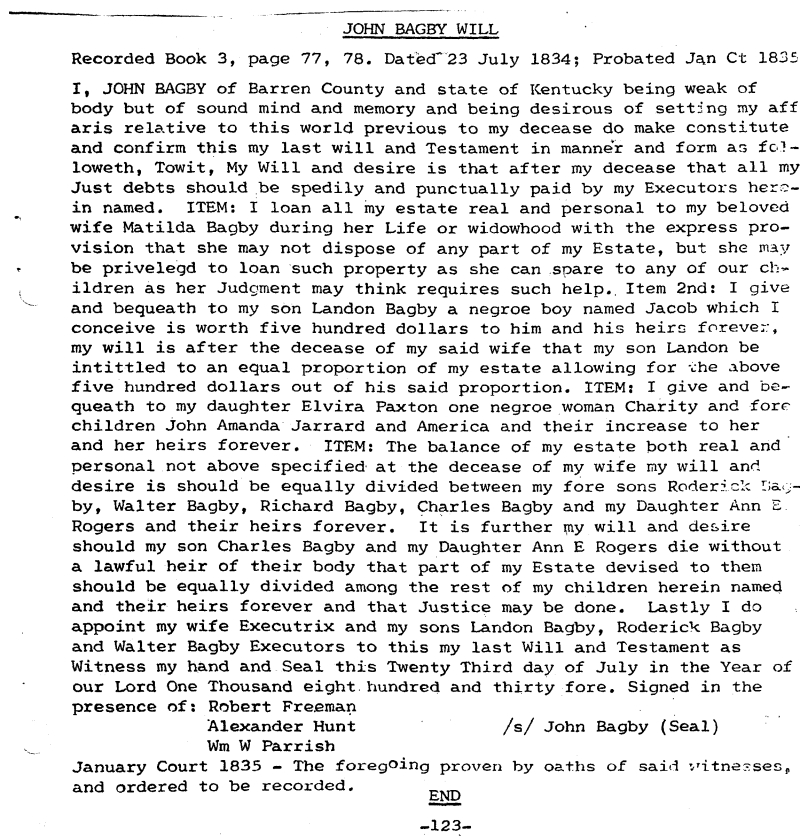 John Arthur Bagby's will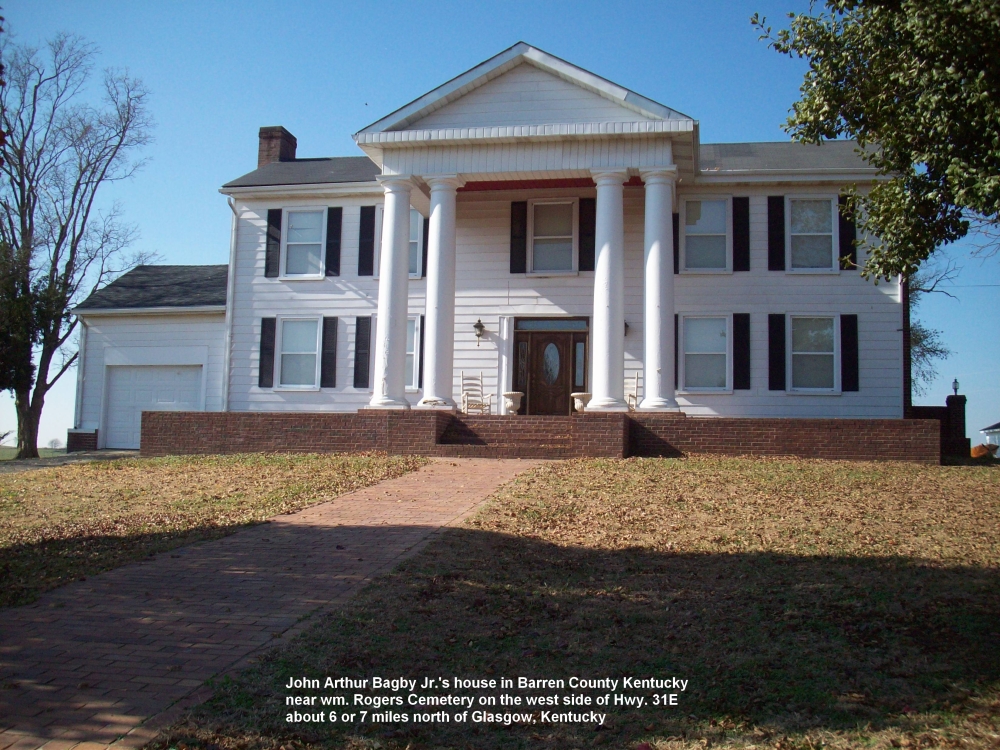 John Arthur Bagby Jr's house in Barren County
The John Bagby and William Bird Rogers Cemetery is just to the right of the house and that is where John Arthur Bagby, his wife Matilda, his son, Roderick, Roderick's wife, Virginia and others including other descendents of the Bagbys are buried. Later Bagbys are buried in the plot at the Hiseville Cemetery.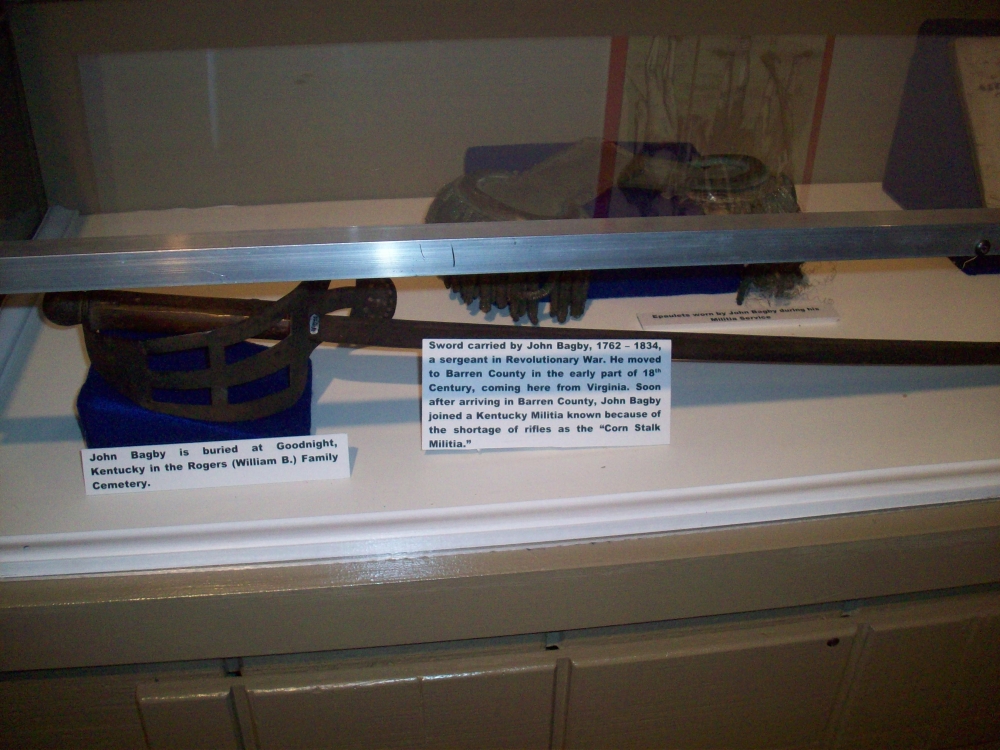 from the South Central Kentucky Cultural Center in Glasgow, Kentucky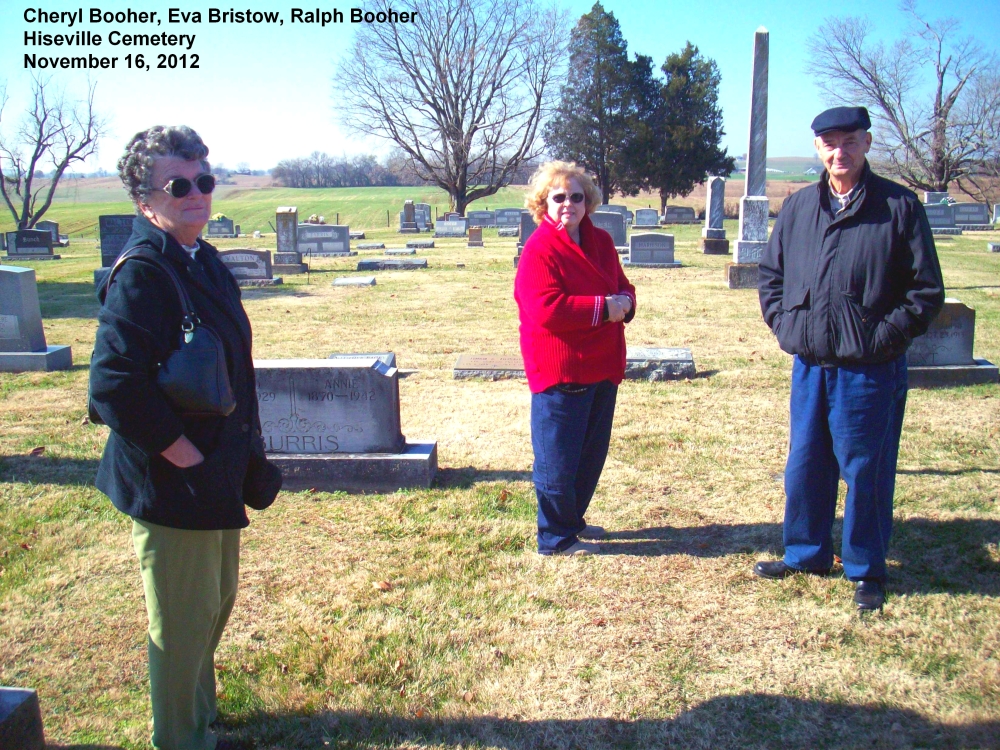 Eva Harlan Bristow can remember her mother's uncle Luther Bagby visiting their house when she was small. She says that when Luther took a bath he put his clothing in the bath afterward and washed them with the bath water to save water.

Robert Matthew Ewing was born in 1859 in Clinton County, Kentucky. He was the son of Jesse Ewing (1820-1896) and Mariba Wood (1820-1910). Mariba Wood was the daughter of Thomas Wood (1779-1834) and Mary Bayless (1777-1863). The Woods are buried in the Irwin Cemetery and the Ewings are buried in the Peolia Cemetery in Clinton County, Kentucky. Robert had three sisters and two brothers.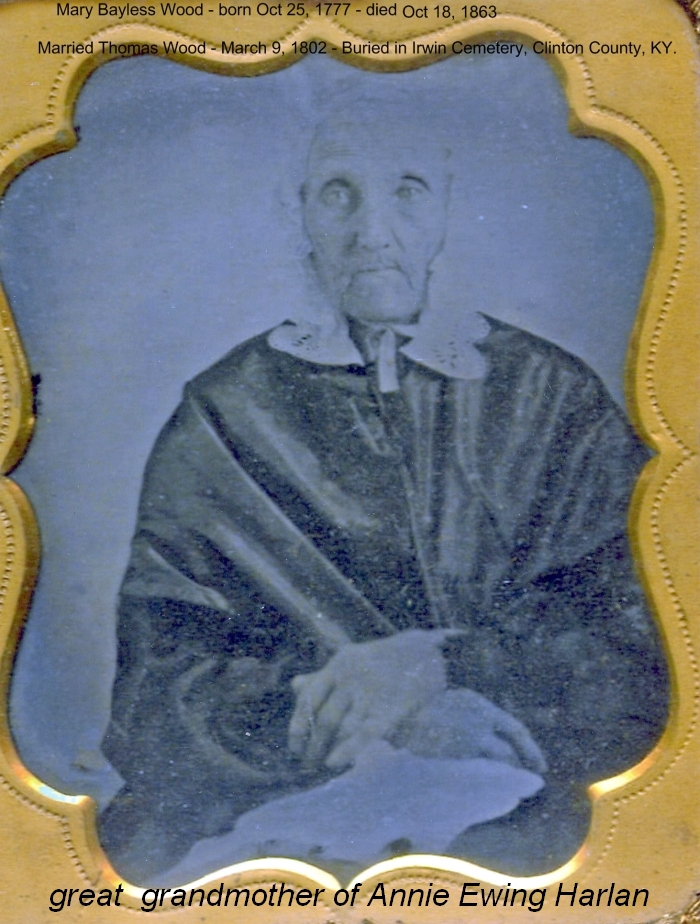 Mary Bayless Wood
In 1890 when he was 31 years old a friend was unable to travel and he asked Robert Ewing to go to Barren County Kentucky to get and return to Albany with a girl whom the friend was betrothed to marry. Robert did so. The trip by horseback or horse and carriage took two days returning and Robert and the girl, Mary "Mollie" Bagby had to camp out overnight. By the time they returned home the two were in love and she married Robert rather than his friend. Robert and Mollie were married in 1890. She was 29 years old. In the next 18 years they had twelve children together.
Children: 12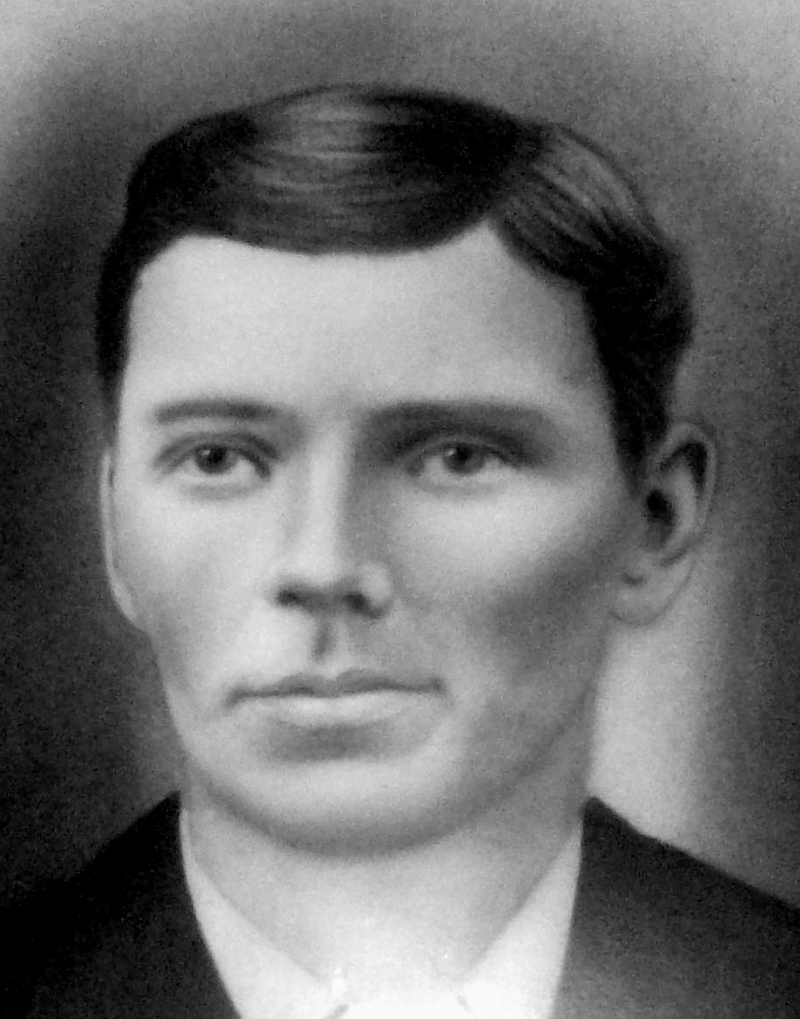 Robert Matthew Ewing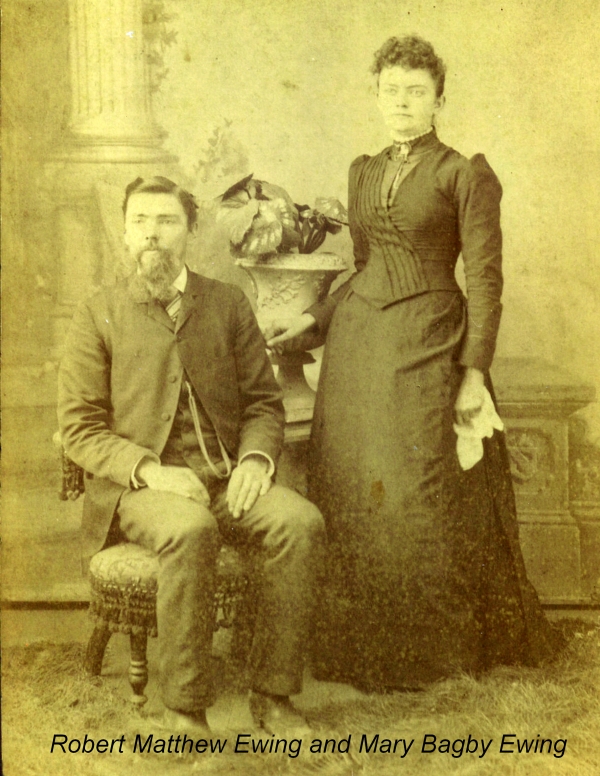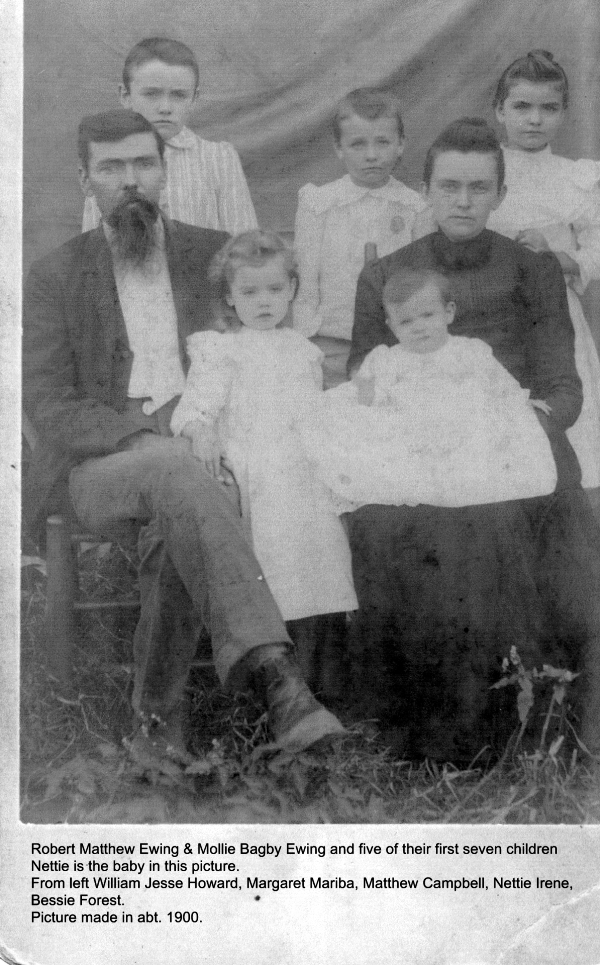 Robert died in 1911 and Mollie died in 1916. That left 7 children to be orphans. (We think Willie was old enough that he had already left home.) The Bagbys agreed to divide up the children and raise them among the Bagby family, but Robert Ewing's unmarried sister, Margaret Mariba "Maggie" Ewing took them in and raised the children so that they would not be separated.
John Thomas Harlan and his bride, Ada Griffin, had purchased part of the Ewing Farm and, after the death of their parents, John Thomas Harlan was guardian of the Ewing children.
Three of Jesse and Mariba Ewing's children had died in 1856 of flux (dysentery) and one had gone to Texas and died there so only Maggie and Robert Matthew and his eight children were left. Jesse Ewing had left his 360 acre farm to them so Maggie raised them there.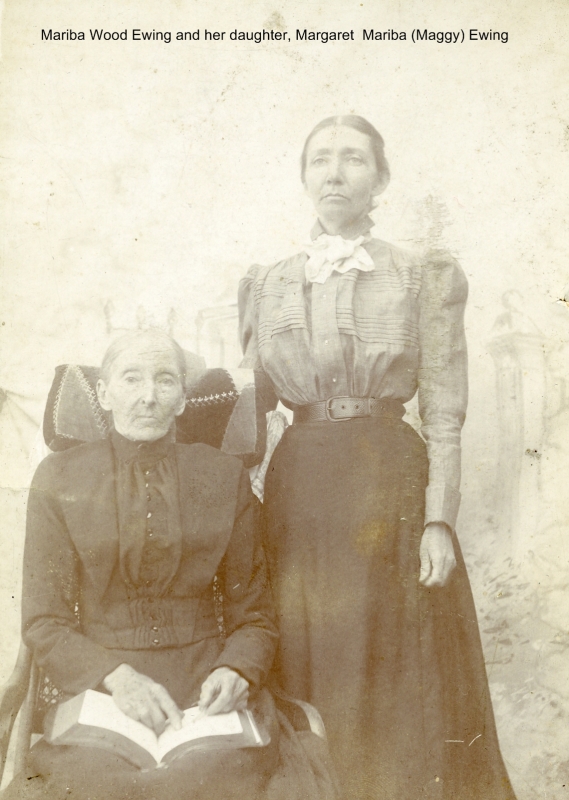 Mariba Wood Ewing and her daughter Margaret Mariba (Maggy) Ewing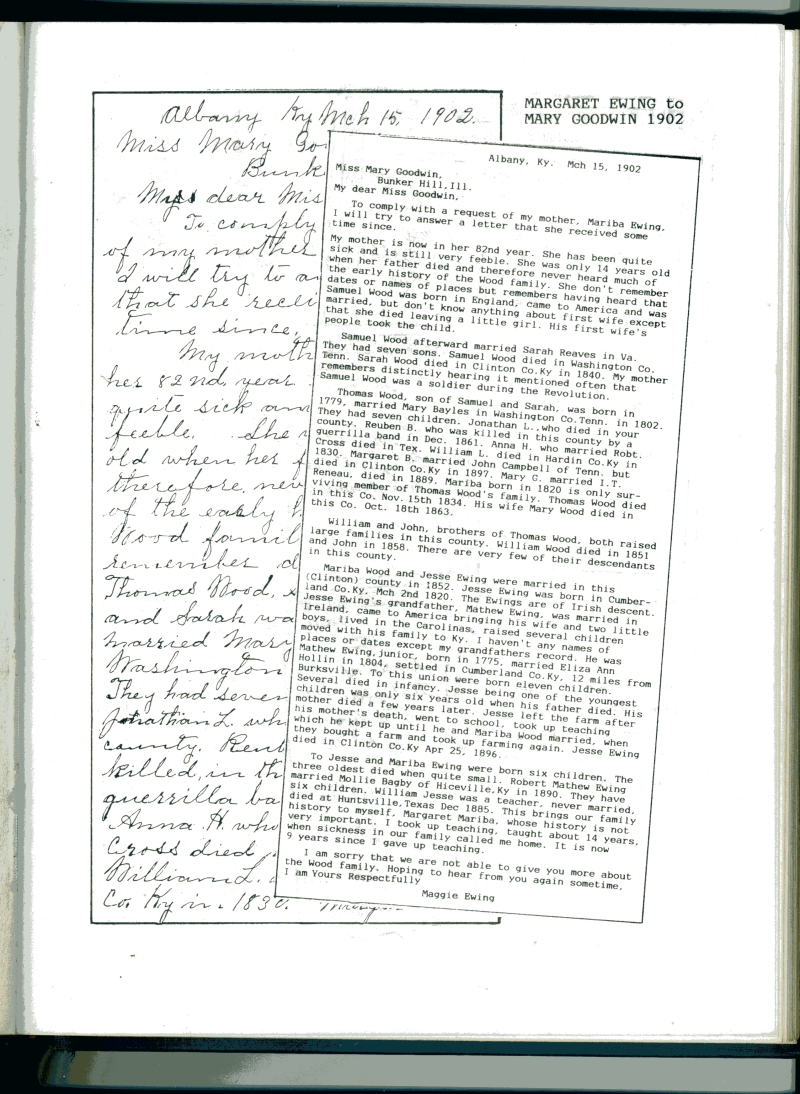 Letter from Maggie Ewing to Mary Goodwin - 1902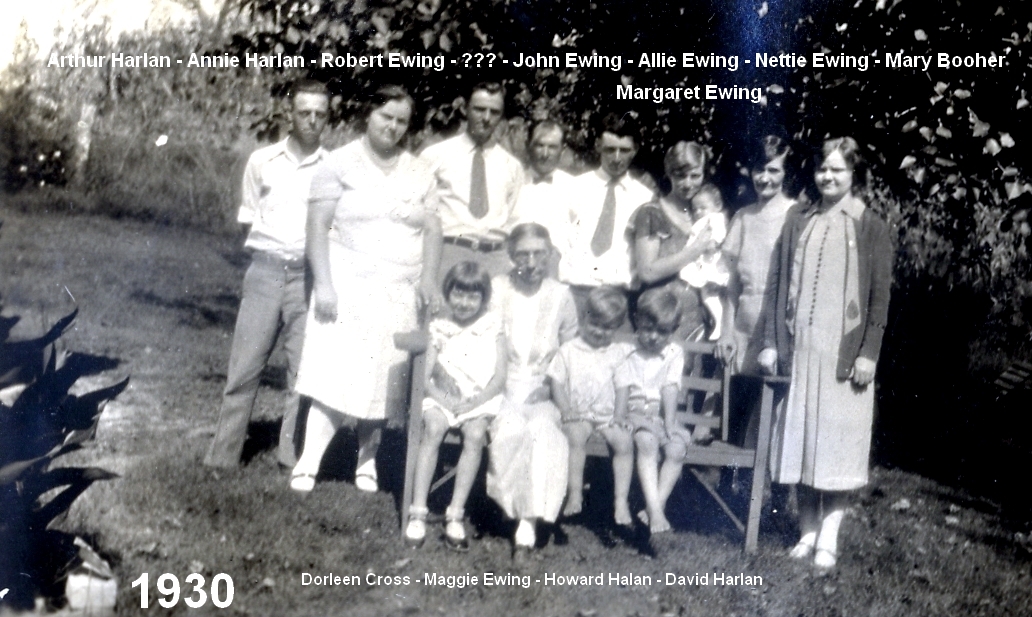 Maggie Ewing and family - 1930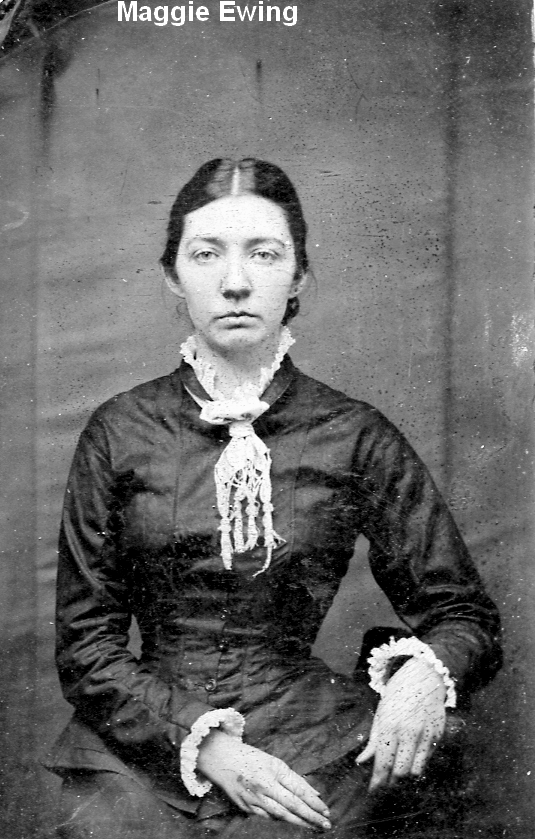 Maggie Ewing
William Jesse Howard married Fanny Tabor and they had a daughter named Mary Elizabeth. He died in 1922 in Ohio.
Mary (1905-1980) married Wellington "Wellie" Booher, a preacher and they had nine children: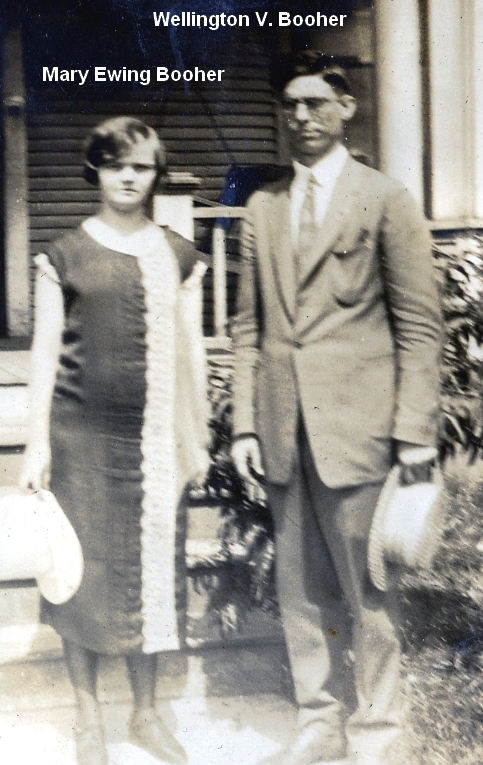 Mary and Wellie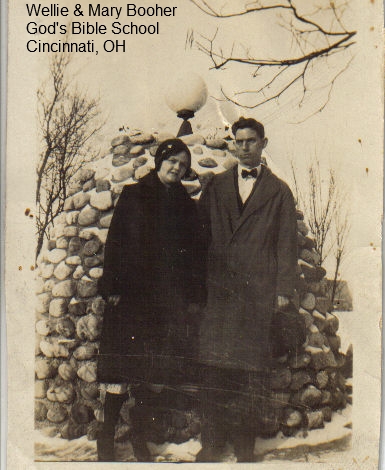 Wellie and Mary Booher at God's Bible School, Cincinnati, OH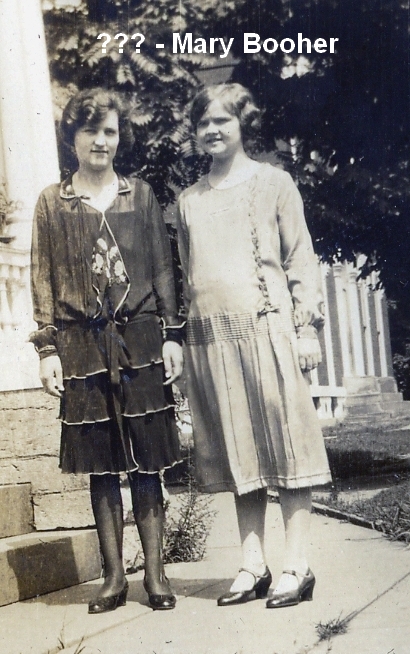 Mary Booher and friend?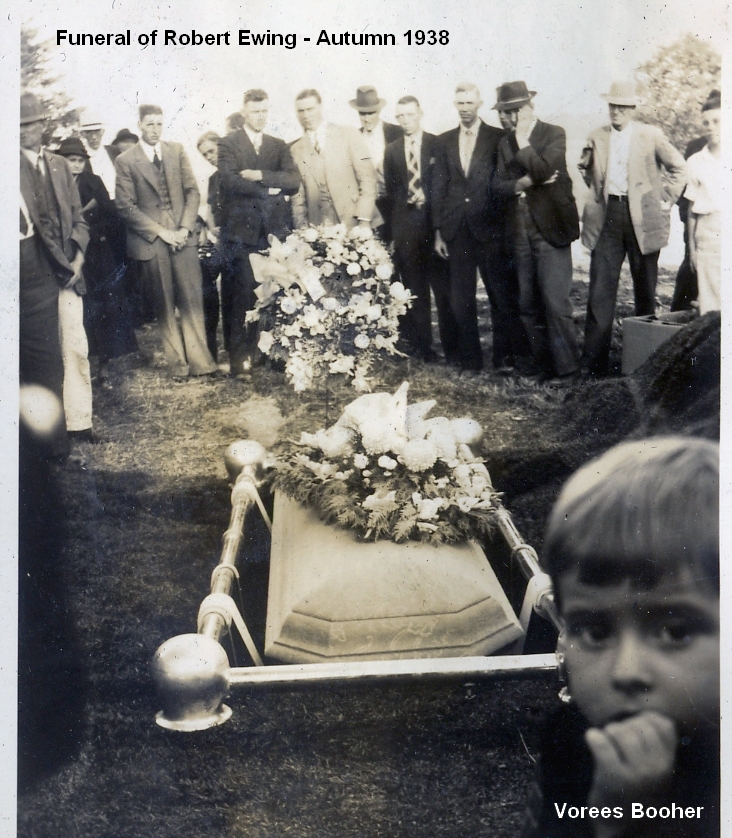 Robert, who was a twin to Mary, died in 1938.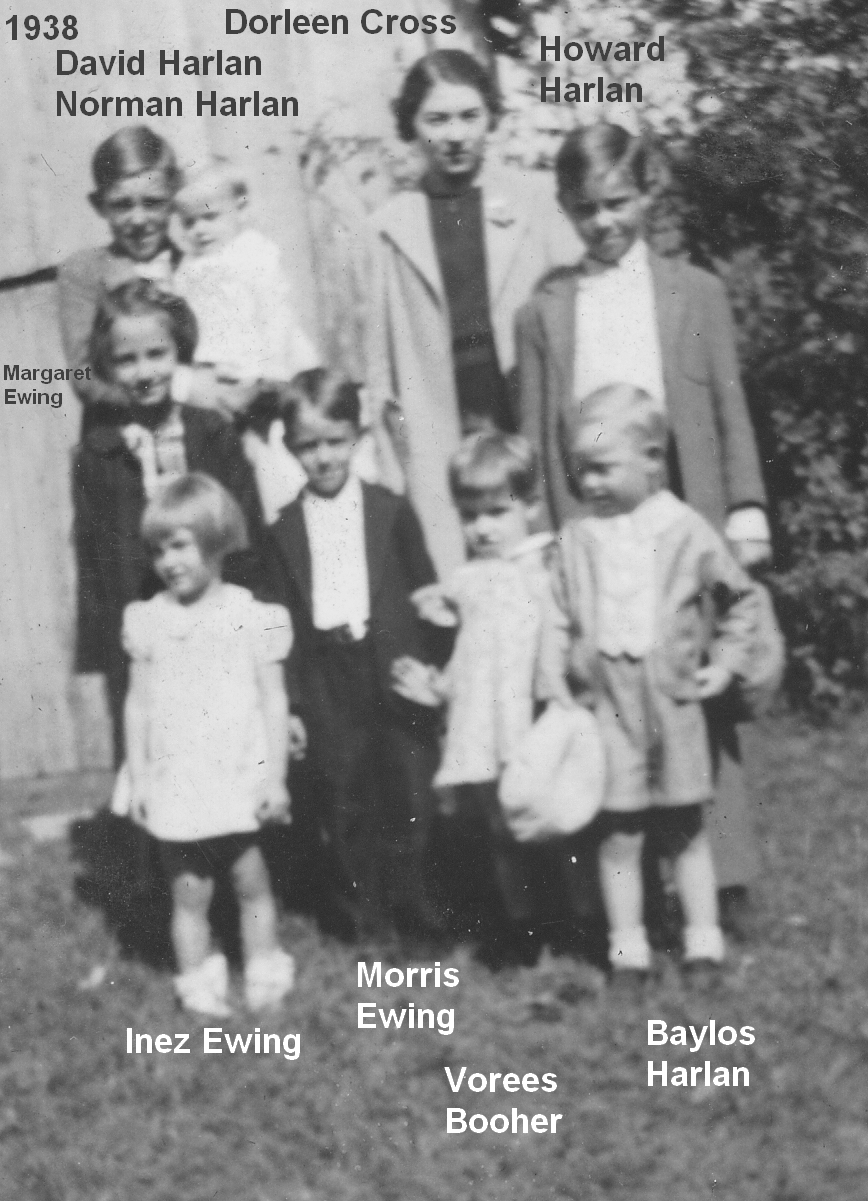 Nettie (1900-1993)

               
 Called (Net)  She was born a blue baby & was not expected to live.  She  
expected & got preferential treatment.  She was eccentric and never married  
but took great pride in being able to recall all her sibling's and their  
children's birthdays.  She was always supported by members of the family  until 
able to get Social Security.  Her brother, John, promised to keep her  always, 
in return for inheriting the Ewing farm at Albany, Ky.  He sold the  farm, 
moved to Akron, OH and only kept Nettie a few years. She went to a home.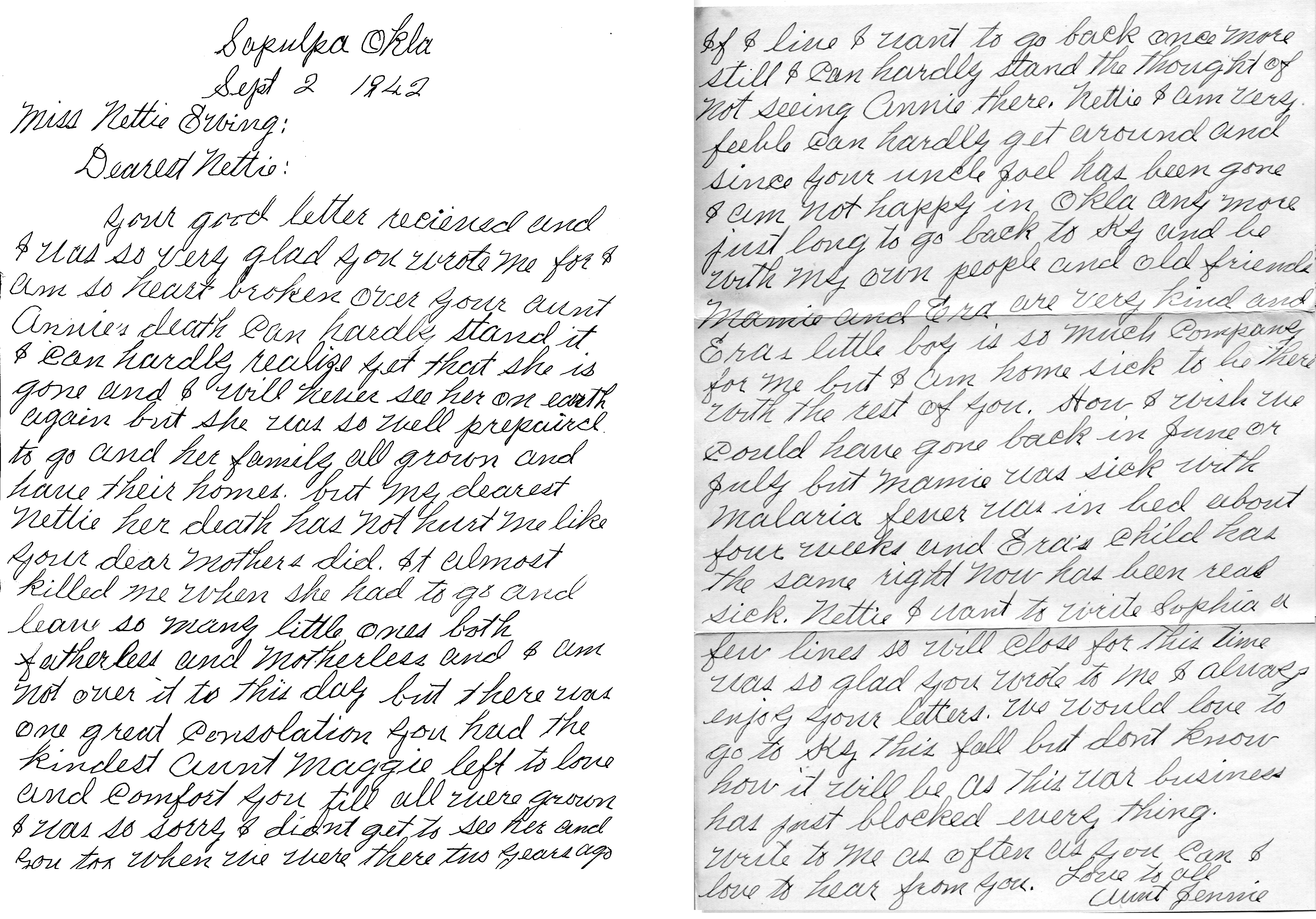 Letter to Nettie from her aunt Jenny - 1942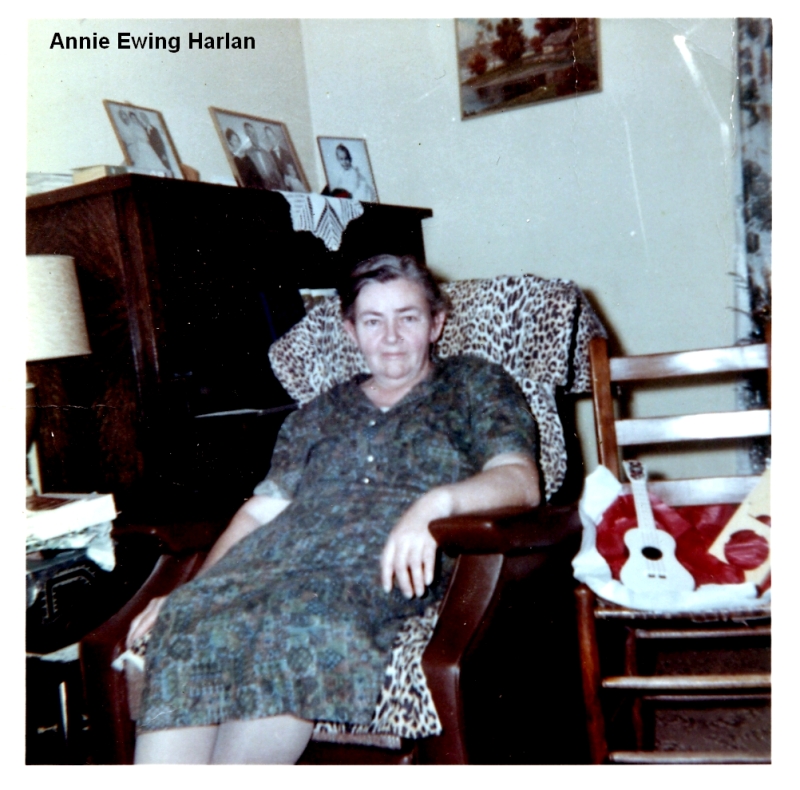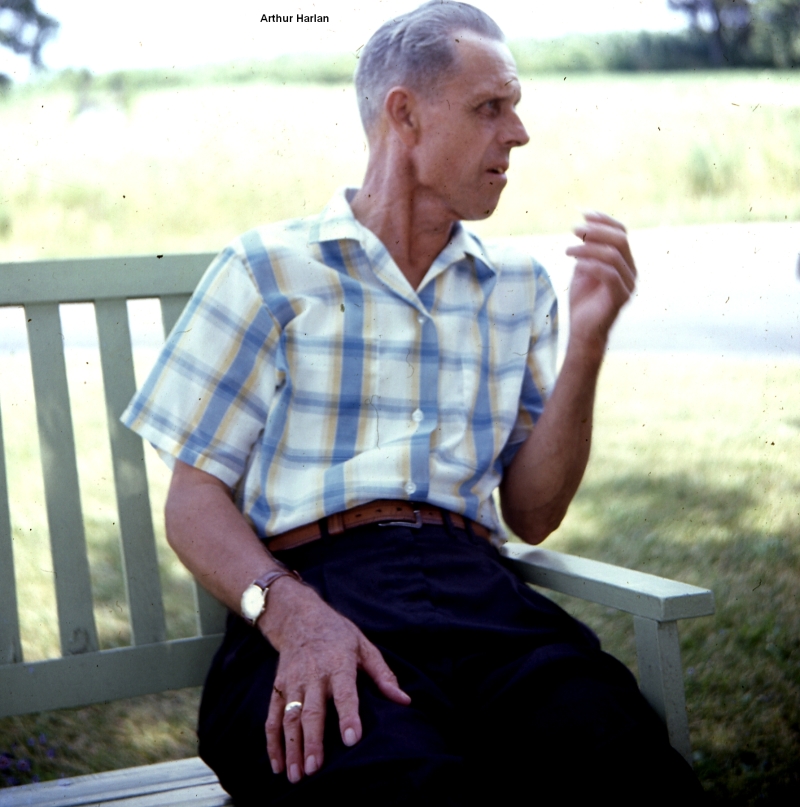 Arthur Harlan married Annie Ewing in 1925. He was 20 years old and she was 17. Their oldest son, David, was born the next year and over the next 28 years they had six more children, 4 boys and 3 girls.

The family lived in a log house until 1941 when they moved into the smokehouse and the crib with their 4 boys so they could tear down the log house and build a two story wood frame house in its place. They got electricity in the house about 8 years later but they never had indoor plumbing. Water was carried from the well in the front yard and the cistern beside the barn. Cooking was done on a wood cook stove and the house was heated by a coal pot-bellied stove in the dining room and two coal fireplaces in the two front rooms. There was a half basement where home canned food and potatoes were stored. The house had a well used front porch and a concrete walk to the parking area by the road in front. In the back were a smokehouse, a chicken house, a brooder house, an outhouse, a corn crib and two barns and a pond with bull frogs.

Annie died due to a heart attack in 1966. She was 58. Arthur married Lillian Wood Huff, a widow who was six years older than he was and lived with her until his death in 1983 at age 77.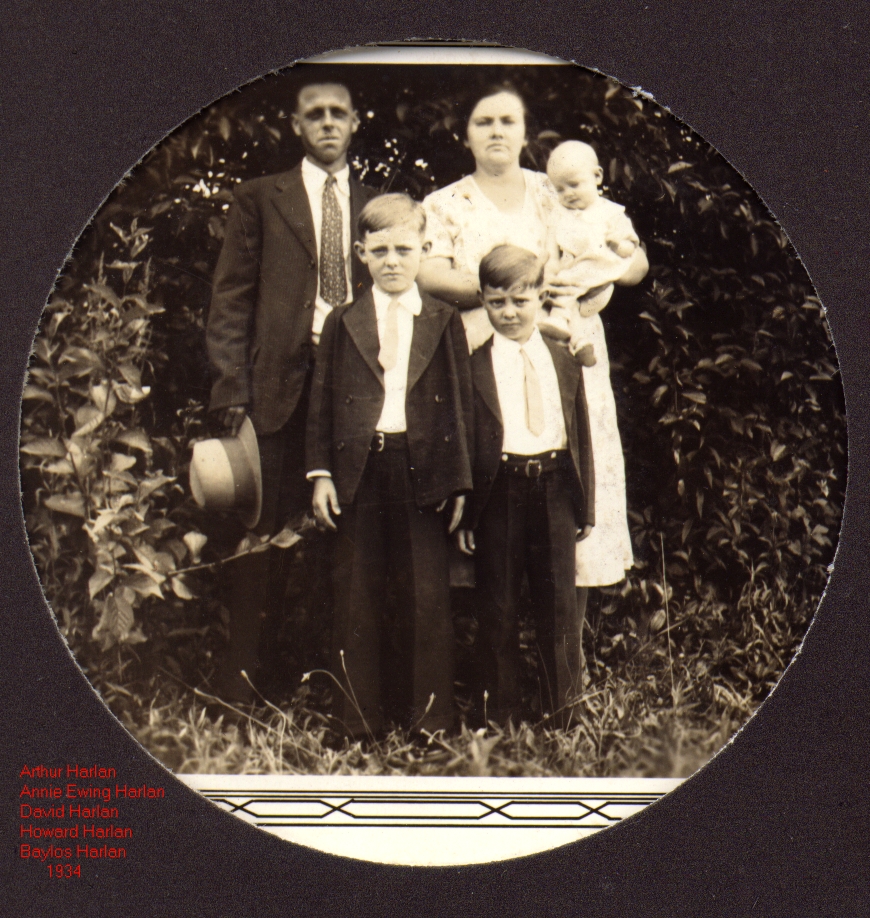 Norman's Home Movies
Click here for Norman's home movies
These pictures are stills from Norman's movies: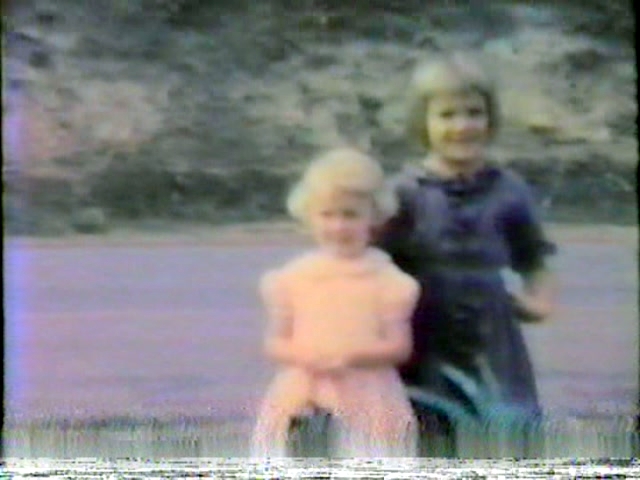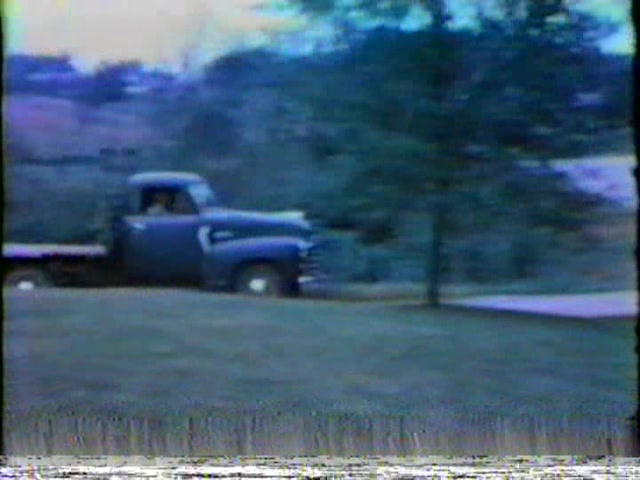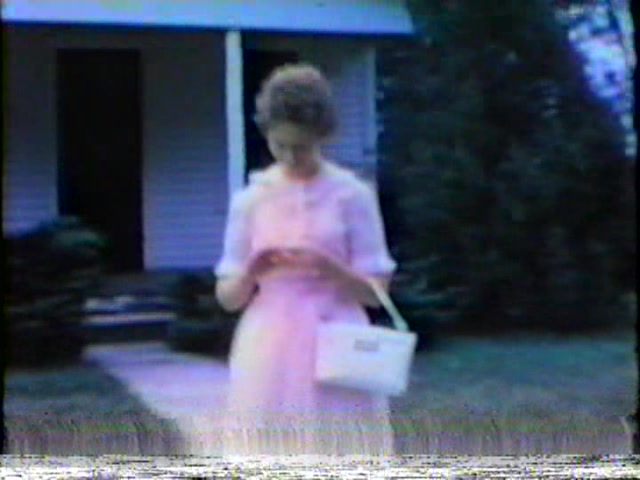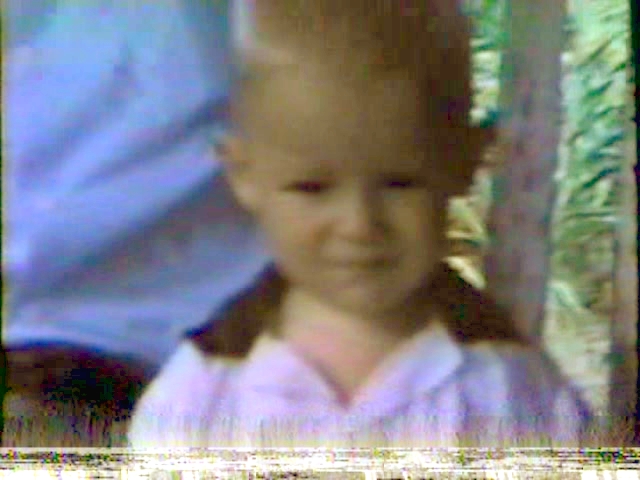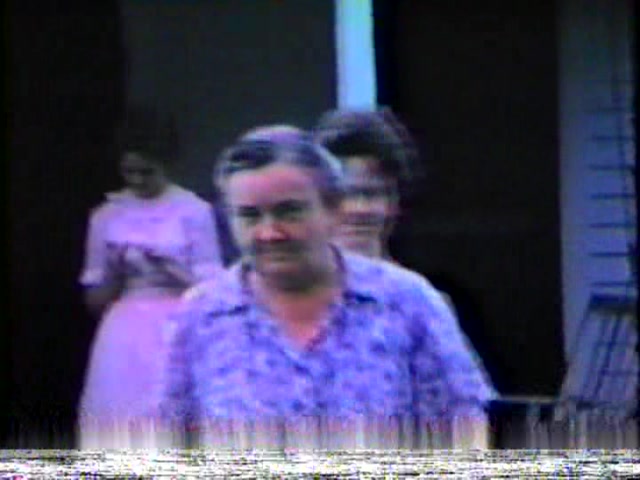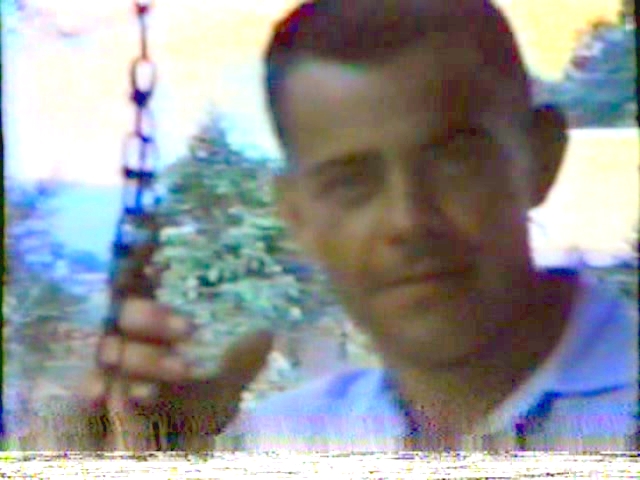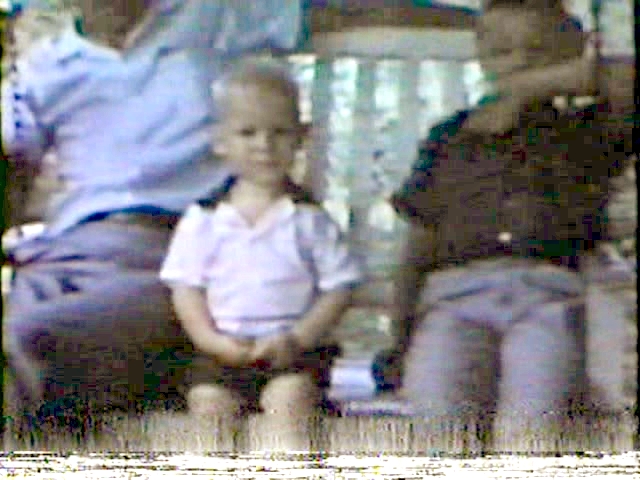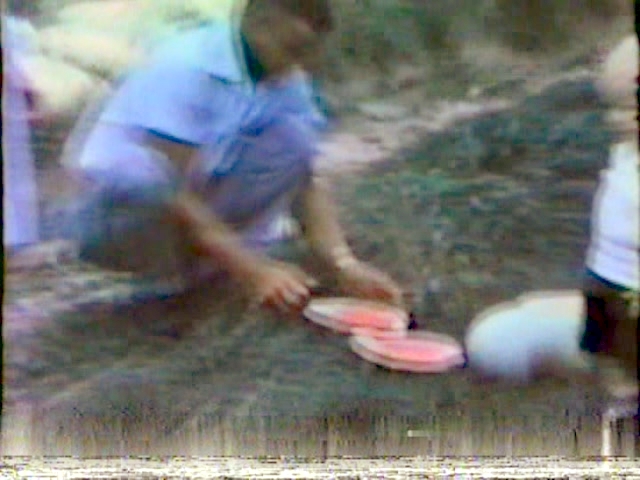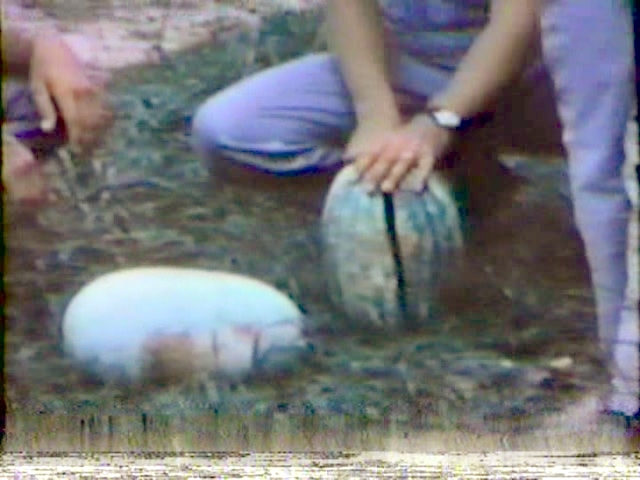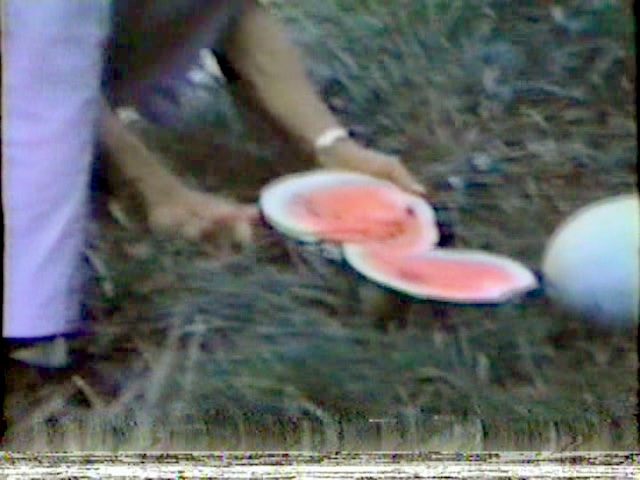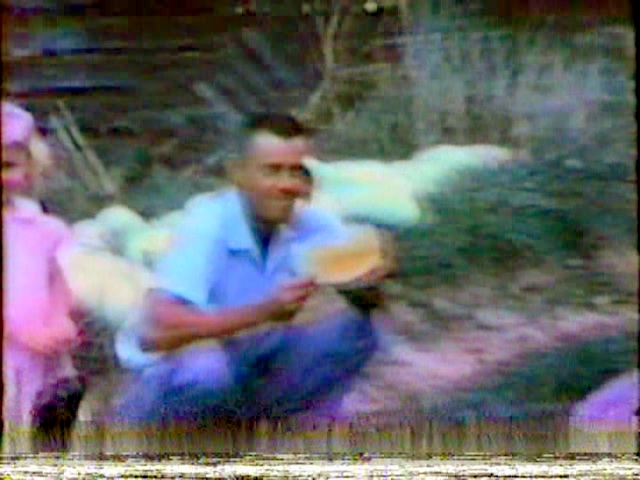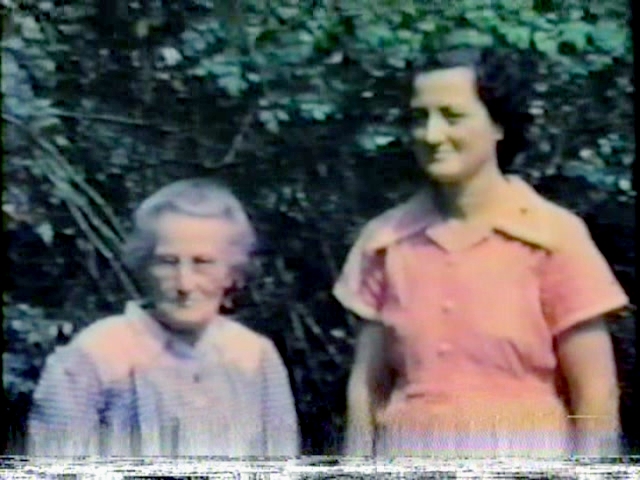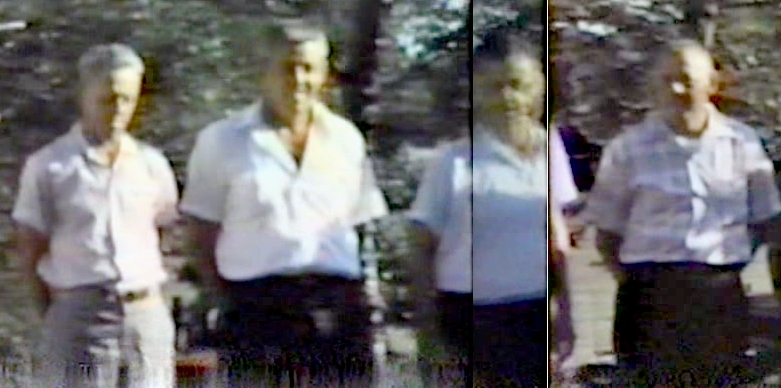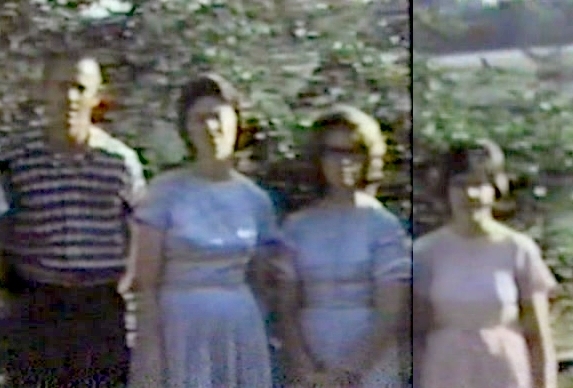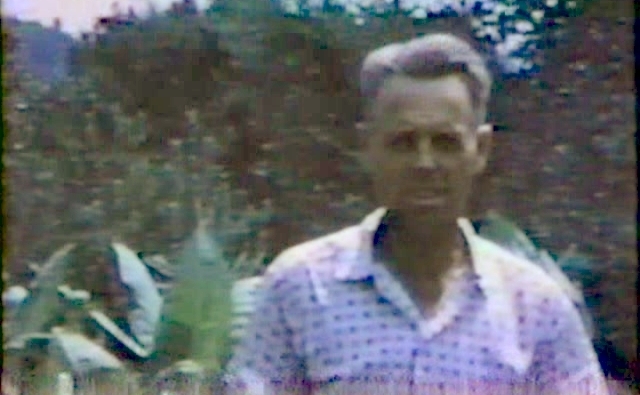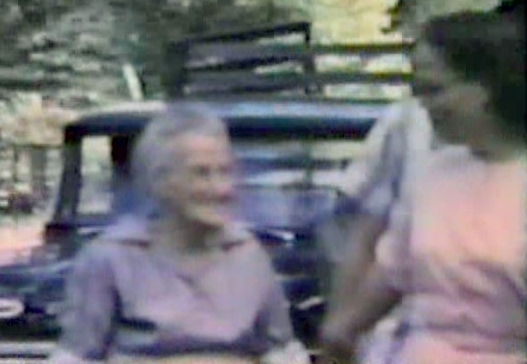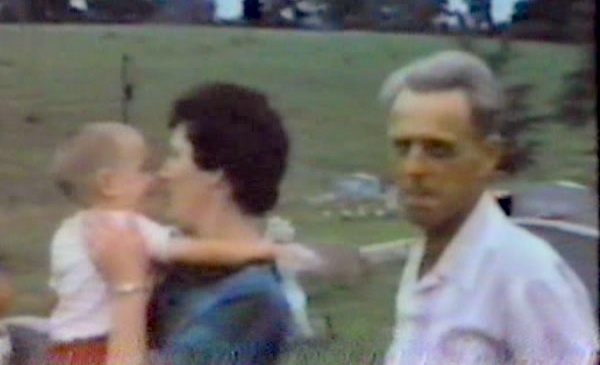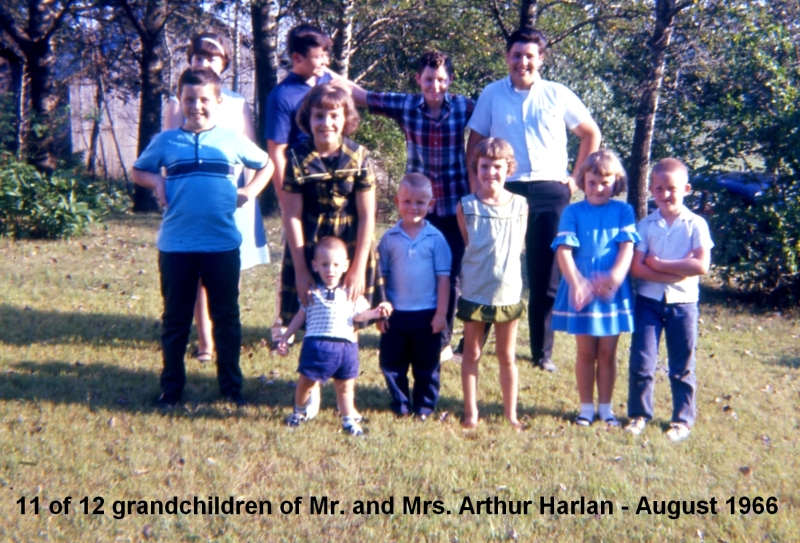 Teresa Harlan is not in the picture.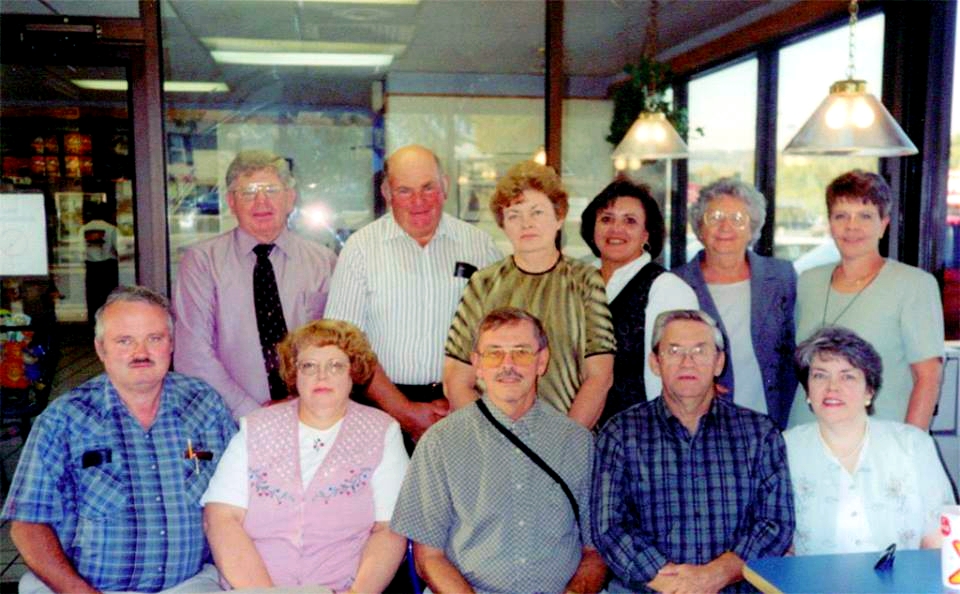 Left to right
1st row - Denton Neal, Dan Flowers, Mary Harlan Flowers, Barbara Sue Harlan, Betty Huddleston Harlan, Betty Josephine Harlan Neal
2nd row - Duane Bristow, Eva Harlan Bristow, Norman Harlan, Nathan Meeks, Ruth Harlan Meeks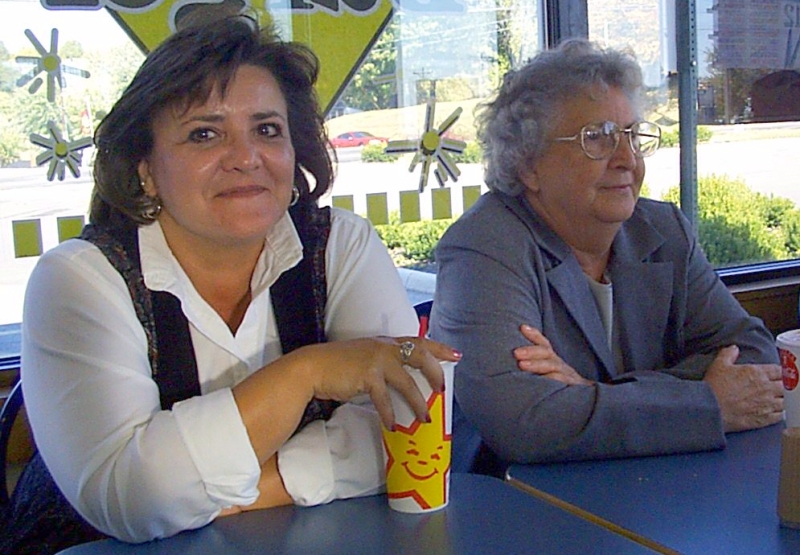 Barbara Sue and Betty Harlan

Children: 7
Grandchildren: 19
Great Grandchildren: 28
Great Great Grandchildren:

Last revised September 2014.
Please send comments.
All contents copyright (C) 2014, Duane Bristow. All rights reserved.