Little History
There is big history. That is the story of the phases of existence over the last 14 billion years.
There is middle history. That is the stories of the written history of the world here on earth and national history and state history as taught in schools.
There is little history. That is the stories of the histories of individual families or communities or companies or other organizations or even the life histories of individual people in the form of a biography or a lifebook.
These are a few stories of little history that I have compiled.
History is both incomplete and inaccurate as well as being biased to the viewpoint of the historian. To make this point I often tell people who have learned their history in our school system, and who often believe as a result that what they have learned is both complete and accurate, that what they have learned is a "lie". History is many things:
It is a list of significant events that have happened in the past including dates, places, what happened and why it was significant.
It is stories of adventure and war and romance and politics and discovery and creative endeavors and also failures and death and plagues and famine and natural catastrophes.
It is an understanding of the type of life necessitated by the needs of everyday living in various places and times.
It is a story of advances and setbacks both in man and in the world or universe as a whole.
It is a "what if?" story. It invites imagination of possibilities of other worlds and alternate histories.
These are the little history stories that I, an older man, believe to be true based on what I have been told and the research I have done and what I can remember. It is an incomplete story, but I write what I can of it in hopes that it may be of interest to some people in present and future generations.

Contents:

               
 Reuben Wood was murdered by the Confederate Gorilla, Champ Ferguson who  
killed over 100 men because he perceived them as enemies because they had  
chosen to side with the North (President Lincoln) during the Civil War.  Reuben 
was the great uncle of Mary (Ewing) Booher who told this story many  times to 
her children.  Champ Ferguson was hanged in Nashville after being  tried for 
the murder of 23 people of whom Reuben Wood was no. 5 in the  indictment.  Book 
about it was "Champ Ferguson, A Confederate Gorilla"
  

The killing of Reuben Wood

Murl Conner - A Clinton County War Hero
               
Garlin Murl Conner 

Birth:  Jun. 2, 1919 Death:  Nov. 5, 1998 

Information provided by Judy Richards, FAG #47131306: 

LOUISVILLE, Ky. (AP) — Lt. Garlin Murl Conner left the U.S. Army as the 
second-most decorated soldier during World War II, earning four Silver Stars, 
four Bronze Stars, seven Purple Hearts and the Distinguished Service Cross for 
his actions during 28 straight months in combat. 

But despite backing from congressmen, senators, military veterans and 
historians, he never received the Medal of Honor, the nation's highest 
military distinction, awarded for life-risking acts of valor above and beyond 
the call of duty. 

Now a federal judge in Kentucky has ended his widow's 17-year quest to see 
that her husband received the medal. 

U.S. District Judge Thomas B. Russell, in an 11-page opinion issued late 
Tuesday, said a technicality will prevent Pauline Conner of Albany, Ky., from 
continuing her campaign on behalf of her husband, who died in 1998. Russell 
concluded that Pauline Conner waited too long to present new evidence to the 
U.S. Army Board of Correction of Military Records, which rejected her bid to 
alter her husband's service record. 

Russell praised Conner's "extraordinary courage and patriotic service," but 
said there was nothing he could do for the family. 

"Dismissing this claim as required by technical limitations in no way 
diminishes Lt. Conner's exemplary service and sacrifice," Russell wrote. 

Richard Chilton, a former Green Beret and amateur military historian who has 
researched Conner's service, said Conner deserves the Medal of Honor. Chilton 
pledged to get resolutions from lawmakers and veterans' groups in all 50 
states in an attempt to get Congress to act on Conner's behalf. 

"I want to make sure they can't walk away from this," Chilton told The 
Associated Press on Wednesday. "He's a man worthy of this." 

Roughly 3,400 people have received the Medal of Honor since it was created in 
1861, including actor Audie Murphy, the most decorated U.S. soldier in World 
War II. Murphy fought in the same areas as Conner and went on to star in 
dozens of Hollywood films, most of them Westerns and war epics. 

Conner served with the 3rd Infantry Division, which fought in France and 
Europe in 1945. The Army in 2001 named Eagle Base in Bosnia-Herzegovina after 
Conner, who died in 1998 in Clinton County, Ky., where he lived after his 
fighting days and served 17 years as president of the Clinton County Farm 
Bureau. 

"He was a real hero," said attorney Donald Todd of Lexington, who represents 
Conner's family. 

Conner's citation for the Distinguished Service Cross states that on Jan. 24, 
1945, near Houssen, France, he slipped away from a military hospital with a 
hip wound to rejoin his unit rather than return home to Kentucky and unreeled 
a telephone wire, plunged into a shallow ditch in front of the battle line and 
directed multiple rounds of fire for three hours as German troops continued 
their offensive, sometimes getting within five yards of Conner's position. 

The board first rejected Conner's application in 1997 on its merits and turned 
away an appeal in June 2000, saying at the time no new evidence warranted a 
hearing or a new decoration despite more than a dozen letters of support for 
Conner. 

In the years that followed, lawmakers in Kentucky, Tennessee and three other 
states passed resolutions backing the effort to see Conner receive the Medal 
of Honor. After Chilton found three eyewitness accounts to Conner's deeds in 
2006, Pauline Conner resubmitted the case to the board in 2008 — two years 
after the statute of limitations expired. 

A bipartisan group of current and former members of Congress has backed 
Conner's application in the past, including retired Sen. Bob Dole, a Kansas 
Republican and World War II veteran; retired Sen. Wendell Ford, a Democrat 
from Kentucky; current Senate Minority Leader Mitch McConnell of Kentucky; and 
Whitfield, who represents Conner's home town near the Tennessee line. Noted 
World War II historian Steven Ambrose, who died in 2002, wrote in November 
2000 to support Conner's application, saying his actions were "far above the 
call of duty." 

The review board remained unmoved by Conner's submission. 

"The most recent information received 22 December 2008 is not new evidence and 
does not warrant granting an exception to the above cited regulation and a 
formal hearing," wrote Conrad V. Meyer, the director of the Army Board for 
Correction of Military Records on Feb. 9, 2009. 

While the military board has upgraded other recipients of the Distinguished 
Service Cross to a Medal of Honor, the action is rare. As of 2012, the last 
year available, 178 Distinguished Service Crosses had been elevated to Medal 
of Honor status out of 13,000 issued since 1917. Military policy dictates that 
the first decoration must be re-examined, re-justified and then re-evaluated 
with new evidence before any action can be taken. 

The military can also conduct a review at the behest of Congress. 

In February, the Pentagon announced that President Barack Obama will bestow 
the Medal of Honor on 24 other veterans after a decade-long congressionally 
mandated review of minorities who may have been passed over for it because of 
prejudices. The unusual mass ceremony, scheduled for Tuesday, will honor 
veterans — most of Hispanic or Jewish heritage — who already had been 
recognized with the Distinguished Service Cross. 

Conner's commander in World War II, retired Maj. Gen. Lloyd B. Ramsey of 
Salem, Va., filed an affidavit saying Conner's work, while injured, provided 
valuable intelligence. 

"There is no doubt that Lt. Conner should have been awarded the Medal of Honor 
for his actions," Ramsey wrote. "One of the most disappointing regrets of my 
career is not having the Medal of Honor awarded to the most outstanding 
soldier I've ever had the privilege of commanding." 

Conner's fellow soldiers also filed affidavits crediting Conner with helping 
not only save the lives of fellow soldiers but being key to defeating the 
Germans in the battle. 

Retired Lt. Harold Wigetman, a member of the 3rd Battalion, 7th Infantry, said 
that between the artillery strikes Conner called in and spray from his own 
machine gun, he killed at least 50 German soldiers and wounded twice as many. 

"His heroic and entirely voluntary act saved our battalion," Wigetman wrote. 
"If he hadn't done what he did, we would have had to fight for our lives." 
 
 
Inscription: 

1st LT US Army World War II 

Distinguished Service Cross Silver Star with 3 Oak-Leaf Clusters Purple Heart 
with 2 Oak-Leaf Clusters 
 
Burial: Memorial Hill Cemetery Albany Clinton County Kentucky, USA 



A timeline:
This is a timeline of human development to help us to keep our place in time in the proper perspective. It is based on a scale in which now is midnight on December 31 and on this scale the formation of the earth 4.5 billion years ago was one year ago on January 1st.
At this scale one month represents 375 million years of history.
6 months is 2 1/4 billion years
3 months is 1.125 billion years
1 day is 12.3 million years
1 hour is 513,698 years
1 minute is 8,562 years
and 1 second is almost 143 years.
The origin of the Universe over 14 billion years ago would have been about 3 years ago at this scale.
So, at this scale, here is the year:
January 1, 12:01 am - Earth is formed - 4.5 billion years ago.
Late February - Life develops - 3.8 billion years ago.
July - Multicellular life forms appear - 2.1 billion years ago.
Mid November - Arthropods appear - 570 million years ago.
November 18 - Fish appear - 530 million years ago.
November 19 to December 11 - Age of trilobites - 521 to 250 million years ago.
November 22 - Land plants appear - 475 million years ago.
December 1 - Trees and forests appear - 385 million years ago.
December 11 to December 26 - The age of dinosaurs - 245 to 66 million years ago.
December 15 - Mammals appear - 200 million years ago.
December 31 - noon - Hominids appear in the trees - 6 million years ago.
December 31 - 4 pm - Hominids descend from the trees and begin to stand upright - 4 million years ago.
December 31 - 7 pm - Hominids develop stone tools and begin an increase in brain size - 2.5 million years ago.
December 31 - 8 pm - Hominids spread out of Africa - 2 million years ago.
December 31 - 11 pm - Hominid brain size exceeds 1000 ml - 500 thousand years ago.
December 31 - 11:35 pm - Homo sapiens appears - 200 thousand years ago.
December 31 - 11:53 pm - Homo sapiens spreads out of Africa - 60 thousand years ago.
December 31 - 11:55 pm - cave art and shell ornaments and beads appeared signifying the beginnings of social interaction and symbolism - 45 thousand years ago.
December 31 - 11:56 pm - Homo sapiens spread into Europe - 38 thousand years ago.
December 31 - 11:58:37 - The Neolithic revolution and the beginnings of agriculture and towns and cities - 12 thousand years ago.
December 31 - 11:59:56 - Columbus discovers America - 523 years ago.
December 31 - 11:59:59 - The American Civil War - 155 years ago.
---
Notable events in the history of humanity:
74,000 years ago Toba volcano eruption causes global cooling and reduces world human population to just a few thousand people and they began to wear clothes to keep warm.
About 60,000 years ago the scientific Adam gave birth to the modern human race.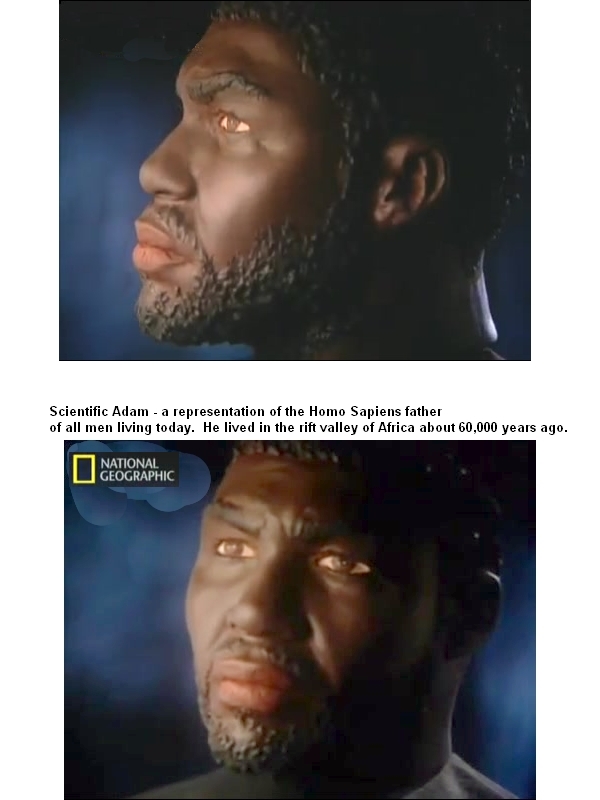 40,000 years ago was a supernova event - arrival of radiation blast - preceded by huge gravity waves, which unsettle the earth's crust, causing increase in volcanic activity.
33,000 years ago was another supernova event - arrival of the supernova shockwave.
20,000 years ago was the peak of the last Ice Age.
12,000 years ago end of last major ice age.
The sphinx was built.

10,000 years ago the Sahara began to transform from grassland to desert.
farming - goats, cattle, sheep, wheat, barley, rice, millet, lentils, figs, beer, pottery, pigs, llamas, chickens, spinning and weaving.
8,000 to 9,000 years ago city of Jericho flourishes.
6,000 years ago there were villages with Kings and the beginnings of empires and some big buildings were built such as the ziggurat temples in west asia.
Horses were domesticated and carts were invented as were metal tools from bronze.
5,000 years ago writing began.
4,500 years ago the pyramids were built.
4,000 years ago wheels with spokes and the pottery wheel.
3,500 years ago the alphabet and use of iron.
3,000 - 2,000 years ago religions developed - kingdoms and city states and empires
Bow and arrow, travel and trade flourished.
2,000 to 1,600 years ago there were smallpox epidemics, blown glass and paper were invented bricks and concrete were used for building.
1,500 years ago the idea of zero as a placeholder was conceived and the modern numeric system began.
1,600 to 1,200 years ago empires collapsed and Islam arose and Christianity spread.
1,150 years ago arabic scholars invented algebra.
1,000 years ago the climate got warmer and mirrors were invented.
900 years ago was the first Crusade.
800 years ago the Mongols rose to power and spread culture throughout asia and the middle east. There was moveable type, compasses and gunpowder.
700 years ago was the little ice age, a colder period.
670 years ago the Mongol influence increased trade and travel and people living in cities spread the bubonic plague throughout Europe, Asia, and North Africa and the Mongol empire collapsed.
600 years ago was the end of the plague and the Ottoman empire spread.
The Iroquois and Inca, Aztec, Maya, and Zapotec tribes were strong in America.
500 years ago the last islamic rulers were forced from Spain and Columbus sailed for North America.
In the last 500 years the enlightenment began as well as the age of exploration and the subjugation of native peoples by the Europeans.
In the last 150 years, more big changes came to the world. First, the invention of motorized machines, or the industrial revolution, meant that instead of most people working on farms, most people could live in cities while only a few people worked on farms. Second, the native people of most of the conquered countries got back control of their countries.

Last revised September 2014.
Please send comments.
All contents copyright (C) 2014, Duane Bristow. All rights reserved.