Lives and Deaths
Often it is only possible to evaluate the impact of a person's life after their death. This is because that this evaluation can be influenced, sometimes significantly, by the way the person approaches their death or by the circumstances of their death and by the aftermath of their death. It is also, of course, because all the evidence necessary to evaluate their life is not in until the life is over.

These are my impressions of the impact of the lives of some of the people I have been familiar with or have been made aware of. These are not famous people, except, perhaps, in their own families, but just interesting people. In some cases these people are not included so much because of the impact of their lives but by the circumstances of their death and what this may say about other people involved.

Contents:

John Bristow was a stowaway on a ship in 1663 to the Virginia colony. He was 14 years old. John was educated and could read and write. He was found wandering around and sentenced to be an indentured servant till 21 years old. He became a respected member of the Virginia colony; owned slaves and sections of land. His life in the Virginia colony has been well documented in the USA.
We do not know what type of work John Bristow did as a servant indentured to John Hughes. He could read and write (as demonstrated by his later selection as a Lay Reader at the Upper Chapel of Christ Church), talents which placed him in a select minority of his contemporaries. Hughes (or any master) would have been foolish to not make use of such valuable skills. Therefore it is less likely that John was primarily a field hand, though he may have joined in at tobacco harvest time.
The will of John Bristow probated November 6, 1716 and recorded in Will Book "B", page 51, Middlesex County, Virginia reads:

 
"In the name of God Amen I John Bristow being sick and week in body but
sound in memory do make this my last will and testamt First I bequeath my
soule to God that made itt & my body to the earth from whence it came & all
my worldly goods as follows:  Item I lend unto my loving wife Mary Bristow
one negro woman named Judy during my wifes natural life & then to return to
my estate againe  Item I give and bequeath unto my son Nicholas Bristow one
negro man named Jack to him and his heirs  Item I give and bequeath unto my
Daughter Anne Bristow one negro woman named Bess with incres to hur and hur
heires forever  Item I give and bequeath unto my grandson John Bristow sone
of Tho: Bristow one negro boy named Majgor (sic) to him & his heires  Item I
give and bequeath unto William Owen sone of Michaell Owen one negro garle
named Lotty hur and hur incres forever  Item I give and bequeath unto my
sone William Bristow one negro garle named Rose hur and hur incres forever
Item I give and bequeath unto my sone James Bristow one negro woman named
Giney hur & hur incres forever  Item I give & bequeath unto my two sones
Nicholas & James Bristow my land to be equally divided betoined them &
theire heires forever  Item I give & bequeath my hole personall estate to be
equally divided betoine my wife & children after my debts first paid &
Lastly I appoint my sones Nicholas & James Bristow Executures of this my
last Will & Testament as witness my hand and seale this 20 Day of Feb 1716
 
(Signed)  JOHN BRISTOW (Seal)
signed and sealed & delivered in Jre of us
       Will Daniell
       Will Daniell jnr.
Probated November 6, 1716"


Reuben Wood was murdered by the Confederate Gorilla, Champ Ferguson who killed over 100 men because he perceived them as enemies because they had chosen to side with the North (President Lincoln) during the Civil War. Reuben was the great uncle of Mary (Ewing) Booher who told this story many times to her children. Champ Ferguson was hanged in Nashville after being tried for the murder of 23 people of whom Reuben Wood was no. 5 in the indictment. See the book about it -- "Champ Ferguson, A Confederate Gorilla"
---
The Death of Reuben Wood
From Trial Transcripts, July - September 1865
The trial opened 11 July 1865 in Nashville, TN when Champ Ferguson was indicted on two counts: first, beign a guerilla; second, murder. The indictment included murder of fifty-three persons not including the murders of Van Duvall and John Hurt near Champ's old home in Clinton County, KY on or about the 1st of May, 1865.
Testimony of Elizabeth Wood and Robert W., children of Reuben Wood:
Elizabeth testified first:
"I am the daughter of the late Reuben Wood, of Clinton County, Kentucky. He died on the 4th of December 1861. He was shot at home near Albany, KY., on Monday evening, December 1, 1861, about sunset."
"I heard some persons coming up the road, whooping and hollering as if driving stock. I went to the door to see who it was and saw Champ Ferguson, Rains Philpot, and another man whose name, I think, was Kincaid, coming down the road driving some hogs. I also saw father coming down the road in the opposite direction, and they met just about in front of the house. Ferguson, in a very abrupt manner, ordered father to get out of the road. Father did so, just as soon as he could, and was just coming up to open the front door of the house when Ferguson and Philpot rode up to the fence and ordered him to come back, which he did. Ferguson asked him how he came on, and the usual compliments were passed. Ferguson, then calling father a name, said, "I suppose you have been to Camp Dick Robinson."
"Father answered,"I have".
"He (Ferguson) then asked what father's business had been there, and before answer could be made, Ferguson, using vile and bitter language, told him nobody but a d-d old Lincolnite would be caught at any such place."
"Ferguson continued in this manner for five or ten minutes. The language I cannot express. Ferguson then drew his pistol and said, 'Don't you beg, and don't you budge.'"
"By this time mother was standing in the doorway with me, and she begged Ferguson not to shoot father. I also begged for the sake of God not to shoot him. Father said,'Why Champ, I nursed you when you were a baby. Has there ever been any misunderstanding between us?'"
"'No,' said Ferguson, 'Reuben, you have always treated me like a gentleman, but you have been to Camp Robinson, and I intend to kill you.'"
"Ferguson then shot father, but he didn't fall. He shot again and missed. Father drew his coat around himself as he walked around the house and then in the back door. The first shot took effect in the left side, below the nipple, in the pit of the stomach."
"Ferguson jumped off his horse and went around the other end of the house, Mother and I went to hunt for father, and met Ferguson with his pistol in his hand ready to shoot. He said,'Where is he? Where is he?' We told him we didn't know. We begged him not to shoot any more but he paid no attention to us, and went on into the room where father was. I heard another shot, and heard chairs falling over and a desperate noise. Mother and I screamed as loud as we could, alarming the neighborhood. We then went to the Widow Noland's about six hundred years from our house."
"We returned in a short time, finding father sitting by the fire. We begged him to lie down. He said,'No, I cannot lie down, as your were not present, until I relate the circumstances.'"
"I am not sure, but I think he said,'There will be some hereafter about this. They cannot go on this way. I am bound to die and I want you to know just how it was.' Father then told us what happened after he went around the house."
"He said that he went in the back door, picked up a hatchet, and placed himself in a corner by the front door, supposing Ferguson would come in that way. Instead of doing so, however, Ferguson came in the back door, but did not immediately see father, not until he got near the middle of the floor. Father said he saw Ferguson aiming to shoot again and that he jumped at him and knocked the pistol down with the hatchet, when the pistol went off, the bullet went into the wall. Then Ferguson tried to put his pistol against father's breast to shoot him, and father kept knocking the pistol off with his hatchet."
"They scuffled around over the floor for some time, and Ferguson at length threw father on the bed. Again the attempt was made to put the pistol to father's breast, but he again warded it off with the hatchet, hitting Ferguson on the side of the head and knocking the pistol out of his hand into the bed, where it got lost in the covering. Ferguson then let him loose and started out of the house, with father pursuing him with the hatchet in his hand. At the door, they met Philpot, who poked his pistol in father's face, cursing him, and told him if he touched Ferguson again he would blow his brains out. Father then went upstairs and remained at the top until both of the men left, holding the hatchet in one hand and pitchfork in the other. While there, he heard someone come into the house and go out again, he supposed to get the pistol off the bed."
"I was with father from that time until his death. To every person who talked with him, he said he was bound to die. He never had any other idea. He could hardly sit up to get through with his statement, and went to bed immediately after he had finished. He would speak a few words and then stop to rest. He died about eleven o'clock in the forenoon of Wednesday. I don't know his age exactly but he was nearly sixty years old at the time. He had no arms about him when shot and there were none about the house."
Reuben W. Wood was sworn and testified that he came home the night after his father was shot, that the wound looked very bad, and that his father's first words to him after he came home were: 'Robert, I can't stand it long. Ferguson has shot me.'"
Champ Ferguson's interview on the subject of Reuben Wood after the trial was over:
"The testimony in this case," he said, "was with very few exceptions, false. Reuben Wood and I were always good friends before the War, but after that he was connected with the same company in which my brother, Jim, was operating. I knew that he intended killing me if he ever got the chance. They both hunted me down, and drove me fairly to desperation."
"On the day that he was killed, we met him in the road and he commenced on me, using the most abusive language. I knew his disposition toward me, and I believed he intended to shoot me. The touching story about his piteous appeals to - that he had nursed me when a babe, and tossed me on his knee-- are false, and were gotten up expressly to create sympathy, and set me forth as a heartless wretch. If I had not shot Reuben Wood, I would not likely have been here, for he would have shot me. I never expressed a regret for committing the act, and never will. He was in open war against me."
NOTES:
1. Only mention of his family being Unionists and that he was in a desperate feud with his own family.
2. It was about this time that he moved his wife and daughter across the mountains into Tennessee, near Sparta, in White County.
3. Mr. Wood, being about 60 and unarmed, put up quite a fight against a younger man proving what a tough bunch these mountaineers were.
---
Hell Along the Border
by Ron Soodalter
October 10, 2012
After the October 1864 Battle of Saltville in Virginia, Union Lt. Elza C. Smith of the 13th Kentucky Cavalry lay wounded in the Emory and Henry College Hospital along with several of his white and African-American troopers. Suddenly, Rebel guerrilla Champ Ferguson burst into the ward at the head of his band. He strode across the room, and when he came to Smith's cot, he raised his rifle and snarled, "Do you see this?" He placed the muzzle a foot from Smith's forehead as the injured man lay helpless, pleading for his life. Ferguson drew back the hammer, and … CLICK! The weapon misfired. He cocked his rifle and pulled the trigger twice more, with the same result. Finally, mercifully, on the fourth attempt the gun discharged, and Smith lay dead on his cot, a bullet through his head.
An old adage maintains that history is written by the victors—and to a large extent, this is true. Yet, at the end of the Civil War, our nation's bloodiest struggle, only two men were tried and executed for war crimes. Both had served the Confederacy. One was Henry Wirz, commandant of the notorious prisoner-of-war camp at Andersonville, Ga.; the other was Rebel partisan ranger and guerrilla fighter Champ Ferguson. There is room for extenuation in the case of Wirz, an ineffectual martinet clearly out of his depth; the same cannot be said for Ferguson. While some romantics have doggedly held to the image of Champ Ferguson as a much-wronged Southern patriot and freedom fighter, he was in fact a vicious killer who took life with neither conscience nor compunction.
In the Cumberland Mountains community of Albany, Ky., the seat of Clinton County, there stands a plaque that reads: "Civil War Terrorist Champ Ferguson born here in 1821. Guerrilla leader with Confederate leaning, but attacked supporters of both sides thruout Civil War in southern Ky., Tenn. Over 100 murders ascribed to Ferguson alone. Hunted by both CSA and USA …."
Ferguson was very much a product of his time and place. A relatively successful south-central Kentucky farmer, he was born into a Southern mountain border culture that embraced the blood feud and justified violence, often unto death, as a means of resolving personal differences. Kentucky-born Abraham Lincoln well understood the mentality when he wrote, "Each man feels an impulse to kill his neighbor lest he be first killed by him." To Champ Ferguson, the world was a simple place, consisting of friends and enemies. The former were to be embraced; the latter, eliminated. In 1858, he killed his first man, stabbing a local constable over a financial dispute. According to his own account, when he joined the war three years later, it was less because of his commitment to the Southern cause than as a means of escaping prosecution. By this time Ferguson was 39, but despite the late start, he would soon add dozens of killings to his tally.
At 6 feet in height and weighing some 180 pounds, Ferguson was an imposing figure with a reputation around his hometown as a drinker, gambler and bully. His powerful physical appearance, combined with what one historian referred to as his "primordial" nature, struck terror in the hearts of his enemies. As with many who lived in the conflicted border states, his war had less to do with fighting for Southern independence than settling scores with neighbors—and in some cases, with blood kin—who happened to be on the wrong side. He himself later described his guerrilla band's theater of operations: "We were having sort of a miscellaneous war, up there, through Fentress county, Tennessee, and Clinton county, Kentucky, and all through that region. … Each of us had from 20 to 30 proscribed enemies, and it was regarded as legitimate to kill them at any time, at any place, under any circumstances."
He did exactly that. His first victim was a neighbor, William Frogg. When he rode up to the Frogg cabin, Mrs. Frogg suspected no ill will; she had known Champ since childhood, and she offered him a seat and an apple. He refused both and sought out her husband, who lay ill in his bed. Champ inquired as to Frogg's health, and his neighbor responded, "I am very sick. I had the measles and have had a relapse."
Champ accused Frogg of having contracted his illness while visiting the Yankee recruitment center at nearby Camp Dick Robinson, which Frogg vehemently denied. Ferguson simply drew his pistol and shot Frogg twice in front of his wife and child, killing him on the spot. He then ransacked the cabin, looking for weapons. At his trial four years later, Ferguson would voice what would become his constant refrain: "I considered myself justified in killing him."
One month later, Champ saddled and stole the horse of another local citizen while loudly cursing the man for a "God-damned Lincolnite" and threatening to kill him. That same day, he rode the stolen horse to the farm of Reuben Wood, a man who had been a lifelong friend until the war put them on opposite sides. As Wood finished feeding his livestock and was entering his house, Champ rode up with two Confederates and said, "I suppose you have been to Camp Robinson." It appears that to Ferguson, simply visiting the Yankee recruitment center earned a man a death sentence. Wood acknowledged that he had, to which—according to the later testimony of Wood's daughter—Ferguson responded with a long, "violent and bitter" diatribe, ending with, "Don't you beg and don't you dodge!" Wood's wife and daughter pleaded for his life, while the old man himself reminded his visitor, "Why, Champ, I have nursed you. Has there ever been any misunderstanding between us?"
Ferguson coldly replied, "No, Reuben, you have always treated me like a gentleman, but you have been to Camp Robinson, and I intend to kill you."
And he did.
Clinton County, Ferguson's home and birthplace, was overwhelmingly Unionist in its sympathies, as was nearly all of Champ's own family, and the killings of Frogg and Wood, as well as the blatant theft of livestock, had roused the countryside against him. After his father's death, Reuben Wood's son gathered a small band of armed men for the express purpose of killing Champ Ferguson. He missed his chance, and Champ quickly moved across the border into secessionist Tennessee with his band of brigands, settling in White County, along the Calfkiller River. By this time, Champ's brother, Jim, had joined the Union's 1st Kentucky Cavalry as a scout, and the brothers had sworn to kill each other on sight—which no doubt would have happened had Jim not been ambushed in December 1861.
The Tennessee-Kentucky border was hotly contested by both Union and Confederate forces throughout the war, and from time to time, Champ found himself serving with regular Rebel units, most notably as a scout for the calvalry of the legendary John Hunt Morgan. However, he preferred to function on his own, without the bothersome rules of military conduct to impede him. His former home, Clinton County, became the scene of vicious guerrilla fighting. Ferguson's opposite number, local hardcore Union partisan and guerrilla leader David "Tinker Dave" Beatty, swore to kill Champ, and each gave as good as he got, with atrocities committed on both sides.
By the winter of 1862, conditions had gotten so out of hand along the Kentucky-Tennessee border that members of partisan bands from both sides met in Monroe, Tenn., to discuss a cessation of hostilities. It was agreed by those attending, including Tinker Dave, that they would cease the wanton killing and looting, lay down their weapons, and go home. However, with a regional peace within their grasp, a handful of Rebel guerrillas—including Champ Ferguson—immediately broke the terms of the agreement, ensuring the mayhem would continue.
Throughout the four years of war, Ferguson killed regular soldiers, members of the Home Guard, and simple farmers. He slew helpless prisoners and the children of his enemies. At one point, he berated one of his men for sparing the lives of fleeing boys, screaming, "God-damn them … You ought to have shot them." He murdered five men in one day alone, the last a local youth of 16. Although he sometimes used his pistol or rifle, he reportedly preferred to do his killing "up close and personal" with a Bowie knife.
Champ apparently was ever alert to the possibility of personal gain. Clergyman Isaac T. Reneau wrote in a letter to Tennessee governor and future president Andrew Johnson, "Ferguson has been engaged in horse stealing on a large scale ever since the great rebellion began, and, it is supposed, has stolen thousands of dollars' worth of property."
The most deliberate, cold-blooded murders perpetrated by Champ Ferguson occurred after the Battle of Saltville. Both before and after the killing of Lt. Elza Smith described above, Ferguson and his men rampaged through the hospital and the grounds, slaying injured black troopers where they found them as well as the white soldiers and officers with whom they served. Espying one wounded young white trooper crawling along the ground, Ferguson demanded why he had "come down there to fight with the damned niggers." Ferguson drew his pistol and asked the hapless soldier, "Where will you have it, in the back or in the face?" The terrified youth was incoherent with pain and fear, so Ferguson peremptorily chose for him.
So outraged was the Confederate high command at Ferguson's conduct at Saltville that they ordered his arrest. He was incarcerated on Feb. 8, 1865, but by this time, Robert E. Lee's Army of Northern Virginia was on the run, and the war was all but lost for the South. Brig. Gen. John Echols ordered Champ released within days of Lee's surrender, and soon thereafter—with the Confederacy crumbling around him—Ferguson was back in the Cumberland, weapons in hand, resuming his bloody personal war. He slew his last two men on May 1, and within days, Union Maj. Gen. George Thomas ordered that Ferguson be declared an outlaw and his surrender refused. Champ's former comrades, presented with the possibility of parole, urged him to surrender rather than bring the wrath of the victorious Northern army down on them all. By month's end, Ferguson was arrested at his home and charged with murdering 53 men.
At his trial, the prosecution paraded 43 witnesses before the jury, each with a personal story of how the defendant had murdered a friend or loved one. One of the most damning witnesses was none other than Tinker Dave Beatty, whose offenses on behalf of the Union were arguably as heinous as those of his long-term adversary, but who had the good fortune to have come out on the winning side. Ferguson displayed no remorse whatsoever and, when allowed to speak, either denied or attempted to justify his killings. Former Confederate general and cavalry commander Joseph Wheeler was one of the few to speak on Ferguson's behalf, but the jury was unimpressed; it convicted Champ on all counts and sentenced him to hang. In his final statement, he said, "I die a Rebel out and out, and my last request is that my body be removed to White County, Tennessee, and buried in good Rebel soil."
Champ Ferguson was executed on the morning of Oct. 20, 1865. Just before he was dropped through the trap, his voice rang out over the crowd of silent observers: "Good Lord have mercy on my soul!" The short drop failed to break his neck, but rendered him unconscious. He lived for some 17 minutes before the attending physician pronounced him dead. His wife and daughter took him home to White County and buried him in the local churchyard, according to his last wish.
Americans love their outlaws. By combining the Robin Hood image with the myth of the Lost Cause, the South minted such would-be folk heroes as Jesse James, Cole Younger and Champ Ferguson, assigning them in death a nobility they lacked in life. Their apologists created or subscribed to fables describing how they were "driven to it" by a cruel and brutal foe. Such stories grew up around Champ Ferguson even while he lived. One tells how his wife and daughter were "outraged" by Union soldiers—some versions have them killed—driving Champ to join the war to seek revenge. Another tale describes how Champ's 3-year-old son was shot dead by a Yankee soldier for waving a small Rebel flag—an impossibility considering his only son had died of illness in 1847. According to some contemporary sources, Champ himself occasionally fell back on these falsehoods to justify his actions, although, shortly before his death, he acknowledged that they were complete fabrications. In reality, Champ Ferguson was nothing more than a mass murderer who displayed an unbridled willingness to take human life, without remorse and for his own personal reasons. In the end, he richly deserved to perish at the end of a rope.
The Frazier History Museum has Champ Ferguson memorabilia, including the hand-colored tintype of Ferguson and photos of his wife that accompany this story; gallows rings from the prison where he was executed; and a letter he wrote to his wife just prior to his execution. Many of the Frazier's Ferguson items can be seen in the Civil War exhibition "My Brother, My Enemy," which is on display at the Kentucky Historical Society through Dec. 8.
---
CIVIL WAR CAPTAIN THOMAS W. WOOD OF TANEY COUNTY, HIS ANCESTORS AND HIS DESCENDANTS
Researched and Compiled by Wm. L. and Vera Wood, Strafford, Missouri

An early resident of Taney County, Missouri was Capt. THOMAS WILSON WOOD, born December 20, 1826 in Cumberland County, Kentucky to John and Sarah (Crouch) Wood. John Wood was born September 28, 1783 in Washington County, N.C., (now Tennessee) and went to Kentucky in 1803 where he met and married Sarah Crouch. She was born in 1792 in North Carolina and had come with her parents James and Agnes (Denton) Crouch to Kentucky when very young. John and Sarah Wood made their home on the land he first settled along Spring Creek, and here they remained until their deaths, John on January 31, 1861 and Sarah a few years later. Their children were: Martha, who married Henry Johnson; William, who married Emiline Brock; Anna, who late in life married her widowed brother-in-law, Henry Johnson; James, whose wife was Elizabeth Amos, went to Missouri and then to Lamar County, Texas; Thomas Wilson, of this sketch; John Jefferson, who married Lavina Myers; Agnes, whose husband was Charles Harrison Myers, a brother of Lavina; Samuel Wilburn, who married Emily Adaline Wright, and also went to Lamar County, Texas; Emily, who died soon after her marriage to James Crawley; and Jesse Willis, who married his cousin Sarah Maria Wood in Madison County, Illinois. Two other children died as infants. (1)

The grandfather of Thomas Wilson Wood was Samuel Wood, born May 2, 1737 in Leicestershire, England, and who came to America in 1755. Tho only eighteen he soon enlisted in the Virginia Militia, a company commanded by Col. Geo. Washington, and was with Braddock when he met defeat at Ft. Duquesne in the French and Indian War. A few years later, in Loudoun County, Virginia, he married Sarah Reives, born October 13, 1747 to James and Sarah (Bean) Reives. Samuel and Sarah Wood were parents of seven sons: William b 1773; James b 1774; Samuel, Jr. b 1777; Thomas b 1779; Abram b 1781; John b 1783; and George b 1787. The last three were born after the family moved to Washington County, where the father died in 1800. (2) During the Revolutionary War, Samuel Wood did his part to aid his adopted country in its fight for freedom. Altho lameness and poor health may have limited his military service, he served in other ways, by caring for the sick and wounded in his home after the battle near Alexandria, and by giving his pewter tableware to be melted and made into bullets when the Colonial troops at Georgetown ran short of ammunition. (3)

On April 6, 1848, Thomas Wilson Wood, our subject, married his cousin Mizzana Wood. She was born Marth 5, 1821, a daughter of William and Elinor (Ryan) Wood. William Wood was in the North Carolina Militia as early as 1791, going on several engagements against the Cherokee and Creek Indians. (4) and was commissioned a Lieutenant by John Seivier, the first Governor of the State of Tennessee. (5) History states that William Wood was among the first to come to the Stockton Valley area of Cumberland County, Kentucky and surveyed much of the land there for the early settlers. He was in the Kentucky State Legislature for 23 consecutive years, and held other minor county offices, as sheriff, surveyor, and treausrer. (6) In 1813, he was Captain of a company of volunteers in Governor Isaac Shelby's campaign to Canada, where the rank of Brevet Major was bestowed on him. (7) William Wood was also active in the early Baptist movement in Kentucky, being one of the thirteen organizational members in 1802, of the Clear Fork Baptist Church, and was church clerk for that body until his death in 1851. Major Wood and his wife are buried in the cemetery near this church. (Altho in a different building, this church near Albany, Ky., still occupies the same ground and celebrated its 171st homecoming in September of 1973.) (8)

The children of Thomas and Mizzand Wood were William Jefferson, b 1849; James R. b 1850; John Henry b 1854; and Thomas Lafayette, b 1861. Two daughters, Eliza and Sarah, died when infants.

During the Civil War the counties of Cumberland and Clinton, as well as others bordering the Confederate State of Tennessee, were the scene of continued strife and guerilla warfare. Reuben Wood, a cousin of Thomas and Mizzana, was murdered in November of 1861 by the notorious rebel, Champ Ferguson and his band of Confederate Rangers. Then early in 1862, their nephew, William Johnson, a Union Soldier home on leave, was killed and his father, old Henry Johnson, was threatened by the same rebels.9 Other families in the area had been harrassed and worse until it was unsafe for the men and boys, so a volunteer unit of cavalry was formed in the area with Thomas Wilson Wood elected as Captain. This company was mustered into the U.S. Army Dec. 23, 1863 at Columbia, Kentucky and discharged January 10, 1865 at Camp Nelson, near Louisville, Ky. and was designated as Co. "C" of the 13th Ky. Vol. Cay. Altho very young, William J. Wood, the oldest son of Thomas and Mizzana, was also in this unit, and was discharged a Sargeant. (10)

There were many battles and skirmishes in the area, and with most of the men and older boys away fighting, many families fled northward to seek refuge and safety among strangers. Among these was Mizzana and her boys who went with the family of her brother-in-law Henry Johnson, to settle between Sedorus and Parkville, Illinois.

When the hostilities were ended Capt. Thomas Wood went back to his home, only to find it burned and the ground ravaged. After attempts to relocate in a neighboring county of Kentucky, he went to Kansas, as did many of his military comrades. In this new state, with free land, he settled in Sumner County, near the town of Corbin. (11)

The Johnson family met sorrow while living in Illinois when the mother, Martha Wood Johnson died December 7, 1865. In 1869 two sons, Isaac Newton (12) and James Johnson (13) brought their families to Missouri and settled in Taney County. Mizzana and her family remained in Illinois until sometime after 1870 when Thomas found the family and after a joyful reunion they all traveled to their new home in Kansas. About ten years later William J. married Ellen Hull and Thomas L. married Margaret Smith in Sumner County and raised large families there. James R. died unmarried in 1882.

The other son of Thomas and Mizzana, John Henry Wood, came to Taney County to visit his Johnson cousins near Bradleyville. While there he met Ellen Roller, born February 21, 1865 in Virginia, a daughter of Phillip and Rosanna (Bledsoe) Roller, who had brought their family to Missouri a few years previous. On March 8, 1883, John Henry and Ellen were married and established their home near her family who lived in the Roller community some five miles west of Bradleyville. John Henry Wood was a farmer and also taught school a few years. Their children were: Zana Ann, who married Lonnie B. Clark, a son of John and Isabel (Moody) Clark; James Madison and Robert Morris, both unmarried; Henry Alvis who married Opal Newton, daughter of Nevils Asberry and Nelly (Nicholson) Newton; and William Andrew who married Olive Clark, daughter of Volney and Serilda (Moody) Clark, a cousin of Lonnie. Ellen (Roller) Wood died August 19, 1894 and is buried in the Bradleyville Cemetery.

On May 24, 1896, John Henry Wood married second, Sarah Clark, born June 2, 1862, a daughter of Francis and Nancy (Clem) Clark. (no relation to Lonnie and Olive) The children of this marriage were: Sarah E., unmarried; Herschel, who died an infant; Noel Marion, who married Piccola Newton, daughter of Jasper and Delcenia (McAdoo) Newton; and Orion Wilton, who married Jessie Holloman. John Henry Wood died September 2, 1935, in Taney County and is buried at Roller Cemetery. His widow died in 1945 in Selah, Washington where she lived with her two sons Noel and Orion Wood.

Thomas and Mizzana bought and sold several pieces of farming land in Kansas, even two lots in the city of Wellington (14) perhaps with the thought of moving to town, but none seemed to be just what they desired and after their son John Henry came to Missouri, they followed in a few years. Thomas was heard to remark that he left Kentucky to get out of the rocks, and Kansas to get out of the mud, only to come to Missouri and settle on hilly, rocky soil, very much like that in his native Kentucky. But Mizzana was not permitted to enjoy her home in Missouri for long, as she died December 18, 1893, and was the first to be buried on ground given to the public for a cemetery by Hiram and Barbara Lawson. This was recorded as Roller Cemetery and is located in northern Taney County about half way between Taneyville and Bradleyville, Missouri. (15)

On November 2, 1895, Thomas Wilson Wood married Matilda Diadamie Essary, born January 12, 1867, a daughter of Andrew Jackson (Jack) Essary and his wife Cassandra Deckard. Cassandra often told of her experiences when a girl in the Civil War, of the time rebel soldiers entered their home and upon finding the kraut barrel, grabbed and ate it by the handfuls, as though they were starving. When the soldiers asked her father if he had a gun he replied "no" but Cassandra without thinking answered in the affirmative. Soon realizing what she had done, she crawled under and through the crowd of men, got the gun and stuck it through a hole in the floor, and thus the family was not killed.

Thomas and second wife Matilda continued to live on the homestead, where they were parents of three boys, Mckinley b 1897, and who married Clara Victoria Smith; Emanuel b 1900, who married Fern Hobbs, a daughter of Lorenzo Dow Hobbs and Martha Alice Caudle; and Andrew Jackson b 1901, who married Ardith Cranfill. Thomas Wilson Wood died January 18, 1912, and is buried in Roller Cemetery next to his first wife. Matilda lived until April 13, 1964, and died at the home of her son Emanuel at Ozark, Missouri and is buried near Ozark.

Emanuel Wood has musical talent which has prevailed through each generation of the Wood family, enabling him to play any string instrument. He is a regular member of the band "The Fiddlers Four", playing either the fiddle, guitar or banjo. This group has entertained the large tourist crowds at Silver Dollar City near Branson, during the Craft Festival and "Root Diggin' Days" for the last six years.

Two sons of Captain Thomas Wilson Wood are still living, McKinley of Oxnard, California and Emanuel of Ozark, as well as many grandchildren, and great grandchildren through the fourth generation from his two families.

*FOOTNOTES

1. Family Record. Similar copies of handwritten family record have been found in the possession of several descendants of Samuel Wood.

2. Washington County, Tennessee Wills. Book I pp. 51-52.

3. Patriot Index, D.A.R., Washington, D.C., 1966, p. 758.

4. Pension Application (Warrant #10772). Made by Mary Wood for bounty land in 1853.

5. Commission Book of Governor John Sevier 1796-1801. Tennessee Hist. Commission, Nashville, 1957, p. 45.

6. J.W. Wells. History of Cumberland County (Louisville, Ky. Standard Printing Company, 1947)

7. A.C. Quisenberry. Kentucky in the War of 1812 (Baltimore, Genealogical Publishing Company, 1969) p. 196.

8. M.M. Gaskins. Lighthouse in the Wilderness. (Albany, Ky., The Clear Fork Baptist Church, 1972).

9. Thurman Sensing. Champ Ferguson, Confederate Guerilla. (Nashville, Tennessee, 1942)

10. Adj. Gen. Ky. Report, p. 357-358.

11. Russell County, Ky. Deeds Bk. H. p. 442-443, Sumner Co. Kansas Deeds

12. Isaac Newton Johnson was the grandfather of James W. Morgan of Taneyville, Mo.

13. James Johnson was Taney County Representative in the State Legislature, 1874 until 1894. He was also Clerk of the Circuit Court and Recorder of Deeds.

14. Sumner County, Kansas Deeds.

15. Taney County, Mo. Deeds. Book 3, p. 206.

Researched and Compiled by Wm. L. and Vera Wood, Strafford, Missouri.

He wrote a history of the Bristows in 1908


               
        THE HISTORY OF JAMES CLAWSON, OR J.C. BRISTOW, THE SON OF PEYTON
        BRISTOW AND THE YOUNGEST IN HIS FAMILY, THE WRITER OF THIS 
        HISTORY         (Written in 1908 on his 73rd birthday)

                I was born in Indiana in the year of 1835 in Bedford 
        county.  Bedford was the county seat.  See father's history.  My 
        first recollection after father got back to Ky. to the old ranch 
        I remember seeing the tree that fell on Granpap and Uncle Ben.  
        Though it is a little off history, Mr. Reader I will leave 
        Gramna's house and go up on the top of the great Poplar 
        monuntain and talk a little as I go.  As I leave the house and 
        less than ten steps on my way there on my right is a fine spring 
        with a house built over it and a large mulberry tree standing by 
        the door and there on my left is a large apple orchard.  There 
        too is that June apple tree that I often climbed to get apples.  
        As I go a little further along there on my right is an old sage 
        field that has been turned out (?).  I now reach the foot of the 
        great Poplar Mountain and now we are in the trail and me and 
        father is climbing the mountain, but now I am riding a horse and 
        he is walking.  We are up about half way and we stop to rest.  
        Well now we are on top of the mountain.  Well here we find a 
        little log cabin and two women living.  There is a medical 
        spring and father's second wife and another woman are there for 
        their health.  The mountain is flat on top and a solid rock and 
        but a few hundred yards across there is some high cliffs on the 
        side.  I walk out a few hundred yards east on a narrow ridge and 
        there is a small peak that raises above the mountain.  It is 
        called the Huckle berry peak.  Now I gather some huckleberries.  
        And now I go down to the old ranch where on each side of the 
        trail large poplar and chestnut trees and many other kinds are.  
        And now we look down on the old ranch upon the great scene where 
        the youthful wonders of my father were displayed.  And over 
        there is the graveyard where the bones of Granpap and Uncle Ben 
        do lay.  And there on my right is a large sugar (?) orchard and 
        between it and the house lies what was called the poplar field.  
        I remember lying down on my back one day in that field.  I 
        looked west and I wondered what was far away in the west.  I did 
        not know then but I understand it all now.  And now as I go to 
        the house and as I pass through the cow pasture there on my left 
        is a house called the Uncle Leve Bristow house.  And there is 
        the scene where the history of poor little Lucy is laid and 
        where the tears of brave Ky. boys were shed.

                I will return back to the history.  In about two years 
        after father got back to the place he married a woman by the 
        name of Sheeks.  She had three soms whose history I will sketch 
        later on.  This made eight children in my father's family.  But 
        the oldest sister soon married.  And father moved about 5 miles 
        from where Granma lived to a place called Perige (?) (Pea Ridge) 
        And I think that it had the right name as it was so poor that it 
        would hardly sprout blackeyed peas.  After living there about 
        two years he moved to southwest Missouri.

                    THE HISTORY OF GRANPAP BRISTOW (William)

        I.
                By J.C. Bristow, son of Peyton Bristow 
                1908 on his 73rd birthday.  He was a minister.

                He lived in Clinton county at the foot of the great 
        Poplar mountain and about six miles from Albyna and on the west 
        side of the Poplar mountain and I believe that he had been 
        living there a long time.  A tree fell on him and Uncle Ben and 
        killed them both.  He was old.  He must have been near 80.  I 
        judge this from granny's age.  I saw her soon after granpap was 
        killed.  Granpap had one brother living there.  His name was 
        Leven Bristow.  Granma were a Beck before she married.  She had 
        one brother that I have see, Uncle Peyton Beck as father called 
        him.  He was my father's uncle.  His oldest son was the first 
        man to settle Santa Fe, New Mexico.  He was very rich, and owned 
        the country for 40 miles around.  Him and a Mexican fought with 
        butcher knives and were both killed.  This is as far back as I 
        can trace Granpap's history.  I believe that they were Irish.  
        As to granma's death see further along.

                Pardon me Mister Reader for running off the track and 
        for giving some of the history of the Becks.  The only reason 
        for believing that Granpap and Granma were religious is the 
        first sermon that I ever heard preached I remember one night 
        that a man by the name of Billie Cooper preached in Granma's 
        house.  The only word that I can remember he said that thunder 
        rolled from pole to pole.  It was raining and thundering.

                       THE HISTORY OF GRANPAP'S OLDEST SON

        II A.  HIS NAME WAS EDWARD BRISTOW

                He was born in 181?.  This history cannot give the exact 
        place, but we believe that he was born on the old ranch.  He was 
        married to a woman by the name of Ashinhurst.  And he moved to 
        Missouri a few years before father did.  He first settled in St. 
        Clair county, and he then moved to Cedar county about 5 miles 
        further west and settled on what is called Tucketts(?) Branch.  
        This was in the forties.  They had ten children, 5 brothers and 
        5 sisters.  And in about the year 55 she died.  He lived to be 
        80 or more years old.  He died and was buried in Cedar county, 
        Missouri.  He was a low heavy set fleshy man.  And he had some 
        knowledge of law and was justice of the peace and was called 
        Squire Bristow.  Also he was a Hatter.  He was a Christian.  He 
        told me his experience of grace.  He heard a man preach and the 
        man's text was "Adam where art thou?"  This brought a burden to 
        his heart and he labored long and hard before he found relief.  
        He said that he went out one evening to pray and he told the 
        Lord that it was the last time that he was going to pray and 
        that time he found relief.  He had come to the end of his 
        strength and that gave the Lord a chance to do something.  And 
        that is where everyone has to come to before he is saved.  Mr. 
        Reader I will try and not run off the track any more.

        II B.  THE HISTORY OF PEYTON BRISTOW, GRANPAP BRISTOW's SECOND 
               SON

                He was born in 18? on the old farm and when a young man 
        he went to Indiana in the early settling of that country.  He 
        settled on White River.  When a young man he married a woman 
        named Annie Owens.  To them were born 5 children, two brothers 
        and three sisters.  Mother died.  And not long afterwards word 
        came to him that a tree had fallen on Grandpap and Uncle Ben and 
        killed them and for him to come and take care of Granma as there 
        was no one but Negro Jo and Uncle John and he was a foolish man 
        to look after her.  So father with us five children moved back 
        to the old ranch.

        This was about the year 1837.  He lived with Granma a year or 
        two and at this time he married a woman by the name of Sheeks.  
        She was a widow with three sons.  And not long afterwards he 
        moved to another ranch about 5 miles away and in the year of 
        1842 or 43 Grandma died.  And in the year 1845 father started to 
        move to southwestk Missouri and settled in St. Clair county.  
        Uncle Ed Bristow and my oldest sister were there when father 
        moved out.  At this time there were but 7 children in the 
        family.  His step-children still in the family.  Father settled 
        on Brush Creek.  He only made one move after settled.  He moved 
        further down the creek 3 or 4 miles and there died in the latter 
        part of the summer in the year 60.  He was a tall man with black 
        eyes and black hair.  He was not a fleshy man.  He was a 
        Christian.  Pardon me, for saying that I believe that he was the 
        greatest man that I ever walked by the side of.  He was a man 
        that possessed strong will power.

        II C.  THE HISTORY OF GRANPAP BRISTOW'S 3RD SON

                His name was Tom.  He lived in Clinton, Ky., Clinton 
        County.  About 5 miles from where Granpap lived.  I have been at 
        his house and seen his family tho I was only about 6 years old 
        at that time.  They might have had more that 3 children but that 
        is all that I can remember.  Two brothers and one sister.  Uncle 
        Tom died in the year 1840.  The date of death cannot be given 
        here nor the date or birth.  The youngest son were named Tom.  
        He died at home and I think it was before his father died.  The 
        oldest son was named Vess.  In about the year 1858 he went to 
        Carrol County, Missouri, to where his Uncle Levin Bristow lived 
        and while there he died.  He was a grown man, but single.  His 
        brother Tom that we mentioned above died when he was about 15.  
        As to the daughter I remember seeing her.  She was about grown 
        at that time.  This is a far as we can trace Uncle Tom's family.

        II D.  THE HISTORY OF BILL BRISTOW, GRANPAP BRISTOW'S 4TH SON

                All we know about him we hear him spoken of as living in 
        Indiana.  The impression made upon my mind is that he had a 
        family but we cannot trace his history any further.

        II E.  THE HISTORY OF UNCLE JOHN BRISTOW, GRANPAP'S 5TH SON

                He was a foolish man.  Whether he was born in that 
        condition I cannot tell.  I have seen him many times, but I was 
        so young at the time I cannot remember much about him.  As to 
        his age I cannot say how old he was.  He died before my father 
        moved to Missouri.  Him and Granma died near the same time and 
        were buried on the old farm where Granpap was buried.

        II F.   As to Uncle Ben all that I know of him is a tree fell on 
                him and Granpap and killed them both.  (6th Son)

                THE HISTORY OF UNCLE LEVEN BRISTOW, GRANPAP'S 7TH SON

        II G.   The date and place of birth cannot be given in this 
        history.  He moved to Missouri and settled in Carrol County, 
        near Carrolton, the county seat of Carrol county in what is 
        called the northern part.  Whether he moved there before father 
        moved to Southwest Missouri we cannot tell.  In the year 1857 or 
        58 we visited him twice.  These visits were not but a few months 
        a part.  On my first visit I traded a horse and had to leave him 
        there.  And then went back after him.  It was an hundred and 
        fifty miles north from where my father lived.  He died somewhere 
        in the 1860's and was buried in Carrolton.
                The only reason for believing that Granpap had more that 
        seven sons is that Uncle Ed Bristow related a rime about the 
        boys as they would go out to work.  An in this rime he had the 
        name Moses, Paul and slow Jo.  But this name we think had 
        reference to Negro Jo.

                THE HISTORY OF UNCLE LEVEN BRISTOW'S OLDEST SON

        III A.  His name is Bob.  As to the place and time of his birth 
        we cannot give.  He went to Oregon in the latter part of the 
        sixties.  The impression is that he lived in Portland.  He was a 
        public man, but I cannot say what office he filled, But I 
        believe that he was a judge of the court and some few years ago 
        he died, leaving a wife and two or three children which are 
        living there at this time.

                HISTORY OF UNCLE LEVEN BRISTOW'S SECOND SON

        III B.  His name was Jim.  He moved down to Cedar county where I 
        lived in the latter part of the 60s, but stayed but a short time 
        and went back and then moved to Oregon and left a wife and three 
        children.  They are still living.  The date of his birth and 
        death cannot be given in this history.

                THE HISTORY OF UNCLE LEVEN'S YOUNGEST SON

        III C.  He died when a young man.  The implression on my mind is 
        that he was hardly grown.  I remember seeing him.  His name was 
        Sam.  He was buried in Carrolton where his father was buried.  
        See his father's history.

                THE HISTORY OF GRANPAP'S OLDEST DAUGHTER

                She was married to a man by the name of Acre.  She died 
        somewhere near the 1840s.  Her burial was the first that I was 
        at that I can remember.  The time of birth and death exactly 
        cannot be given in theis history.  Her name cannot be given 
        here.  She left one son behind.  His name was William

                THE HISTORY OF WILLIAM ACRE, SON OF GRANPAP BRISTOW'S 
                OLDEST DAUGHTER

                Acre married another woman.  Here name I cannot 
        remember.  In the 1850s Acre moved to Southwest Missouri where 
        father lived and William Acre came with him.  He was about grown 
        at that time.  But in a few years later he died.  This is a far 
        as we can trace the history of Granpap's oldest daughter.

                P.S.
                I forgot to give the history of Uncle Leven Bristow's 
        daughter.  Her name is Martha.  She was married to a man by the 
        name of Vinson.  We cannot give the date of their marriage.  
        they were married in Carrol County, Missouri.  She and Husband 
        moved down where I lived and stayed there 2 or 3 years and then 
        moved to Oregon where they now live.  She is 51 years old and 
        still living in Oregon.  They have 8 or 9 children.  Most of 
        them are married.  The youngest son is living with them at this 
        time.  His name is Luther.  This is as far as we can trace 
        Cousin Marthy and her family.

                THE HISTORY OF GRANPAP BRISTOW'S YOUNGEST DAUGHTER

                She was married to a man by the name of Holsapple,.  
        William was his name.  I remember being at their house.  They 
        lived about 5 miles from where Granpap lived.  They had 
        children, but I can't give the number.  One of the boys wrote to 
        me after I was married.  We passed a few letters and the 
        correspondence stopt.  We cannot trace the family any further.
                I never knew a Bristow that was ever brought before the 
        court for any act of misdemeanor.  I never knew a Bristow whose 
        veracity was ever seriously called in question.  I never knew a 
        Bristow that was a drunkard.  I never knew a Bristow to be so 
        rich as to forget his Maker's name or so poor as to suffer with 
        hunger.        THE END 




                I copied the history exactly, except for a couple of 
        obvious typographical errors.  I didn't try to correct grammer, 
        spelling, punctuation or incomplete sentences.
                There might have been pages missing from my original 
        copy.  The history of the J.C. Bristow family ends rather 
        abruptly without giving the history of his children or 
        grandchildren as he does for his cousins.  He says that he will 
        give a history of his wife's family (The Smiths) but they are 
        mentioned only briefly in the pages I had.  J.C. Bristow also 
        frequently refers to a map(of St. Clair and Cedar Co., Missouri) 
        but unfortunately it is also missing.
                As I read over this, my heart was touched for the love 
        that J.C. Bristow had for his family and his concern for their 
        souls,

              Anna Goodman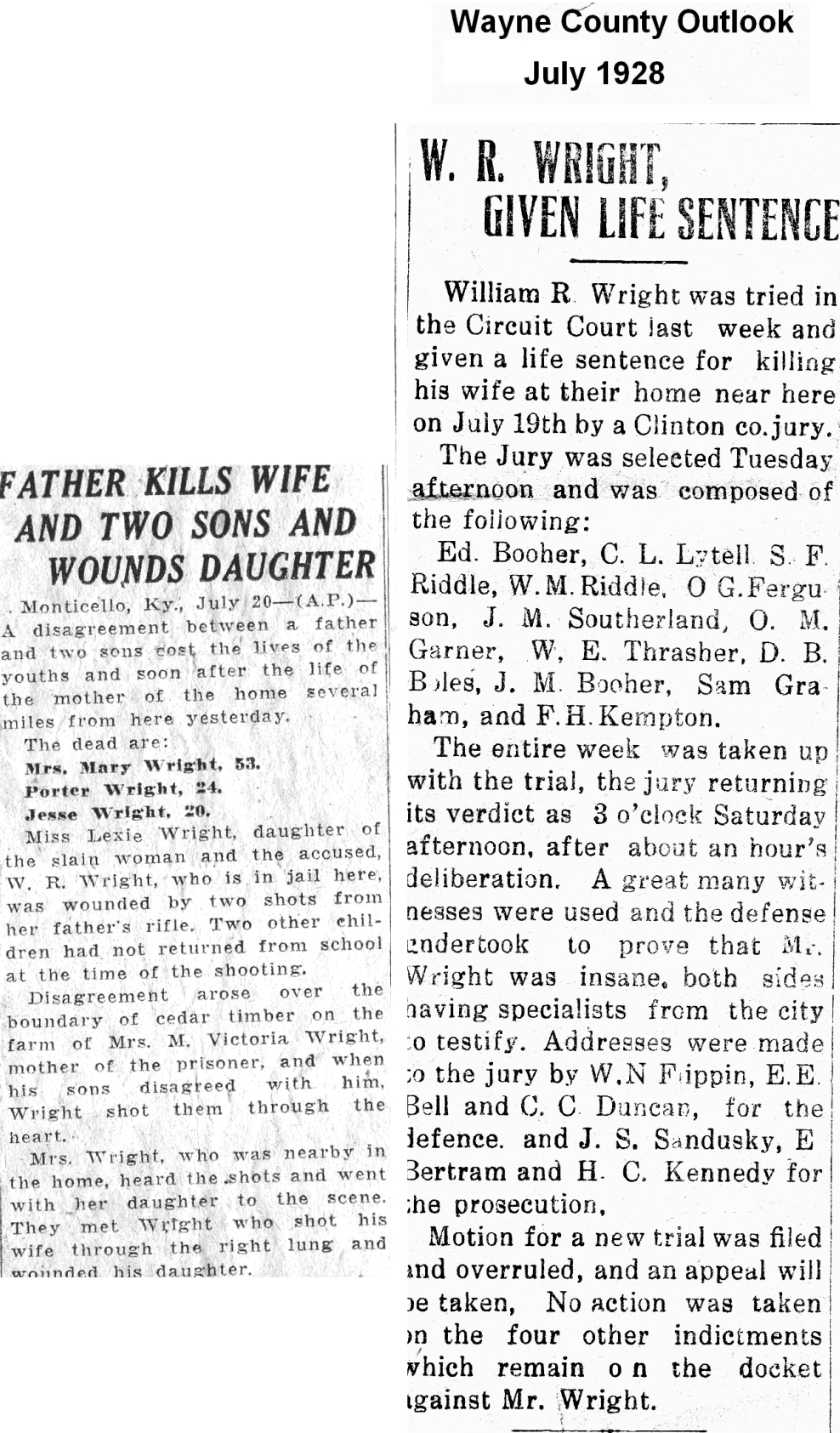 Newspaper Clippings

               
George Washington Harlan was born on November 11, 1860 On 
September 29, 1878 when he was 18 years old he married Martha 
Bowman.  She was born in 1863 so she was 14 years old at the 
time.  She had had a daughter, Louisa Jane, by him two weeks 
before their wedding.  They had seven children together. 

The Harlan family said that George Washington Harlan died young probably 
around his 40th year.  So far I have been able to find no record of his death 
or his burial place.  It is interesting that his son Quintice's gravestone 
says "son of Martha Harlan" but does not reference his father.  Quintice died 
in 1911. 

Later Martha Bowman Harlan married Lucian Arnold who was five years younger 
than she was.  At that time Martha had five boys and two girls:

Arthur 
Floyd
Louisa Jane
John Thomas
Mary Belle
Quintice
Eary

It is possible that she had two more girls named Annie and Lillie.

In 1903 Martha's daughter, Mary Belle, was 18 years old and her daughter, 
Louisa, was 25 and married.  That year both Martha and Mary Belle had babies 
by Lucian Arnold.   Lucian Arnold was 35 years old at that time and Martha was 
39.

Flora Belle Arnold, daughter of Mary Belle Harlan was born on April 26, 1903.
Luther Arnold, son of Martha Bowman was born on May 1, 1903.

During the next 24 years Lucian Arnold had six more children,  with 
Mary Belle Harlan. 

On May 2, 1938 Lucian Arnold was living separate from Mary Belle.  He went to 
her house and shot and killed her then walked back to his house and killed 
himself.  Lucian was 70 and Mary Bell was 53.  Martha was 74 and she died the 
next year.

When Lucian shot Mary Belle in 1938 two brothers (probably John Thomas and 
Eary) came from Albany with guns to kill Lucian according to Junior Bunch, son 
of John Bunch.  When they found he had already killed himself they stayed 
overnight with John Bunch and his family.  John Bunch's wife was Flora Belle 
Arnold, oldest child of Lucian Arnold and Mary Belle Harlan.  Junior Bunch was 
eight years old at the time.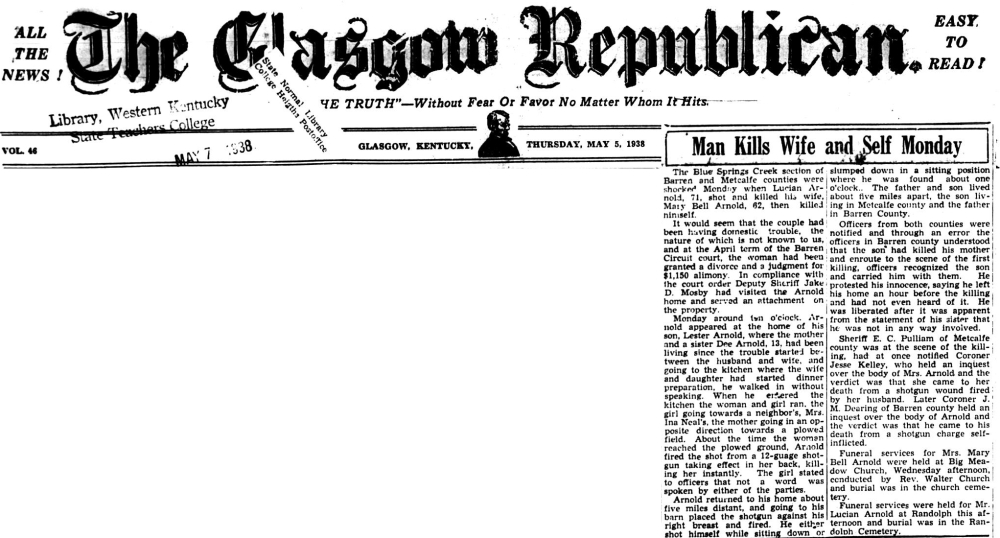 Newspaper article about Mary Belle's death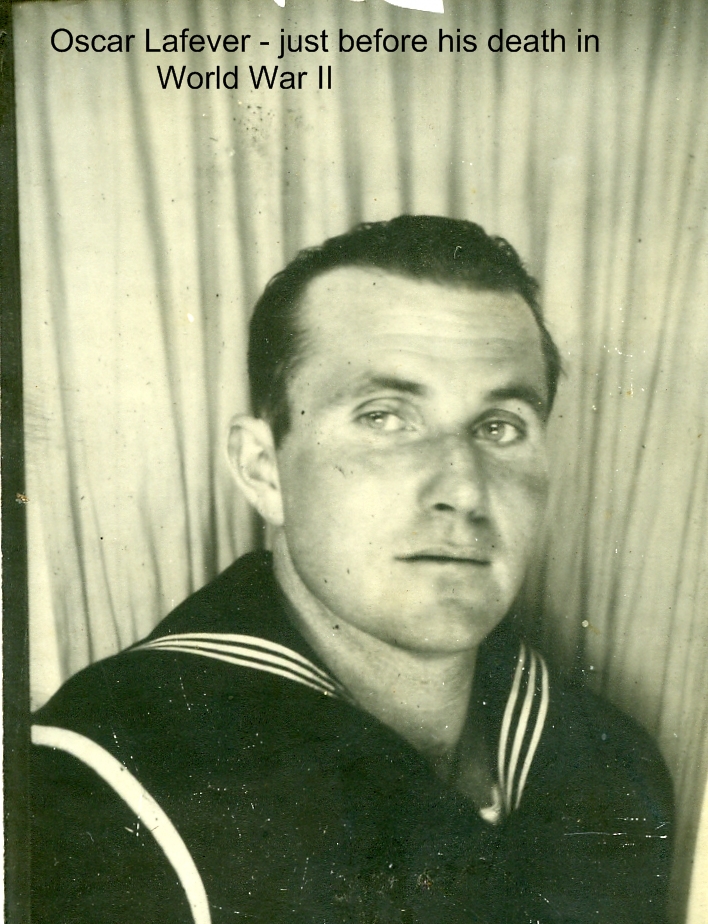 Oscar Lafever during World War II


S2 Oscar Lonnie Lafever

Birth:  June 29, 1917 - Putnam County Tennessee
Death: 	Nov. 2, 1942, At Sea

USNR WORLD WAR II
Seaman 2nd Class, Oscar L. Lafever MIA/KIA
Official date of death 03-Nov-43
Hometown: Tennessee
Ship: American Steam merchant GEORGE THATCHER (Liberty class)
Service # 6402956
Awards: Purple Heart
Master: Henry Olin Billings

Mission: Transport war supplies
Loss Date: 1-Nov-42
Cargo: 76097 tons of general war supplies
Location: 01.45S, 07.40E - Grid FH 5578 off coast of Gabon
Cause: Sunk by Ernst Bauer U-126
Complement: 66 (18 dead and 48 survivors).

At 20.04 hours on 1 Nov, 1942, the George Thatcher (Master Henry Olin 
Billings) on her maiden voyage was torpedoed by U-126 about 100 miles off the 
west coast of Africa, while proceeding under escort by two Free French 
corvettes at 8.2 knots. Already on 29 October, U-126 had attacked the small 
convoy and several torpedo tracks were seen by the escorts, but no action was 
taken by them. The torpedo struck on the starboard side between #2 and #3 
hatches. One minute later, a second torpedo hit at the #4 hatch, setting fire 
to the cargo of gasoline, destroying one lifeboat and blowing the rafts 
overboard. The freighter, still under way, took a sharp list to starboard and 
began to settle by the head as she traveled in circles. She later rigthed 
herself, facilitating the launching of the remaining three lifeboats by the 
eight officers, 31 crewmen, 15 armed guards (the ship was armed with one 4in, 
one 3in and and four 20mm guns) and 12 US Army passengers on board about 30 
minutes after the attack. The master, the chief mate, three crewmen, five 
armed guards (including the officer) and eight passengers were lost. The 
survivors were picked up by the corvettes and landed in Point Noire on 3 
November. The Liberty ship continued burning but did not sink until 3 November 
at 09.00 hours. 

Crew of GEORGE THATCHER
Samuel Fogle Aiken USNR
James C. Anderson USNR
Henry Olin Billings
Melvin Pierce Horton
Oscar L. Lafever USNR
Dillard D. Lawson USNR
Jack H. Moffett Merchant Marine
Thoralf Numme Merchant Marine
Sheldon Solloway Merchant Marine
Fred Staff Merchant Marine
Rudolph F. Torstenson Merchant Marine
Allen Gilbert Webb Merchant Marine
 
  
Burial:
North Africa American Cemetery and Memorial
Carthage
Tunis, Tunisia
Plot: Tablets of the Missing


Was a twin born premature. His twin died at birth
At birth he was so small it was said his head would fit in a teacup.

               
S. W. Bristow's Family
 
By Duane Bristow, his great-grandson

Dr. Samuel W. Bristow practiced medicine in Clinton and Wayne counties of 
Kentucky during the first half of the twentieth century. Dr. Sam, as he was 
called, worked in an area with no hospitals or clinics, no nursing homes, and 
no pharmacies. Much of the time he worked in his patient's homes. He learned 
to practice medicine without X- Rays or medical labs. During his career he 
delivered over 2,000 babies including one set of triplets. According to my 
father who was born in 1920 and was a teenager during the Great Depression, 
Grandpa lived at Zula in Wayne County until the mid 1930s when he moved to 
Albany in Clinton County. He rode a gray horse to make house calls and had a 
kerosene lantern which he hung on the saddle horn because he often had to go 
on house calls late at night. After he moved to Albany he got an old black 
model T Ford and learned to drive that, although Dad said he never looked at 
the road when driving, but wanted to look at the farms and countryside along 
the way. He probably got in that habit riding the old horse. My grandmother, 
his daughter-in-law, tells me that he would often pass her father's house in 
the early 1900s asleep on his horse after staying up nights with a patient. 
The horse knew the way home so Dr.Sam didn't have to pay attention to driving. 
According to my dad, in the wintertime, Grandma Ellen, Dr. Sam's wife, would 
sometimes have to come out of the house with a hammer to break Dr. Sam's boots 
loose from the stirrups where they had frozen after he had crossed a stream on 
his return home. (I have the old kerosene lantern he carried on his horse. It 
still works but gives very little light.) 

And I remember Dr. S.W. Bristow, the surviving twin born to Jesse Leven and 
Lois Bristow in the Fall of 1873 in Beech Bottom in Clinton County where he 
grew up. He had a brother, Prentice, four years younger than himself and a 
sister, Gertie, eight years younger. In the winter of his eighteenth year, 
against his parents' wishes, Sam married Mary Ellen Bruton from Cumberland 
County. Because of disagreement over his marriage his parents refused to help 
Sam in his desire to attend medical school at the University of Tennessee. 
With the loyal support of his wife he got a job in a stave mill and worked his 
way through medical school graduating in 1901 at age 28. During this time Dr. 
Sam, as he came to be called, had two sons born in the first and third years 
of his marriage. Until they were 60 or 70 years old Sam and Ellen Bristow 
lived in constant poverty and often fear of starvation and left a legacy of 
frugality which was to influence their descendents for at least three 
generations. 

Although one of the first in his area to have electricity, a 
telephone, and, during the second world war, a car, Dr. Sam died in 1954 in 
his home in Albany, Kentucky never having had a bathroom. He taught school for 
a while and set himself up in medical practice in Hegira in Cumberland County, 
Kentucky. Later he moved his practice to Gap Creek, Zula, and Powersburg in 
Wayne County and around 1935 to a house on Washington Street in Albany, 
Kentucky. His mother died in 1905 and Dr. Sam did not get along with his step 
mother. His two sons married in 1917 and 1918 and by 1928 each had two 
children. His father died in 1924 when Dr. Sam was 51. 

In 1930 Dr. Sam's younger brother who was a doctor in Texas wrote inviting Sam 
and Ellen to let the boys take care of things while they visited him in Texas. 
They took him up on the offer and went to Texas returning in time for the 
funeral of their eldest son who had died of a bowel obstruction at the age of 
38. Although, he often was paid for medical services in produce and livestock, 
charging $4.00 for a house visit and $10.00 for delivering a baby, Dr. Sam was 
able to get enough money ahead by the second world war to acquire several 
tracts of land in Clinton and Wayne Counties. 

On October 10, 1953 Clinton, Wayne, and Cumberland Counties honored Dr. Sam by 
proclaiming Dr. Bristow Day with a day long program on the courthouse square 
in Albany. A large crowd attended including several hundred of over 2000 
babies Dr. Bristow had delivered. 

In May 1954 Dr. Bristow died quietly in his sleep leaving his wife, one son, 
seven grandchildren and four great grandchildren. Four years later Ellen died 
of cancer and his farm on Washington Street was named the Bristow subdivision 
with Bristow Street bisecting it. He and Ellen were buried at Gap Creek 
cemetery in Wayne County Kentucky. 

I have his ledger from the fall of 1933 through the spring of 1934. It is an 
old dry and brittle accounting journal about 4 X 7 inches. It is handwritten 
in pencil. Although mostly clear and legible, it is difficult to read in some 
places. For any who are interested I reproduce parts of that journal here. 
There are also some entries from his journal of 1949. 

Of particular interest to some will be such items as the charge for delivering 
a baby, which usually involved a house call and sometimes staying overnight 
with the family. He charged $10.00 for that in the 1930s. The charge for 
setting a broken arm was $2.00. The charge for pulling a tooth was 50 cents. 

Note: I may have some of the names spelled wrong due to difficulty in reading 
the journal. Also it is sometimes difficult to tell if an entry was charged or 
was paid because in the beginning of the book, grandpa put charges in one 
column and payments in another but later he began putting everything in the 
same column and making a checkmark when the patient later paid the charge. The 
reader should also recognize that grandpa not only ran a physician's business 
but also a farm and sometimes took payment in days work on the farm or in farm 
produce. 

September 1933

Note: - at this time he was at Zula in Wayne County KY

Sept. 1
    Charley Dalton - med - charged - 10 cts.
    Hardy Cross - pd. by cash - 1.00
    Wyet Alkins - pd. by cash - 1.00
    Gear Daniel - charged - 3.50 on Aug. 31 & 3.50 on Sept. 1
    Lewis Patton - med - pd. - 10 cts.
    Mrs. Patton - med by Lewis - pd. - 25 cts.
Sept. 2
    Hardy Cross - med - charged - 60 cts.
    Mrs. Patton - med - charged - 15 cts.
    W. H. Massengale - order self - charged - 1.50
    Brown Bass - charged - 1.50
    Lute Troxel - charged - .75
Sept. 4
    Lute Troxel - charged - 10 cts.
    Joe Hart - charged - 4.00
    Ret Clark - pd by cash - 5.00
    Tina Bates - Pd. - 10.00
Sept. 5
    Phillip Dalton - med by Walter H. - 10 cts.
    Harrison Lee - med - 50 cts.
Sept. 6
    Let Dabney - paid - 3.00 - med - 25 cts.
Sept. 7
    Bill Atkinson - 25 cts.
    Joe Hart - med - 60 cts. 
Sept. 8
    Let Dabney - 1.50 - med - 60 cts.
    Parker Marcum - 3.50
    W. H. Massengale - pd. Brown Bass - 2.25
Sept. 9
    Walter Denney - med - 50 cts.
    Arthur Perdue - 1.10 - cash
    Gerte - .75
Sept. 10
    Letie Dabney - med & visit - 1.40
    George Bridgeman - med - 10 cts.
Sept. 11
    Letie Dabney - med - 15 cts.
    Sherman Marcum - med for Mamie - 15 cts.
    Brown Bass - med - 20 cts.
    A. A. York - med by Willy - 60 cts.
    Let Dabney - paid - 1.50
Sept. 13
    Let Dabney - visit & med - 1.65
Sept. 14
    Sherman Powers - med - 55 cts.
    John Hurt - med - 1.40
    Tom Burris - med - 15 cts.
    Marvin Hicks - med - 10 cts.
    Let Dabney - med - 25 cts.
    Marvin Hicks - paid by 1 day's work - 75 cts.
Sept. 15
    W. H. Massengale - paid by 1/3 day's work - 25 cts.
    Marvin Hicks - paid by 1 day's work - 75 cts.
Sept. 16
    Roe Marcum - med - 50 cts.
    Herb Perdue - med for wife - 75 cts.
    Let Dabney - med - 60 cts.
    W. H. Massengale - paid by 1 day's work - 75 cts.
    W. H. Massengale - paid by cash - 1.00
Sept. 17
    Joe Hart - extract teeth - wife - 50 cts.
    Sheard Pierce - med - 1.00
    Rob Massengale - med - 75 cts.
    Lute Troxell - med - 25 cts.
    W. H. Massengale - med - Mamie - 25 cts.
Sept. 18
    John Throshed - med - paid - 1.00
    Johnnie Morgan - med - 60 cts.
    Tom Massengale - pd. by cash - 4.00
Sept. 19
    Boss Hicks - pd. by cash - 4.00
    Lorane Perdue - med - 55 cts.
    Let Dabney - pd. by cash - 1.50
Sept. 20
    Othey King - med - 65 cts.
    Let Dabney - visit - 1.50
    med by Walter - 45 cts.
    Jess Chaffin - O.B. Girl - Bal. - 8.00
Sept. 21
    Tina Massengale - pd. by cash - 4.00
Sept. 23
    Johnnie Burris - med - 10 cts.
    Conn Rains - med - 10 cts.
    Tom Massengale - 4.00
Sept. 24
    Jack Massengale - med - 15 cts.
    Dewey Carr - med - 10 cts.
    Geo. A. Massengale - O. B. Girl - 10.00
    Grdy Guffey - 20 cts.
    T---- Guffey - 15 cts.
    Andy Guffey - 30 cts.
Sept. 25
    Jack Massengale - 25 cts.
    Stank Shelton - O. B. Girl - 10.00
    Tom Massengale - visit - 4.00
Sept. 26
    Tom Massengale - med - 25 cts.
Sept. 27
    Luther Troxwell - med - 15 cts.
Sept. 28
    Sheard Pierce - med - 10 cts.
    Tom Massengale - pd. by cash - 4.00
    Purit - c. v. - 2.00
    Reneau Dalton - med - 30 cts.
Sept. 29
    Willie Denney - O. B. Boy - 10.00
    Jarvis C. Perdue - med - 75 cts.
    Mrs. Webb - paid - 1.50
Sept. 30
    George Bridgeman - med - 25 cts.
    H. C. Davis - cash - 1.00 - .05
    W. M. Bertram - see wife - 6.00

January 1949
Note: - at this time he was in Albany, KY

Jan. 1
    Bass Brown - 4.00
    Tildy Shelton - med - 1.25
Jan. 2
    Bass Brown - 4.00
Jan. 3
    Lute Daniel - 4.00
Jan. 5
    Bruce Bowlin - O. B. - 20.00
    cr. work ????? - 8.00
    team - 4.00
    work toilet - 3.00
Jan. 7
    Bass Brown - 4.00
Jan. 10
    Lute Daniel - cash - 5.00
    Howard Babs - chk. - 6.85
    Charley J. Brown - med - 2.50
    John L. Means - Albany - vis see girl - 3.00
Jan. 13
    Bass Brown - med - 1.00
    Charley Brown - office - 2.00
Jan. 19
    Preacher Witham - nite - 4.00 pd.
Jan. 20
    Preacher Witham - 3.00 pd.
Jan. 21
    Jones Benet - med - 1.00
    Levi Harmon - med - 1.00
Jan. 24
    Roy Brown - med baby - 1.50
Jan. 26
    Marshel Flowers - med - 1.00 - Frogue, Ky.
    Add York - pd. - 7.00
Jan. 27
    Add York - pd. - 7.00
Jan. 28
    Add York - 7.00
Jan. 29
    Brad Perdue - by cash - 2.00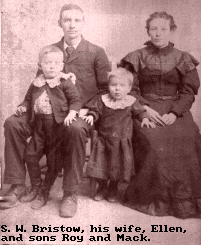 S. W. Bristow, Wife Ellen, Sons Roy and Mack about 1897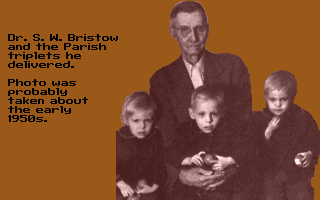 Triplets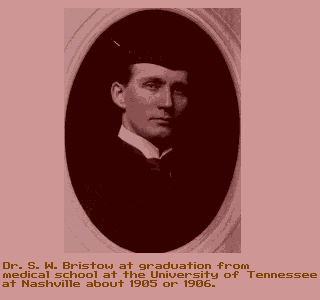 Dr. Bristow at Graduation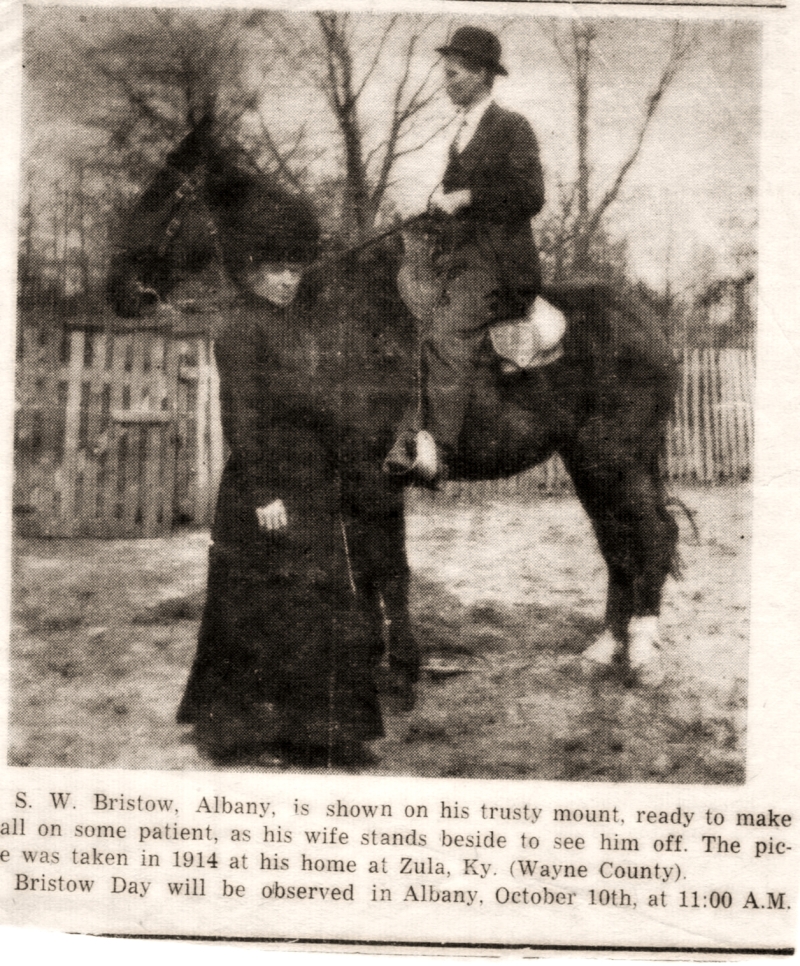 Newspaper picture from the early 1950s.

               
The Bristow Family with roots in South Central Kentucky since the early 19th 
century was headed through the second quarter of the 20th century by Dr. S.W. 
Bristow, a widely known and honored country doctor in Clinton, Wayne, and 
Cumberland Counties. Though always poor, Dr. Bristow saved money all his life 
and invested it in land. 

Thomas Hopper, a twenty-one year old fiddle player, married Addie Lyons, a 
sixteen year old daughter of a strait laced farm family in April of 1901.  A 
year later on April 27, 1902 they began their family which would by 1917 
include eight children, with the birth of a girl, Lillie.  They lived at Happy 
Top near Zula in Wayne County, Kentucky.  Just down the road lived Doctor Sam 
Bristow, a well known country doctor in that area, and his wife Ellen and two 
sons, Roy and Mac.  The Hopper family included six girls and two boys.  Doctor 
Bristow had to pass by the Hopper house when he made housecalls and he was 
often seen riding by on horseback.  Sometimes he would return late at night 
with a glowing coal oil (kerosene) lantern hanging from the horse's saddle. 

Roy Bristow was ten years older than Lillie Hopper, the oldest of the Hopper 
children.  In February 1918 when Lillie was fifteen years old and Roy was 
twenty-five they decided to marry.  Lillie knew that her father wouldn't let 
her marry and in Kentucky she would have to have his permission.  She arranged 
with her mother to let her stay overnight Saturday night with her Uncle, 
Addie's older Brother, Ike Lyons.  Ike lived on a farm at the foot of Poplar 
Mountain about five miles from the Hopper's home.  His farm was just across 
the mountain from Duvall Valley and from there it was not too long a ride by 
horseback to Tennessee.  Lillie rode to her Uncle Ike's place in the afternoon 
and Roy rode his horse and met her there.  They started out riding and rode 
all night.  They got to Byrdstown Tennessee about daylight Sunday morning, 
February 3rd.  They found where a preacher lived and knocked on his door 
getting him and his wife out of bed and asked him to marry them.  He agreed.  
The preacher's wife had done her washing the night before and since it was 
winter she hung the laundry from clothlines stretched throughtout the house so 
that the heat from the stove would dry the laundry during the night.  Lillie 
and Roy were married standing among the laundry. 

They started housekeeping on a small farm on Pott's Creek that Roy had bought 
just down the road from his parent's home.  They worked hard on the farm and 
in March 1920 Lillie had her first child, a boy she named Jesse.  They seemed 
unable to make a living farming and word came that there was a railroad strike 
in Indiana and the railroads were scouting for Kentuckians to come to work on 
the railroads to break the strike.  In about 1922 Roy and Lillie took their 
young son and moved to Richmond, Indiana.  

The people there were frugal German and Central European stock unlike the 
Anglo saxon and French people of Kentucky and Tennessee.  They resented the 
back country hicks moving in from the South and taking their jobs.  The 
general pattern was that the husband would go to the North and find a job and 
a place to live.  Then he would send for or return and get his family.

As a result the southerners tended to move into areas where other southerners 
lived and when Roy found work and a place to live he went for Lillie and 
Jesse. Roy and Lillie and Jesse moved from house to house all over Richmond 
and took in other Kentuckians as boarders. Eventually Roy went into 
contruction work and traveled to Louisville and Chicago while Lillie and Jesse 
stayed in Richmond. There was a continuous turnover as Lillie's boarders would 
find a place to live and new arrivals would move in.  So Roy worked while 
Lillie ran a boarding house. 

When he returned to Kentucky to get his family Roy brought with him Bill 
Adler, a friend he had met in Indiana. When he moved his family to Indiana, 
Lillie's two sisters, Zella and Ollie went there too. Eventually Ollie married 
Bill Adler. Zella married Bill Gorsuch and they lived in Dayton Ohio.

In 1928 when she was 26 years old Lillie had her second boy, Larry.  The next 
year Roy was injured in an automobile accident and became unable to work.  
They were forced to return to the farm in Kentucky just at the beginning of 
the Great Depression.  

Doctor Bristow, Roy's father, had a brother, Prentice, who had moved to Texas 
and was a doctor there.  Prentice had begged Sam and Ellen to come visit him 
for a number of years.  In the summer of 1930 they decided to do that and were 
gone to Texas for a period of time that was probably two weeks or more.  
During the time that they were gone, Roy died from a bowel obstruction.  Dr. 
Sam returned and blamed himself for not being there.  He thought that he could 
have saved his son if he had not taken the only vacation he ever took.  He 
swore never to leave again. 

Lillie was left to live on a farm with a ten year old boy as her only help and 
to care for a two year old child.  Dr. Sam told her he would pay Roy's funeral 
expenses if she would sign a paper agreeing that she would never remarry.  She 
refused to do that and instead sold a twenty acre field off her farm to get 
money to pay for Roy's funeral.  It was over twenty years later before she got 
enough money ahead to buy back that field.  Because she would not agree not to 
remarry, Dr. Sam refused to furnish any support for Lillie and her two 
children.

When Roy died in 1930, Lillie's younger sister, Mae, moved in with her to help 
take care of the children. Mae was 17 at the time. In 1933 she married Elbert 
Beck and they moved to Indiana. 

Dan Davis was orphaned when his dad was killed in coal mines in Duvall Valley. 
This was at Christmas when Dan was small. His mother died shortly after. He 
lived with mean foster parents. He worked for a farmer named Byers in the 
Guinn Valley of Clinton County Kentucky.  He came down with pneumonia and a 
doctor removed one lung on the kitchen table of the little shack where Dan 
lived.  It took him two years to recover.  During his recovery the farmer's 
daughter cared for him and eventually he married Geneva Byers. They went to 
Michigan where he hoped to do farm work but he heard there was work in 
Richmond, Indiana and they moved there and lived next door to Roy and Lillie 
Bristow in the 1920's. Jesse and Lillie liked Neva. Geneva died from 
complications after an operation in 1934. Dan, always shy and bashful, was 
overcome with grief. 

In 1935 Lillie took her two children back to Richmond and married Dan Davis 
who had been widowed from his wife Geneva in 1934 and who had a son, Don.  Don 
was almost the same age as Larry. 

Jesse began high school in Richmond but after he had gone two years World War 
II started and he was drafted into the Army in 1941.  He married in 1942 just 
before being sent overseas where he was gone for almost three years.

Larry completed high school and joined the Navy after the war.  He stayed in 
the Navy until he retired in Florida years later.

In 1947 Dan and Lillie bought a house at 421 South 9th Street in Richmond. Dan 
worked for the Richmond Gas Company and in 1962 Dan committed suicide due to 
poor health. Lillie worked at that time and until she retired as a clerk in 
two or three department stores on Main Street in Richmond. 

In 1943 Doctor Sam Bristow bought several adjoining tracts of land in the 
Cowan community in the Guinn valley of Clinton County from Leo Sewell and 
Lloyd (Poore or Parragin). In 1946 Dr. Bristow sold most of this farm in the 
Parmley Hollow to his two grandsons, Jesse W. and Larry E. Bristow. Jesse had 
returned from the war and he and his wife, Nora, were doing factory work in 
Richmond.  Dr. Sam asked Jesse to return to Kentucky to be available to help 
take care of him and Ellen as they aged. 

In the Fall of 1949 Jesse Bristow built a house on the farm and moved in that 
winter. For the next 15 years until he was unable to work due to poor health 
Jesse and his wife worked to improve the farm and raise their two children. 

Jesse died due to lung cancer in 1975 and his son, Duane, and his family 
visited and cared for Lillie until her death from leukemia in 1988 at age 86.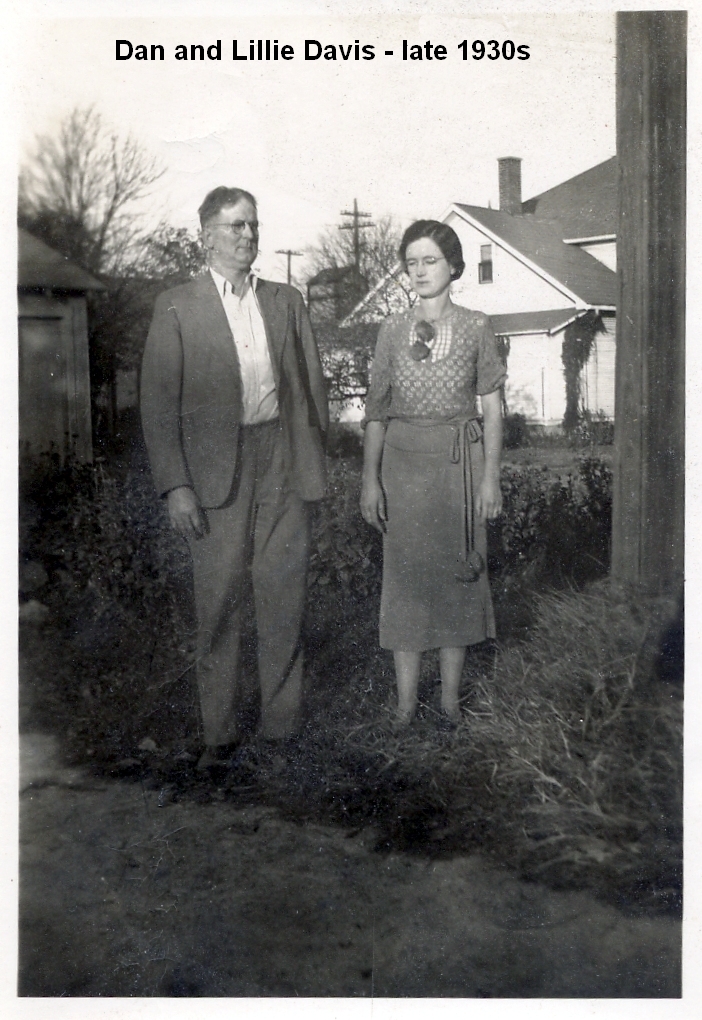 Dan and Lillie Davis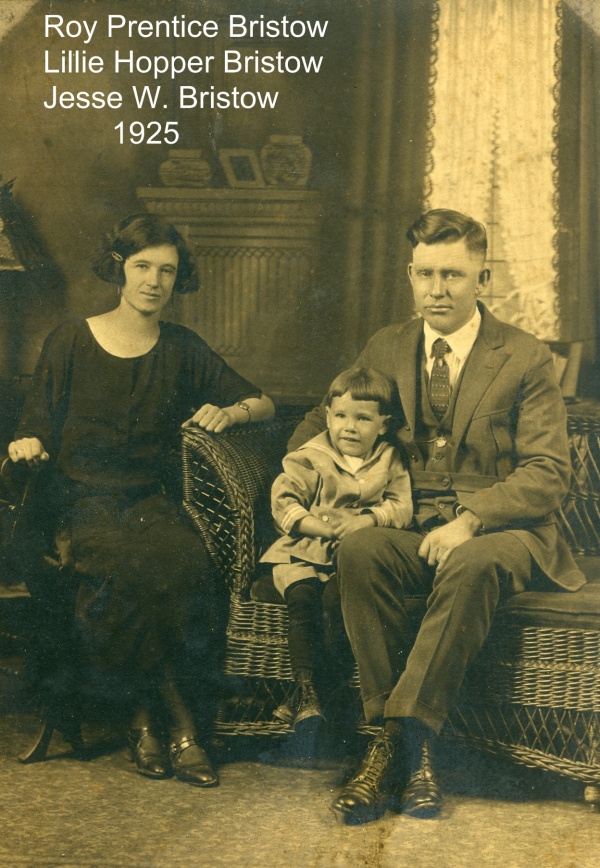 Roy Bristow's Family - 1925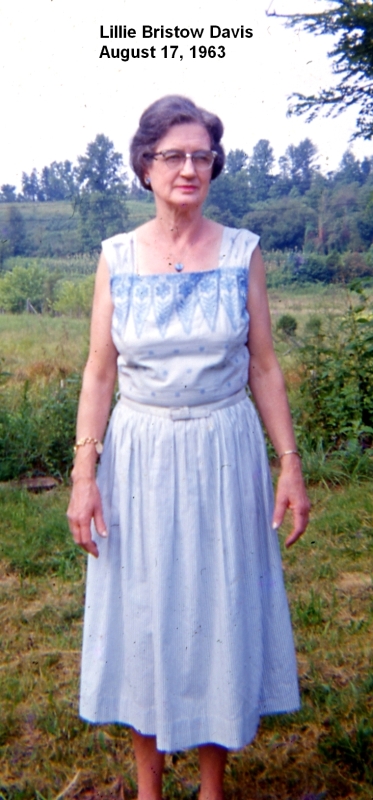 Lillie

Primary profession or occupation:
Housekeeper, Factory worker, Farmer, Housewife, Invalid


Important dates:
1937/--/-- went to Richmond, Indiana and began working as a domestic servant.
1942/--/-- began work in a factory in Richmond, Indiana
1950/01/-- moved into new home near Albany, Kentucky and had seizures.
1974/--/-- multiple sclerosis caused loss of ability to walk. Confined to a wheel chair.
1987/09/-- hospitalized for bed sores and spent the rest of her life in nursing homes
1988/04/30 admitted to Master's Health Care Center in Algood, TN where she spent the rest of her life making latch hooks.

Notes:
               
Nora Lafever and her twin sister, Dora,  had six older brothers and sisters 
and four who where younger than them.  It was difficult living on a Tennessee 
farm in the middle of the great depression.  Nora's older brothers, Charlie 
and Herschel, had gone to Indiana to find work and ended up as farm hands for 
a farmer named Weaver.  When Mr. Weaver needed a housekeeper they suggested 
their younger sister, Nora, and sent for her to come to Indiana.  This was 
1937 and Nora was fifteen years old.  By the time she was twenty she had 
worked as a housekeeper for the Weavers and a nannie for Madge Reid, a school 
teacher in Richmond who had two children, and then worked at Perfect Circle 
making piston rings.  By then her older sisters, Myrtle and Ada, were married 
and Ada and her husband, Amon, were living in Michigan and Myrtle and her 
husband, Hose, lived on a farm in southern Tennessee.  Her sisters, Dora and 
Lorene, had also come North looking for work.  Lorene stayed with Nora for a 
while and worked with her at Perfect Circle.  Then Lorene moved on to Michigan 
and probably stayed with Ada and worked there.  Eventually she married and 
moved back to Tennessee to live on a farm with her husband, Claborn, and work 
in a garment factory. 

In 1942 both Nora and Dora married. 

In 1943 Ada had returned from Michigan to her and Amon's small farm in 
Tennessee and Nora's new husband, Jesse, had been sent overseas in the Army to 
fight in the Pacific theatre.  Ada was pregnant with her second daughter so 
Nora stayed with her for a while on the farm to help out.  By 1944 Ada had her 
baby and Amon returned to Tennessee to live for a while on the farm.  Nora 
returned to Richmond, Indiana and worked at Belden making wire and when 
Jesse's unit was returned to the states temporarily to an army base in Spokane 
Washington, she and another army wife drove a 1939 Buick she had purchased 
from Indiana to Washington where they stayed for a week or two with their 
husbands. 

In early 1945 the war was over and Jesse returned to Richmond to work at 
Belden with Nora.  In 1947 Nora had her first child, a son she named Roy 
Duane.  Later that year her brother, Kenneth, returned from his Army duty in 
the occupation of Germany and came to Richmond looking for factory work.  He 
stayed with Jesse and Nora and the new baby at first but soon bought an 
apartment house and moved into the attic of it so he could rent out all four 
apartments.  

In 1949 Jesse's grandfather, Dr. Samuel W. Bristow, sold Jesse a farm near 
Albany in southern Kentucky and asked him to move there to help take care of 
him and his wife, Jesse's grandmother, Ellen, as they aged.  So Jesse and 
Nora, who was again pregnant, and their son moved to Albany and stayed with 
the doctor and his wife while they built a house on the farm where they could 
live.  In January 1950 they had moved into the house on the farm and Nora gave 
birth there to a daughter, Karen.  During or after the birth she had a seizure 
and she continued having occasional seizures for the next thirty years.  
Eventually she was diagnosed with Multiple Sclerosis.  By the early 1970s she 
was unable to walk and had to use a wheel chair for the rest of her life.  She 
worked hard with Jesse on the farm as long as she could. 

In 1975 Jesse died from lung cancer and Karen, who had been teaching school in 
eastern Kentucky, returned to the farm to care for her mother.  In 1979 Duane 
who was a forester returned to the farm and built a house there and Karen 
married and left.  By the late 1980s, Nora had to go to a nursing home and 
eventually due to diabetes, both legs were amputated.  She died in a nursing 
home near Cookeville, Tennessee in 1994.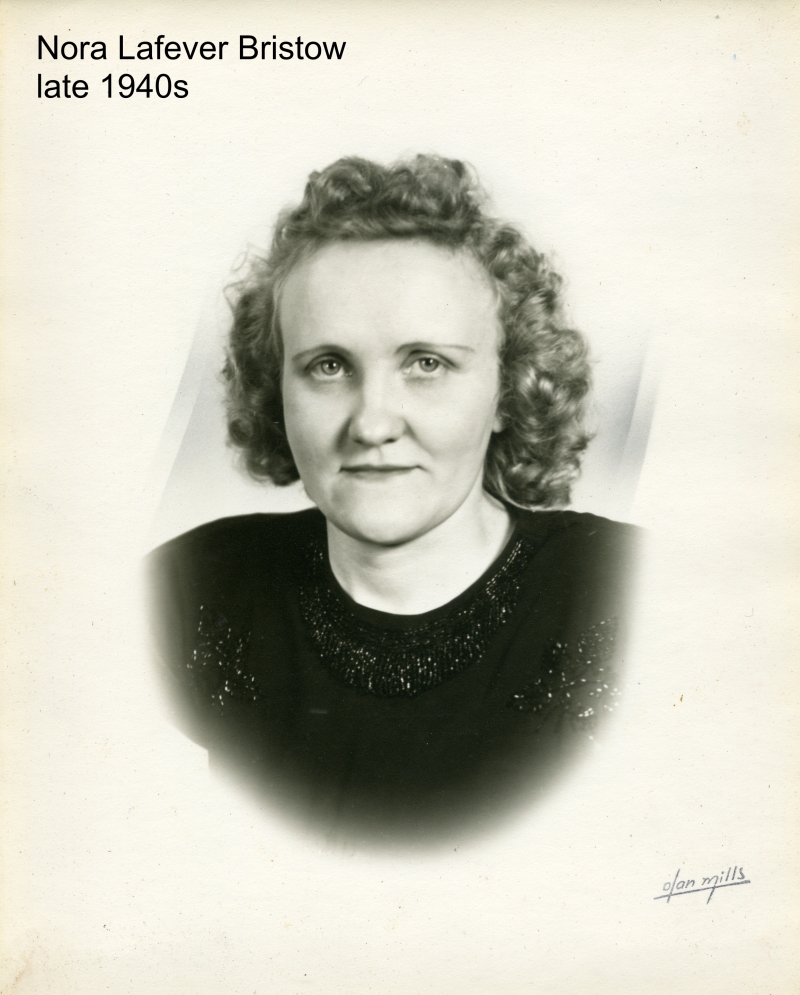 Nora in the late 1940s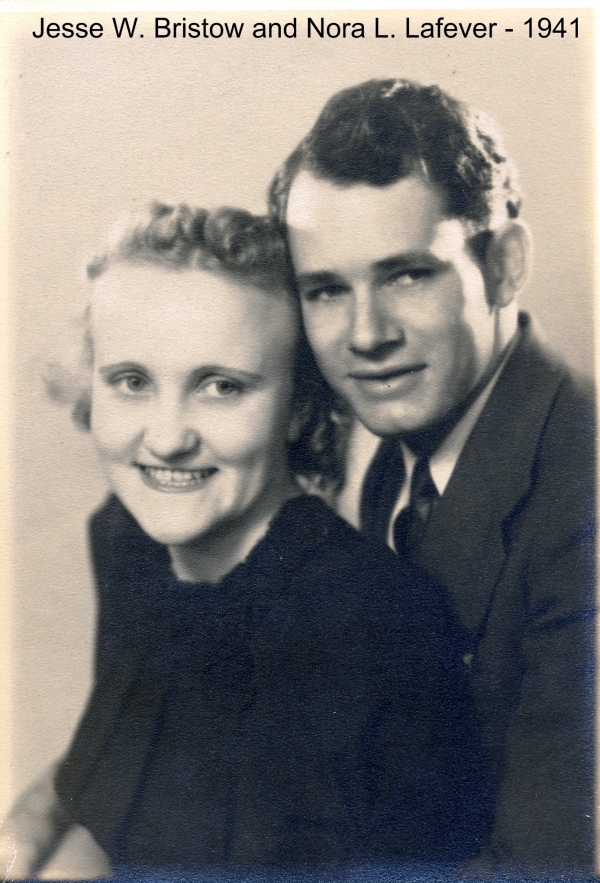 Jesse Bristow and Nora Lafever - 1941
Sounds:
A phone call from Duane in 1973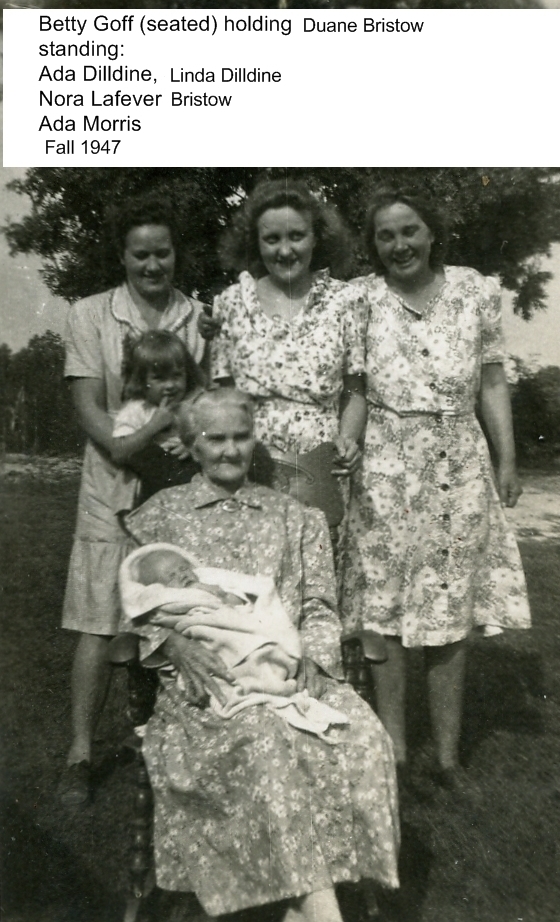 Betty Goff, Ada, Linda, Nora, Duane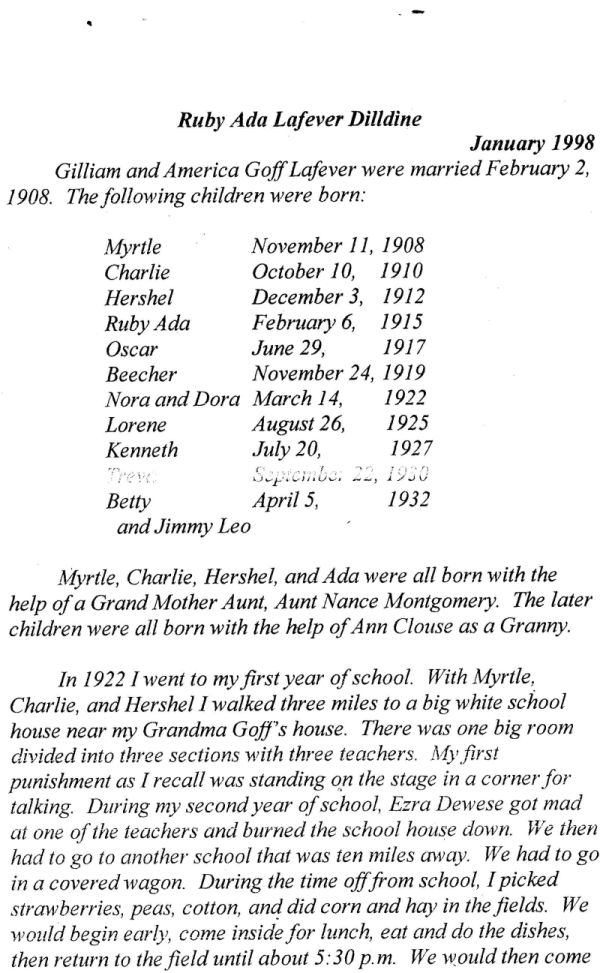 Ada's biography-1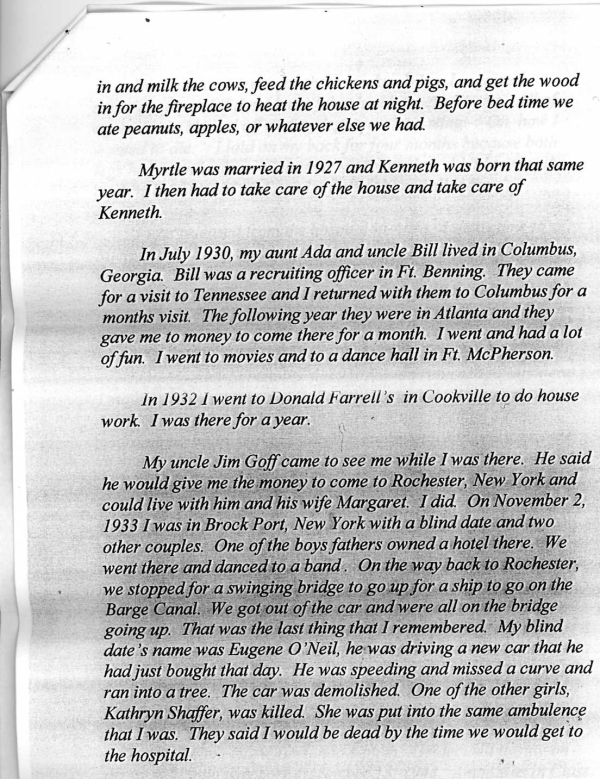 Ada's biography-2
Ada's biography-3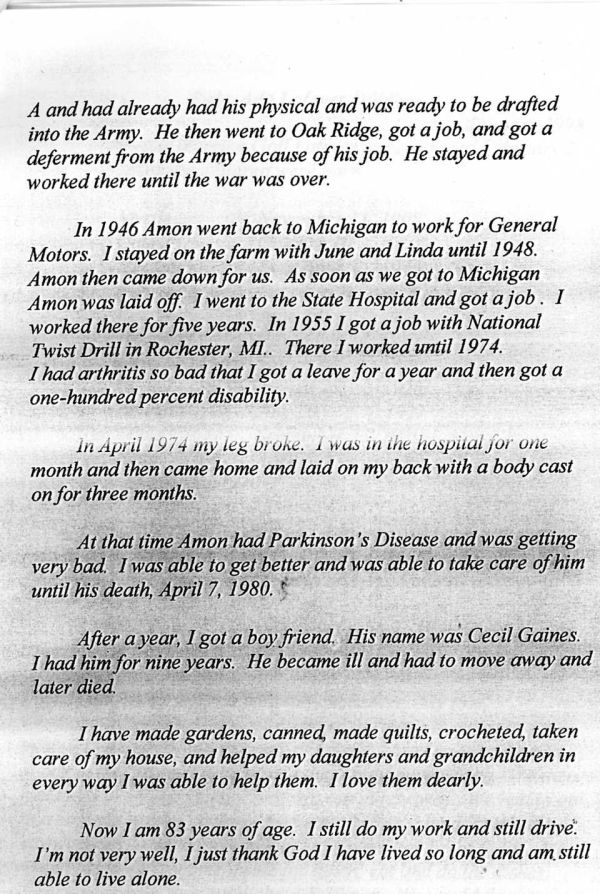 Ada's biography-4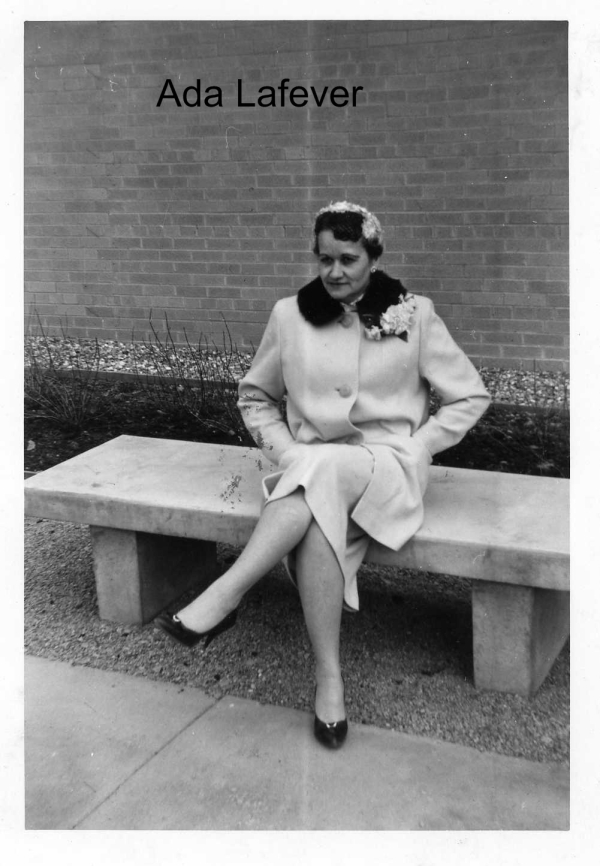 Ada

Kenneth Lafever's Life Book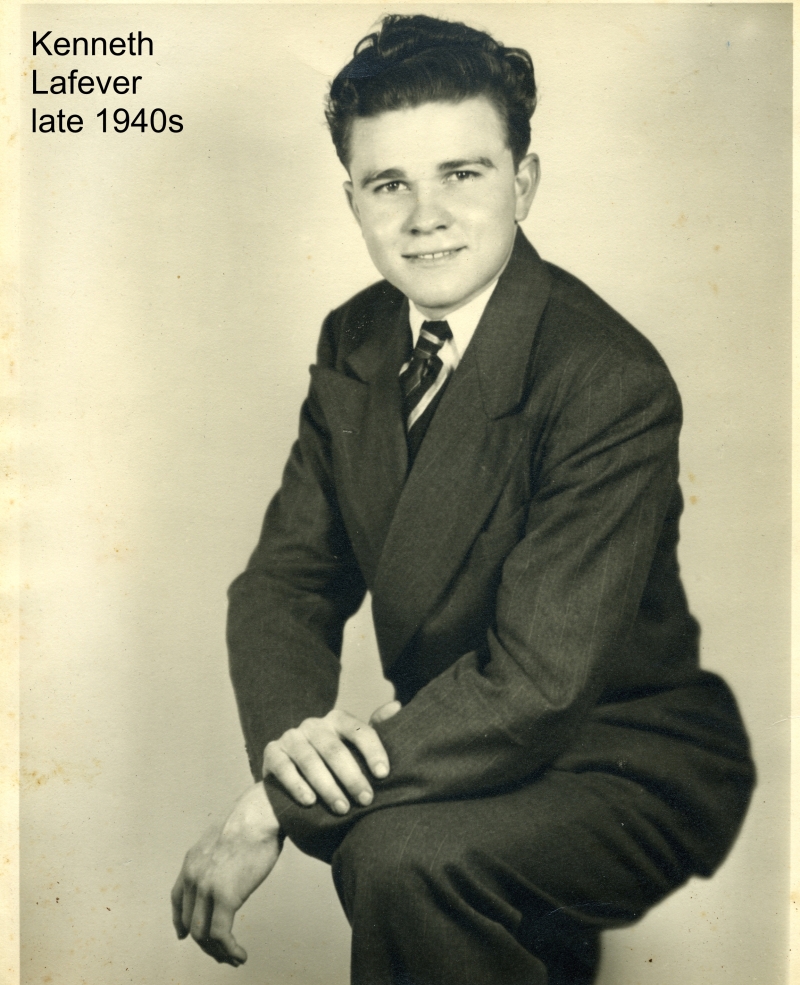 Kenneth Lafever in the late 1940s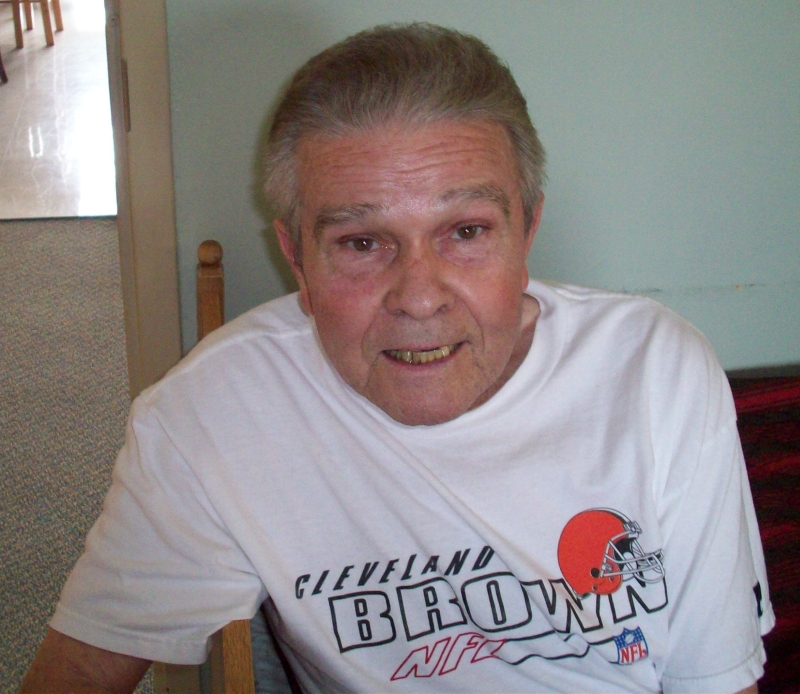 Kenneth Lafever - Sept. 22, 2009 at Golden Rule nursing home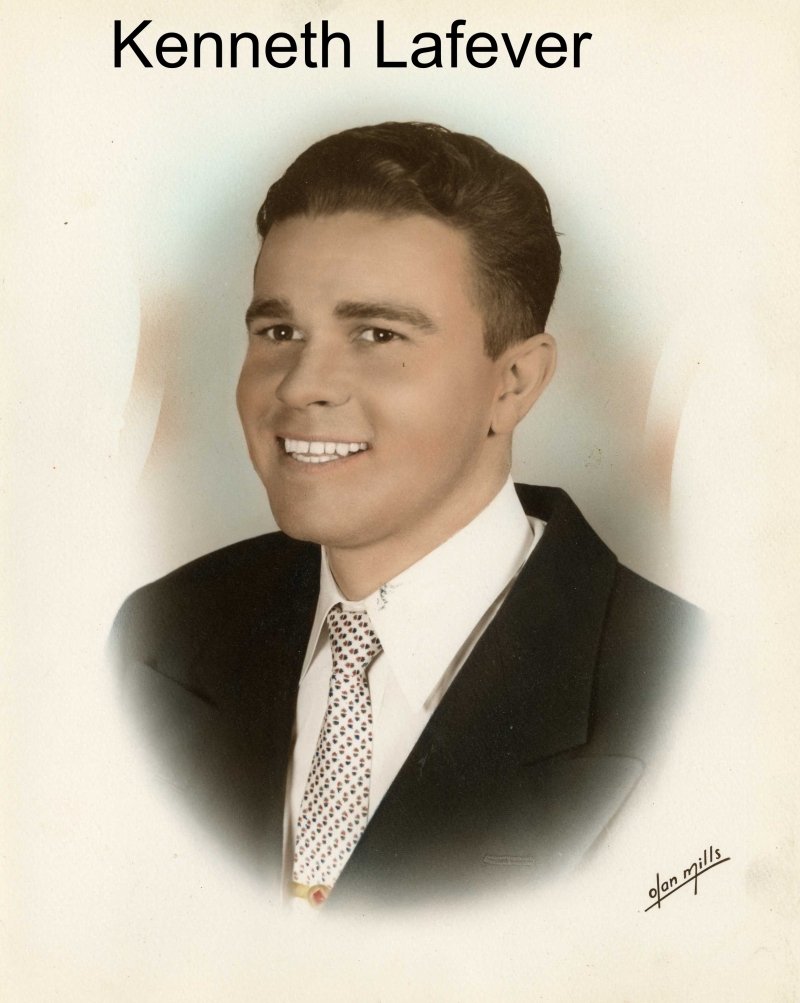 Kenneth Lafever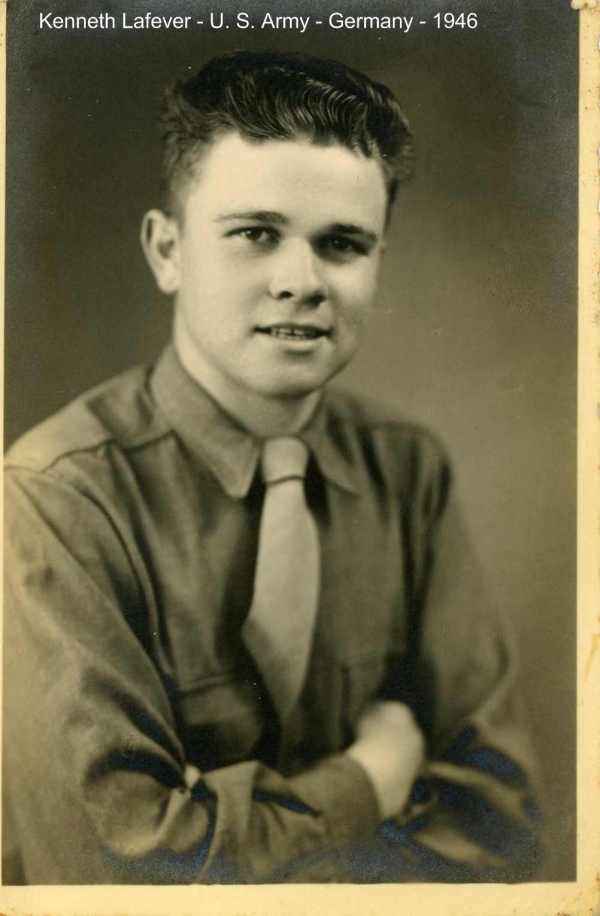 Kenneth in the Army in Germany about 1946.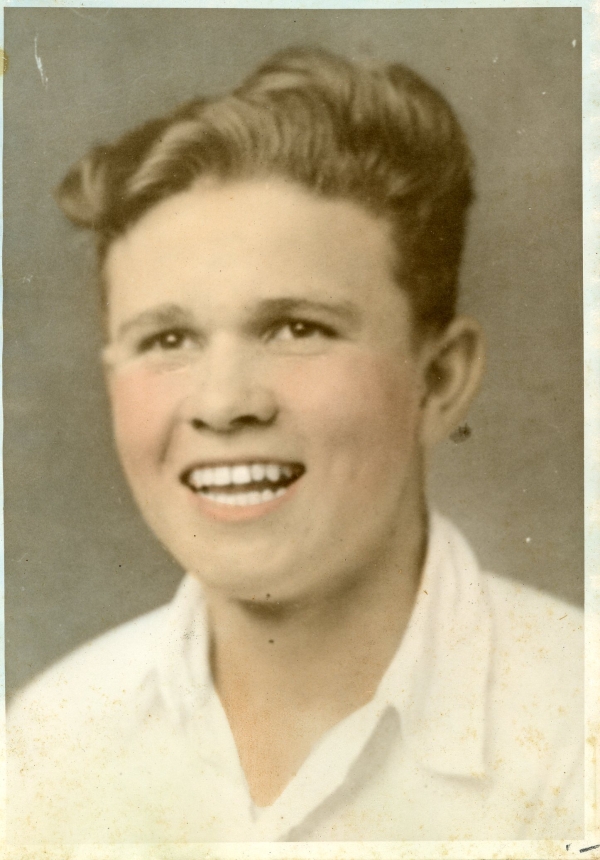 Teen ager - Kenneth


                        Kenneth E. Lafever. 
                by Kenneth's nephew, Duane Bristow
                             June 2011. 

Kenneth Lafever is an 83 year old man who has been adjudged by two medical 
doctors, a psychiatrist, and a psychology professor to have dementia, impaired 
judgment, and impaired short term memory.  It is generally agreed by these 
people, by Rosella Bennett, the nurse in charge of the Alzheimer's Unit at 
Golden Rule Nursing home where Kenneth was cared for from September 2009 to 
May 2010 and by Linda Greenlee, Kenneth's niece, who cared for him from May 
2010 until February 2011 that he needs continuous care and is unable to make 
judgments sufficient to provide care for himself. 

Kenneth grew up poor on a farm in Tennessee with eleven brothers and sisters.  
He turned 18 in 1945 at the end of World War II and was immediately drafted 
into the Army.  He served as a part of the occupation forces in Germany and 
got out of the army in late 1947.  At that time two of his brothers and four 
of his sisters had left Tennessee to try to make a living in the North, mostly 
in Indiana, with his oldest sister, Ada, Linda's mother, and her family living 
in Michigan.  His two brothers and one of his sisters returned to Tennessee to 
live after a few years but Nora, my mother, Dora, her twin sister and Delores' 
mother, and Ada, Linda's mother, still lived in the North.  I was ten weeks 
old at the time.  Nora and her family lived in Richmond and Dora and her 
family lived in Cambridge City.  Nora and Dora were five years older than 
Kenneth.  When he got out of the Army Kenneth decided to come to Richmond to 
get a job and to help Nora take care of me. 

My father's grandfather was a doctor in southern Kentucky.  His oldest son, my 
grandfather, had died 20 years before and his youngest son, his only other 
descendant, was in poor health and mentally unstable.  My father was his 
oldest grandchild.  Dr. Bristow decided he and his wife would need someone to 
take care of them as they got older so he sold my father, in 1949, a farm over 
a square mile in size, for $10,000, the same price he had paid for it five 
years earlier, on condition that my father would move there. 

At that point my family left Richmond, although my father's mother and two of 
her sisters still lived there.  My grandmother lived near the apartment house 
that Kenneth had purchased at that time.  For the next thirty years, Kenneth, 
when he would go to visit his parents in Tennessee would stop to see us on the 
way and sometimes stay with us on the farm for several days and sometimes take 
my sister and I to Tennessee with him.  We would also visit him in Richmond 
once or twice a year when we would go to see my grandmother and my aunts.  
Therefore, until the late 1980s when my grandmother died I saw Kenneth more 
and was closer to him than any of his other nieces and nephews. 

Kenneth had worked at a factory in Richmond for over 30 years and retired from 
D & M manufacturing in the 1980's when the company went out of business. 

In early 2009 Kenneth's nephew and niece, Jim Lafever and Meirl Williams, 
stopped in Richmond to visit Kenneth as they had been doing for a few years on 
the way from their home in Tennessee to visit their brother, Solon, in 
Michigan.  At that time Kenneth told Meirl that, although he had a will 
leaving everything to his brothers and sisters, they were now all dead except 
his sister, Lorene, and he wanted to leave his estate to his living nieces and 
nephews and his living sister and he had a lawyer who needed a list of those 
people.  He asked Meirl to prepare the list for him.  Later she did so and 
mailed it to him.  He sent her a letter in which he said that he took the list 
to his lawyer and got everything set up the way he wanted it and that Meirl 
and done such a good job preparing the list that his lawyer did not charge him 
anything.  He sent Meirl a check for $25 for preparing the list for him. 

Later Meirl and I talked to Uncle Kenneth's accountant who Meirl had found had 
been doing his taxes for years and we finally found that Uncle Kenneth had 
been confused and he actually did not have a lawyer but only a financial 
advisor named Stasia at one of the banks where he had his money. When we 
walked in to the bank and asked to see Kenneth Lafever's financial advisor, 
Stasia said, "I've been waiting for you."  She said she had known for months 
that Uncle Kenneth was becoming more and more confused and when she didn't 
hear from him for several days she knew his relatives would come looking for 
her.  She knew all our names, phone numbers and addresses because Uncle 
Kenneth had given her the list he had asked Meirl to prepare about five months 
before.  Besides Stasia, Kenneth's postman, his accountant, and a lady who was 
associated with St. Luke's Church, one of the places Kenneth ate, told us that 
he had shown signs of disorientation and confusion for at least four to six 
months. 

For the last few years, Kenneth had been unable to care for himself and had 
been eating meals at various institutions in Richmond that provided free meals 
for the homeless.  Two of these were St. Luke's church and the Circle U.  At 
the Circle U Kenneth told the other people eating there that he had four
million dollars.  They laughed at him so he showed them a bank statement from 
Chase Bank showing that he had half a million there.  At that point one of the 
regulars eating at the Circle U, Marvin Henderson, latched on to Kenneth and 
became his best friend. 

On the night of August 20, 2009 Uncle Kenneth was discovered by his tenant of 
22 years, Don Shumer, disoriented not knowing who or where he was.  Don called 
the police.  The policeman took Uncle Kenneth to the hospital.  Before doing 
so he got into Uncle Kenneth's apartment to find medicines and records of next 
of kin.  He discovered that Uncle Kenneth's apartment was unfit for human 
habitation and reported that to the hospital.  The apartment was later 
condemned by the health department. 

Don Shumer had copied Linda's address from a letter in Uncle Kenneth's mailbox 
a long time before and he gave that to the policeman. Linda Greenlee lives in 
Michigan and is a daughter of Kenneth's older sister, Ada. 

Someone at the hospital, or perhaps the police, called Linda and told her what 
had happened and Linda called me and told me. For the next several days a 
number of us cousins called each other trying to determine what to do.  Linda 
had called Delores, daughter of Kenneth's sister, Dora, and within a few days 
Delores and her husband, Albert, went to see Kenneth and retrieved his wallet 
and his keys from his pants pockets. 

In the meantime Karen, daughter of Kenneth's sister, Nora, had told me that 
Uncle Kenneth would need a guardian and I had asked Meirl, daughter of 
Kenneth's brother, Charlie, if she would go to Richmond with me and become his 
guardian.  She agreed to do that.  Karen was retired but had worked for years 
supervising guardians provided by the state of Kentucky for people in Uncle 
Kenneth's condition who did not have family to care for them. 

When Kenneth first went into the hospital I thought he had had a stroke.  Dr. 
Epperson did a CAT scan and found no evidence of a stroke.  He diagnosed 
Kenneth with dementia after running a bunch of other tests and determining 
that he had no physical ailments other than an irregular heartbeat and acid 
reflux, for both of which Kenneth was already taking medication that Dr. 
Epperson had prescribed quite a while before. 

Dr. Epperson then transferred Kenneth to the elder and psychiatric ward on the 
4th floor.  His doctor there was Dr. Villiarin, a psychiatrist.  We found that 
Kenneth had said he fell about a month before that and his face had been 
beaten up.  Dr. Villiarin ordered an MRI to see if he could be suffering a 
concussion or other problems from that.  He said the MRI results were 
completely normal for an 82 year old man. 

Dr. Villiarin questioned the diagnosis of dementia because Don Shuler had said 
that Kenneth's condition happened overnight.  Dr. Villiarin asked Meirl and I 
to investigate.  We talked to a number of people who had known Kenneth for 
several years.  His accountant, his postman, a lady who worked at one of the 
churches where Kenneth ate, and his advisor at his bank all said they had 
noticed Kenneth becoming increasingly confused for at least 6 to 8 months.  
When I reported this to Dr. Villarin, he said that dementia was then the 
correct diagnosis. 

On the advice of our attorney, we asked Dr. Villiarin if Kenneth was capable 
of making decisions and managing his own affairs.  Dr. Villiarin said, "No", 
and wrote a statement to that effect.  When shown that statement and the 
report on the condition of Kenneth's apartment from the health department, the 
judge granted the temporary guardianship we had asked for.  

In August 2009 when Kenneth was taken to the hospital, he wanted two things.  
He told me he wanted to stay in Richmond since he had lived there most of his 
life and he wanted to go to Golden Rule nursing home since he was familiar 
with that facility.  He also wanted, as he had all his life, to hoard his 
money but he didn't mention that.   I think he was aware that his apartment 
house had deteriorated, as had he mentally with age, to the point that he 
could no longer live as he had been doing.  Rosella Bennett, the nurse heading 
the Alzheimer's Unit at Golden Rule Nursing Home visited him in the hospital 
and she and Kenneth hit it off from the start and Kenneth called me several 
times asking me when he could be transferred to the nursing home. 

Therefore, I resisted the ideas of my cousins in Tennessee that we force him 
to move there.  That was a mistake.  I also, against Rosella Bennett's advice, 
got him a cell phone so that he could talk to his family because I realized 
that he no longer had any friends in Richmond. 

By the end of September that was working fine and he was settled in at the 
nursing home and was calling his nieces and nephews and was getting along fine 
with Rosella and I was making plans for his family to visit him often and for 
me to use the money he had saved to pay for his living expenses and to help 
pay for trips to visit him by his family members.  I estimated that he had 
enough money to afford to live like that for thirty to forty years.  Since he 
was 82 years old, that seemed sufficient. 

Then Marvin, his acquaintance from the soup kitchens, found him at the nursing 
home.  For the next 4 1/2 months Marvin was at the nursing home almost every 
day spending as much as eight or ten hours a day with Kenneth telling him that 
this whole thing was a vast conspiracy by his family and the medical staff and 
the lawyers and everyone to keep him locked up so they could get his money.  
Unfortunately, Linda, decided that Marvin was right and told Kenneth the same 
story.  Kenneth would only use his cell phone to talk to Linda and Marvin 
every day and he cut off communication with anyone else.  Linda told me at one 
point that she also didn't want to talk to anyone except Kenneth and Marvin. 

Marvin seems to me to be a bully who enjoys dominating others and he found in 
Kenneth a perfect victim, one who was mentally weak and therefore easily 
dominated.  I don't know to what extent Marvin's objective was also to get 
Kenneth's money. 

After Linda called me and said she didn't think Kenneth any longer needed a 
guardian, I talked to Rosella Bennett, the director of the alzheimer's unit at 
the nursing home where Kenneth is staying.  She said he is incapable of living 
on his own or making decisions.  She said she asks him a series of questions 
about every day that are designed to evaluate the patients ability to do just 
that and based on her observations of Kenneth and the results of those tests 
she does not feel that he is functional enough to do that. 

Kenneth is eccentric. Kenneth is in the early stages of dementia. 

Kenneth has built up a fortune of almost 1.5 million dollars in the 60 years 
since he moved to Richmond, Indiana after getting out of the Army after 
serving in World War II. 

He did this by working at factory jobs and buying an apartment house with four 
apartments in 1954. 

He spent almost no money on himself although he did spend on his siblings and 
his nieces and nephews.  All his life he has taken care of old people who had 
no one to take care of them, waiting on them hand and foot.  From 1985 to 
about 2000 he took care of two old men who were bedridden plus caring for 
several  others to a lesser extent at the same time. 

He often worked 7 days a week to get paid overtime. He was astute at managing 
his money investing it in Treasury notes and CDs moving his money around to 
get the best interest rates. 

In the last five years or so his frugality has become an obsession leading him 
to live the lifestyle of a homeless person rummaging in trash cans and 
bringing other peoples trash and garbage to his apartment house to the point 
that he had no room to live and that his bathrooms became unusable due to the 
amount of trash and rotting garbage in them. 

He got his food by going to free soup kitchens every day and bringing home any 
canned food they would give him.  He ceased personal cleanliness and seldom 
took baths.  He was seen on the streets of Richmond scavaging for food and 
salable items in trash cans and accepting handouts from strangers. 

In the nursing home he objected to his niece buying him underwear because he 
said he had plenty of underwear in his apartment that he had gotten out of 
other people's trash.  His relatives had his mail held for a month at the Post 
Office while he was in the hospital and nursing home. During that month he got 
in the mail two bank statements, a statement about his treasury notes, four 
utility bills and a notice from his insurance company cancelling his truck 
insurance due to excessive claims.  That was all.  There was absolutely no 
junk mail, magazines, or anything else.  This is because he has never 
purchased any consumer goods by mail or phone and he has never had a credit or 
debit card.  He used no checking account. He got cash for spending by writing 
himself a check from his money market account once or twice a month.  He was 
limited to three checks per month from that account.  All his utilities were 
paid directly from his bank account.  His major expenses were insurance on his 
1994 Ford truck and his apartment building and property and income taxes. 

Other than a roof he has spent no money on his apartment house in years. The 
electrical, plumbing and heating systems are substandard.  The heating system 
needs attention twice a day in the winter time because the boiler tends to 
lose water because it does not have an automatic water pump to replace lost 
water.  The tenants in the one apartment occupied in his apartment house moved 
out because they didn't have water.  It is expected that the cost of repairs 
to the building to make it livable would be greater than the value of the 
building. Over the years the neighborhood has deteriorated to the point that 
it is occupied mostly by alcoholics and drug addicts.  It is unsafe for an 82 
year old man to live there.  In 2009 when I had a temporary guardianship I 
hired a man from Cambridge City named Tom Stewart to clean up Kenneth's 
condemned apartment house.  He and a crew of 7 men spent about a week doing 
that and I paid them about $3,000 of Kenneth's money for the job.  I also 
asked Tom Stewart to store Kenneth's pickup truck at his place until I could 
arrange to sell it.  I never got to do that because I was prevented from 
obtaining a permanent guardianship.  After his apartment house was cleaned out 
Kenneth's neighbor, a drug dealer, broke into the building and took out 
everything left including the furnace, heat radiators, and any other metal he 
could find and sold it for scrap metal.  When told of this Kenneth said that 
he didn't want to report this to the police because the neighbor had ten 
children and it would be bad for them if the neighbor was sent to prison.

In 2005 Kenneth told his financial advisor, Stasia A. Veramallay-Hodges at 
Chase Bank, that he wanted his assets to go to his one living sister and to 
his living nieces and nephews equally on his death and asked her to help him 
set up his money so that that would happen. She began guiding him in 
converting his treasury notes as they matured to CDs at Chase Bank.  She 
continually reminded him that she needed a list of the people he wanted to be 
his heirs.  In November 2008 Kenneth's favorite sister, Ada, died.  At that 
point, of his ten brothers and sisters, only one sister remained.  In March of 
2009 he asked his niece, Meirl Williams, to prepare him a list of his living 
nieces and nephews which she did and which he took to Stasia. 

From Karen Bristow written in 2009 when Kenneth was a resident in Golden Rule 
Nursing home: 

In my 22 years experience with social services working for the protection of 
children and the elderly, I  was taught, and believe, that safety is paramount 
being more important for the individual than independence or freedom. 

Following are concerns surrounding Uncle Kenneth's safety if left to his own 
devices: 

1.  His truck insurance has been canceled due to his history of accidents 
indicating that driving a vehicle is a safety issue for others as well as 
himself. 

2.  His dwelling was so cluttered that the stairs were blocked and 
some of the electrical wiring was exposed--both fire hazards. 

3.  He allowed food to lay around and spoil as well as accumulating garbage in 
most parts of the dwelling, thus inviting rats, mice, and germs to accumulate 
and grow. 

4.  His bed was filled with stuff.  His solution was to sleep on a couch. 

5.  The plumbing in his dwelling is not working well but he made the decision 
not to have it repaired because he thought the plumber's estimate was too 
high.  This may be why he did not shower, or wash his clothes. 

6.  The boiler--the heating source for this dwelling--is old and in need of 
replacement or repair but he chose not to spend money on it. 

7.  The electric system in his dwelling is not safe but has not been repaired. 

8.  He is not cleaning himself nor his clothing on a regular basis inviting 
the breakdown of his skin and the alienation of other people due to the smell. 

9.  For food he depended on going to places in the community for free food but 
came to the point in which he could not remember the place or time of these 
meals.  This raises concerns about his nutrition and general health and well 
being. 

10.  He exhibited extreme hoarding behavior --keeping bags of garbage, spoiled 
food, cluttered bed, stairs and living space.  He also chose to hoard his money 
instead of spending it on his welfare. 

11.  He believes his friend, Marvin, who told him that he owns a diamond mine 
in Africa and that he has a black family there as well as a wife in Richmond.  
If Marvin is untruthful, is he trustworthy? 

12.  He told people who eat the free food with him that he was a millionaire.  
When they did not believe him, he showed them a copy of his bank statement. 

13.  He thinks he wrote a new will leaving his money to his nephews and 
nieces, but he did not go to an attorney for this.  He went to a financial 
planner at a bank. 

Uncle Kenneth appears to be better since he has been getting 3 meals a day, 
taking a bath when he is told, getting his clothes and bedding washed 
regularly and is now taking 2 medications for dementia.  However, before we 
determine if he can function on his own, I think we need to answer the 
following questions: 

1. What is his plan for a place to live since it would cost more to repair his 
dwelling than it is worth?  Is he willing to spend his money to implement his 
plan?  Is it a reasonable logical plan?  Who will monitor the completion of 
the plan? 

2.  Does he understand and acknowledge that it is no longer safe for him to 
drive a vehicle?  What is his plan for getting around in his community to meet 
his needs? 

3.  What is his plan for getting rid of garbage and spoiled food in the 
future?  Is it reasonable and does he have the capacity to follow through with 
the plan? 

4.  What is his plan for keeping his clothes and himself clean if no one is 
there to tell him to do so?  Is it reasonable and is he capable of following 
through to completion?       

5.  Will his "friends" help him or take advantage of him during times when his 
thinking is confused? 

6.  Are any family members willing to move in with him to help him on a daily 
basis? 

7.  What is his plan for getting 3 meals each day?  Will he be able to do this 
on a daily basis? 

8.  Does Uncle Kenneth realize that his mind is no longer functioning as well 
as it did when he was younger?  Is he willing to seek help for this? 

I think we need to consult with his health care team to help us determine if 
he is now mentally capable of making plans and carrying them through to 
completion or if it is necessary for someone else to tell him what he needs to 
do and monitor that he does it.  Would he now be "safe" and able to meet his 
own needs if left to his own devices?  If so, what is the projection of the 
amount of time before his mind deteriorates to a point where he would no 
longer be safe? 

From Duane: 

Kenneth has no place to live. 

Kenneth needs someone to care for him.  He is unable to care for himself. On 
his own he probably would not eat properly, bathe properly, or take his 
medication properly and people would probably take advantage of him. 

Kenneth's money must be used to care for him.  He does not want that and would 
not do it on his own. 

Kenneth needs to have activities to interest him and to occupy his mind 
whether that be taking care of old people or talking to some of us on the 
phone or visiting with us or whatever.  He cannot just be left to vegetate in 
some care facility. 

He is going to be angry, at least for a while, at some of us.  That can't be 
helped. 

He would be better off in Tennessee, simply because we could watch over him 
more closely and he could spend weekends at our homes. 

If the medical diagnosis of early stage dementia is correct then his mental 
condition will probably deteriorate over time. 

He is in good physical health for an 82 year old man, so he can expect to live 
for a number of years. 

It is a shame for him to lose his independence and the life to which he is 
accustomed.  However, we are not causing that.  Events caused that.  It is a 
combination of his age and his attitude toward money and his situation.  There 
are a number of things that happen in life that would not happen if I could 
have my way.  But I can't.  So all I can do is just to do the best I can with 
the hand I am dealt.  I refuse to feel guilty about that. 

Although he will continue to deny the above, I am pretty sure that, at some 
level, Kenneth himself knows all the above.  He is a smart man.  He has never 
in his life paid his taxes until very near the time they were due because he 
wanted to continue to get the interest on his money.  He paid his first 
quarter estimated taxes in April but in July he paid the next three quarters 
even though two payments would not be due for months.  This was about 6 weeks 
before he was taken to the hospital. 

He told me he was glad to be out from under the burden of that apartment 
house. 

When he was in the hospital he told Linda that he wanted to go to the nursing 
home so he could help them take care of old people. 

For more information about Kenneth see: 

http://www.kyphilom.com/www/lifebook.htm 

I wrote this to my cousins a year ago: 

As you know, Marvin Henderson, the guy Kenneth met at the soup kitchens before 
he went to the hospital found out in the soup kitchens that Kenneth had money 
and latched on to him.  Marvin is loud and demanding and dominating and 
unintelligent and a bully and a liar.  However he is taking advantage of 
Kenneth's dementia to convince him of a world view that is completely untrue.  
He does this by spending as much as 4 to 12 hours with Kenneth most every day 
and by repeating the same stories.  Because of Kenneth's dementia Kenneth is 
submissive to Marvin and believes what he says. 

The world view Kenneth believes is that he fell and hit his head and got a 
concussion and had to go to the hospital.  He believes that now he is over the 
effects of the concussion and is perfectly normal but that while he was 
incapacitated we had him locked up and we, particularly me, have been stealing 
all his money and robbing his apartment.  Kenneth did tell Rosella at the 
nursing home though that although I had stolen all his money he still had two 
million dollars left.  Kenneth also believes that Marvin is his best friend in 
the world and "like a brother to him."  Kenneth also believes Marvin's tale 
that besides his wife that he lives with in his double wide trailer on South 
12th Street that he has another wife who is a 14 year old black princess in 
Africa, that he has two kids with her, that her father the King died so she is 
now the Queen and that the father gave Marvin a half interest in a diamond 
mine so that Marvin now has $20 million dollars.  Kenneth also believes that 
he has known Marvin for 40 or 50 years and that he used to work with him.  
When Meirl asked Kenneth to point out Marvin in a photo taken at his work 
place at Avco of the people he worked with Kenneth said he had never worked 
with Marvin. 

Marvin is our first problem in trying to care for Kenneth.  Our second problem 
is our cousin Linda who, when Kenneth told her the above story, believed it 
and conspired with him to keep us from converting our temporary guardianship 
to a permanent guardianship.  When I told Linda that Marvin was out to get 
Kenneth's money she said, "Well you might not like some of my friends either.  
But," she said, "since Kenneth is all right now and since he has worked hard 
to save up almost 1.5 million dollars, if he wants to give it to Marvin, you 
should not try to stop him.  After all it is his money."  Linda seems to me to 
refuse to believe reality when the world is not as she wants it.  She doesn't 
want her uncle to have dementia so she simply believes he doesn't.  So Marvin, 
Linda, and Kenneth all tell the same story. 


I sent this to Barb Mayle, the guardian ad litem appointed by the judge, about 
a year ago: 

Barb, 

1.  Kenneth has 22 heirs, one is his only remaining sibling, his sister, 
Lorene, who is 85 years old.  You have her phone number. Please talk to her at 
some time. The other 21 are Kenneth's nieces and nephews.  These 21 are 
scattered all over the world and many of them have never been very close to 
Kenneth either physically or as relatives.  There are about ten of us that 
have been closer to him than others.  Those are the ones I have been 
communicating with and that I gave you contact information for. Please talk to 
several of them. 

2.  Please reread all the information I have given you after you begin to get 
more of a feel for the whole situation.  I think much of it may make more 
sense to you at that time.  In understanding some of the emails, etc. keep in 
mind the following time line. (the dates may not be exact because I didn't 
take time to look them up in my notes but they are close.) 

Aug. 20, 2009 - Kenneth first taken to the hospital. 

Aug. 27, 2009 - Meirl and I first visited Kenneth at Reid Hospital although 
Delores and Albert had been to see him before and Linda had talked to him on 
the phone. 

Sept. 10, 2009 - Kenneth transferred to Golden Rule and Karen Bristow visits 
him within a week to get him settled in. 

Sept. 23, 2009 - Duane and Meirl visit Kenneth at Golden Rule and get 
guardianship papers and begin managing his affairs and take him a phone.  
Marvin finds Kenneth and begins his program of brow beating. 

Oct. 29, 2009 - A meeting at Golden Rule to discuss the situation and the next 
day to give Linda the opportunity to become his guardian. Those present were 
Kenneth, Marvin, Rosella, Linda, Duane, Meirl, Delores, Albert. 

Nov. 8, 2009 - Duane and Meirl's temporary guardianship expires and since 
Linda refused to be guardian, Kenneth has no guardian. 

During this entire time various family members had visited Kenneth about every 
two weeks.  Within a week or so after the guardianship expired, on Doug Oler's 
urging, I contacted Dr. Villarin to ask him for an updated evaluation of 
Kenneth's condition.  He said he would do that soon but a month later he still 
had not done so. 

Dec. 10, 2009 - I and my wife, Eva, go to Richmond and I go to Richmond State 
Hospital to talk to Dr. Villarin in person and urge him to evaluate Kenneth's 
condition.  He asks me to meet him at the nursing home that afternoon.  I do 
so and he interviews Rosella and looks over her records and spends about an 
hour talking to Kenneth.  I was present because both Dr. Villarin and Kenneth 
asked me to be.  I did not speak during the interview. 

About January 14, 2010 - Dr. Villarin sends Doug Oler his statement of 
Kenneth's condition and Doug files a petition for me to be guardian a few days 
later.  At about that time Marvin tells Rosella that Linda has sent him seven 
pages of Kenneth's financial records and he learns Kenneth has money in Chase 
Bank and takes Kenneth there to try to get access to it. 

Dr. Villarin apologized to me for taking so long to produce his report.  He 
said Linda left messages on his answering machine asking him not to interview 
Kenneth or make a report until he had talked to her but every time he called 
her he was unable to talk to her but, I guess, got her answering machine. 

When Linda found that I had filed a petition for permanent guardianship, she 
hired an attorney in Richmond and filed a competing petition for guardianship 
for herself.  She did not think Kenneth needed a guardian because Kenneth and 
Marvin told her he didn't so she was trying to prevent me from becoming his 
guardian.

May 2010 - Kenneth's niece, Linda Greenlee, drives from Michigan to Richmond 
and takes Kenneth out of the nursing home and to her home to live with her.  
Although she had hired an attorney and petitioned to become his guardian, she 
refuses to do so because she says he is fine and doesn't need a guardian. 

December 2010 - Linda calls me to say that she can no longer handle Kenneth 
and that he talks to Marvin in Richmond on the phone all the time and Marvin 
is trying to get money from Kenneth and trying to get Kenneth to return to 
Richmond to live with Marvin.  I advised Linda that she cannot stop Kenneth 
from doing this unless she is his legal guardian and I advise her to see an 
attorney in Michigan and see if she can get guardianship. 

Linda does not do this. 

February 2011 - Linda calls me to say that Kenneth sent money to Marvin and 
Marvin drove to Michigan and picked up Kenneth to return to Richmond with him. 

I reported the situation to Pat Masters with Adult Protective Services in 
Richmond.  Pat talked to the judge and Pat, the judge and Barb Mayle agreed 
that if I would reapply for temporary guardianship they could use that to 
protect Kenneth's assets, though not his person, from Marvin. Pat terminated 
the case when he said he could find no evidence that Kenneth was in immediate 
physical danger. 

April 2011 - Barb Mayle reported to the judge that she felt Kenneth did not 
need a guardian but that the judge should appoint Kenneth a lawyer and should 
appoint a bank as trustee of Kenneth's assets.  The judge did this. That 
effectively gave Marvin Henderson Kenneth's person and any money that Marvin, 
through Kenneth, could get the bank to give him.  Marvin also got Kenneth to 
request that his court appointed attorney make him a new will the terms of 
which I am sure Marvin dictated. 

It is my opinion that Kenneth has been mentally incompetent since mid 2009 and 
that Linda Greenlee and Barb Mayle took actions to effectively turn him over 
to a bully and mental and perhaps physical abuser who will continue to abuse 
Kenneth as long as he can get money from him.  I don't know whether Marvin's 
objective is only to get Kenneth's money or if he simply enjoys dominating and 
bullying Kenneth.  I think he is a real physical as well as emotional and 
mental danger to Kenneth. 

Although medical doctors said Kenneth has dementia and should be on medication 
for that condition, he has been off that medication since Linda took him from 
the nursing home in May 2010. 

No one from the bank has contacted me, so I don't know if they have control of 
all Kenneth's assets which total between 1.3 and 1.4 million dollars. 

I also don't know what has happened to his two monthly pension payments, his 
monthly social security payment or the interest being paid on his U. S. 
Treasury notes.  I doubt that his new trustees know much about him. For 
instance the fact that in 2009 he used only about $500 per month for cash for 
living expenses including upkeep on his apartment building and keeping his 
truck running.  I doubt also if they know about his medical insurance which 
has to be paid in June and December each year or if they are aware of the 
existence and the condition of his apartment house and his truck. 

I also don't know if they care.  I don't think Barb Mayle or the judge did and 
I'm not sure if Pat Masters did care about what happens to him.

At any rate I have spent a good deal of time in the last two years trying to 
care for him to no avail.  As I told Pat Masters when he asked me what I 
wanted to do, I do not have the time to do anything more to help Kenneth on my 
own but, if someone else does want to help him and I can assist in doing that 
I will do so. 

I don't think that anyone will now see to his living conditions or his health 
or his general enjoyment of life.  I suspect he is in for a miserable rest of 
his life, however long that may be.  Quite a sad ending for a millionaire.




---------------------------------------------------------------------------

Kenneth - Notes - March 12, 2011 

Kenneth's bank accounts are now frozen and he has about $20,000 more in the 
bank than he did a year ago. 

Linda Said on Feb. 22, 2011: 

After being unsuccessful at eliminating Kenneth's contacts with Marvin 
Henderson, Kenneth packed his things last Sat. and within a short time Marvin 
was here.  Kenneth said he wished to return to Richmond with Marvin and did 
so.  He said he did not feel at home here as he does when in Richmond and 
Richmond is where he wants to be and with his friends.  In addition, Marvin 
has convinced Kenneth that he needed to return to Richmond in order to legally 
prosecute the peoples  who have in the past stolen from him i.e. monies and 
home possessions and continually reinforced the belief that all of his 
"relations want his money."  Kenneth said he will stay with Marvin and that 
Marvin has found him an apartment that he can later move to.  Kenneth did very 
well here for a long time but once Marvin began "working him" and capitalizing 
on what is/should be Kenneth's primary diagnosis of paranoia, it was all over. 

While here Kenneth has undergone complete physical and mental evaluations.  He 
most recently had cataract surgeries because he was evaluated to be legally 
blind.  He was scheduled for one last final check and new glasses which he now 
will not receive.  I feel I did everything possible but was unable to compete 
with Marvin and Marvin's influence over Kenneth.  Kenneth has been here for 
nine months and I have gotten to know him well.  At this time, there is just 
nothing more I can do for him. 

Linda said to Barb on Feb. 23: 

At this point I feel like I just don't know what more I can do for him.  I 
feel I have done everything possible.  He does need someone to help him a lot 
and that person is not Marvin.  Let me know  what you advise and what, if 
anything can be done.   No, I would not fight an appointed guardian.  
Basicallly, I'm burned out.  I've been at this for 1 1/2 yrs and have gotten 
tired. 


Linda to me on Mar. 10: 

Will you please tell me what is going on with Kenneth.  I haven't heard a word 
and I sure do not want to contact Marvin.  I do not want to interfere or have 
anything to do with the whole thing but I sure want, and always will, to know 
how he is and so do the neighbors here.  In the end, he became a real pain but 
we all loved him and will always be concerned.  Also, if/when you gain 
guardianship, I'm sure I have most of the financial information you will need.  
We worked on straightening the mess out for nine months.  Please let me know. 


Linda to me on Mar. 10: 

Barb told me Marvin was taking Kenneth to the bank and that she was re-
appointed by the Judge.  She asked if I felt Kenneth could live by himself.  I 
replied that No I did not and that he needs someone to see after him and that 
person is not Marvin.  My question/concern is, Does Kenneth have access to his 
funds?  Can he change his beneficiary on those funds?  I was able to control 
bank contacts while he was here and beneficiaries remain the family although 
he wanted to make Marvin a beneficiary.  Marvin will try and do that.  All his 
money is now in Chase.  Much of it is in a fund for high wealth clients, 
invested in mutuals etc.  He did have 550K in that but I'm sure more Gov't 
Treasuries were maturing and added.  He still has gov't securities and c.d.'s. 
I have his last statement but have since received notification that he has 
changed his mailing address so I don't think more will come here.  Kenneth 
while here was very capable and aware of all his monies with my help.  I 
helped him to organize it all which is what he needs help with.  More 
important than the organizational help that he needs is (again) his mental 
illness of paranoia.  Again, that's what Marvin capitalizes upon.  Although 
Kenneth was doing great here for a long time, Marvin was able to convince him 
that he is his only friend and the only person he can trust.  He then turned 
on me and saw me as his enemy because I am one of his relations and he can 
trust none of them. We did his taxes for 2009 and all the info. for 2010 was 
in a folder and ready for preparation.  Insurances and everything else were 
paid up.  When Kenneth left here, He took Everything.  I had insisted that he 
clean out much of what came from his apt. i.e. old bank and gov't securities 
notices and we threw out a big gargage can full.  He does have all his stuff.  
I have none other than the last bank statement. 

If Marvin cannot get his hands on Kenneth's money and cannot become Kenneth's 
beneficiary, I feel much better.  Kenneth wants to live like a bum, live in a 
dump and socialize with bums.  I was afraid if Marvin could make himself 
Kenneth's beneficiary, Kenneth might not be around long.  It's like fighting a 
losing battle.  Maybe you can become his financial guardian and just let him 
live as he wishes.  Remember however, he has a pattern of doing well for a 
while and then causing a lot of problems. 

Thanks for telling me what's going on.  I feel much better than not knowing 
anything about him. 


Barb wrote on Mar. 4: Just got off the phone with Kenny am going to see him 
Tuesday. He was able to answer all of my questions, give me his address and 
told me his bank was "right down the road" 
 
He reports he writes checks for his food, rent, and utilities and has only 
given money to Marvin for coming to Michigan to "save" him. 
 
He is adament he will not stay with Duane and no one is taking his money.... 
 
We have his accounts frozen? 
 
Also, Linda reports he needs 24/7 care, he totally disagrees. 
 
Duane, what are your plans for Kenny if the Judge determines you have GU of 
the estate and person? He is going to be hard to handle with his attitude 
towards you. 
 
With his resistance, I am concerned he will run away from your home, and I do 
not believe he is a candidate for being "locked down". 

Duane replied: 

Pat Masters and I have discussed the idea, as you told Linda, that he needs to 
be kept away from Marvin.  I have also discussed that with my cousins, many of 
whom live near Cookeville Tennessee.  My cousin, David Goodwin, is now laid 
off from his job and has time and his wife Henrietta is a supervisor for a 
home health agency which, I understand, also owns assisted living facilities 
and a nursing home.  Henrietta says if we can move him to Tennessee that she 
can help to find appropriate placement for him and that her husband, David, 
can visit him about every day.  There would also be several other of my 
cousins and Kenneth's sister, Lorene, who would be able to check on him and 
visit with him. 

I would not attempt to keep him in my home because I know that wouldn't work.  
He said he wanted to live with Linda and it is obvious that did not work and 
he would resent living with any of the rest of us even more.  As far as I can 
tell based on the condition in which he was living before the police took him 
to the hospital and his apartment house was condemned and based on doctor's 
statements and things Rosella and other people in Richmond told me, and now on 
Linda's statements, that he does need someone to care for him.   I also am 
convinced that he will not accept that idea. 

On the plus side, once he is settled in to a place, if he does not have 
someone like Marvin continually keeping him upset, he is fast to adjust to 
changing circumstances. 

These plans are not ideal and I realize that.  However, I do not see any 
viable alternatives. 


----------------------------------------------------------

I received the attached pdf file from Linda today.  It contains three 
documents. 

The first is the evaluation by Dr. Holt, the Psychology teacher at Earlham 
College.  Barb Mayle sent Kenneth accompanied by Marvin Henderson to see Dr. 
Holt for an evaluation after Dr. Villarins second evaluation. My understanding 
is that both Kenneth and Marvin told Dr. Holt that Kenneth was fine. 

The second document is from an evaluation that Linda had done when Kenneth was 
living with her in Michigan.  Linda's mother, Ada, Kenneth's sister had died 
in Nov. 2008 and at first I think Kenneth lived in Ada's house near Linda but 
not in the house with Linda.  I think later Linda found he was unable to live 
alone and moved him in with her but I am not sure about that.  After Kenneth 
was first admitted to Reid Hospital in 2009 and then when Marvin was later 
visiting him in the Golden Rule nursing home, he made up a story that he had 
had mental problems because he had fallen and hit his head.  The Doctors at 
Reid told me they found no evidence of this and the tenant in Kenneth's 
apartment building who called the police when he found Kenneth walking around 
confused not knowing who he was or where he lived said he knew nothing about 
any fall.  Several other people who knew Kenneth who Meirl and I interviewed 
said that they had observed a noticable deterioration in his mental condition 
over at least a six month period before that. 

The story about his grief over Ada's death is something that I only heard 
after he went to Michigan with Linda and they talked about Ada's death there.  
As far as I can tell both the story about hitting his head and grieving over 
Ada's death were made up by Kenneth, Marvin and Linda to explain why he had 
ended up in Reid Hospital in 2009. 

The doctor in Michigan said that he needed to reevaluate Kenneth if there was 
a change in his mental condition.  Linda says there was a definite change 
later but she could not take him back to the doctor  because that was when 
Marvin showed up and drove him back to Richmond. 

The third document is a letter Kenneth wrote to Linda in 2008 or 2009 in which 
he expressed his desire to leave his estate to his living nieces and nephews 
and to his sister, Lorene.  He told his niece, Meirl, this same thing. 

Below are emails I received from Linda after she sent me the file I have 
attached below. 

Hey, Just got back home.  Sent psy. reports and letter from Kenneth.  The 
psychologist asked me if funds were used for expenses and I said yes.  That 
was always Kenneth's main issue and psychologist wanted to validate Kenneth's 
accusation.  The rest is self-explanatory.  Low functioning, necessity to re-
evaluate, stable environment needed, etc. etc... Oh, as a result of this eval. 
we discovered that Kenneth was legally blind.  Subsequently, he had cataract 
operations and vision was greatly improved.  He got everything taken care of 
while here in MI and I feel would have been happy here if not for Marvin.  
Marvin was a real bully and did have a real control of Kenneth.  Kenneth 
however did not seem to care at all when Marvin died. That's all for now. 
Linda 

Duane,  I just read much of that eval.  At the time when that was done, 
Kenneth has just arrived here and was in excellent condition.  Nothing 
appeared to be wrong with him.  Just prior to his leaving, he became very 
paranoid, angry and hateful, unreasonable, and very hard to deal with.  It was 
what I know now to be his pattern due to either mental illness, dementia, or 
Alzheimer's.    I think that was always the reason all the evals. were always 
all over the place.  I believe that a proper diagnosis of him would have been 
all three of the above.  Even the neighbors felt him to appear to be either 
perfectly ok or crazy.   

Please note that when Kenneth arrived in Michigan with Linda he had been on 
the dementia meds prescribed at Reid because he had been in the Golden Rule 
for months.  She and Kenneth said he didn't need those meds because Marvin had 
told him the meds were part of a plot against him, so he quit taking them.  A 
few weeks later Linda said he showed many signs of mental problems as she 
described above. 


--------------------------------------------------

We, the sister and living nieces and nephews of Kenneth Lafever, who are 
familiar with the last few years of his life contend: 

That in 2009, Kenneth Lafever, was an 82 year old man living 
alone in an apartment house that he owned in Richmond, Indiana.  
He had cared for older people taking them to doctors and working 
with them in their homes and in nursing homes for years.  

He, himself, was showing signs of dementia and he realized this.  
His apartment house had become uninhabitable due to lack of care 
and accumulation of junk and rotting garbage.  He had amassed a 
small fortune but he was a miser and lived like and gave the 
appearance of a homeless person wandering the streets.  Although 
he had a pickup truck his insurance had been cancelled due to 
the number of accidents he had had. 

When he was taken to Reid Hospital by the police after he had 
forgotten who he was and where he lived, the psychiatrist there 
said that Kenneth had lost the ability to care for himself.  The 
health department condemned his building as uninhabitable while 
he was in the hospital. 

We know that his condition had become apparent to others since, 
at least, late 2008 because his neighbors, his postman and his 
accountant as well as people who knew him from the banks where 
he had his money told us that they had noticed his mental 
deterioration. 

He tried to prepare for his future but he had waited too late.  
When his second quarter estimated tax payment came due in July, 
2009 he paid for all 3 quarters for the year.  He had never in 
his life before paid any tax before it was due because he wanted 
to get as much interest as possible on his money.  We think that 
he was afraid that, by the time the next payment came due, he 
would not be mentally able to pay it.  He told two of his nieces 
that he wanted a listing of his living relatives so he could 
take it to an attorney and leave a will making them his heirs.  

Unfortunately, it turns out, he was mentally unable to identify 
who was an attorney and ended up just taking the list to a 
person he knew at one of his banks.  He thought though, and 
wrote to his niece saying, that he had taken the list to an 
attorney and had a will made. 

He planned on spending the rest of his days at Golden Rule 
Nursing home and, as he said, "taking care of the old people 
there."  He had taken care of old people at that nursing home 
and in their homes earlier in his life, so he was familiar with 
that. 

When he went from the hospital to Golden Rule Nursing home, 
alzheimer's unit, in late 2009, he was happy and well adjusted 
there and was on medications for dementia and was visited by his 
relatives several times over several months.  His physical and 
mental condition improved and the personnel there made sure he 
stayed clean and presentable. 

At that point, a mentally ill, loud and obnoxious bully, named 
Marvin Henderson, whom Kenneth had met in a soup kitchen found 
him there and began visiting Kenneth every day staying for hours 
yelling at him and berating and bullying him.  He convinced 
Kenneth that all his relatives were keeping him prisoner in the 
nursing home so they could steal his money and that Marvin was 
his only friend in the world. 

Kenneth, being weak minded, believed everything Marvin said 
including that they had known each other and worked together for 
at least 30 years, which was untrue, and that besides his wife in 
Richmond, Marvin had another wife who was a princess in Africa 
and that the King, the princesses'  father, had given Marvin a 
half interest in a diamond mine there.  Marvin knew about 
Kenneth's money because Kenneth had shown him his bank 
statement.  Marvin and Kenneth began calling Kenneth's niece, 
Linda, in Michigan and convinced her that the things Marvin was 
telling Kenneth were true. 

We had a temporary guardianship.  But when it expired Linda 
prevented us from converting it to a permanent guardianship so 
we were unable to keep Marvin from spending every day with 
Kenneth and he began taking Kenneth on trips out of the nursing 
home.   The personnel at the nursing home concurred that Kenneth 
did not have the ability to care for himself. 

In the spring of 2009 Linda came to Richmond from Michigan and 
took him out of the nursing home to live with her in Michigan.  
That lasted about 8 or 9 months and Kenneth, now no longer 
taking his dementia medication, became too much for Linda to 
handle and Kenneth sent Marvin money to drive to Michigan to 
return Kenneth to Richmond. 

In 2010 the court in Richmond adjudged Kenneth incapable of 
managing his money and turned it over to First Bank of Richmond 
to manage.  They paid his bills and gave him a weekly allowance.  
The court did not appoint him a personal guardian.  When asked 
if Kenneth was then on his own, the judge said that Kenneth 
could go to Timbuktu as far as he was concerned.  We interpreted 
that to mean that the court was interested in Kenneth's money 
but not in his personal well being. 

Marvin got Kenneth an apartment and visited him daily getting 
Kenneth to pay him for services such as $50 per trip for taking 
Kenneth shopping and to soup kitchens for free food, etc.  
Marvin died in 2012 or 2013 and Kenneth was left with no one 
except his neighbors in the apartment building to care for him. 

In 2010 Kenneth had a lawyer appointed by the court.  That 
lawyer assisted him in writing a will even though Kenneth had 
been adjudged incapable of managing financial affairs.  In 2012 
Kenneth had another lawyer.  We don't know why the second lawyer 
was appointed or by whom.  Kenneth may have gotten mad at the 
first lawyer.  We do know he was mad at the bank managing his 
money because with the second lawyer he wrote another will 
transferring management of his money to Wayne Bank and Trust on 
his death. 

In late 2013 Kenneth was again found wandering on the streets 
not knowing who he was and was again taken to Reid Hospital by 
the police.  At some point in 2013 the court finally appointed 
Kenneth a personal guardian.  That guardian put him in another 
nursing home.  The guardian found that the apartment he lived in 
at that time was in about the same condition as his original 
apartment house had been, filled with trash, garbage and junk of 
no value. 

On May 31, 2014 Kenneth died in the nursing home from complications
from advanced alzheimer's.