---
| Previous Page| --LIFE-- TOUR| Next Page|
---

Duane and Eva's Old Kentucky Book Store
We've selected books in ten departments that we think will appeal to our visitors.

Old Kentucky Video Store
Buy videos - recent releases, classics, cult.
If you are a repeat visitor to our web site, we would appreciate it if you would look at our new feedback page and answer our questionnaire.
Burma Shave
An Internet Contest
People to People - How to be an active participant on this Internet site.
Starting about January 8, 1996, we noticed a greatly increased number of visitors coming to our Internet site to load our Burma Shave Roadside Ads text file listed on our Humor Page.

We decided to take advantage of this and start a contest among our visitors for Burma Shave verses. Of several interesting and humorous verses received lately the best was that submitted by Brian Buckner. See if you can do better. The idea is: You send us your original verse. We will replace the one here with the best one we receive periodically based on originality and imagination. We don't care about the subject. It can be your pet cause, humor, politics, life, safety, or whatever.

If you are not familiar with Burma Shave signs, look at the few we have here or look at the complete list.

Burma Shave Verses are usually 5 or 6 short lines. They are written to be seen one at a time on red and white wooden signs as you drive along a winding country two lane road. Usually the last sign says "Burma Shave".
---
The entire history of the Burma Shave signs and a complete listing is available in a book titled "the verse by the side of the road" by Frank Rowsome, Jr. It was published in 1965 by the Stephen Greene Press and reprinted in 1990 in paperback by Penguin Books. The Penguin edition has a foreword by Bob Dole. You can buy it and another Burma Shave book below:
Bill Vossler / Paperback / Published 1998
Frank, Jr. Rowsome / Paperback / Published 1991
---
Here are a few web links for those interested in more information about Burma Shave and their signs:
---
A few notes from our visitors:
In Decatur, Indiana. there is a really good restaurant called "The Back 40". They have beam ceilings that have quite a lot of the old Burma Shave signs on them. I remember the signs quite well from my childhood here in Indiana.

Spring
Has sprung
The grass has riz
Where last year's
Careless drivers is
Burma-Shave

Sender: Marilyn Smith
---
Someone told me that back in 1997 Burma Shave actually had an ad on TV. I've been trying to find it, but no luck. Does anybody remember it can know where I can find it online?

Sender: Kenny
---
Thank you for a wonderful site thast brings back many memories. One of my favorites that I remember from my youth some 40 years ago:

Never pass
on a slope
unless you have
a periscope
Burma Shave

There is another that unfortunately I can't remember the jingle correctly. I was something about driving too fast, the car was wizin', drivng hizin', funeral herin, or something like that. Any body know that one?
Sender: Joe Shaff Sr.
---
I discovered your directory of BS jingles after sending the last email. 'Had collected BS jingles on our way to the Seattle World's Fair--our one big family trip. Thanks for posting the directory. You have all the ones I was going to dig out of my notes from that trip from Missouri to Washington State and back. What great memories.
Sender: JUDITH KING
---
I remember sometime during the 1960's Mad Magazine did a parody of Burma Shave signs. I think it went:

Her guy's whiskers,
Just don't faze her,
He shaves with,
Electric razor.
Why bother with,
Burma Shave?

Sender: Martin J. Grumet
---
I am new to your site, finding it through links to putting in Burma-Shave.

My interest is in finding more people interested in the old original Burma-Shave products and signs.

I am linked to Burma-Shave through marriage in that my wifes grand-father was a higher level person with the original company and as a result, happen to have several interesting items & products they produced including numerous road signs, dirt and all, un-used products in the boxes, LP records with jingles with some I do not believe were used by the company, letters to the company from advertising venues and the like.

It is fascinating to speak with my wifes grand-father about the company and hear the stories about producing the products and the advertising behind them.

I would like to chat with anyone having an interest or knowledge about the products or the company

Sender: Jeff
---

Maybe you and other Burma-Shave enthusiasts would be interested in a
couple of nostalgic items I designed in '95 and have had in storage
since.
        
A hand towel, red design on white, that has the famous "Past
Schoolehouse drive real Slow" artwork on it.
       
A set of 6 yard or driveway signs with the signs:
      
WELCOME
FRIENDS
TO OUR HOME
NOW WE WON'T
BE ALL ALONE
BURMA-SHAVE
     
On reverse, set says
    
AS YOU LEAVE
PLAY THIS GAME
CONSTRUCT
A JINGLE
WITH THIS NAME
BURMA-SHAVE
     
24 in. X 6 in.
Foam board to mount on wire stakes.
    
Only made 30 sets. Not more than 10 sets out there in US.
Rest 4-sale.
   
Towels also.
  
PS - 
I'm looking for steve soeulburg ???? who is a B-S collector I used to
write in the san diego area. Know him, his address or email?
 

Sender: Jack Hayslett
---
At lunch the other day, my boss mentioned that he'd like to put up some Burma shave-type signs along the road he drives to work, telling motorists NOT TO DUMP TRASH. We came up with a few suggestions, but would like to hear from other "Shavers" with some catchy verse along these lines:
The weather's warm,
The grass is green.
Your trash is spoiling
This beautiful scene.

Sender: Connie Sellitto
---
Our church is having a silent auction and while brainstorming on ways to advertise I suggested a series of Burma Shave signs in the front lawn of the church. Everyone howled at the recollection of these wonderful roadside ditties. I hope to come up with a few clever ideas but if anyone has a suggestion I would love to hear it. I'm not too creative! visiting your website was such a pleasure! As a child I remember passing the time on visits to my grandparents in northern Wisconsin by reading the Burma Shave signs - we loved them!! Thanks!
Sender: Boog1975@aol.com
---
I enjoyed your Burma shave verses. So many people don't even remember them anymore.
Around 1969, this one was posted near our firebase in Viet Nam, to be read as patrols left. Of course, Burma Shave didn't post it, but we all liked it anyway, and it may have saved a few of us.

 
      Don't bunch up
      As you patrol about
      Or you'll be pickin'
      The shrapnel out.
      Burma Shave
 

Sender: Tom Buck
---
Back when the speed limit was 55 mph, the Pa. Turnpike Commission used a set of burma type signs to remind motorists of the speed limit. Of course, the limit is now 65 mph, so I don't know if the signs are still standing. I can't remember exactly where they were located. Probably somewhere between Breezewood and Harrisburg, as that's the stretch I travelled when I was going to college.

       You can do
       A mile a minute
       But there is 
       No future in it

Sender: chipp2269@aol.com
---
While goining out on search and destroy in Vietnam we passed a sign that read:

  
  Don't bunch up..........
  As you move about..........
  Or you will be picking...............
  The Shrpanel out.............
  Burma Shave
 

Sender: James Palestra
---
There was a Burma Shave verse on hwy. 67 in the small town of Keene, Texas where I grew up. I looked for it on the complete list but didn't find it. Probably just missed it. It read:

 
        A man who
        Drives when
        He is drunk
        Should haul
        His coffin
        In his trunk
        Burma Shave
 

Enjoyed your page.

Sender: Renae Frase
---
I remember one that went:

        If she could cook
        he had his doubts
        until she creamed
        his brussells sprouts
        Burma Shave

As a kid, I recalled the slogan as "...sprouts / with Burma Shave!", but my parents said the "with" wasn't there. Do you know who was right? I didn't see this particular slogan on your list. The timeframe had to have beensome time between 1956 and 1962.
Sender: Nancy Canadian
Reply from Duane
Actually the 4th line is:
"his bristle sprouts with"
---
We use the Burma Shave type signs to see as you leave our plant.... some examples:

        Here lies Dave
        Son of Dick
        He didn't make
        His seat belt click!

        If your wife says those belts
        Push her clothes helter skelter
        Do her a favor
        Reach over and belt her!

        Don't stick your elbow
        Out too far
        It may go home
        In another car

Sender: Bill Vanover
---
For some reason, Carnegie Mellon University seems to have a Burma shave fetish. Lots of on-campus organizations use Burma-style signs to advertise their events.
We have a staircase overlooking an eight-story drop on campus; it's called Architect's Leap because legend has it that's where the architecture majors go to die when they realize their final project is going to have them awake for the next 4 months. One day a couple of years ago, a chalk outline was drawn at the bottom and the following words placed on the edges of the eight stories:

      Go Ahead
      And 
      Take The 
      Leap
      Then you'll
      Finally
      Get Some
      Sleep

The words "Burma Shave" were inscribed in the outline.

Sender: G. Sumner Hayes
---
This is in reference to your Burma-Shave web site. You can reach Route 66 Magazine Publishing House and Gift Shop by FAX at (520) 635-4470 or by mail at 326 West Route 66, Williams AZ 86046. They sell the Burma-Shave products, a Burma-Shave book and video, and the original signs. FYI: New signs are being placed on the highway in select states.

Sender: Bob Hardy
---
I am looking for the dimensions of Burma Shave signs.
Sender: John Chilcote
---
I remember a Burma Shave sign that said,


        If you don't know 
        whose signs these are,
        you haven't driven
        very far.
        Burma Shave

Sender: les@cassnet.com
---
Actually used in Arctic ocean on ice flows for U.S. and Soviet icebreakers to see. Signs were set by helicopter crew ahead of the ship (in secrecy, by pilot and his crewman.) Signs were in Russian. When first sighted, all science personnel on board rushed to bridge with binoculars. The pilot was also there after landing and giving Captain the direction of "open navigable water" (where the signs had been placed.) When first sign sighted many guesses as to Identification were forthcoming. Soviet ice station, polar bear research site, etc. until second sign sighted etc. All signs were white on red and placed several hundred yards apart along broken ice path. All hands could eventually read all signs which were picked up by the ship for souvenir. Photos available from helicopter pilot, ME.
The signs read: (in Russian)

        1. Polar bears   
        2. Are Brave  
        3. But I'm in love
        4. with BURMA SHAVE.

Sender: Joe Evette Tanguay.
---
This was one of the old ads, my favorite:
Riot at the drug store
Calling all cars
One hundred customers
Ninety-nine jars
Burma Shave
Sender: John Young.
---
I am the great grandson of the founder of the Burma Vita Corporation, Clinton Odell. All of this renewed enthusiasm in Burma Shave is very exciting to me.
Sender: Clinton Odell Robinson.
Clinton sent us a couple of verses also.
---
I remember the Burma Shave signs located 8 miles east of Henry, South Dakota just before entering a curve. the signs were as follows

      Around the curve
      Lickety split
      It was a
      beautiful car
      wasnt it
      Burma-Shave

Sender: bobeday@icontrol.net
---
this is a set i saw along jackson highway (state highway.16) south of rancho cordova california ca. 1959:

 
         if daisies are
         your favorite flower
         just keep pushing up
         those miles per hour
             burma shave
 

i haven't seen a burma shave sign in ages out here. do they still do them in other states?
Sender: John F. Sorenson
---
This was a much anticipated landmark as our family traveled North on "Old Highway 99" in Oregon back in the early Fifties.

     Ben met Anna
     made a hit
     neglected beard
     Ben Anna split

     Burma Shave

Thanks for bringing back the memories.

Sender: SGolden45@aol.com
---
I work for American Safety Razor in Staunton, VA. We re-introduced the Burma Shave line of products in 1995. The razors and replacement cartridges are available at all Wal-Mart stores. The mugs and soaps are available at selected retailers, I think Drug Emporiums has them. We did vintage Christmas Burma Shave Gift Tins with a mug, soap, and brush.
Burma Shave is alive and kicking and hopefully we'll get the message out. I'll try to figure an e-mail address for you to refer questions to us. Our phone number is (540) 248-8000.
Sender: SCoch72372@aol.com
Comment from Duane: It is interesting that the original Burma Shave was a brushless shaving cream and the advertising made fun of those who still used a brush and soap rather than getting a jar of Burma Shave. The product that these folks have put on the market as Burma Shave is a mug, soap and brush.
AN UPDATE: I have received word from the American Safety Razor people above that they are now selling a shaving cream as Burma Shave. They sent me a sample. It is a well designed can and seems to be a good product. They also have a matching can of after shave skin conditioner. I don't know what the original Burma Shave can looked like so I don't know if this one was patterned after it. If someone else does, please let us know. Now if they'll just resurrect the old Burma Shave Signs along the roadsides.
From: "scochran"
We have just re-introduced Burma Shave Shaving Cream and After Shave. Send me your address again and I'll send you samples. June 24, 1997.
Thank you Mr. Cochran.

        Water heater 
        Out of kilter
        Try the brushless
        Whisker
        Wilter
        Burma Shave

        Beneath this stone
        Lies Elmer Gush
        Tickled to death
        by his
        Shaving Brush
        Burma Shave

        Jonah took 
        No brush
        to mop his face
        Where Jonah went
        he needed space
        Burma Shave

        Mug and Brush
        Old Adam
        had 'em
        Is your husband
        like Adam, Madam?
        Burma Shave

        The answer to 
        a shaver's dream
        A greaseless
        No brush
        Shaving Cream
        Burma Shave

        1880 A.D.
        Straight razor and
        Shaving soap
        1930 A.D.
        Safety razor and
        Burma Shave

        Shaving Brushes
        You'll soon see 'em
        on the shelf
        in some
        Museum
        Burma Shave


---
Does anyone have the original Burma Shave script logo used on the final sign of each set? I would appreciate an e-mail if you do.
Sender: Jerry Arnold - thermionic@juno.com
---
My personal favorite Burma Shave sign sequence I remember from when I was about 15 years old. It goes:

        Wild men pull 
        Their whiskers out
        That's what makes them
        Wild, no doubt
        Burma Shave

I saw a Burma Shave sign for sale in or near Sherrard, Il. It was at an antique dealer several miles west of that town.
I also know of a complete set of Burma Shave signs still standing, in Southern California. They are at the south east entrance to the Ontario, CA airport Freight terminal area.
The locals claim they are originals, but I don't think Allen Odell and his bunch ever got this far west.
By the way, I'm looking for old Western Union stuff, so if you know where I can get one of their signs let me know.
Sender: Gary Covington III - garyiii@gnn.com
---
Growing up in the midwest and driving to Minnesota and Wisconsin for vacations each year, I saw a lot of these signs as a child.. Looking back at the so called good old days, these signs brought a lot of pleasure to those who read them. I'm a barber by trade so I do shaving of faces a lot. Men who were around at the time always remember them in conversation.
Sender: micheal l douglas, sr. - cheeky@netins.net
---
Hi, I am astounded at finding Burma Shave on the Internet! what I'm trying to locate is the real company that made Burma Shaving products. Is it still in existence? Can Burma shaving products be purchased any place currently?
I am age 70 and those cute signs were along every highway in the old days.
Sender: Margaret Herrick - maggie.herrick@worldnet.att.net
The Burma-Vita Company, makers of Burma Shave, was sold to Phillip Morris, Inc. on February 7, 1963. It became an operating division of a subsidiary, American Safety Razor Products.
---
during my childhood, we used to visit my mother's full sister and her family. my mother came from a family of 11 or 12 but only had one full blood sister and brother. my aunt lived at lake delavan, wisconsin, with her husband, two sons and a daughter. near lake geneva, before our turn off to get to delavan, was the jingle about "lit a match, to check the tank ...".
besides spending a week or two at our aunt's home on the lake, besides swimming about as often as we wanted, besides sleeping on couches on the front porch, besides playing parlor games so late we could hardly keep our eyes open, was the burma shave signs on the trip up there. we did see one other set but this one sticks out in my mind.
near where i work, someone had set up a typical burma shave set of signs to celebrate some lady's birthday. it brought back a flood of good memories.
Sender: Lar Hanley - larh@col.hp.com
---
---
Last revised December 21, 2002.
URL: http://www.kyphilom.com/duane/bscontst.html
Go to Top Menu..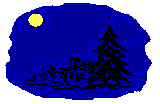 ..of Duane & Eva's Old Kentucky Home Page


Duane Bristow (oldky@kyphilom.com)

Please send comments.
All contents copyright (C) 2001, Duane Bristow. All rights reserved.