---
| Previous Page| OVERVIEW TOUR| Next Page|
---
My Cards & Resume
Duane's business card....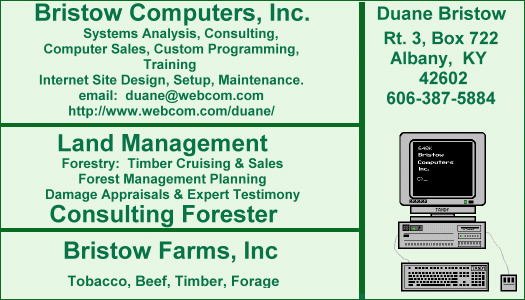 ---
Duane Bristow's Resume
I am interested in any offers of employment/business deals from anyone that would be of mutual advantage, particularly requiring computer programming in MSDOS, consulting in forestry, land management, land development, or opportunities regarding the development of the Internet but not limited to those things.
Click here for a form to send us your comments.
---
I am now involved in:
Farming - Beef Cattle, Tobacco, Hay, Pastures, & Timber.
Land Development - I have a few clients with large areas of undeveloped land for sale on the shores of Lake Cumberland in South Central Kentucky.
Computer Consulting - Systems analysis, custom programming, office personnel training, etc. in the fields of Oil Purchasing, Medical office billing, Pharmacy billing, Accounting, Water and Gas system billing, piecework payroll systems and several other fields.
Forestry - Timber cruising and evaluation, land management, forest management planning, damage appraisals, and expert court testimony in forest trespass cases. Take a look at a sample timber cruise report.
---
I have worked in Forestry, Agriculture, and Land Management since graduating forestry school specializing in forest recreation in 1968. I am very knowledgeable about timber, land, and recreational developments in South Central and Southeastern Kentucky as well as adjoining parts of Tennessee. I have a number of clients with large land holdings in the area and have contacts with many other large landowners and community leaders. I often work with bankers, attorneys, and realtors in timber appraisals and providing expert witness testimony.

I am often asked to assist in purchases and sales of land and/or timber in rural areas. Purchases and sales are usually done on a percentage or finder's fee basis and other work is usually done on a per hour basis. Computer consulting and programming work is also done on a per hour basis.

I live and have a family farm in Albany, Kentucky and prefer to work within a two hour driving radius. My family has been in this area for 200 years and I have many local connections. This is particularly valuable for people from outside the area who desire to invest in rural areas of southern Kentucky or Northern Tennessee.

References are available on request.
---
Look at the list of computer programs I have written.
See my experiences in Computer Literacy, Computer Skills, and Computer Use in Schools and Small Businesses.
---
Duane's electronic card.............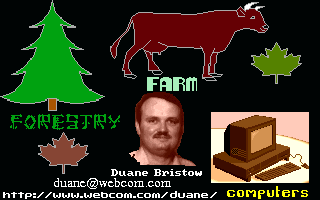 ---
Background
Bachelor of Science in Forestry, University of Georgia, 1968 with a major in forest recreation and a minor in sociology.

11 years experience with Kentucky Forestry Agency. 1968-1979
Forest management and fire control in Southeastern Kentucky including supervisor, forester training instructor, writing forestry workshop manual for Cumberland Valley Rural Conservation & Development Project & other publications. Extensive work with County Interagency committees in ten counties in Southeastern Kentucky, public information and education responsibilities including school forest fire prevention program supervision, media relations, and helping plan forest related economic development with the Lake Cumberland ADD. Teaching an environmental education workshop for elementary school teachers for one week each summer for ten years in conjunction with Cumberland College at Williamsburg, Kentucky.

Farm background - managing 600+ acre family farm in South Central Kentucky since 1975 ---- Beef, Hogs, Tobacco, Timber.

Consulting work in forestry, land management, boundary location since 1979. Qualified as expert witness in Leslie Circuit Court, Clinton District Court, and Federal Court at London Kentucky.

Computer consulting and programming experience since 1977.
---
Honors earned by Duane Bristow:
Outstanding Young Men of America - 1982

Outstanding forester employee, Kentucky Dept. for Natural Resources and Environmental Protection - 1976

Forest Management Honor Award, Kentucky Division of Forestry - 1975

Faculty Award - Highest grade point average - University of Georgia School of Forest Resources - 1968

Phi Kappa Phi - Honor Society, UGA - 1968

Gamma Sigma Delta scholarship award 1966 & 1968

Omicron Delta Kappa scholarship award - University of Kentucky - 1965

Lexington Kentucky Rotary Club Scholarship award - 1965

Ky. - Tenn. section, Society of American Foresters scholarship award - 1965
---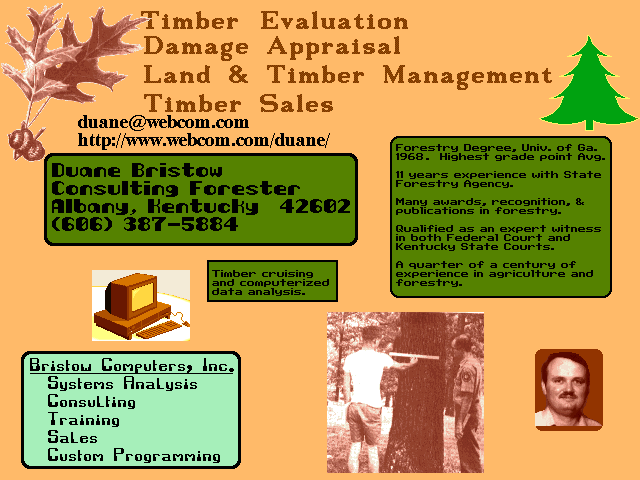 ---
Jump back to the top of this document.
---
---
Last revised July 3, 2001.
URL: http://www.kyphilom.com/duane/duanecrd.html
Go to Top Menu..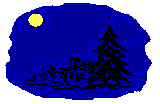 ..of Duane & Eva's Old Kentucky Home Page


Duane Bristow (duane@kyphilom.com)

Please send comments.
All contents copyright (C) 1995, Duane Bristow. All rights reserved.