---
| Previous Page| WELCOME- TOUR| Next Page|
---
Duane & Eva's
Old Kentucky Home Page
on the Web
Feedback
Please submit comments about this site here!
How did you find us?
Comment on items you found of interest
or problems you had with the site.
Tell us something about yourself.
Where are you from?
What do you do?
Your family?
Yes, we are interested!
If you would rather use email than forms then please

send us a message.
---
There are over 100 email addresses on our mailing list. These people get an email newsletter from us about once per month letting them know what's new on our website. Pay particular attention to the checkbox for our mailing list below. Uncheck it if you are already on our mailing list or if you do not want to be added to the list.
---
If you want a picture on the visitors page please email us a small one.
---
---
Last revised December 7, 1998.
URL: http://www.kyphilom.com/duane/feedback.html
Go to Top Menu..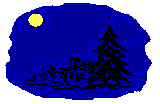 ..of Duane & Eva's Old Kentucky Home Page
Duane Bristow (oldky@kyphilom.com)
All contents copyright (C) 1995, Duane Bristow. All rights reserved.