---
| Previous Page| --FARM-- TOUR| Next Page|
---
Agricultural Real Estate in Southern Kentucky near Tennessee!
Email us if you are interested!
or if you would like to hire us to develop a page like this for you.

Below is a description of our 650 acre farm but you may be interested in a 400 acre secluded mountain valley with springs, streams, cliffs, waterfalls, and a log house over 200 years old.
---
Looking over the farm in Fall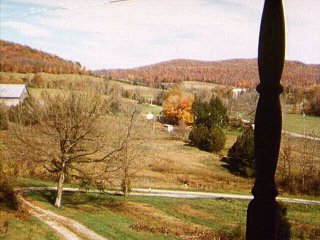 as seen from our porch.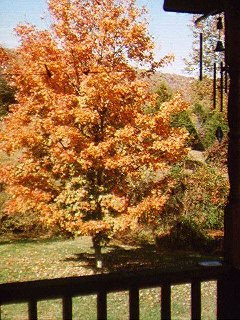 ---
This 650 acre rolling Kentucky cattle, timber and tobacco farm has 450 acres of good young timber with much merchantable now and most merchantable within ten to twenty years and 200 acres of crop and grassland. It has abundant shade and water with three large creeks running throughout the farm. It lies in a lovely valley just 4 miles from the little town of Albany, Kentucky on both sides of paved state highway #350 and with a paved county road running for 1/2 mile along one side of the farm. The fields are all in good stands of pasture and hay and the farm is now supporting a cattle herd of 100 beef cows, 3 bulls, and over 80 calves, the current calf crop. It has a tobacco base of over 4,000 pounds and about $300,000 worth of timber with potential timber sales of $500,000 to $600,000 within twenty years at today's timber prices. The timber has been well managed for 50 years and the last cut was a selective cut on 40 acres in 2000.

The farm has a 66' X 84' combination cattle, tobacco, corn and hay barn in excellent condition as well as a hay storage barn, a hay storage shed, a tool shed, a 20 crate hog farrowing house and other outbuildings. There is corn storage capacity of 5400 bushels and tobacco curing capacity of 6,000 to 7,000 pounds. Hay storage capacity is 7,000 square bales. Gates, head gates, scales, loading chutes, water and electric in the barn, over 5 miles of barbed wire fences, most in good repair, and other features make cattle handling easy. Between one half and one mile of 1 1/4" water lines supplied by a high pressure pump from a limestone spring make water plentiful. Also on the farm are a tenant house with a barn, corn crib, and top hog finishing pen. About 25 acres of Class I bottom land are very suitable for row crops and 15 acres of this has over 2,000 feet of drainage tile installed.

The farm sale will include the cattle and about $20,000 worth of farm machinery. A lease would require the lessee to purchase the cattle and machinery and to pay an annual lease fee for use of the hay and pasture fields, buildings, and improvements. Also included would be a 1/2 interest in the tobacco crop. The lessee would be responsible for all operating and maintenance expenses except the tobacco fertilizer. The lease would not include timber or mineral rights. This is probably the cheapest way you can find to try your hand at beef cattle and tobacco farming.
---
Looking over the farm in Winter



as seen from our porch.
---
In the fall of 1995 an adjoining farm of about 316 acres sold at auction. That farm has similiar road access and water supplies, a 50 year old farm house, and one smaller barn. It did not include machinery or cattle and the timber had all been heavily cut over about eight years before the sale. That farm has a tobacco base of about 3,000 pounds, no other buildings and few fences. It sold for a total price of $262,900 with the tobacco base selling for $8,584 of that total and the meager timber bringing $13,000.
In February of 1996 a cattle farm of about 400 acres of mostly pasture land about eight miles away sold for $850,000. That farm has a little better highway access but did not include cattle or equipment.
In April of 1996 a 42 acre farm of pasture and hay land about 1 1/2 miles from our farm sold for $92,000. That farm was about 1/2 mile from the nearest paved road.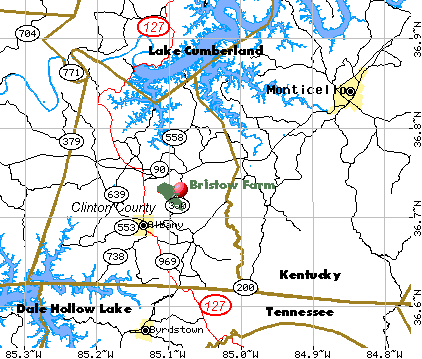 In May of 1996 an 81 acre farm about eight or ten miles from Albany on a deadend country road sold for $98,000. That farm had a shack worth maybe $5,000, no other improvements, no interior fences and was about half in timber. The timber was worth about $7,000 to $10,000.
In late May of 1996 a 46 acre farm overlooking Lake Cumberland near Grider Hill Boat Dock sold for $372,000. It had an old wooden frame house and outbuildings on it worth a total of $20,000 to $25,000. This tract of land is about ten miles from our farm. Of the total 46 acres 25 acres of open land sold for $242,000.
In late May of 1996 a 40 acre farm between Albany and Dale Hollow Lake about 3 miles from Albany on a lake access road sold for over $195,000. That farm has a two bedroom brick house over 40 years old and a 48' X 52' old barn on it. It also has some timber and a 1720 pound tobacco base.
In late May of 1996 an 80 acre farm between Albany and Static Tennessee on both sides of State Highway 127 sold for $237,000. That farm has very little in buildings (a house with the floor rotted out) and most of the land is swampy.
In early June of 1996 an 88 acre farm about six miles North of Albany on State Highway 127 sold for $300,000.
In early June of 1996 a 188 acre property on Dale Hollow Lake just over the state line in Tennssee sold for $652,165.00. That property is about twelve miles from our farm.
In early October of 1996 a 36 acre mini farm with no buildings about 4 miles from Albany sold for $98,000 and another similiar tract 40 acres in size with part in woodland and off the main roads sold for $90,000.
In early November of 1996 a 165 acre grain farm with houses, barns and grain bins worth about $150,000 sold for $674,000. That farm is located beside Highway 90 in Wayne County Kentucky about 16 miles from Albany and about 8 or 10 miles from Monticello.
In late May of 1998 the following farms near our farm sold.
A 49 1/2 acre farm sloping steeply downward from a highway to a creek and with most of the area being wet bottomland or steeply sloping pastures. With 1267 pounds tobacco base it sold for $54,000.
An 83.5 acre good upland pasture farm with a small house and 2867 pound tobacco base sold for just over $160,000.
A 33 acre wooded area with good road frontage and with about $14,000 worth of timber and only about 400 pound tobacco base and a couple of old barns, it sold for $95,000.
A 23.5 acre farm with good road frontage and level land with a barn and five room house both over fifty years old sold for $190,000 and the tobacco base sold for an additional $4,300. This land was 2 1/2 miles from Albany.
In May of 2001 a 35 acre farm of pasture and hay land about 1 mile from our farm sold for $90,000. That farm was closer to town than our farm and had no buildings other than an old barn of little value.
---
Looking over the farm in Spring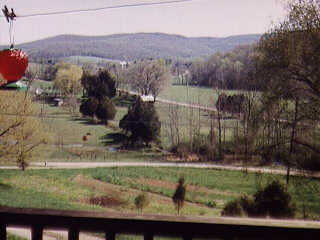 as seen from our porch.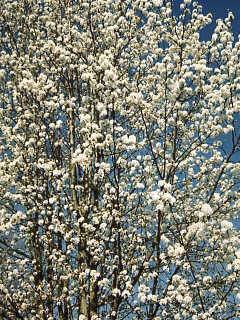 ---
If you live and work in the bustle of a city or other congested area and you have thought about telecommuting from a rural area this may be the greener pastures you are looking for.
---
Looking over the farm in Summer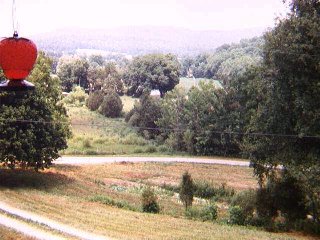 as seen from our porch.
---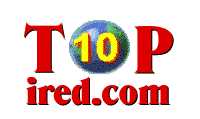 ---
A description of the farm and more farm pictures.
A description of tobacco in Kentucky and more farm pictures.
---
---
Last revised October 21, 2003.
URL: http://www.kyphilom.com/duane/forsale.html
Go to Top Menu..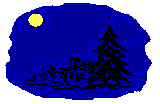 ..of Duane & Eva's Old Kentucky Home Page

Duane Bristow (oldky@kyphilom.com)

All contents copyright (C) 2001, Duane Bristow. All rights reserved.