---
Forestry Taglines

Tree seedlings = forestry children
"Bother," said Pooh, as he torched the forest.
"It was a virgin forest, a place where the Hand of Man had never set foot."
Conservatives: Great at selling our national forests and parkland.
FIELD: noun, a forest without the trees.
FORESTERS do it in trees
Forest fires prevent bears.
I can't see the forest for the clearcuts.....
I once tripped in a forest, and didn't make a sound.
If Helen Keller falls in the forest, does she make a noise?
If a program crashes in the forest, does it make a sound?
Jungle: a rain forest with poor public relations.
My family tree is in the forest, somewhere!
Only YOU can prevent forest fires...
Pave the rainforest, shoot the condors, nuke the whales!
Protect Japanese forests...    clearcut B.C.!!
Rainforest: a scarcity of animals a plethora of tourists.
Save our virgin forests -- buy a tree a chastity belt.
Save the Rainforest! Eat a vegetarian!
Smokey the Bear says, "Strip mining prevents forest fires."
Stop cutting old growth forest.
The only thing that ought to be virgin are forests.
The prairies are vast plains covered by treeless forests.
Tree falls in forest.  Hits Milli Vanilli.  Someone else screams.
What the heck's a tree doing in a forest???

---
Not Happy Campers
The U. S. Forest Service received these actual comments from backpackers after wilderness camping trips.
Trails need to be reconstructed. Please avoid building trails that go uphill.
Too many bugs and spiders. Please spray the area to get rid of these pests.
Chairlifts are needed so we can get to the wonderful views without having to hike to them.
A McDonald's would be nice at trail head.
Too many rocks in the mountains.
The coyotes made too much noise last night and kept me awake. Please eradicate these annoying animals.
quoted by Tom Fitzgerald in San Francisco Chronicle
---
---
Last revised July 23, 1998.
URL: http://www.kyphilom.com/duane/fortags.html
Go to Top Menu..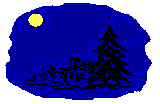 ..of Duane & Eva's Old Kentucky Home Page


Duane Bristow (oldky@kyphilom.com)

Please send comments.
All contents copyright (C) 1996, Duane Bristow. All rights reserved.