Flowers

Double Click on picture to go to an interesting page on this web site.
---
Last revised December 19, 1998.
URL: http://www.webcom.com/duane/java/3dcube/3dcube.html
Go to Top Menu..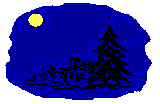 ..of Duane & Eva's Old Kentucky Home Page
Duane Bristow (oldky@webcom.com)
Please send comments.
All contents copyright (C) 1998, Duane Bristow. All rights reserved.