---
Connect 4
Can you beat the computer?
A game of Logic.
Just place your red marker in any vertical column.
The computer will place a green marker.
Markers fall to the bottom.
The first player to get four markers in a row.
Horizontally, vertically, or diagonally
WINS.
---
---
Last revised January 14, 1998.
URL: http://www.webcom.com/duane/java/connect4/connect4.html
Go to Top Menu..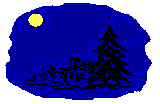 ..of Duane & Eva's Old Kentucky Home Page


Duane Bristow (oldky@webcom.com)

Please send comments.
All contents copyright (C) 1998, Duane Bristow. All rights reserved.