---
Mine Field
JavaMines 0.71 by Andreas Krebs
Can you find the mines?
A game of Logic.
How to play:
Use right mouse button (or mouse button + shift) to mark a mine
Use left mouse button to clear a field
Click on face to start a new game
Click on number to clear number's area (if number of marked mines is correct !)
Please sent comments, bug reports, ... to krebs@teco.uni-karlsruhe.de
---
---
Last revised January 19, 1998.
URL: http://www.webcom.com/duane/java/mine/mine.html
Go to Top Menu..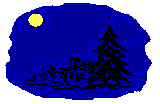 ..of Duane & Eva's Old Kentucky Home Page


Duane Bristow (oldky@webcom.com)

Please send comments.
All contents copyright (C) 1998, Duane Bristow. All rights reserved.