---
G. Murl Conner
A Clinton County War Hero
See the Byron Crawford article from the Courier Journal Newspaper.
The site of Wolf Creek Dam is important for more than simply holding back the mighty blue waters of Lake Cumberland.
Nearby, in what was once Aaron, Ky., was the birthplace of one of Kentucky's unsung heroes of World War II - Garlin Murl Conner.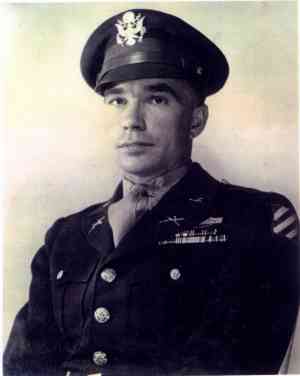 G. Murl Conner from Aaron, Kentucky
1st Lieutenant, 3rd Infantry Division
7th Army, Company K
1944

A small portion of the farmland now flooded was once owned by Conner and his young bride, Pauline, shortly after the conclusion of the war.

Murl, as he is called by his Clinton County neighbors, was one of Kentucky's most decorated heroes of World War II. By coincidence, he was a neighbor and an acquaintance of one of World War I's most publicized heroes, the late Sgt. Alvin C. York of Pall Mall, Tennessee. Conner and York lived in adjoining counties separated by the state line.

No doubt some of Conner's early experiences on the farm, up and down the Cumberland River and through the hollows, helped groom him for his future experiences as a soldier, just as some similar experiences of the late Sgt. York were credited with much of his success as a soldier in World War I.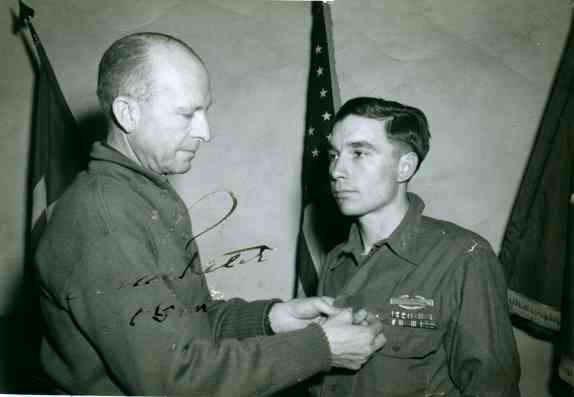 Lt. General Alexander M. Patch awards 1st Lieutenant, G. Murl Conner,
the Distinguished Service Cross, Feb. 10, 1945
for extraordinary heroism in action
on January 24, 1945 near Houssen, France.

It was February 1941 and the third man drafted to war from Aaron, Ky. was Murl Conner, As a young recruit he passed the old 1, 2, 3 physical with flying colors and was shipped off to basic training.

On Nov. 8, 1942 Conner was given the opportunity to travel army-style, so off to Africa he went. Here he entered his first combat with the troops of the 3rd Infantry Division.

This division was to become his traveling home while abroad. In fact, Conner and one other soldier from Owensboro, Ky., were the only two men to stay with the 22,000 man unit the entire time it was overseas.

The 3rd Division made quite a record through the efforts of Conner and many other outstanding soldiers as it traveled through the African campaigns, and on to Sicily, Italy, France and finally on to Berlin.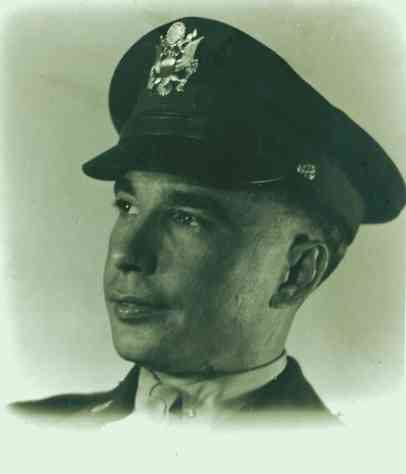 It was during these many months of travel and combat that Conner received a battlefield commission and his many decorations.

For his gallantry in action during seven campaigns and 28 months combat action, Lt. Conner received the Bronze Star with three oak leaf clusters, Silver Star and three oak leaf clusters, and the nation's second highest award, the Distinguished Service Cross. He was wounded seven times.

The Seventh Army Commander at that time, Lt. Gen. Alexander M. Patch presented the Service Cross to Conner.

An excerpt from this presentation reads:
"For extraordinary heroism in action, on 24 January 1945 at 0800 hours, near Houssen, France, Lt. Conner ran 400 yards through the impact area of an intense concentration of enemy artillery fire to direct friendly artillery on a force of six Mark VI tanks and tank destroyers, followed by 600 fanatical German infantrymen, which was assaulting in full fury the spearhead position held by his battalion."

Lt. Conner unreeled a spool of telephone wire, disregarded shells which exploded 25 yards from him and set up an observation post which he manned for more than three hours during the intense fighting.

He was individually credited with stopping more than 150 Germans, destroying all the tanks and completely disintegrating the powerful enemy assault force and preventing heavy loss of life in his own outfit.

Following the presentation Kentucky's little known hero said simply, "I think Gen. Patch is a fine man, and I think (my) regiment is the best outfit in the army."

After being discharged from the army Conner rejoined his neighbors at Aaron. But first there was the hero's welcome in Albany, including a parade and ceremony at the courthouse.
---
The following is a portion of a letter written to W. H. Ramsey by his son, Lt. Col. Lloyd B. Ramsey, (now retired Maj. Gen. Lloyd B. Ramsey, who resides in Arlington, Virginia) commanding 3rd. bn., 3rd Div., 7th Inf., 7th Army, General Patch commanding.

"I just sent one of my officers home. He was my S-2 (Intelligence Officer), Lt. Garlin M. Conner, who is from Aaron, Kentucky. I'm really proud of Lt. Conner. He probably will call you and, if he does, he may not sound like a soldier, will sound like any good old country boy, but, to my way of seeing, he's one of the outstanding soldiers of this war, if not the outstanding. He was a Sergeant until July and now is a First Lieutenant. He has the D.S.C., which could have been, I believe, a Congressional Medal of Honor but, he was heading home and we wanted to get him what he deserved before he left. He has a Silver Star with 4 clusters, a Bronze Star, Purple Heart with 6 clusters and is in for a French medal. On this last push, within two weeks he earned the D.S.C., a cluster to his Silver Star and a Bronze Star. I've never seen a man with as much courage and ability as he has. I usually don't brag much on my officers but, this is one officer nobody could brag enough about and do him justice; he's a real soldier."
---
From the Courier Journal, Louisville, Kentucky
June 11, 2000
by Bryon Crawford.

Bravery of Clinton County soldier inspires quest to honor him


Why would a Wisconsin farmer, a former Green Beret, work nearly four years trying to persuade the U.S. government to award the Medal of Honor to a deceased World War II veteran from Clinton County, Ky.?

"Because it's the right thing to do," said Richard Chilton of Lake Geneva, Wis.

Chilton, 67, who served with the 11th Airborne Division in Korea and with Israeli paratroopers during Desert Storm, thinks he knows a war hero when he sees one. And if the late Garlin M. Conner of Aaron, Ky., isn't deserving of the Medal of Honor, Chilton doesn't know who is.

His quest for the medal was inspired by Chilton's research into the war record of his uncle, Gordon Roberts, who was killed shortly after the landing at Anzio, Italy. Roberts was a member of then-Sgt. Conner's platoon.

"I would say that I interviewed over 300 (veterans of the 7th Infantry Regiment) looking for information about my uncle," Chilton said. "But the name I kept hearing was Garlin Conner.

"They were amazed when they learned he had made it through the war and was still alive at that time, and they would go on to tell me what he had done," Chilton said.

Chilton was so moved by the many eyewitness accounts of Conner's courage and sacrifice that he is seeking the Medal of Honor for the Kentuckian, who died in 1998. Conner's selfless acts of bravery, Chilton insists, should place him in the company of Sgt. Alvin York, who lived just down the road from Conner in Tennessee, and of Audie Murphy, who served in the same division as Conner but who earned one less Silver Star for gallantry than Conner's four. York and Murphy both received the Medal of Honor.

Many of Conner's battle records were lost, and some of his commanders have said that because of combat conditions, they did not take time to properly document his bravery.

Existing records document that Conner repeatedly risked his life under enemy fire to capture and disable numerous enemy positions "with grim ferocity," one of his commanders wrote.

In one battle, Conner charged 400 yards into an intense German tank, artillery and infantry assault near Houssen, France, in January 1945. Almost single-handedly, Conner turned back the enemy advance and prevented heavy casualties in his own battalion.

A citation awarding Conner the Distinguished Service Cross states that, amid exploding shells and automatic-weapon fire, Conner unreeled a spool of telephone wire that enabled him to call for artillery help.

For three hours, he lay in a shallow ditch as "wave after wave of German infantry" surged toward him, at times to within five yards of his position.

"As the last all-out German assault swept forward, he ordered his artillery to concentrate on his own position, resolved to die if necessary to halt the enemy," Conner's commanding officer wrote. "Friendly shells exploded within five yards of him, blanketing his position . . . but Lieutenant Conner continued to direct artillery fire on the assault elements swarming around him until the German attack was shattered and broken."

Conner was a quiet man who stood about 5 feet 5 inches tall and weighed 145 pounds. Chilton says Conner was wounded at least seven times during 29 months of nearly continuous combat service, but he refused to accept Purple Hearts for most of the wounds. He was given a battlefield commission to second lieutenant after only three months of fighting.

Many of his fellow infantrymen told Chilton they often watched in amazement as Conner repeatedly risked his life to save others. They said Conner frequently volunteered to take the point on the most dangerous patrols. And one officer remembered that when volunteers were requested for an especially dangerous night mission into enemy territory, Conner was the only one who reported to the commander's tent.

"Where are the rest?" the commander asked. "I'm it," Conner replied.

Conner came home to Clinton County after the war and began farming. He died there at age 79 of heart and kidney complications. His widow, Pauline, still lives there as do his son, Paul Conner, several grandchildren and a great-grandchild.

Chilton visited Conner several years ago; the war hero was in a wheelchair and unable to speak. Conner wept when Chilton mentioned his uncle.

Since then, Chilton has called and written letters to the military and to politicians and anyone else who might help, pleading with them to award Conner the Medal of Honor -- so far, without success.

"I don't think I have the option to give up as long as anyone will listen," Chilton said. "It's just something that has to be done."
---
3rd Infantry Division Links
---
---
Last revised June 19, 2000.
URL: http://www.kyphilom.com/duane/murl.html
Go to Top Menu..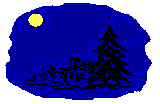 ..of Duane & Eva's Old Kentucky Home Page


Duane Bristow (oldky@kyphilom.com)

Please send comments.
All contents copyright (C) 1997, Duane Bristow. All rights reserved.