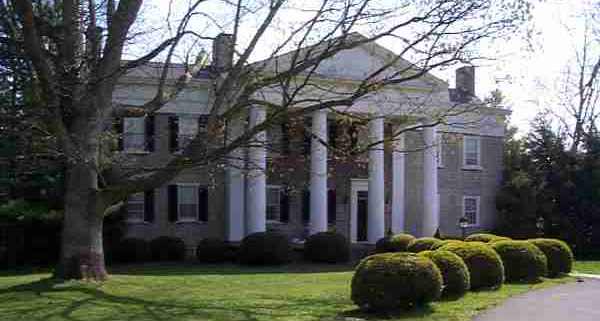 Nestled on twenty seven acres of pastoral splendor stands Old Crow Inn, the oldest stone house west of the Allegheny Mountains. Encased by black post and board fencing and old stone fencing, the Inn is surrounded by mature shade trees and carefully manicured lawns. Lovely dogwood and redbud trees line the long oval drive to the main house.

The Inn itself is an architectural delight. Constructed in 1780 using stone taken from a quarry on the farm, the 24" thick walls stand two stories high behind massive Doric columns which support a Greek Portico. All of the rooms have walnut doors and woodwork, ash floors, and cherry beams, native timbers cut from virgin forests of the late 1700's. Old Crow Inn is on the Kentucky Register of Historic Homes and the National Register of Historic Places.

Enjoy a cup of afternoon tea in our Parlor, complete with an antique grand piano. The Parlor houses an eclectic collection of angels, including a pair of statues saved from an old church that flank each side of the fireplace. The Library is everyone's favorite room, paneled in dark Walnut with a soft leather sofa and chairs in front of its own massive fireplace. Wake up to the aroma of freshly baked breads and enjoy a formal breakfast served in the dining room. Fresh flowers adorn the antique 12 foot long ball and claw footed table bedecked in crisp linens, gleaming silver and antique china.

Fresh flowers, top quality linens, and air conditioning are enjoyed by both guest rooms. A small refrigerator, loaded with soft drinks and juices, can be found in the Old Kitchen. There is also a coffee pot as well as a wide selection of teas and cocoas. Outside, guests may enjoy taking a hike along our walking trails or down to the old Spring House, or maybe just a leisurely stroll through Andre's formal rose garden. Guests may also visit the working craft studio located next to the Inn, where Andre' and Linda perform pottery demonstrations and Mignon, their daughter, holds candle workshops. Want a souvenir from the area? The studio's many quality products are all done by local artisans, with a variety of crafts to choose from.
---
Last revised September 16, 1999.
URL: http://www.kyphilom.com/duane/oldcrow.html
Click to make inquiries.
All contents copyright (C) 1999, Old Crow Inn. All rights reserved.