---
| Previous Page| COMMUNITY TOUR| Next Page|
---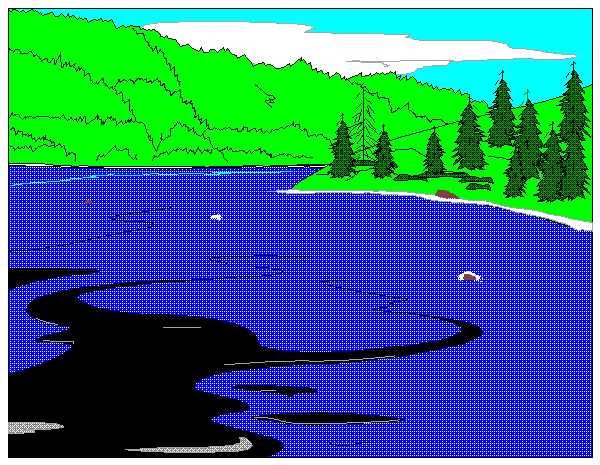 ---
Save the Cumberland River
Mile Marker Expedition '96
May 1, 1996 - July 4, 1996
P. O. Box 247
Pegram. TN 37143-0247
615 353-7805
email: savethecumberland
Save the Cumberland Web Page

Capt. Vic Scoggin, riverboat pilot and Navy veteran, and his wife, Julee Jones, are appalled at the pollution of the Cumberland River. To draw attention to its plight and get people to halt its pollution Capt. Vic swam the 696 mile length of the Cumberland River in the summer of 1996. He began his swim in the shadow of the majestic Cumberland Mountains in Harlan county, Kentucky on May 1st, watched refuse wash over Cumberland Falls in mid May, swam past the quiet coves and glades of Lake Cumberland before the end of May, passed the Mecca of country music, Nashville, Tennessee, in late June, and finished the swim on July 4, in Smithland in Livingston County in the flatlands of far Western Kentucky. As he stepped from the river onto dry land he was welcomed by a spray of champagne and a sustained cheer punctuated by blasts from car horns from the crowd assembled to see him.

According to an article in the Nashville Banner written by Leon Allgood, "Although Smithland is considered the terminus of the Cumberland River, navigation maps place the mixing of the rivers two miles downstream of the town.
So Vic splashes back into the water that has been his home for two months.
As the sun settles in a blaze of salmon-colored hues, Scoggin swims until he feels the current of the Cumberland merging with that of the mighty Ohio.
He climbs aboard the boat with Julee and they motor in quiet triumph to a cove near the mouth of the Cumberland.
On a spit of land, Scoggin posts a plaque of cedar on which these words are written:

        The mouth of the Cumberland River, mile 0.
        headwaters 696 miles that way.

An arrow points upstream."

The 36 year old Capt. Vic grew up in Nashville on the Cumberland River and has spent most of his life near the river. He took a 2 1/2 month leave from his job in Nashville and used more than $10,000 of his own money plus whatever donations he could get to finance the swim. Vic came up with the idea of the swim last August and he and Julee spent hours over the next several months planning the summer's event. His goal was to swim 10 miles a day for 6 days a week and film the river and surrounding areas and its pollution. He planned to feature a species, natural area, and historical landmark in need of preserving and take water samples in each ten mile segment. He tried to log in any visible environmental concerns by their mile marker, although he says, "I tried to count the trash dumps but there was a whole bunch I missed. In Harlan County alone there were 50 dumps. Not old, but fresh dumps. They're counting on the river rising and carrying all that stuff on down the river."

After finishing his swim Capt. Vic probably knows the Cumberland better than anyone else who has ever loved it. He says, "When you're down in the river you get the smells of everything. I've never seen so many plastic bags hanging in trees, some 20 feet high or more, for miles. And they don't go away. I've got video tape footage of sewer pipes coming direct from under houses. You'd see it flush and the water would come directly out into the river. I'll bet I've got a hundred of them on tape." He has swam through raw sewage, old tires, discarded diapers, plastic and foam containers, floating refrigerators, junk cars and various other refuse. "You have to be right down in the river to really know what's going on.", he explained.

The source of the Cumberland is at the mouth of the Poor Fork, Martin Fork, and Clover Forks in Harlan County Kentucky. Water that falls as rain on the high tops of the Cumberland Mountains on the Kentucky-Virginia border and along the Cumberland trail atop Pine Mountain travels over 700 miles through Southern Kentucky and North Central Tennessee to reach the Ohio River on the Kentucky-Illinois border. During that trip it splashes merrily below Cumberland Falls and rests for a spell in Lake Cumberland and Lake Barkley. The Cumberland is one of America's longest rivers.

Capt. Vic says, "Going through parts of the river is like going through a big sewer tunnel. It's totally unreal, and to think we are drinking this water. We can't expect the government to do all the work in cleaning up the river. But when the government makes laws against pollution it should enforce them. Fines for littering, fines for industrial, business and home pollution, pass laws on disposing of oil and antifreeze on the ground, and getting recycling centers up to snuff".

Accompanying Captain Vic on his first three days on the river was Chris McTilton, a river guide for Sheltowee Trace Outfitters located at Cumberland Falls. McTilton, who guides tourists from America and other countries, says, "The Cumberland is a lot more polluted than what I thought it was. I am a white water rafting tour guide down stream, and I see what people throw in the stream." He says by far the biggest complaint from visitors is the garbage in the river and along the banks. He says the tourists can't understand why there is so much pollution. Vic's wife, Julee, who is from Iowa, says that it's not like that in Iowa.

Quotes from Capt. Vic:
"The water you pollute today will be the water you drink tomorrow."
"If we trash the earth, we are trashing what God has made."
"Someone has to get out here and do something about the environment, about the water, the air and the land because this is what is going to keep us alive. "
"It's not big business or the other guy in the fishing boat...it's each one of us."
Scoggin remembers when he committed to the river swim: August 26, 1995. "I wrote it down, that I was going to swim the river. If I don't do it now, I'd look at the piece of paper in the future and say, 'There's another thing I didn't do.' I don't want to be 70 years old and wish I'd done it."
After completing his swim Vic returned to his wife and job in Nashville and hoped that what he did will somehow make a difference. He is available to interested groups for illustrated talks about his swim and pollution on the Cumberland.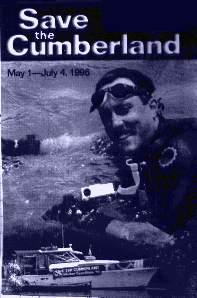 ---
River Journal
Notes from Vic Scoggin's Cumberland River Journal
Prettiest sight:

On this stretch of the river, Vic gives the nod to the area around the Montgomery County, Tennessee community of Palmyra. "It was just a very peaceful area. There was no trash; just a nice spot on the river. I talked to a lady that was about 90 years old and she told me all about the area.", he says.

Worst litter spot:

"The Cross Creek National Wildlife Area (in Stewart County, Tennessee) was the worst spot, I'm sorry to say. The banks had a lot of trash on them. I don't know if it floated downstream or was dumped there. But it doesn't matter, it's there. It was very disturbing."

Worst human-to-human contact:

A trio of drunken boaters tried to run him over while he was swimming near Kuttawa, Ky. They also hurled epithets and a few dead fish in his direction. They parted without causing any harm, but giving Scoggin a scare.

A favorite event:

At Eddy Creek in Lyon County, Ky., Scoggin placed a cedar plaque dedicated to a friend, Eddie Dunn, who died 15 years ago. Dunn's mother and sister were there for the occasion. "It was an emotional time", he says.
---
Notes from Our Web Visitors
I to was raised near the Cumberland river near Shelby park, and for 60 odd years have fished, hunted and swam here. I go to the river now and fish different areas from my boat and it always makes me sad to see the trash and pollution in this beautiful river. You are right, folks just don't care, well maybe they will wake up, when there is no drinking water to be had. Be to late then.

From: Chris Berry Jr.
---
i injoyed your article about the cumberland river an your concern for it. i to lived around the river most of my life. i have worried to about its pollution. that there are those who simply don/t care!this seems to be the careless att. people take today.not just over the river,but all the wonderful creation we have around us. both to enjoy an yet to take care of.but people in gen.and org. not just here in our country, but worldwide feel this way.it could sure make one feel small in trying to deal with such a large problem.what makes me feel better, an gives me hope at times like these is that there is someone else watching the situation besides us.the creator himself is concerned. rev.11.18 says he will bring to ruin those ruining the earth.daniel.2.44 says his own kingdom goverment will have to put an end to all the corrupt goverments of the world.and psalm 37.9-11,29 says that the righteous themselves will posses the earth, and they willreside forever upon it.jehovah god mans creator even says he will bring back our dead loved ones. they to could then enjoy the beautful earth. rev.21.4 so all being said an done we can only do so much ourselves sometimes.it makes me feel a lot better knowing the creator is also interested, an watching whats going on, better yet plans on doing something about it.we know he has the power to do it!as you might have guessed by now,i am one of jehovah witness,we/re all very much concerned about the earth, an mans problems in gen.jehovah god will shortly take care of things.man can then enjoy the earth to the fullest.

From: Jack
---
Hello: My grandmother was from Palmyra, Montgomery County, Tn. This place you described as the prettiest sight on your swim. I spent my summers with my grandparents there in the 1960s. Often my granddad and I would go fish on the Cumberland River there......up and down the river and I have to agree, from the river...a very pretty place. My grandmother who died in 1993 at age 96 told me the river was always dirty. She also told me before the dams, the current of the river was much more vigorous than now. One thought I might offer is that since the installation of different TVA dams for flood control, the current of the river has slowed and diminished the river's ability to flush itself out; thereby adding to the pollution. What can those of us who do not live near the river do to help?

From: Edward Oz
---
Duane,

I am finally getting caught up with "Save The Cumberland" since 1996. I got swamped and overwhelmed with all the fallout from the swim. It has been a wave of battles since then. I knew the work would start after the trip. I really want to thank you again for having the forethought for putting the information on your web site. To add something to your personal web site about somebody doing something as crazy as what I did is to be commended. It has been a big help and has been appreciated! I have looked at your site numerous times. It is very interesting, especially since you were at the forefront of website development. It sure has exploded since 96.

Happy Waterways, Vic

From: Julee Jones
---
Just wanted to let you know that the State has required Harlan County to clean up its act!...Harlan County politicians are dealing with it the only way(CHEAPEST) they know how....By lying!...Even though they say they have the sewage problem under control now...They have done absolutely nothing....The inspector from the Harlan County Health Department has looked at hundreds of sewers dumping into the Cumberland....years later they are still there...The County and State police never check dumps...and to my knowledge they have never even tried to catch anyone dumping...still when the river rises hundreds of people throw bagfull after bagfull of trash as well as old tires and other stuff!

Oh Well!...Another one bites the dust!

From: Gabi and Ernie Pridemore
---
December 18, 1998
Just an update!...Our representative Hal Rodgers from Harlan county has aquired funds for taking garbage out of the Cumberland river before it runs over Cumberland Falls!....They didn't come in and crack down on the people throwing trash in the river??...Here in Harlan County they just finished up a campaign to clean up!...Lots of politicians showed up but the rivers here are as filthy as ever....we still have raw sewage running into the rivers....they spent millions of dollars taking garbage out of the river so Cumberland Falls looks pretty but the littering and sewage still run rampant above and below the falls. Cars...tires...."Kentucky Ducks" (Dirty disposable diapers) and major household appliances still fill the river. The politicians can say what they like..nothing has changed!

From: Ernie Pridemore
---
Jump to the beginning of this document.
---
---
Last revised September 3, 2001.
URL: http://www.kyphilom.com/duane/stc.html
Go to Top Menu..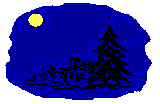 ..of Duane & Eva's Old Kentucky Home Page


Duane Bristow (oldky@kyphilom.com)

Please send comments.
All contents copyright (C) 1996, Duane Bristow. All rights reserved.