---
| Previous Page| HISTORY- TOUR| Next Page|
---
FROM TEXAS TO KENTUCKY
BY COVERED WAGON IN 1921
Clinton County News - February 23, 1978
It was in 1921 that William Harrison Massengale organized his trip to Albany, Kentucky, by covered wagons, four of them; and it is Tom Massengale of Era, then thirteen years old, whose eyes light up as he recalls that eventful journey. He drove the feed wagon, sitting on a box, hitched to two Spanish mules, Rhody and Beck. His hands were blistered early on the trip from holding the lines so tight.
Crops had been bad that year in Texas, and since Kentucky had been home, and logging was a profitable business there, the head of the family decided to return, a thousand mile trip at twenty-eight miles per day. The first day's trip was from Myra to Gainesville. On Labor Day, 1921, the four covered wagons with the Massengales and their neighbors, the Pennicuffs, were Kentucky-bound. They made Sherman that night and Bonham the next.
There were ten Massengale children on the trip, the oldest was seventeen. There were six girls and four boys. The mother had died a year or so before, and the father and children had made a several month's visit by train to Kentucky earlier in that year. There were six in the Harvey Pennicuff family and their wagon led the way. They had not lived in Texas very long and they knew the way back home to Kentucky.
They never traveled on Sundays. There were six Sundays on this trip, Mr. Massengale recalls, and 38 driving days.
They got up at four each morning and were on the road by sun-up. Bill Massengale cooked flap-jacks, bacon or ham and eggs. They camped near water and near towns. People were kind and friendly to these Kentuckians headed home. As they traveled they brought hams from farmers, butter, eggs and milk; pork and beans became a noon day meal with left-overs. After settling for the night, a fire was built and the evening meal consisted of boiled or fried potatoes, vegetables and meat purchased along the route.
Although the Pennicuffs led the way, Bill Massengale walked with his dog, Bounce, by the side of the wagons. He guided them through the towns and acted as the "straw-boss" on this trail drive from Texas to Kentucky. There were three dogs on the trip, Bounce, Shep, and Squirrely, Tom Massengale recalls, but only Bounce survived the trip through Arkansas. Some prowlers came one night and the dogs scared them away; so poison for the dogs was put out by someone who must have planned to return. Bounce got the regular grease treatment for poisoning, too, and managed to survive. He got to ride in a wagon for a few days until completely recovered. The dogs that did not make it are remembered with affection by Mr. Massengale.
Besides the Spanish mules owned by the Massengales, there were two fine percherons, Ole Pet and Dick and a saddle horse. These animals remained Kentuckians; the family made many trips back and forth, torn between homes and friends in both states, but never did they make another trip by wagons. The father and ten children made the three-day train trip several times; then cars were used to transport the Massengales back to Kentucky, or Texas. Tom Massengale has been back only a few days from his latest visit with relatives in Kentucky.
In the evenings on the trip, members of the Pennicuff family played the guitar and all would join in singing. People would stop by and visit with these people who were enjoying a trip across country. There were only two near-tragedies on the trip. On the other side of Little Rock, Arkansas, a brother six and his little sister, four years of age, went to cut wood. The boy laid his axe down and could not find it. So as they searched for it, they wandered farther and farther away from the camp. When they did not return, the group organized and searched for them. After about an hour and a half they were found. Later while fishing on a bayou, Tom Massengale saw an alligator on the other side of a log. He thought the animal was dead and poked it with a stick; the animal lunged and Tom fell in the water. It was a mad scramble for the thirteen year old boy to get back on the bank and away to safety. The mules couldn't get used to cars and trains, and afforded some anxious moments for the thirteen-year-old, Tom Massengale. They crossed the four mile bridge at Memphis and forded lots of creeks and rivers; among the rivers crossed by ferry were the Red River, White River and Tennessee River.
The families went to church on Sunday as that was a day of rest. There were no guns out on Sunday. Sometimes they camped near a church and were always invited by the members to attend.
When they reached Kentucky, their grandmother's house was ready for them. She had moved to a new home. Timber was bought and logging began. Dr. Briscoe, the family doctor, kept in touch with the group on the road and carried messages to other members of the family. The father married in Kentucky, and before long the family decided to return to Cooke County, Texas by train. A school teacher bought Ole Pet and Dick and in future years, when they were inquired about, the teacher would tell of Dick being able to open the barn door and help himself to feed. "Just anytime we expect to see him looking out the upstairs window of the barn. Dick has his talents," the teacher would report.
On that Labor Day, 1921, the following children accompanied their father on the thousand mile journey by covered wagon to Kentucky: Clayton, May, Tom and his twin, Ovie, Audrey, Pearl, Elsie, Walter, Mamie and John. Traveling with the musical Pennicuffs who had been their neighbors in Texas added to the adventure of the trip. With Tom Massengale recounting this trip, you almost wish you could have been along to enjoy a real trail drive from Texas to Kentucky.
The above story is reprinted from the Sanger Courier, Denton County, Texas, of October 2, 1975. The paper was given us by Henry Massengale of Alpha, Ky. These people came from Texas to Clinton County. Clayton Massengale, one of those making the trip, still lives in Clinton County.
---
Jump back to Family.
---
---
Last revised Oct. 16, 1995.
URL: http://www.kyphilom.com/duane/trip1921.html
Go to Top Menu..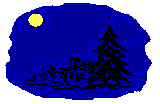 ..of Duane & Eva's Old Kentucky Home Page


Duane Bristow (72711.1414@compuserve.com)

All contents copyright (C) 1995, Duane Bristow. All rights reserved.