---
In Southern Kentucky near Tennessee!
Email us if you would like to hire us to develop a page like this for you.
This farm is at the head of Langham Fork. We have posted here A View from the Outside and Meeto, stories by John Blevins about growing up on Langham Fork in the 1950s.
The gravel road leading to the farm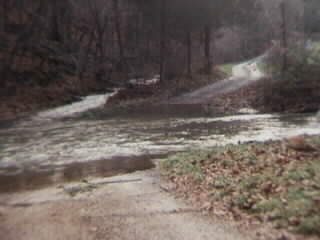 crosses the stream several times.

Below is a description of a 400 acre secluded mountain valley with springs, streams, cliffs, waterfalls, and a log house over 200 years old.

At the farm a wooden bridge crosses the creek.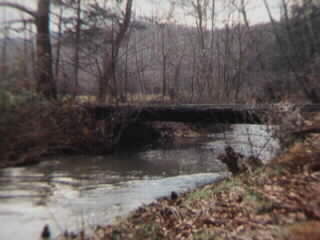 ---
About 40 miles by road from our farm.
The place has been in the family for around 200 years. It once contained several thousand acres but now is only about 400 acres. It is in the Daniel Boone National Forest. One boundary adjoins a 12,000 acre state forest. It is just across the hill from the Big South Fork National Recreation Area which has, on the Big South Fork River, some of the best white water canoeing in the Eastern United States.

It is twenty miles by paved highway from the nearest town. After that the approach is either by driving up a steep mountain to the top of the Cumberland Plateau and then six miles of gravel forest roads and down a mountain into the quiet valley or three miles of rougher gravel road along the creek; part of the road being in the creek bed and crossing the creek two or three times; impossible during high water. The nearest neighbor lives about two miles downstream.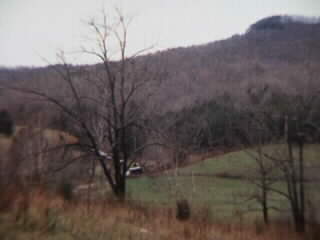 The valley is surrounded by steep forested mountains and high cliffs. Hemlock, pine, oak, cedar, hickory, and maple predominate. About 65 acres of grassland along the year round mountain stream attract deer, raccoons, foxes, possums, and all manner of wildlife. It is said that an occasional bear is seen.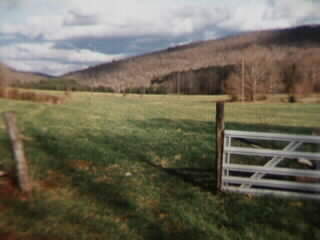 Log cabin close up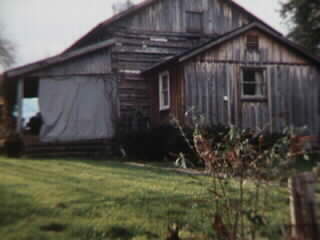 The house is a log cabin said to have been built about 200 years ago. Water is from a mountain spring which rises from under a big rock about 75 yards from the house. The place has phone and electricity.
The spring gushes from the ground and supplies drinking water.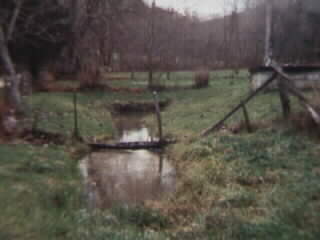 Log cabin with the Yellow Cliffs in the background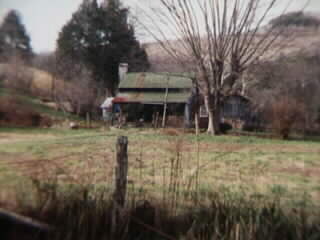 Another stream on the farm with some of the farm outbuildings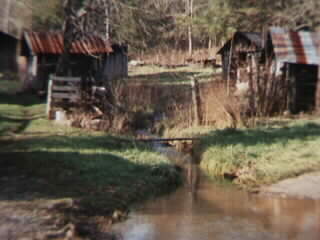 A Map of the property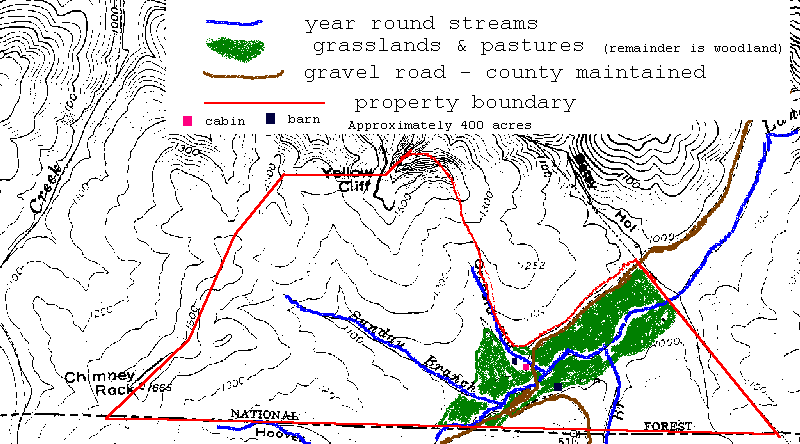 We helped the family who owned this farm to sell it. The farm is now sold but we will leave this page on the web site for a while due to the interest it has created.
---
1950: A Young Boy Comes Home to Wayne County, Kentucky
Rural Kentucky marks a great change from Boston, Massachusetts
Forty miles of bad road would not begin to describe it. The road was so bad that at times all the passengers had to get out of the car so the driver could maneuver over an obstacle. Frequently we had to stop to find rocks to put in the mudholes so the car could get through. For a seven year old boy, who had never been out of the big city, this was quite an adventure.
Due to problems with my stepfather I was being brought to live with my Grandmother in Wayne County, KY along Langham Fork in 1950. My grandfather had just been killed in a truck accident and everyone thought that it would be a good idea for me to go live with her as she was all alone, and before my stepfather killed me.
My Grandfather, Issac Blevins and my Grandmother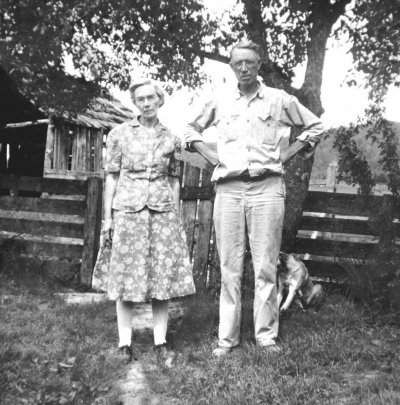 at our Langham Creek Farm.
After the struggle to get up there in a car, with at least the last 20 miles no more than a rut, I was left with my Grandmother in what to me was a completely alien environment. From the sophistication of Boston, MA , paved roads, TV, electric lights, movie houses, buses, telephones etc. I was dropped off in a time and place that seemed to be right out of the history books of the past century.
The first thing that I remember were all the different smells, the animals in the barn, the vegetables drying in the house, the smell of different foods cooked on a wood stove, the smells in the house where generations have lived. When night came I thought I had really gone back in time when my Grandmother brought out the kerosene lamps and lit them. We settled down to listen to stories on an old battery powered radio where I first got turned on to such classics as Mr. Keene, The Great Gildersleeve, Amos and Andy, One Man's Family, The Lone Ranger, Jack Benny and my favorite, Tales to Keep You in Suspense. My grandmother always started cooking lunch at the same time her soaps came on , Helen Trent Ma Perkins and others that I have forgotten. We did not stay up to late as my Grandmother always got up at least an hour before dawn.
The farm was one of the biggest in the valley. Of course it was too much for an old lady and a seven year old boy to manage so she rented out the fields to neighboring farmers for shares of the crop. The farm was a delight for a young boy to grow up in, there were barns, cribs, abandoned log cabins and other old buildings to play in, a creek through the middle of it, full of fish, farm animals to pester, horses to ride, arrowheads in abundance in the fields and when I got a little older unlimited forests to hunt squirrels with a old .22 I found in the house. My cousins moved in down the road about the time I was 10 years old. They were a few years older than I was and together we would roam the hills at night when it got cold enough that we did not have to worry about snakes, after coons. At first all we could catch would be possums and we had a dog, who had a thing about skunks, but eventually we became pretty good coon hunters. There were just enough Copperheads and Rattlesnakes around to worry an old Grandmother and she never went anywhere without her walking stick. However given a choice her favorite weapon against snakes was a hoe, she did not subscribe to the policy that there were any good snakes.
Our water came from a spring that you reached by crossing Langham Fork on a rickety foot bridge. The spring was surrounded by a grove of huge Red Cedars, some of them more than 3 foot thick and close to 70 feet tall. Under them the spring flowed cool and refreshing as if through a darkened cathedral. People traveling along the creek would always stop there and rest because it was such a pretty place. We caught the tail end of a hurricane in 1961 and all the cedars were toppled into the creek. After we cleared the downed trees, the water seemed to have lost it's taste, so we started getting our water from a cave at another location on the property, but that water never seemed to be as good.
I guess the less said about our bathroom facilities, the better.
All supplies had to be carried on horseback from the nearest store located at Mt, Pisgah, three miles away. Being only 7 years old, I had to ride behind my Grandmother. Our supplies were put in saddle bags or in cloth bags and thrown across the horse. When I got older I would have to do this job myself as well as taking a turn of corn to the water powered mill located on the Little South Fork of the Cumberland, run by Matthew Hurt to be ground into meal. The meal sack was about 6 feet long and bleached to a whiteness that would almost hurt the eyes to look at it. The people of Wayne County let this mill fall down in the early 1980s and nothing is now left of it except the mill dam, it is a shame that people could not find it in themselves to preserve this important part of their history.
My Grandfather had been a lawyer at one time and had quite a collection of books and when I got older I found that his tastes paralleled mine and I spent countless hours reading his collection of Mark Twain, Zane Grey, and other authors that he had collected through a lifetime of reading, most of them from past generations. My Grandmother was well educated also, being a graduate of Cumberland College in Williamsburg, Ky. She had a beautiful Grand Piano which she loved to play. They did not live back there because they had to but because they wanted to. Most of the young people in the area had moved out and the people left were of the previous generation. These older people and the books from the past that I read did more to influence the person I would become than the people of my own generation.
My Grandmother raised almost all of her own food, meat from the hogs, her own vegetable garden, blackberries she gathered and canned, chickens she raised for meat, eggs and spending money to pay for things the farm did not produce like flour, salt and sugar. We would tell the mailman, Alonzo Hurt that we wanted to take chickens to town to sell on a certain date and he would show up with a chicken pen on the back of the mail truck and off we would go for Monticello with a load of chickens. At that time we could order something from the Sears and Roebuck catalog and if it went out on Monday's mail you could go back to your mailbox on Friday and your order would be there. Try that now.
I loved all of my Grandmother's food but the salt pork. She killed all her own hogs and hickory smoked the meat in the smoke house. After the meat was smoked it would be brought down and packed in salt and for my tastes it was just too salty to eat. I was practically a vegetarian except for chicken until I got old enough to hunt and fish to put wild meat on the table. One year I talked her into killing a beef. I had visions of at least getting a Hamburger out of the deal. We had this old cow who wanted to fight everytime you got in the same field with her and after constant pestering, my Grandmother sent word to her brother who lived in Parmleysville to come up and help her butcher this cow. Her brother and I stepped in the field where the cow was and sure enough here she come at us and stopped about 15 steps away shaking her head, since it was my idea, I thought that I should do the honors, so I spatted her right between the eyes with a .22 rifle. She came about 5 feet off the ground , hit on all four feet and came at us like a freight train. My Grandmother's 70 year old brother passed me on the way to the fence and easily sailed over it, walking cane and all. After taking a more protected position we finally got the cow down where he could finish her off with an ax.
Not only did my Grandmother get meat from the hogs she also made her own lye soap from the fat. I remember her stirring the fat, lye and ashes together with a wooden paddle that looked as if it was going to be eaten away by the lye. Each Monday was wash day and it was my job to fill the old iron kettle she kept down by the creek and build the fire around it. She did all her washing in this kettle using the lye soap that she had made. The soap was not shaped into bars as we know it now but made into huge ovals like loaves of round bread. The soap did not lather up much but it certainly got the clothes clean and had a nice, pleasing smell to it.
School was a real experience. My Boston accent was a real attention getter. I had only gone to catholic schools with nuns, cafeterias, school buses and other trappings of a modern education and here I was going to a one room school house right out of the book we were reading in school about pioneer America. There probably were not a dozen children of school age in the whole community and we were all taught by one schoolteacher, who usually boarded with my Grandmother since our house was closest to the school. I couldn't get away with anything. All grades were in one room and the teacher would go to the students in one grade, start them on something and go around the room until all students were working on something. Then she would start all over again to see the results. As shocking as it might seem to people now, each school day started off with a prayer and a chapter being read out of the Bible. Then we would say the Pledge of Allegiance and start the school work. I do not believe that this had a bad effect on me, or any of the other children. Water was carried from a spring and all children drank out of the same dipper. Winter time I got the job of going to school a half hour earlier than the rest of the children to start the fire in the pot bellied stove. For this I was paid 10 cents a day. Some of the children had to walk over three miles to get to school, leaving long before dark on winter days and getting home after dark when school was out. School lunches were pretty well split between fried chicken and peanut butter and crackers, all carried in an old syrup bucket. At recess we played games such as tag, dodge ball and Annie over. Infractions of the rules and the teacher would send one of the older boys out to cut a switch and the teachers were not reluctant to use them to good effect.
We of course attended church every Sunday either walking 3 miles to Mt Pisgah or riding horses. For some reason most of the men sat on one side of the church and the women on the other. Some of the most beautiful singing I have ever heard came out of these services. Having only attended Catholic church, with all the pomp, ceremony and solemnity, I found these services to be interesting to say the least, and at least I could understand what was going on.
Every August there would be a big revival and we would walk to church in the evening and by the time the services were over it would be dark. Everyone would start back up the valley together with their lanterns but the crowd would gradually get smaller as people dropped off to go to their homes. As my Grandmother and I lived the farthest up the valley we would eventually be walking by ourselves down a path through a dark tunnel of trees lit only by a flickering lantern light. For a child who had seen all the Wolfman, Werewolf and Dracula movies, these were heady times indeed. Of course the movies that I had seen could not compare with the Han't stories that I was hearing now. I believe that the older folks liked to see children with their hair standing on end. Each had their own assortment of tales about screams in the night, dragging chains, headless people, black panthers, boogers, meeting the Devil and other things that dwell just beyond our consciousness.
All good things must come to an end. By 1957, a road was built to Mt. Pisgah, 3 miles away and I rode a Jeep station wagon to the end of the road and caught a big yellow school bus to Monticello. Later that year, following the instructions of my science teacher, I stood in the dark of an October evening and watch Sputnik pass over head, a sign in the heavens that the world was changing. Change did come, that year we got electricity and 3 years later the road was completed to connect Monticello, Ky with Jamestown, Tenn. Things changed rapidly then. The way that people back there had lived for generations changed almost overnight. Why toil on a farm when you can just drive a few miles and get a job? Why keep the old ways when you can get whatever you want from a store? Why have horses and mules when cars and tractors will do? Why can vegetables and cure meat if it would be easier to get from a supermarket? Why have your corn ground in an old mill when you can just grab a bag off the shelf?
As traumatic as it was for me, I can imagine what effect it had on the older people to see the way of life of their parents and grandparents suddenly cast aside or considered quaint. Skills that they had learned from their ancestors suddenly had no value. Change of course is inevitable and necessary but change is usually gradual, but these people were thrust suddenly from the 19th century into the 20th.
The farm got too much for my Grandmother she was in her 70s so in 1961 the farm was sold and she was moved into town to spend her remaining days in a subdivision. Six months later she was returned to the place she never wanted to leave and now would never have to leave again.
I go back to the farm occasionally and surprisingly little has changed. The split rail fences that completely surrounded the farm are gone. People from town thought that they would look better in their yards. The White Pine that I dragged home and planted in the front yard when I was 13 is now over 70 feet tall and two feet thick. This reminds me of how much time has passed but much of the rest of the place has changed so little it hurts. Due to a series of indifferent tenants, the house is starting to look a bit weary, but with a little imagination I can still see it as it was, and see a barefoot boy running over the fields in the gathering darkness as his Grandmother calls him in. A little valley that had been by passed by time, a pocket of the past that I was privileged to visit and watch disappear.
The Farm House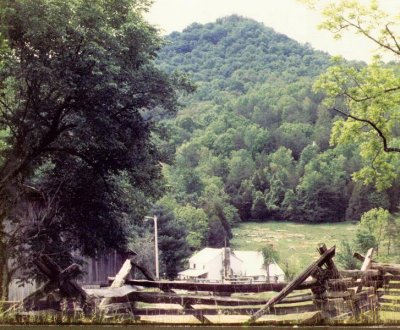 at our Langham Creek Farm.
---
High up on Parker Mountain just before it leaves Wayne County, Kentucky to enter Tennessee, Highway 167 makes a slight bend. If you investigated why the road did not continue straight, you would find a solitary grave marked only by a rough stone, with a single word chisled into it, "MEETO". Who was this person and why does he lie alone on this mountain overlooking Langham Fork?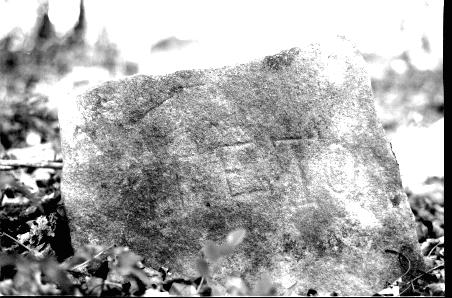 Probably no one knows the true story and what I tell you may not be altogether accurate either, for many of the facts are lost in the mists of time. My Grandmother told me this story when I was but seven years old and the first big adventure of my life was to climb this mountain, that I could see from our front porch and find this Indian's grave along what was once was the main road between Monticello, Ky and Jamestown, Tenn. The road at this time was neither main nor much of a road. If Highway 167 had not been built the forest by now would have completely reclaimed the area, and the grave lost to the sight of man. As a child sitting by this man's grave, I could not understand why he felt he had to come back to the scenes of his childhood, but now that I am older and can begin to ponder eternity, the meaning becomes clearer. What follows is the story told me by my Grandmother, as near as I can remember it.
One cold winter night about the turn of the century, an old Indian man showed up at the home that my Grandfather would soon purchase. As was the custom of the time he asked if he could spend the night and over supper, told the following story:
When he was but a young child, he and his parents were forced to leave this country and move to Oklahoma, probably on the Trail of Tears, where he grew to manhood, prospered and raised his family. Always though, he felt a stranger in a strange land for in the back of his mind was his memory of the beautiful place that nurtured him as a child. He knew that he did not belong in Oklahoma with its dry grass and flat terrain for he was a child of green mountains, flowing streams and abundant game.. His wife was now gone and his children had lives of their own, so he decided to return, though old and full of years, to gaze once more upon the land that had planted these memories in his mind, and where his ancestors slept beneath its soil.
After supper the old man was shown to a room in the back of the house. Sometime in the night his spirit was called home to be with his Fathers. The neighbors got together, built a coffin, placed the old man in it and carried in a wagon to the highest mountain in the area where the Old Man could spend eternity gazing across the valley of Langham Fork, with Chimney Rock at it's head.
As far as I know, none of his relatives were ever found to tell them of the Old Man's fate and probably soon even his stone will not remain to mark the passing of a man. Few people knew of this grave and the story behind it and soon they also will be gone, therefore I felt it a duty to pass this story on to you, the readers of this web page, who share a love of this land as did Meeto, so that his passing and his love of this land may remain a little longer in our memories.
---
---
Last revised March 2, 1999.
URL: http://www.kyphilom.com/duane/valley.html
Go to Top Menu..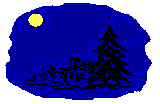 ..of Duane & Eva's Old Kentucky Home Page

Duane Bristow (oldky@kyphilom.com)

All contents copyright (C) 1995, Duane Bristow. All rights reserved.