Duane & Eva's
Old Kentucky Home Page
on the Web
| Computers| Previous Page| WELCOME- TOUR| Next Page| Overview|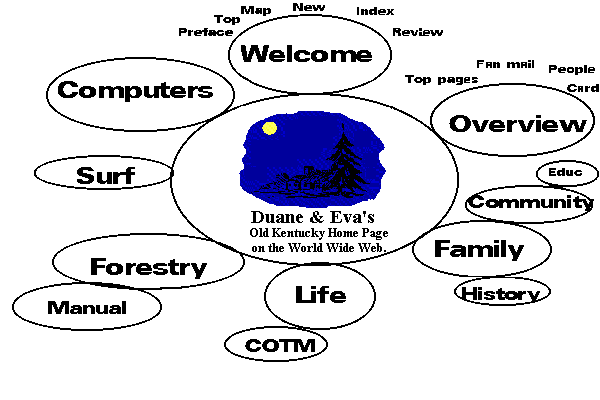 | A Good Start - a homepage for your browser.
Click here for a form to send us your comments.
We are now serving about 2000 pages and 4000 pictures to an average of 1000 to 1200 visitors per day seven days a week or about 30,000 to 35,000 visitors per month.

Duane and Eva's Old Kentucky Book Store
We've selected books in ten departments that we think will appeal to our visitors.
---
Hot Spots on this Site
---
See also:
WWW Browser comments or problems?
Help for Web Reviewers.
A list of our Top Pages chosen by visitors.
An Overview & Linking Page to help set bookmarks or links.
People to People for active participation on this Internet site.
---
This is Duane and Eva Bristow
when they were in high school in the early 1960s. Audio Welcome! 116K (wav)

This is the starting point
of the hyperlink Guide to Life of
Duane Bristow
This is your Gateway to the World Wide Web
---
This is a preface to this Internet site telling why it exists.
This is a jump to the Top menu of Duane's Site on the World Wide Web and a look at What's New on the site and a subject index.
This leads to a map, a graphic representation of the Top menu, where you can jump to other places by a click of the mouse button.
This is Duane's electronic card, resume, and a description of his business interests.
This leads to exploration of the Internet as guided by Duane. It includes Duane's Picks - Top 20 Internet Sites picked due to their being unique and/or interesting. It also includes a Back Scratch Page where you can list your home page and keeping current on the net.
Use this link to find out more about Duane and Eva Bristow, our family tree and history of our family and about the area in which we live. Includes photos, recipes, our home, our favorite poems, our farm, and family activities. It also includes quite a bit of information on Education in Rural Kentucky.
This is a series of writings by Duane on a philosophy of Life. The series is always continuing as new essays are written. It includes the College of the Mind with classes and homework assignments on computers, forestry and philosophy. It also includes links on the Internet to Current Issues in the News and Simcities and other computer creations as well as our favorite poems, My Favorite Art 1400-1950, Our Favorite Movies, our favorite music Midi files, and poems Duane has written.
Here is quite a bit of information about the practice of forestry in the Appalachian hardwood regions of Kentucky and about timber growth and management of timberlands in the area. It includes links to other Internet forestry sites and a Forest Management Workshop Manual as well as a page on Forest Conservation in Kentucky.
This is information about the history of and use of computers as seen by Duane through computer consulting experiences since 1977. It includes a few computer programs you can download as well as descriptions of over 80 Computer Programs I have written.
---
Jump to the beginning of this document.
---
---
Last revised December 10, 2004.
URL: http://www.kyphilom.com/duane/welcome.html
Go to Top Menu..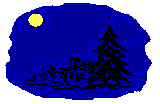 ..of Duane & Eva's Old Kentucky Home Page
Duane Bristow (oldky@kyphilom.com)
All contents copyright (C) 2004, Duane Bristow. All rights reserved.