---
| Previous Page| FORESTRY TOUR| Next Page|
---
Forest Conservation in Kentucky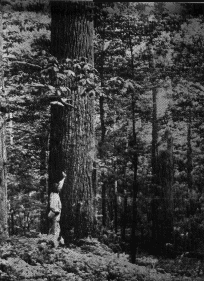 Some of the giant trees in Kentucky were not cut until after 1900.
.
Introduction - start reading here.

These are my comments on the forest situation in Kentucky.

History of Forestry in Kentucky - or how did we get here?

It's a tale of a magnificent resource destroyed through attrition.
The Present - or where are we now?

It's an opportunity which we may miss.
A Vision for What Could Be - or where do we want to go?

Our forests can provide much greater environmental and economic benefits.

Recommendations - or how do we get there?

It will take commitment to a widely accepted set of goals and actions by individuals, civic and environmental organizations, businesses, and government.

Comments and Questions - or what do you think? - see comments by others
---
There has been renewed interest in the news media and in the public in the last few years in the condition of Kentucky's forests. A good part of this interest has been caused by the increased demand for Kentucky's forest products due to depletion of old growth forest reserves in the western United States, increased demand for wood exports, and increased world wide consumption of wood products. This has led to more wood industries moving into the state and an increased fear of exploitation of Kentucky's forests.

Many people thought that there would be an effort toward state regulation of timber harvests in the 1996 session of the Kentucky General Assembly. That did not occur. Politically environmentalists are not strong in the present state government.

As usual in any controversial subject misinformation is rampant, positions become adversarial and locked in and people tend to use their emotions rather than their minds. I intend on this page to make a few comments about the situation based on my experiences as a farmer, forester, conservationist and lifelong Kentuckian for nearly half a century. I hope the comments on this page will be based on fact and not emotion. I expect to disagree with enough strongly held positions by all parties to make all sides disavow this page. I also hope to get email from interested people with comments and questions based on reason that I can post on this page.

The page will always be a work in progress. If you are interested in this subject, please check back occasionally to see what develops.
---
Just to stimulate interest here are a few statements with which I will disagree.
Clear cutting is always detrimental to forests.
Individual tree selection is the best method of timber harvest.
Loggers generally try to harvest the forests in such a way to ensure future harvests.
Activities on the Daniel Boone National Forest are very significant in determining the future of Kentucky's forests.
A tree should be planted for every tree harvested.
Trees should not be cut.
The key to forest conservation is environmental education of the public and particularly of forest landowners.
The state legislature will protect the forests.
Logging is as destructive as strip mining.
The timber buyer will usually give the landowner a fair deal.
People who spend a lot of time in the woods can look at the forest and know the value of the timber.
There just ain't as much timber as there used to be.
My timber ain't worth much.
My timber is extremely valuable.
State owned Forests are preserved by the State Park System.
Wild Fires are a natural occurrence and are necessary to regenerate the forest.
See the discussion of these below.
---
My experience and therefore my comments apply most specifically to the forests of Southeastern and South Central Kentucky and the corresponding parts of Northern Tennessee.
The Appalachian Forests of Kentucky and Tennessee are:
Diverse and beautiful

I once walked around the yard surrounding my log cabin on a mountainside in Whitley county Kentucky and counted over 50 different species of trees and shrubs. This was a very superficial count to kill time while waiting for supper. I have read that this area has the greatest bio diversity of any area of the world including the rain forests. I suspect that may be true. See Blanton Forest in Harlan County Kentucky, an old-growth forest, for some great pictures and descriptions of what our forests once were and can be.

Exploited and mismanaged

See "Logging the Virgin Forests of West Virginia" for a description of how the virgin forests of the entire Appalachian area were exploited about the turn of the 20th century. Many people's ideas of forest conditions and forest management are based on stories they have heard about what happened during that period of exploitation.

Potentially a much more valuable resource than at present

If properly managed to provide the maximum returns to our population in wood products, recreational and aesthetic resources, protection of watersheds, and preserved parks our forest resources can probably be as valuable economically to the state as agriculture and tourism. Certainly they have more value than coal, horses, or bourbon. I would like a few comments and a discussion of this statement by knowledgeable economists.
---
Much of this information comes from the booklet, "Forestry in Kentucky" published by the Kentucky Department of Natural Resources in 1966 and edited by Paul Camplin.
When Daniel Boone passed through Cumberland Gap nearly 200 years ago, he gazed upon a virgin empire of forestlands covering nearly 26 million acres of the land that one day would be christened the Commonwealth of Kentucky. An increasing population of settlers clearing forests for agriculture, indiscriminate cutting, uncontrolled forest fires, and a sawmilling industry that reached its peak in 1907 greatly diminished our forestlands. Now Kentucky has about 12.7 million acres of woodlands or 50% of the 26 million acres in Kentucky are forested.
One of the early travelers to the area later to be known as Kentucky was F. A. Michaux, an observing botanist, whose account stated, "... the soil is a tree vegetable humus, produced by the thick beds of leaves with which the earth is loaded each year, and which is speedily converted into mold by the humidity that reigns in these forests. But what really adds still more to the thickness of these successive beds of vegetable earth are the trunks of enormous trees, felled by time, with which the surface of the soil is bestrewed in every part, and which rapidly decay. "
"In more than a thousand leagues of the country," Michaux continued, "over which I have traveled at different epochs, in North America, I do not remember having seen one to compare with the latter (Kentucky) for vegetative strength of the forests."
Traditionally the Kentuckian has been a hard working farmer who saw wildlife as a source of food or sport or an enemy of his crops and trees as a competitor of agriculture. Until recently he gave little, if any, thought to conservation or management of woodlands. The early settler believed that the supply was inexhaustible and sufficient for human needs for all times to come.
John E. Barton, first State Forester of Kentucky (1912), recalled that he spent much time in trying to convince the people that forests should be protected. He believed that most of the people did not understand what he was trying to tell them and wondered why anyone should be concerned about the forests. He and others believed that the idea of protecting the forests for their own intrinsic values was a foreign concept to many people, especially to those in the forested country in the hills and up in the hollows.
Early laws to regulate wildfires or forest fires in the state of Kentucky date from 1831 but these laws were enacted to protect houses, fences and other property, not to protect the forest. In general fire in the mountains was considered desirable to kill varmits and to clean out undergrowth. Fires were allowed to burn themselves out over periods of days or even weeks. In 1877, L. H. DeFriese wrote concerning Bell and Harlan counties: "... there is a practice of yearly 'burning off the woods', which is doing almost irreparable injury to the forests in those parts of Black and Brush Mountains where the timbers are the finest. . . . In many places this practice has been going on so long that the old forest is rapidly dying out with age, and there is nothing coming on to take its place."
In 1884 Charles S. Sargent noted in his "Report on the Forests of North America" that in the census year of 1880 Kentucky burned 556,647 acres of forest. Only five other states burned greater areas that year and they all had much larger areas of forest.
Other than the passage of the Arbor Day statute in 1886, no laws concerning forest conservation were passed in Kentucky before 1906. In that year the Kentucky General Assembly created a State Board of Agriculture, Forestry, and Immigration. This is evidence that there then existed some public concern respecting forest conditions in the state. In fact, it was about this time that Kentucky, at the hub of the flourishing central hardwoods industry and enjoying the prosperity of expanding forest markets, was entering its all time peak of forest production. Kentuckians were also beginning to realize that their forest resources were not inexhaustible.
The first chapter of Thomas Crittenden Cherry's history of "Kentucky, the Pioneer State of the West" pictures the land which greeted the "intrepid" early settlers as little short of a lush and verdant paradise:
"This territory", he says in a description which would tempt modern economists to think in terms of trillion dollar economic values, "comprising over forty thousand square miles, shield- shaped, and sloping westward, made a changing scene of hills and mountains, rivers and valleys, forests and open stretches of fertile lands called 'barrens'. Numerous rivers, choked by fallen trees and fed by pure springs, wound in and out down the fertile valleys. Most of these streams rose in the mountains or highlands and after wandering in many directions poured their waters into the beautiful Ohio. Here and there the silence was broken by rippling shoals or roaring waterfalls which mingled their music with the discordant cries of wild animals and fowls and the war whoop of roving bands of savages....
"Beneath the everlasting hills lay vast beds of coal, iron ore, and pools of oil, and from its surface grew endless forests of finest timber, all waiting the coming of the white man and the needs of civilization....
"Dense forests crowded to the water's edge and reaching back in endless profusion--through valleys and uphill slopes--were matted many places with a tangled undergrowth of bushes, briars and vines that made difficult, a passage even for the wild animals. Giant forests of oak and tulip, beech and ash, sycamore and linden, cedar and pine, and many branches spread a canopy through which the rays of the sun could scarcely penetrate, producing twilight effects even at high noon."
This picturesque chapter has been read by most cultured Kentuckians not only because of its acknowledged position among the classics of literature, but because of its recognized realism by those who knew Kentucky. In its florid language, too, are past and present practical problems of a state whose surface of 25,982,720 acres was once covered by an estimated 24,320,000 acres of virgin forest. The considered statement has been made that no finer hardwood timber grew anywhere. The average volume of merchantable timber was probably greater than 5,000 board feet per acre and the total volume for the state has been estimated to have been 122 billion feet.
Kentucky is at the center of a nine state region, considered to be the best hardwood growing area in the northern hemisphere. Oak, beech, chestnut, maple, hickory, black cherry, black walnut and yellow poplar (tulip) trees made up more than eighty percent of the stand. The hardwood industrial plants that dot the Ohio Valley, as well as many others at nearby and far distant points, were founded upon, and still demand the select hardwood timber of this area in which Kentucky plays an important producer's role.
As early as 1845, white oak from the head of Green River was exported to France for the manufacture of wine casks. In 1870, Kentucky produced--with the limited tools and transportation of that day--some 217,074,000 board feet of lumber and ranked fifteenth in production (near the top in hardwoods alone) among the states of the Nation. Total production reached its peak in 1907 when 912,908,000 board feet were produced and full-time employment was provided for 30,000 workers.
Production dropped from the peak in 1907 to only 207,278,000 board feet in 1925 and in that year only 10,000 people were employed throughout the wood-using industries. In more recent years, and with every effort put forth, Kentucky was able to produce scarcely more than half a billion board feet to supply a nation at war. In recent times the typical hardwood sawlog cut has averaged only about 16 inches in diameter; the typical softwood about 12 to 14 inches. Much timber cut has been considerably smaller. It has become common practice for some small mills to cut five and six inch poles which produce only one or two, two-by-four pieces.
From 1907 to 1910 the State of Kentucky in cooperation with the U. S. Forest Service conducted the first inventory of the forest resources of Kentucky.
The survey begun in 1907 found destructive conditions and greatly reduced virility resulting from practices and neglects that had extended back for more than 100 years. The effects of fire, overcutting, and the high-grading of choice trees and species had resulted in a terrific reduction of the original stand. Extensive areas had been reduced to a near-cull condition where scrubs could be expected to reproduce only future scrubs.
The survey report of December, 1909 predicted that under continued similar treatment the original timber supply would be exhausted within fifteen years. It prescribed certain improved practices and protection measures under which the supply of desirable woods could be extended over varying periods of time. It held out the hope that through better management and protection a condition of balance could be restored in which new growth would ultimately assure a continuing adequate supply of wood.
Among other points, the report recommended the creation of a forest agency headed by a competent, technically trained and experienced forester, one politically free and legislatively empowered and financially supported to pursue a program designed to bring about complete protection and improved forest management practices. It conceived a program of information, education and demonstration, with supporting protection laws, an adequate staff and sufficient public forest lands in all parts of the state. This to permit demonstrations of what was meant by good practices and the benefits that might be expected from them.
A law embodying the highlights of these recommendations was presented to and passed by the General Assembly of 1912. John Earle Barton with a Master of Forestry degree from Yale University was hired as the first State Forester in 1912. He spent the next eight years promoting forest management and forest fire prevention and control throughout Kentucky, particulary in Eastern Kentucky where forest fire conditions were most severe.
Forestry became an issue in the 1919 campaign and much was made of the "waste of money on that forestry stuff". One candidate promised--if elected--to "fire the fire putter- outers". It was a step backward when the General Assembly of 1920 abolished the office of the Commissioner of Geology and Forestry and transferred the remaining funds and responsibilities to the Commissioner of Agriculture.
A public clamor finally arose and groups centering around the women's organizations began to demand an end to what they termed the "scandalous inaction in forest restoration and protection." The Assembly of 1924 promptly repealed the 1920 legislation, and restored the status of the forestry division under the Commissioner of Agriculture.
About this time there occurred an event of importance in its favorable influence on Forestry in Kentucky. It was the holding in Louisville, in November 1932, of the third session of the Central States Forestry Congress. Kentucky took a prominent part in this influential meeting. Other states participating included Ohio, Indiana, Illinois, Iowa, Tennessee, Missouri, and West Virginia--representing the entire central hardwood growing area.
The widely publicized purposes of this Congress were:
To establish in the public mind, the forestry problems of the region, i.e., marketing and utilization of timber products; the protection of existing forests from livestock grazing and fire; the reforestation of abandoned and submarginal agricultural lands; the importance of forests in the prevention of soil erosion, the silting of stream channels and in the reduction of flood potential; the development of outdoor recreation, including hunting and fishing; the advancement of forest research.
To exchange helpful ideas, experiences and methods between individuals and agencies.
To formulate progressive and consistent policies of forest reconstruction and stimulate public interest and concern in the development and wise use of the forest resources of the region.
The Kentucky Forestry Association, a state organization with much the same purposes, was established in 1931. It flourished for a time, then succumbed to the pressures of the national economic depression and to the long period of recovery. The pronouncements of the Central States Forestry Congress in the fall of 1932, the influence of the short-lived Kentucky Forestry Association, and the coming of the Civilian Conservation Corps, all had a profound effect on the advancement of forestry in Kentucky.
The disastrous fire season of the fall of 1952--the stage had been set for disaster by several preceding months of drought-- when 3,479 fires burned 1,306,000 acres in 22 days, left scars in Kentucky's forests which were many decades in healing. But it had some good effects also. It showed weaknesses in fire control organization to the general public as well as to the State Division of Forestry. It gave impetus to long needed modernization.
In 1964 an annual Governor's Conference on Forestry was inaugurated and continued for several years but eventually dropped as public interest in good forestry began to decline. More recently a conference on forestry in 1994 and a series of statewide public meetings conducted by the Kentucky Division of Forestry to discuss the issues in 1995 indicated and promoted an increased public awareness of forest related issues.
Public interest in forest conservation has waxed and waned over the years beginning with the period 1912 to 1919 when John Barton tried to promote the idea of caring for forestlands. After a decline in interest during the 1920's, forestry had a resurgence from the early 1930's through the 1960's. At that time environmental interests shifted to strip mining and air and water pollution. I guess many thought that the battle for forest conservation had been won, or they tired of fighting it, or other issues seemed more glamourous. At any rate political interest in and support for the State Forestry Division declined as did the activities of the organization. Although the programs already begun were continued, there were few new initiatives.
Resource depletion takes many forms. Some states lost forests through rapid exploitation. Kentucky still has about half her original forest area, but its productivity is low. Looking back to the beginning, the loss of forest productivity in Kentucky could probably best be described as a long process of attrition rather than the result of ruthless exploitation.
Depletion of the early timber treasure came about from five major causes. They were: (1) the repeated opening of "new ground" by hillside farmers whose clearings served them agriculturally for only a few years; (2) the perennial creaming of the best trees and species for more than a century; (3) the overcutting of mine leaseholds; (4) the ravages of fire; and (5) the insidious damage of unrestricted livestock grazing.
The clearing of new ground for agriculture, which continued unabated until the beginning of World War II, repeatedly thwarted nature's attempts to reforest by seeding and sprouting. During the war and until 1958 it seemed that such old fashioned farming methods had been abandoned. Virtually no new ground was cleared during that time. However, the business recession of 1958, which closed some factories in northern states, brought many Kentuckians back home. Also, the closing of many coal mines in the state at that time caused further loss of work for Kentuckians.
Many of the people returned to rural areas and took up farming. They cleared many new ground plots as had been done in the past, thereby continuing the land damaging practices of earlier generations of Kentuckians.
Local people and relatively small companies or individuals employing local capital, (rather than representing large amounts of absentee capital) have accounted for much of the lumbering operations. T.J. Asher who logged much of the upper Cumberland River valley, Jim Hatcher of Pikeville, and others like them were major operators who kept timber coming down the Cumberland, Big Sandy, and Kentucky Rivers at a steady pace for half a century. Wasioto, Pineville, Williamsburg, Burnside, Beattyville, Pikeville, Catlettsburg, and other like towns were lumbering or sawmill towns throughout the best part of two generations.
On the other hand absentee coal mining companies held large areas under leases which encouraged overcutting. The mineral leases gave lessees the right to use, for mining purposes, any trees on the surface up to 12 or 14 inches in diameter--usually measured at the stump. In cases where the surface owners had cut or sold the larger trees and the lessees exercised their rights to use the smaller trees, virtual clearcutting resulted. Leases were generally made for long periods, and cutting was repeated as often as trees grew to mine timber size and before they reached the diameter limit specified in the lease. Thus, many owners lost interest in their woods except for hunting or for the scanty browse it afforded to their cattle. Many such leases, known as "long form deeds," still exist.
The ravages of forest fires from the days of earliest settlements have plagued the commonwealth. Disastrous as were the great conflagrations of the drought years of 1930, 1938, 1952, and many others, the annual toll of countless little fires has increased. Indeed, there are few individual woodland tracts unblemished by fire. In some places the combination of annual "little" fires and grazing livestock has reduced woodland to brushland.
In early days there was little or no improved pasture in densely forested areas, and the settlers let their livestock forage in the woods. DeFriese and Sargent, in their reports of 1876 and 1884, mention grazing damage by hogs as a possible factor in the diminution of white oak reproduction. Only in 1950 was a uniform stock law passed to prohibit any person from permitting cattle owned or controlled by him from running at large. Even now, too many farmers do not fence livestock out of their woods even though the law requires them to restrict stock to their own farms.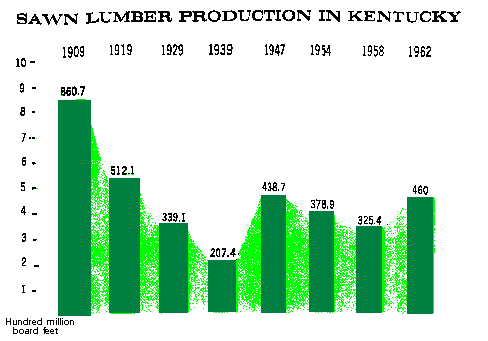 ---
Return to top of Page
---
The Kentucky forest survey of 1964 was the first intensified inventory ever conducted of Kentucky's forest resources and ranked the state as eighth in hardwood timber volume and among the top ten states in the volumes of oak, hickory, yellow poplar, and black walnut. The state ranked fourth in the production of hardwood logs. Since that time the U. S. Forest Service with the support and cooperation of the Kentucky State government has carried out statewide forest inventories about every twelve years.
To the casual eye, one patch of woodland looks very much like another. This is far from true, the arrangement of trees in a landscape is precise and follows laws of bewildering complexity. Every forest is the outcome of an intricate chain of events in climate, earth history, soil development and many other factors-- which have shaped the landscape and determined the kinds and numbers of trees growing there. Although several dozen species of trees may be "common" here and there throughout a region, their abundance within a particular forest varies widely. Certain species are found only in swamps, others primarily atop mountains where their roots grip rocks or maintain a precarious hold in the thin layer of soil; some are partial to the shaded north sides of hills, but there are others that thrive on sun- flooded slopes.
For instance, where a hemlock has grown once, a hemlock will grow again--and it will be accompanied by the community of other plants and animals unique to a hemlock forest. The replacement of hemlock by hemlock (after an area has been clean cut) does not naturally take place immediately, though. The forest must first pass through a fascinating sequence of stages--weeds, scrub, sun-enduring trees and so forth--each of which makes the land hospitable for the next wave of growth. Finally, a stage is reached beyond which there is little change, barring some calamity of insect plague or disease epidemic, fire, earth shift or man's interference. The "climax forest," as it is called perpetuates itself endlessly with only minor alterations, a bastion against encroachment by other kinds of trees that may flood it with their seeds year after year in vain.
Trees are only the most imposing members of the forest community of life. Associated with them--using them as support, growing in their shade, dependent on the high humidity that the canopy of leaves maintains--may be more than a thousand kind of shrubs, vines, herbs, ferns, mosses and toadstools in even a small woodland. In addition, the forest swarms with insects, mammals, birds, reptiles and amphibians. The numbers of all these members of the community are in delicate balance and tied to each other by invisible threads of food, living conditions and mutual cooperation. This multitude of life does not merely live in the forest--it is the forest as much as the trees themselves. So intricate is the tapestry of forest life that should a single vital thread somehow be broken, the entire pattern might unravel and untimately the forest itself be destroyed.

                        Kentucky                       Tennessee
Total acres (thousands)25,164                           26,420  
Forest                 12,349                           13,265  
Per cent                  49%                              50%  

Commercial and non-commercial forest
Total acres (thousands)12,700
1988 per cent             50%                                   
1952 forest            11,542                                   
1952 per cent             46%                                   

Each state is about 1/2 forested and the amount of forest is slowly
increasing in Kentucky.

Ownership
                        Acres (thousands)  %        Acres (thousands)  %
National forest               585.9       4.7          556.0         4.2
Other Federal                 252.9       2.0          471.4         3.6
State & local                  85.0       0.6          481.6         3.6
Forest Industry               204.5       1.7        1,143.9         8.6
Farmer                      1,452.4      11.8        3,848.9        29.0
Corporate                   1,018.6       8.2        1,181.4         8.9
Private individual          8,749.6      70.9        5,582.2        42.1
Totals                     12,349        99.9       13,265         100.0

State and Federally owned land is of minor significance overall although
with forest industry owned land it becomes more significant in Tennessee.

Forest Type             
                        Acres (thousands)           Acres (thousands) 
Pine species                  698.8                  1,397.8
Oak-Pine                      850.3                  1,591.5
Oak-hickory                 9,491.0                  9,476.5
Oak-gum                       181.4                    639.3
Elm-ash                       431.8                     43.0
Maple-beech-birch             695.5                    111.4
Not typed                                                5.7
Totals                     12,349                   13,265

Obviously both states are primarily hardwood producing states

Site class - growth potential in cubic feet per acre per year
                        Acres (thousands)  %        Acres (thousands)  %
greater than 165                0.0       0.0          594.8         4.5
120 - 165                   1,099.2       8.9        1,468.6        11.1
 85 - 120                   2,072.1      16.8        3,602.4        27.2
 50 -  85                   3,862.2      31.3        5,648.0        42.6
 20 -  49                   5,315.3      43.0        1,951.4        14.7
Totals                     12,349       100.0       13,265         100.1

In Kentucky potential timber production is around 65 cu. ft./acre/year 
while in Tennessee it is about 85 cu. ft./acre/year

Timber Stocking (percent)
                        Acres (thousands)  %        Acres (thousands)  %
greater than 130            2,054.6      16.6          128.0         1.0
100 - 130                   4,749.4      38.5        2,352.4        17.7
 60 - 100                   4,509.6      36.5        8,555.7        64.5
16.7-  60                   1,015.6       8.2        2,163.8        16.3
less than 16.7                 19.7       0.2           65.3         0.5
Totals                     12,349       100.0       13,265         100.0

The trees grow denser in Kentucky with more area fully stocked but
also with more area overstocked.  This shows a potential for improving
timber stands by thinning and removing lower quality trees.

Acres by size class in Kentucky
                        Acres (thousands) 
Sawtimber                   7,097.5     
Pole sized timber           3,207.9     
Seedlings and saplings      2,043.4     
Total                      12,349       

Dry weight of all live trees on timberland in Kentucky
growing stock material  63%
growing stock tops      21.5%
saplings                10%
cull trees               5.5%


Stand and Stock tables per acre in Kentucky
                (board foot volumes are International 1/4 inch rule)
Diameter class                # of trees       Volume         Volume per tree 
  inches                                   cu. ft.  bd ft.     cu. ft.  bd ft.
                                           ------- -------     ------- -------
1.0  - 2.9                     294                                            
3.0  - 4.9                      90                                            
5.0  - 6.9                      44             106                2.4       
7.0  - 8.9                      27             160                5.9        
9.0  -10.9                      17             187      61       11.0      10  
11.0 -12.9                      11             188     672       17.1      61
13.0 -14.9                       8             177     722       22        90   
15.0 -16.9                       5             149     652       30       130   
17.0 -18.9                       3             114     530       38       177   
19.0 -20.9                       1.4            73     351       52       251   
21.0 -28.9                       1.6           111     569       69       356   
29.0 and larger                  0.2            21     122      105       610
Totals                         502           1,289   3,681       10.89     78.5

Sapling 1.0-4.9                384
Pole    5.0-8.9                 71             266                3.7
Small sawtimber 9.0-18.9        44             818   2,639       18.6      60
Large sawtimber 19.0 and up      3.2           205   1,042       64       326
Totals                         502           1,289   3,681       10.89    78.5


Growth, removals, and mortality per acre in Kentucky
                cubic feet   board feet international 1/4 inch rule
Growth               31          123
Removals             13           47
Mortality             7.3         17.5

Statewide in Kentucky
Annual removals per year  581.4 million board feet.
Annual growth per year  1,517.5 million board feet.
Annual mortality per year 216.1 million board feet.

Removals from timberland by product  (in thousands)
                       Cubic feet  Board feet  - International 1/4 inch rule
Sawlogs                  79,139      353,388
Veneer                    1,356        6,097
Other products            1,883        6,663
Pulpwood                  7,794       24,837
Fuelwood                  2,018        3,419
Logging residue           5,637        5,961
Land use change          53,041      136,081
Reserve withdrawals       9,881       24,192
                        -------      -------
Totals                  160,749      560,638


Output of timber products by product  (in thousands)
                       Cubic feet  Board feet  - International 1/4 inch rule
Sawlogs                 116,638      823,544
Veneer                    1,944       13,733
Other products            4,684       33,289
Pulpwood                 14,329              
Fuelwood                 24,000
                        -------      -------
Totals                  161,595      870,566

Note: Output is greater than removals from timberland due to 
52,700 thousand cubic feet of roundwood from sources other than 
timberland such as fencerows, pastureland, and urban areas.   It 
also includes sources other than growing stock tree stems such 
as tree tops and limbs and trees less than 5.0 inches in 
diameter processed. 

Volume of sawtimber per acre by tree grade
            board feet - International 1/4 inch rule
Tree Grade   Kentucky    Tennessee
    1          470           420
    2          921           719
    3        1,345         1,928
    4          566           729
    5          379           242
Total        3,681         4,038

The average tree is about a 13 inch tree with a 12 foot grade 3 butt log.
There are the equivalent of about 47 of these per acre.


Comparing the 1988 Kentucky Forest Inventory to the last Forest Inventory of 1975 growing stock volume has increased 18%, timberland acreage has increased 3.7% and sawtimber volume has increased 32%. Select white oaks have increased 14% to become with yellow poplar one of the two most common species groups. The other most common species groups are other red oaks and hickory. Yellow poplar showed a 56% increase in volume since 1975. It and select white oaks each make up 12% of the total growing stock volume.

Sawtimber stands contain 72% of the growing stock volume where in 1975 this stand size held 62% of the volume.

Hardwood sawtimber volume quality of all size trees has remained relatively constant, with 28 percent of the hardwood volume being of log grade 2 or better quality at both occasions.

The volume of sawtimber trees that are 15 inches in diameter or larger, 27.8 billion board feet, is 61 percent of the total sawtimber volume. The quality of the hardwood sawtimber volume has declined slightly from 1975. In 1975, 39 percent of the volume was of log grade 2 or better quality, and in 1988, 35 percent is in log grade 2 or log grade 1.

Sawlog production had increased to over 800 million board feet by 1990 and by 1994 to 1995 was approaching the peak production figure of over 900 million board feet previously reached in 1907.

While most of Kentucky's forestry problems are common to other states and regions, there are some which are peculiar to the state, or at least shared by very few other states. The forest difficulties resulting from mineral leases are one example.

Ninety-three per cent (about 11 3/4 million acres) of the State's forest area is privately owned. There are over 243,000 individual ownerships; some 240 thousand ownerships contain 500 acres or less, of which 215 thousand have 100 acres or less. The few larger ownerships--those of 1000 acres or more--are largely owned by coal and lumber companies and are mostly in the mountain region. Only seven per cent of the forest land is publicly owned, principally in the Daniel Boone National Forest and Land Between the Lakes. Less than one per cent is state owned-- largely in state forests and parks.

A large number of timber land ownerships are currently lacking in good forest management practices, but indications are that these landowners are becoming more aware of the importance of a well managed forest.

The relatively dense populations living in heavily forested areas create "people problems." The educational effort will need to be increased in all phases of forestry and at best it will sometimes be unable to cope with the economic and social pressures caused by people.

Among the principal problems are the ownership pattern-- numerous small tracts of less than 500 acres--and the tenure of ownership. These two factors tend to impede the implementation of good forest management on approximately 90% of Kentucky's commercial forest land. While these small ownerships are presently supplying much of the resource being used by industry, better forest management is needed to maintain their productivity. Instead of each ownership making a frequent contribution of the resource, a great number serve as a source only once in a 40 to 50 year period. While this is somewhat similar to the cutting pattern in large ownerships, it presents a large number of the small ownerships with only a one time income of any significance. By applying (during cutting) and maintaining the principles of good forest management more income at more frequent intervals would be realized.

Frequent changes of possession and purposes of ownership contribute to the problem. Forest management principles installed by one owner may be liquidated by a subsequent owner prior to their fulfillment. Or because ownership is for purposes other than timber production or the ownership desires are believed to be incompatible with timber production, the area may become unavailable as a timber supply source.

There is a great need to bring Kentucky's timberlands to a position of producing increasing amounts of the fine, high quality hardwoods for which the state is well known. Although there is a time factor in producing larger timber, this can be greatly reduced by good management of the forests. The returns to the grower and the lumber industry from high quality hardwoods is much greater than that received from the growing of fiber wood or low quality saw timber.

The forest industry's future in Kentucky is just as bright as the resource picture and the trends of the national economy. Much of the hardwood lumber production is dependent on the furniture industry and on housing construction which requires the high quality resource. An increasing amount of the production is being channeled into the materials handling and packaging field. These uses--for pallets, blocking, fiber wood for pulp and charcoal wood--do not require the higher quality timber, but require much more resources to provide the same income as from the high quality timber. Since there is considerable "weeding" in the management of a forest, these increasing needs can be met in the course of growing high quality timber. There is a need for industry to become more flexible and geared to multiple products production in order to be in a position to reap the rewards from changing markets and a varied resource. With the continued predictions of mounting requirements for wood and wood products the industry's future is bright in the demand for wood products.

There are however, the problems of resource supply as well as the need for experienced workers in the forestry field. Advances in mechanization of machinery and the use of more and more mechanized equipment have lessened the effect of the employment problem for a short time. There is a growing need for skilled timber cutters, loggers, sawyers, management personnel, product graders, and salesmen, in order that the industry may keep pace with the demand for its products.

This direction of the intensified care and management of the resource, requiring the skills and training of the professional forester has suffered greatly through an insufficient number of foresters. Most of the work--because of the small ownerships-- must be performed by public agency foresters. The affluence of industry and recognition of the foresters' ability and value by industry is drawing many foresters to higher income situations. Kentucky's forestry future depends largely on the ability to secure personnel in numbers needed to guide resource development; schemes to unite the small acreage ownerships into full productivity; industry's continued growth toward mechanization and product flexibility; and through increased understanding of its complexity and importance to Kentucky economically, as well as to water resources and recreation potential, the full support of its citizenry and governmental bodies.

In the early 1900's the great lumbering industry of that time was in the "cut and move on" stage and was well established in the forests of Kentucky. The nation was literally moving on wood and the need for newer and better sources of supply was ever present and often pressing. Carelessness accompanied this urgency and as the timber was cut, areas were "fired" or burned off.

Not only were the woodlands cut clean, but all hopes of future timber crops (when thought of at all) were destroyed by these fires. There were a few far sighted individuals, however.

The average forest fire kills most trees up to 3-4 inches in diameter, on the area burned. These trees represent approximately 20 years of growth. In the case of up-slope burning, under severe conditions, almost every tree is killed, regardless of size or type. When the trees are burned and everything is killed, then the forest is slow to reestablish itself, because of the loss of these young seedlings, saplings, pole and sawtimber trees.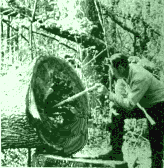 Another form of damage from fires that leaves lasting after effects is the damage to big trees that survive scorching flames. The scarred trunks, loss of leaves and injured roots result in slower growth and loss of merchantable value. The decay which is so prevalent today in hardwood stands is largely the result of forest fires. It has been estimated that the average fire-wounded, merchantable tree has lost 15 percent of its volume, through decay and up to 75 percent of its dollar value. To the states timber industry--the grower and the producer--this type of fire damage can mean near total loss of the affected timber.
Included in the destruction by fires is the leaf and other litter on the forest floor. This exposes the soil to erosive forces, allowing rain-storms to wear away the naked soil and wash silt and debris downhill, to clog the streams and damage fertile farmlands in the valleys. Once the litter and humus--or spongy layer of decaying matter--is destroyed, water flows more swiftly to the valleys to increase flood danger. Many brush and briar thickets in Kentucky are the end results of wildfire. These thickets are natures first step in the slow process of rebuilding the soil.
It is a well known fact that much of the furred and feathered population of some forests is destroyed each year by fires. Even when the adult creatures escape, the helpless young are destroyed. Among the heavy losses are the game birds, which have ground nesting habits.
Fish life too, suffers, when stream shade is removed, and insect and plant food is destroyed by silt and lye from wood ashes washed down from burned hillsides.
Quite frequently forest fires destroy felled timber and other forest products, building, crops, fences, homes, and are sometimes responsible for the loss of human lives.
In the aftermath of forest fires springs dry up, flowering shrubs and herbs disappear, and blackened waste and desolation are the results.
Causes of Forest Fires Most of the forest fires in Kentucky each year are started by our own people through carelessness or through incendiarism.
The following table shows the average percentages of 2,911 forest fires in Kentucky during 1965, from various causes:
PERCENTAGE OF FIRES FROM VARIOUS
CAUSES DURING 1965

Causes of Fires                         Percentage of Total

Debris Burning                          58.5
Smoking                                 13.6
Incendiarism                            13.5
Campfires                                4.5
Machine Use                              1.5
Lightning                                 .1
Miscellaneous                            8.3

Total                                  100.0

There are about 620 sawmills, and log and bolt mills in the state, but very few of these mill operators own forest land. The mill operators usually buy timber cutting rights from the timber owners. These mills provide the major market of the timber grown by the timber landowners. Many individuals in the sawmill industry are encouraging better timber management practices. A reliable source of timber is a major factor in the continued success of their business. In 1965 the sawmillers formed the first state trade association, Kentucky Wood Industries, Inc., to represent its members and the timber industry in Kentucky.

There are comparatively few secondary industries in the heavily forested counties. For the most part the primary lumber industry produces rough lumber, staves, bolts, or veneer logs which are shipped to other states--or at least to larger cities along the Ohio River--for further processing into finished products. There have been no pulp or fiber mills in the state in the recent past, except one in Western Kentucky built in the mid 1960s and considerable pulpwood and fiber wood is shipped to neighbor states. Markets for multiple products in most areas of the state are limited and utilization is somewhat inefficient. Often little money remains at the source of production and the advantages of practicing forestry are hard for many to see.

The conventional wisdom includes statements such as these.
Clear cutting is always detrimental to forests.

From the point of view of the tree this is true. Not so from people's point of view. If one will allow that timber harvest is necessary to provide all the products made from wood to which we have become accustomed, then one should realize that different harvest methods are indicated in different circumstances. For instance, clear cutting or one of its forms, seed tree or shelterwood cutting, are the most efficient methods of harvesting and reproducing even aged pine forests.

Individual tree selection is the best method of timber harvest.

This is probably true in the case of all aged hardwood forests but this method, if used in even aged pine forests, will eventually destroy the pine forest and replace it with low value scrub hardwoods.

Loggers generally try to harvest the forests in such a way to ensure future harvests.

Loggers generally try to harvest the forests in such a way as to ensure maximum financial return to the loggers in the shortest amount of time. There are a few exceptions to this though.

Activities on the Daniel Boone National Forest are very significant in determining the future of Kentucky's forests.

The National Forest is 4.7 percent of the forest land in Kentucky. Environmental activists concentrate on the DBNF because it is publically owned and therefore accountable to public pressure. If they were 100% successful in accomplishing their goals on the DBNF, over 95% of Kentucky's forests would be unaffected.

A tree should be planted for every tree harvested.

Trees are most efficiently reproduced from seeds and sprouts from previously existing trees. The trees already in the area have the genetic makeup most suitable for that area; certainly they are better adapted than seedlings brought in from another area. Planted seedlings are usually unable to compete with natural regeneration. Natural regeneration may result in as many as 10,000 seedlings per acre whereas only 15 to 50 mature trees per acre are likely to be harvested. Tree planting is most useful in converting unforested lands such as farm fields and strip mines to forest use.

Trees should not be cut.

Only if you will agree that houses should not be built, books should not be printed, corncobs should replace toilet paper, furniture should be glass and steel, and a whole host of other things.

The key to forest conservation is environmental education of the public and particularly of forest landowners.

Although environmental education is essential the key to forest conservation lies in economics.

The state legislature will protect the forests.

The forests will be protected, if at all, by the landowners, the public, and the long term interests of the forest industries. The state legislators will protect their jobs.

Logging is as destructive as strip mining.

Anyone who believes this has never seen a strip mine.

The timber buyer will usually give the landowner a fair deal.

The timber buyer will give the landowner the best deal that he is forced to give and no better. Why should he?

People who spend a lot of time in the woods can look at the forest and know the value of the timber.

To estimate the value of timber it is necessary to count, measure, and evaluate quality. To look and estimate is to guess.

There just ain't as much timber as there used to be.

Usually the person making this statement means within his memory. Unless he is over 70 or 80 years old, if he lives in Kentucky he is wrong because the amount of timber has been increasing since the 1930s.

My timber ain't worth much.

In my experience the person making this statement is usually wrong.

My timber is extremely valuable.

In my experience the person making this statement is usually wrong.

State owned forests are preserved by the State Park System.

State owned forests are managed in Kentucky by the Kentucky Division of Forestry. They are not preserved but are supposed to be harvested in ways to demonstrate best methods of forest management.

Wild Fires are a natural occurrence and are necessary to regenerate the forest.

Although this is true in some areas of the country, Kentucky forests generally developed in the absence of forest fires.
---
There are basically three aspects to the public's interest in forests; the environmental aspect, the aesthetic aspect, and the economic aspect. The environmental aspect is the public's legitimate desire to and right to know that the environment that is the birthright of all is not being destroyed or unreasonably damaged beyond repair. The aesthetic aspect is simply the desire of the public to see what appears to be unsullied nature. This, in my opinion, is not a right but simply a desire. Many confuse lack of beauty with environmental degradation. The economic aspect of forests applies primarily to the owner of that forestland in a capitalistic society. The public, through its government, has a legitimate interest in encouraging private actions which in their aggregate will have the most long term public benefits.

Environmental degradation most often occurs in the forests of Kentucky and Tennessee due to use of improper logging methods, particularly because of increased erosion due to improper logging road layout and skidding methods. Irreparable damage to the forest environment usually is caused by destruction of the land and soil. The cutting of trees cannot damage the environment unless doing so, in some way, causes soil damage or causes wildlife habitat destruction severe enough to cause extinction of a species. Cutting trees does, however, often cause aesthetic degradation. People do not like to look at a recently cut over forest.

The environmental effects of logging are usually temporary and relatively minor especially when compared to such wholesale destruction of the environment as that caused by strip mining or by commercial development. However, ignorant loggers combined with the steep slopes prevalent in the eastern parts of both states can cause widespread damage and regulation is necessary for this reason.

Wildfire is another cause of soil loss and erosion which can be enormous. Although it is true that many forests in some parts of the United States are fire climax forests and have developed under conditions of periodic burns, there is no evidence that this is true in the forests of Kentucky and Tennessee. A severe burn which can happen under conditions of high fuel buildup such as treetops left after a timber harvest, steep slopes, and extreme weather can destroy the entire organic layer of the topsoil leaving the land subject to severe erosion and damaging forever nature's ability to regenerate high quality forests. I understand that this is what happened to much of the forests of West Virginia after most of the timber in the whole state was cut in the early part of this century.

Most of the aesthetic and the economic problems associated with forest ownership arise from the fact that forests are long-term and people think in the short term. The 60 to 150 years that it may take for a forest to reach economic maturity and the even longer period needed for biological maturity encompass one to several human lifetimes. Most people have trouble planning for tomorrow. One to five years is considered long term planning and it seems only a sage can conceive of a future twenty years away.

John Q. Public on his daily commute to work may pass a corn field which is planted in the spring, grows through the summer, and is harvested in the fall and left laying bare through the winter. He thinks nothing of this. If, however, he passes a forest which has grown for 80 years and has reached economic maturity and then one day he comes along and that forest is being harvested he is aghast. Basically he will have to see evidence of that harvest during his daily commute for the next ten to fifteen years. The only difference in this and the corn field is the perspective imparted by the time scale.

The economic problem arises from the fact that high quality hardwoods usually do not reach their highest potential in terms of quality and volume and therefore value at less than 60 to 80 years of age. They probably will become merchantable, that is, salable, at 20 to 40 years old. Forests owned by private individuals such as farmers and investors are therefore not likely to survive beyond that age.

For Example:
TREE VALUE TABLE

                          RED OAK
---------------------------------------------------------
                        Tree    Annual          Plus 5%
        Average         Value   Value           Annual
Dbh       Age           TVCS    Increase %      Inflation
---------------------------------------------------------
14        40            3.79      8.3             13.3
15        44            4.92      7.3             12.3
16        47            6.22      6.3             11.3
17        51            7.68      6.0             11.0
18        55            9.44      5.4             10.4
19        59           11.48      4.9              9.9
20        63           13.71      4.5              9.5
21        67           16.25      4.1              9.1
22        71           19.13      3.5              8.5
23        76           22.11      3.1              8.1
24        80           25.27      2.7              7.7
25        85           28.44      2.5              7.5
26        90           31.91      2.0              7.0
27        95           35.11      2.2              7.2
28       100           39.20      1.8              6.8
29       105           43.20      1.5              6.5
30       111           46.95
---------------------------------------------------------

All figures based on 1 1/2 log tree, butt log grade 2, vigor class 1.

Price #1C Lumber 4/4

Red Oak        $155    Conversion cost $70/mbf for 16" tree

Another major cause of decline in economic value of Kentucky's forests is improper cutting practices, particularly high-grading. This is the practice of cutting too little. That means that the loggers may overcut trees of value but leave the low value and cull trees which prevents regeneration of higher value trees. This results in an unhealthy forest of limited numbers of species. A healthly diverse forest is most favorable to high populations of diverse species of wildlife as well as producing higher value wood products.
---
---
Return to top of Page
---
If average tree size was larger a much higher percentage of total volume would be in grades 1 and 2. Rather than 78 board feet our average tree size should be between 100 and 150 board feet.

Growth greatly exceeds harvest and mortality but growth is mostly in the pole and small sawtimber size classes and average board feet per acre of 3,681 should be up to 5,000 or 10,000 board feet.

Increased harvest is not justified until average volume per acre reaches these figures. After that harvest could be doubled or tripled.

We should have an average tree 16 inches in diameter 2, 16' logs in merchantable height with a butt log grade 2. With 46 of these per acre our average volume per acre would be increased to 6,000 - 8,000 board feet and our average value of timber per acre would go from about $150 to between $900 and $1,600 on the stump.

Our goal for harvesting should be between 20 and 30 trees per acre 20 inches in diameter or larger with grade 1 butt logs. This should yield between 6,000 and 10,000 board feet per acre with an average of 200 to 300 board feet per tree and a per acre stumpage value of at least $1,200.00 and possibly up to $2,000.

Although the emphasis here has been on production of wood products, policies designed to accomplish the above goals would, it can readily be seen, have beneficial effects on wildlife and on the aesthetics of woodland. Larger areas of bigger trees would be more conducive to forest recreation and would, of course, better protect watersheds.
---
Return to top of Page
---
As discussed above, public or government policies concerning forest land should center around the goals of protecting the forest environment and maximizing the long term public benefits from forests in terms of wood products, aesthetics, recreation, wildlife, and watershed protection.

Public policy to prevent environmental degradation can best be served by requiring loggers to have certain minimum training as regards the effects of their actions on the environment and how to minimize these and by requiring them to follow a set of "Best Management Practices" during harvesting. Another essential public need is the prevention of harm to forests from wildfire, forest insects and diseases and environmental factors such as air pollution. This can best be accomplished by public education efforts and by active monitoring of the situation and state actions in specific instances of fire control or control of outbreaks of new threats to the forests. Another side issue to this discussion is the duty of government to set aside unique natural areas in park systems but this paper is not concerned with these areas or these issues but rather with the overall management of forests as a whole, both publicly and privately owned.

Assuming that one of the major problems in hardwood management is the tendency to cut before economic maturity and that a goal of government should be to try to give landowners an economic alternative to early harvesting it is true that any added annual expense such as a property tax increase can have the opposite effect. Therefore I would tend toward endorsing a tax structure on forest ownership that was tied to timber harvests, more a severence tax than a property tax.

At present the overwhelming tendency to cut trees before economic maturity is the one thing most counter productive to maximizing forest production of wood products and also to a lesser extent of wildlife, recreation, and watershed protection. This situation is due to ownership patterns, economic needs of land owners and an inability of the financial infrastructure to deal adequately with the long term needs of forest production.

Small areas of forests owned by a great number of landowners changing ownership every few years tend to give forest management a very low priority. On a typical farm with less than 100 acres of forest, timber is seen as a resource to be harvested whenever cash is needed. There is usually no plan for long term forest management, even on ownerships up to several thousands of acres. Many times land is purchased with the idea and the necessity of a timber sale to help pay for the land. Many farmers have to sell timber to offset losses from other farming operations or to cover unexpected expenses. Financial institutions, attorneys, and real estate agents usually have no knowledge of and no way to evaluate long term timber production value and potential so financing is available only for value of present liquidation, not for future production.

Although public education efforts about long term forest management are necessary, the key to encouraging long term production must lie in economic efforts. Public forestry agencies argue that the most returns come from delaying harvest. Although that may be true, it is academic to an investor who can afford to purchase land only if he liquidates the timber or to a farmer who due to a poor crop year or low markets must raise cash to make the mortgage payment. In neither case is the banker likely to listen to pleas about the future value of growing timber.

There are a number of forest industries in Kentucky owned by wise men who have been in business for the better part of a century and have made their living by production of a very scarce commodity, high quality hardwoods. These men have seen a constant decrease in the supply of their raw materials due to this cutting pattern. As a result more wood industries which utilize small wood products are moving into the state. This leads to better markets for smaller timber and increased overcutting of these size classes. Proper timber management requires markets for small wood products to encourage thinning and removal of inferior trees as the stand matures. If the economic situation results in removal of all trees or crop trees in addition to inferior trees then the supply of large high quality sawtimber and veneer logs will continue to decline.

It would seem to me that the traditional Kentucky wood industry, environmental organizations and state government would all have a vested interest in proper forest management. I would also argue that the present strategy of approaching this problem by programs of public education are mostly whistling into the wind. The problem is largely economic.

I therefore propose that if these entities really want to approach this problem realistically they consider financing a non profit forest management organization with the goal of employing professional foresters to purchase timber from these landowners under a contract which would turn management of the timber over to the organization with timber sales determined by the organization and any excess returns over forest management and overhead expenses going back to the landowner.

This is the concept of a non-profit non-government organization underwritten and supported by a combination of government, forest industry, and conservation groups which would buy standing timber which is on the market on a contract which would leave the timber standing until foresters employed by the organization decided it had reached maturity and then sell with the organization recovering its investment plus a small profit and any additional revenues recovered being returned to the landowner.

So my overall recommendations can be summarized as a well planned and balanced program of logging regulation, public education, forest protection, and timber purchase and management. This requires the active cooperation of government, industry, and concerned public groups and closer monitoring of both the forest and the industry by government to provide statistics and information essential to evaluating progress toward achieving goals and making changes in plans as needed.
---
Return to top of Page
---



                    The Chapel
                 by Duane Bristow
                 November 8, 1962

The walls are mighty oaks and beeches towering to the sky,
The ceiling, the sky, is of purest blue.
The floor soft moss and rich dead leaf,
The light a sunbeam filtering through the deep green leaves above.
The Chapel of God!



---
Return to top of Page
---
---
Last revised November 12, 1996.
URL: http://www.webcom.com/duane/wood/state.html
Go to Top Menu..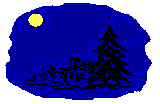 ..of Duane & Eva's Old Kentucky Home Page


Duane Bristow (oldky@webcom.com)

Please send comments.
All contents copyright (C) 1996, Duane Bristow. All rights reserved.