---
Duane & Eva's
Old Kentucky Home Page
on the Web
Christmas Questionnaire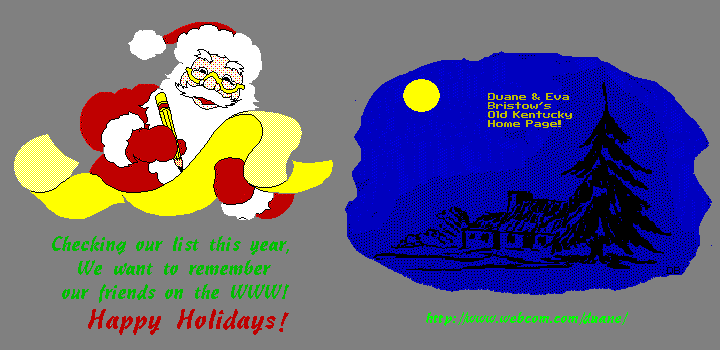 We have asked people this year:
Are you ready for Christmas?
Going to have a big Christmas?
Got your Christmas Shopping done?
The questions cause a look of fear.
and frustration
And a reply to the effect that there isn't enough time
and Christmas is coming too soon this year.
So we thought we'd just start a petition
to postpone Christmas for a month this year.

Let us know how you feel about this.

We also have some questions for you that are designed to help you think about the ways you celebrate Christmas. Answer the questions below. If you submit them to us we'll try to include them in statistics on this page about the answers given by our visitors. Even if you don't submit them to us, be sure to look over your answers for yourself and think about whether you wish any of the answers were different.
---
---
Comments received
I have always liked Christmas for a number of reasons. One, my parents being divorced, it meant I got to see my dad's side of the family and, two, to learn more of what Christmas is supposed to be celebrated for. The third reason, I have because I now have children of my own, whose father is not around. I take them to my father's side of family so they can also learn the meaning. And it helps me in taking the day off, without feeling guilty, to spend with my kids and cook for those I love and care for. Christmas is way too materialistic for me and my children. They are now old enough to know what this means, but they also learning that you can't always have what you want or even what you need. Postponing Christmas won't make things better...it will still be there with all of the materialistic problems. God Bless All!
---
Hi my name is Abby and I have the clap. I partly blame my STD on the commercialization of Christmas. I brought my neice to go see Santa at the mall, and he asked if I wanted to sit on his lap.....
---
After our church service my family along with several others go to the cemetary and light candles and sing songs in memory of our loved ones that have passed on. and DON'T postpone christmas. that's just uncalled for.
---
We love Xmas!
Carry on the tradition of collecting beautiful blown glass German Ornaments. Enjoy Xmas Eve Church service. We celebrate Xmas morning with the Grandchildren. We have a wonderful Xmas dinner and many nice things prepared for guests droping in any time.
We enjoy making many home made craft items for gifts. Holiday wreaths, garlands, swags, Santa's etc, It is fun and we never run out of craft ideas.
We enjoy decorating the outside with xmas lights. We try to make it more interesting each and every year. Most of all we are happy for family, and enjoy our family traditions.
Merry Xmas to each and Everyone!
---
We love Christmas. Its usually my favorite time of year! But this year (2001) is different, for obvious reasons of course, but also this year my husband lost his job in October and we had to move. It took all the money we had to rent a house for our family. I work, but barely make enough to keep us in a house!!! I don't know what to do this year. I would like the kids to at least have a few things at Christmas, and a good Christmas dinner. Does anyone have any information on where i might find some help?

Thank you, and God bless you at Christmas.
---
On Christmas day my nan and grandad come over to our house and we all have Christmas dinner and after that we all give each other presents. On boxing day my mum forces people to eat turkey that's left over and we have lots of family over to share the day.
---
We all get together at christmas and have a christmas dinner. We then give each other our presents when my nan and my cousins auntie and uncle come down from London. On christmas day we all get drunk and we always have a party on boxing day. My dad and his brothers and their sons go to the local pub.
---
Our Christmas tradition has been going on for as long as I can remember. I am 45 years old now.

I have three sisters and one brother who are all married and we all have children and grandchildren. Counting my parents, sisters, brother, and in- laws there are 12 people. Then counting my neices, nephews, and my children there are 16, plus 3 in-laws, and their children come to 17, for a total of 48 people who are all in my parents three bed room home (There are also boyfriends and girlfriends there also who I did not count). Crowded yes, but we love it.

We start a week before Christmas and go from house to house (between my sisters and my brothers) daily to have dinner and some activity (playing games, singing, dancing, etc.) On Christmas Eve, we rent a place, decorate, and invite other relatives and friends and have a potluck dinner, plays (related to christmas), sing, play games, and exchange gifts. Around 7 or 8pm we all go home (my family and I go to my parents because we live in Maryland and they live in Kentucky).

On Christmas Day, everyone comes to my parents house for dinner and prayer. This day is so important to us. We start planning our activities as early as September.
---
I've always loved Christmas! When my grandparents were living, we would sometimes spend Christmas Eve night with them and I would wake up at least twice during the night to the sound of voices as my cousins and their parents would arrive from far off places. My grandmother was born in Albany, KY traveling to Texas in a covered wagon when she was three (abt 1891). I remember on Christmas morning, one of her sisters would come up and as my "Nannie" opened the door they would call"Christmas Gift" to one another and dissolve in giggles, even though they were in their 60's at the time. I've always thought this season is espically the time of families and the time of magic. Believe it or not, when the weatherman on the local tv news on Christmas Eve tells of an unidentified object sighted on radar, I still catch my breath and believe again! We put up the outside lights around our home by Thanksgiving, so that we may turn them on after "supper" for the children (and the young at heart) We have Santa early Christmas morning and then when the rest of the family comes over, we open gifts. From then on,it's snack time until dinner is ready. I hope the magic never ends!
---
In my home we have something of Christmas all year in every room. My dining room is permanantly set as a Christmas dining room. I keep Christmas cassettes in my car, and listen to them all year, and we watch Christmas cartoons off and on all year. As you can see...I am a Christmas NUT...LoL, and I'm only 41, married, and a father of a 10 and 4 year old.
All I can say...I LOVE CHRISTMAS!!!
---
comments=no comment?????????????.thanks depressed.
---
It seems it is the time of the year that brings families the closest. You always remember a loved one who is no longer with you. It's usually the one time you can get the whole family together, without interfering with their schedules. My wish would be that everyone should show love, peace and kindness throughout the year.
---
We usually wake mom and dad up then wait a half hour in anticipation for them to come down. We open our gifts and then call all our relatives. We eat our Christmas lunch and afterwards we play a family game. This year I'm the only one left in the house with my mom and dad and it'll probably be more relaxed as in we wake up when we do, open gifts, call family, eat lunch and then go off and do our own thing.
---
I have four brothers, two sisters, one brother-in-law, two sisters-in-law, four nieces, three nephews, two parents (of course), and several friends to shop for, making a total of 25!!! And I'm only 17, so there are probably still more to come. However, I filled this questionaire from my parents' viewpoint, which explains why a 17-year-old would spend so much money (actually, I go in with a brother and a sister--we spend about $60 each on presents that way).
---
christmas is great if you delay it i will kill you.
i get lots of pressies
and my tree is fake

---
we decorate our tree with many things and we sing song about the tree and hope that santa gives us some gifts
---
Don't postpone Christmas one month, lengthen the season another month...I love Christmas! I think it should always be Christmas.
http://www.allwayschristmas.homestead.com
Our schools have stopped doing Christmas programs, and now do 'winter programs' in January or February instead.
---
We have a tradition of hanging out decorations and putting up the christmas tree on the 6th of december. This started in 1990 approx when my son was about 6. It is his birthday on the 6th Dec. To make his party special that year I put the decorations and tree up and from then on it was expected in the family that they would be put up on that day since then. That was 18 years ago and there are complaints if I suggest that we wait until nearer Christmas.
---
Christmas is when we remember the birth of Jesus. We attend a lot of Christmas services, and a community outreach service that our church organizes (I get to play a huge pipe organ for the service!). My three children love Christmas. I've been a single mom since 1985 and it has come to mean a lot to us to celebrate this time of year. When I was younger, my parents took me and my siblings to the dutch Sinterklaas celebration (early December). That was fun too, and I try to help my children learn more about their dutch roots.
---
It is sad to look back on Christmas's past and realize how many of our family are gone.

We had many beautiful gatherings with my parents when they were living and I choose to dwell on the beauty in that and not the empty feeling of missing them now at the holidays, but the thoughts do creep in!

I have so much to be thankful, my parents taught me a lot about love and caring and sharing.

My father had a beautiful Irish Tenor Voice and sang beautifully, that was a joy to hear. I am singing in a choir and are performing for a gathering tonight, and looking forward to the pleasure you see on others faces because of the joy we want to bring to them.

We have beautiful children and grandchildren and that is what warms my heart.

The size of the gifts that I give and receive are not important, only a token of my caring. Love does not have a price tag on it!

God is in my heart all year round!
Wishing you and yours wonderful holidays!
God bless you, Sally
---
Christmas is a wonderful time of year. I love the decorated houses and try to enjoy all the "before" preparations as well as the day. It's one month-long festivity.
---
I love this page as well as this questionnaire. I am 13 years old and absolutely LOVE holidays, especially Christmas. It is the 13th of November and I have finished all my Christmas shopping! Decorations will go up on the night of Thanksgiving.
Great page!
---
I personally love the lead up to Christmas.
The smells (sweet mince pies, turkey cooking etc)
The twinkling lights up and down the main town.
Putting up decorations, and seeing how cosy it makes your rooms look.
Snow gently falling (I know, I know, I live in make believe I guess)
I love buying presents and seeing them all wrapped up (I want to unwrap them and do it all again)
I love going out in the cold, then coming into the lovely glow of a warm fire.
BUT ...
After all that Christmas day is usually a let down, it rains, the heating breaks down (which happened to us last year) not sure who's family to go see first without upsetting the other.
I guess I would like to live in make believe, it makes me feel good.
---
Me and fiancee have a plain white bedsheet we use for a tree skirt, and every year we sign it.
---
Usually our family get together and have a dinner. The children pull names every year and bring gifts to the name they picked. Some of the adults pick names too and we exchange our gifts. My family is very religious, so there is no alcohol. Everybody usually tells a whole bunch of stories and pick at each other. I have so much fun when I get with them. I have had a sad Christmas, every year for the past two years. It's going that way for the third time. Ranging from Divorce to death in the family. So I am not looking forward to it for me, only for the children!!!!!
---
We began decorating our tree with only handmade or especially treasured ornaments about 3 years ago. The kids decorate the tree, & then I redistribute the decorations! We all go out in our woodlot in Oct. or Nov. to choose & mark our tree, then go out just before Christmas to cut it, bring it home & drink hot chocolate afterwards.

When the kids were very young, their favourite carol was what they called 'Grampy's Christmas song'..."Hark the HAROLD Angels Sing"!!

I bake a lot of family recipes, and it is very important to me to watch the B/W version of Alistair Simms'"A Christmas Carol", "It's a Wonderful Life" in B/W, and "How The Grinch Stole Christmas".
---
My mom started a Christmas tradition in my family that I really enjoy. During the Thanksgiving holiday we all write down any blessings we can think of in our lives on strips of paper. We scroll the paper, tie it with a ribbon, and hang them on the tree. On Christmas morning before we start unwrapping gifts (of which there are never many), we read what we have written on the scrolls. This tradition reminds us of how much we have and helps us feel the Spirit of Christmas more intensely.
---
We watch the parades. Eat a lot of food and throw away all the wrapping we've collected over the past two months
---
This year, I have to work on Christmas, so I'm not too happy about that. I have a 7 yrs old at home. My eldest at home is 19. Thank God, she can be there with my little one.

One of the traditions that I remember was a old one handed down by my mother, who has passed on. She had a standing rule, that on New Years Day, we each eat a piece of Apple which was dipped in honey. This was supposed to bring good health, and helped your fund throughout the year.

I don't recall this actually working, (smile) but I know I have tried to follow it for many years.
---
The Christmas stockings are gotten down after all other gifts are opened.
---
One of our most important things for christmas is the candlelight service at church.
---
we attend our church. members of our family are usually in a play at church. my daughter and I play the guitar, so we sing a lot. christmas morning our oldest son who is 21 years now gets up early, makes coffee sets it all up in the living room, wakes the rest of us up, then we all sit snuggled up in blankets while ryan(the oldest) reads the christmas story of Jesus birth from the Bible. this is special. then we open gifts. thank you, and merry christmas
---
From Australia:
Each person's present/s are not to cost more than $10.00. We usually have Christmas tea with Mum and Dad if we are in Albany, otherwise Hubby and I stay home and eat a little more that normal and vege for the day.
---
For us Christmas means celebration of JESUS CHRIST born. The man who has changed the world, the man who was born without luxury, candies, fruits, cakes, foods.. It must be born in humankind mind! The man which his message is love, peace. It should be remembered!
---
We go to my mother's house every Christmas Eve for a traditional slavic dinner and party with many friends and every christmas Morning we have breakfast at my husband's parents home.
---
Christmas is my favorite time of year. I love how everyone seems to be happier and more giving than any other time of year. There's always so much to do, but then that's part of the excitement for me. I enjoy watching people open up the gift I've given them - whether it's homemade banana bread or a store bought gift.

I still have my 9 year old convinced that Santa exists. And why shouldn't she believe?!?!? I still believe in the spirit of Santa and in giving to others. I know one day she'll find out that he isn't a real live person but the spirit of giving and caring for others. Until then, I enjoy the fun of playing Santa for her. This year she wants to give Santa a present. She wants to record her Christmas pagent and give him a copy of it.

So bring on the festivities!
---
We have 4 cut glass leaf shaped plates (small). The children put a pointed ice cream cone upside down on the plate and decorate with cake icing colored green and sprankles and hard candies at the base that look like presents under the tree. The leaf shaped plate has a round glass handle attached so that we can tie a red ribbon. These become the center pieces at the Christmas Meal. My children did this when they were small and now the grandchildren are doing the decorating.
---
This Christmas was my daughter's very first one.....There will never be one like it again.

Every year all the people at my mother's Christmas party sign the table clothe. We have been doing that for 5 years now.
---
I am the oldest son. As my children began to recognize Christmas as a special time for our family, both sets of grandparents began to arrive at our home for Christmas morning squeals and laughter. This tradition still holds and now we are the grandparents.

Our tradition includes:
All children are held prisoner until they can come 'enmasse to the tree. A large breakfast is served on Christmas morning. Usually this includes eggs, bacon, ham, sausage, jams and jellys, toast and biscuits, grits or hashbrowns and lots of juice, milk and coffee.

The evening of Christmas day, our whole family arrives. The two other brothers and their families. This is the best meal of all. Two kinds of soup, bean and vegetable are prepared according to recipes over a hundred years old. Turkey and ham sandwiches, dressing and gravy. Sweet potatoes, green beans, and new specials each year.

Judging by preparation alone, Christmas is for families.

Our family believes it is a birthday party to which the whole world is invited.

Yall come.
---
Christmas is the best time of the year - everyone needs to lighten up and enjoy the season.
---
My mother had an ugly little artificial tree - all sticks and krinckled green bits of paper as needles, about 18 inches high. Everyone groaned at its ugliness, but my mother was determined to make something beautiful of it.

And she always did.

Whether she decorated it with red bows or gold balls, pine cones or toys, it always came out looking particularly delightful - and it looked loved.

I remember that tree more than many of our more elegant decorations.
---
It's time to stop the commercialization of Christmas! Let's get back to the basics: Christ, Family, Friends; in that order. Let's realize that the gift from the heart is the best - regardless of the price tag. Love, peace, giving need to be more than just words in a song. Pray that this will be the case.
---
this year will be quite lean on the gift giving end.
i am a single parent, receiving no child support, and have just been notified that my wages have been garnished for unpaid medical bills. i have just recently had surgery for a malignant form of cancer to be removed from my face, and both my children suffer from severe, debilitating asthma.

at times it seems no matter what i do, it is not enough. i have not bought any gifts as of yet this year, and i may be only able to purchase the necessities for the kids.

basically, i am depressed, and just wanted someone to listen, and to tell it to. thanks for your time, and i really like your web page.

p.s.
can't we just postpone Christmas indefinitely?

Happy Holidays

Sgleparent.
---
Our Christmas celebrations are spread over a number of days due to distances / relatinships between our family.

We start celebrating on Christmas eve with my husband, his mother, his sister-in-law's mother and me having dinner at our place. I normally cook a three course meal with roast chicken and a yummy christmas pud!

We then join my husband's brother's family very early (6.30) on Christmas day for breakfast and unwrapping of presents (they live next door so it's not THAT bad!)

Then we all go to church for a morning service.

We take my mother in law to visit her sister early in the afternoon.

Then Christmas night, my husband and me have our own special dinner (we don't have any children yet ...).

Then on the next day we drive 200km south of Perth to where the rest of my family live.

We have a special breakfast with my mum & her husband and then join my sister, her husband & 2 little kids and my dad for lunch and the afternoon.

(Sometimes we stay overnight!)

We then drive 100km north and join up with a friend in another country town for a special dinner and then we drive back home!!!

and spend the next day or two recovering!!!

:)
---
Christmas is a great opportunity to strengthen familial and friendship bonds. My husband and I try to bring our families together, and we have created our own traditions, in order to set a good example for our children to follow as they get older.
---
I think it is absolutely pathetic that people want to postpone Christmas. That is so materialistic!! You can't postpone the birth of Christ!!! If people would focus more time on the real reason for Christmas then all the other stuff would not matter.
---
This will be our first Christmas as a married couple. We will spend time together, time with his family (his parents are divorced), time with my family, and time as one huge family.
---
Our favorite Christmas tradition is the Catholic Midnight Mass. The church is all decorated up, candles are lit and it is a truly precious time. The choir always sings the most beautiful songs.
---
The reason for not postponing Christmas is it will always need to be postponed because people will not be ready for it unless they have a deadline.

Christmas traditions-Have a nice dinner on Christmas eve that everybody contributes (i.e. brings something) open presents and then go to midnight service at church.
---
We BUY extra snack foods for Christmas? How about we BAKE more snack foods for Christmas? A very big part of Christmas in my family is all the baking - cookies, candies, desserts....yum, yum!

Good Point. I'll change the wording of that question. -- Duane
---
One tradition that our family has is to have a special Christmas Breakfast before we open our gifts. Another that is becoming a tradition is to go to the "Carols by Candlelight' in Victoria Square in downtown Christchurch on Christmas Eve before we attend Midnight Service. We also decorate the Christmas Tree as a family and I have one ornament that goes on the tree each year and has gone on for 56 years.
---
We always make sure that our families are together for the Holidays. I used to do Christmas dinner and Christmas Eve gatherings. Now my daughter has taken over that job. They still let me do Thanksgiving. I enjoy the holiday a bit more now that I don't have to prepare everything. We gather all the gifts up and load them into our van and run all the way to our daughters. It is such a blessing to be with loved ones at this special time of the year. Our son and his family follow us to her home as it is over an hour away. It is such fun, we don't mind the trip.
---
I'm getting married right before Christmas this year. Christmas has always been a special time of the year for me and it only seemed fitting to add to that with a wedding celebration. It will be our first Christmas together and hopefully the first of a great many.
---
I've become a scrooge about Christmas, feeling overpressured to spend lots of money so no one will be disappointed and then always let down on Christmas Morning. This has been a gradual disillusionment over the years. Spouse and Family however, are my saviour because they become joyful and are delighted with Christmas....love the shopping and the crowds and the (sigh) spending of lots of money. Also, we have a little Grandson now and his unbounded joy and wonder at Christmas have served to put my Scroogy feelings in their place.... I would rather we limit all Christmas Gifts to handmade ones (except for the little Children),,, and return to emphasizing the Birth of Christ. (Just one Grandmother's opinion)
---

Every Christmas even I get together with my husband's family
and we have a buffet with meats and cheeses from Hickory
Farms and other hors d'eouvres and tons of cookies.  We
invite all our friends.



---
I love Christmas and I don't care who knows. I love fruit cake too. First Christmas with my honey :)
---
Every year, we each place a present under the tree for my younger sister who died when I was small
---
I'd like to ask how long do people normally spend doing their Christmas shopping each year (in hours, if possible) and how far each person thinks they walk.

Also, if you had the choice between doing your Christmas shopping in the High Street and doing it on the internet, which would you choose?

How many people already do their Christmas shopping on the internet?

What is the thing you hate most about Christmas shopping?

Why do people leave their Christmas shopping to the last minute? Is this true? DO people leave it all until the day before?

I'd be grateful if as many people as possible could help me with this research.

Merry Christmas!

Sender: James Cook
---
Jump to our page of Christmas Links and Graphics
---
---
Last revised May 8, 2002.
URL: http://www.kyphilom.com/duane/xmasqst.html
Go to Top Menu..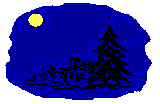 ..of Duane & Eva's Old Kentucky Home Page
Duane Bristow (oldky@kyphilom.com)
All contents copyright (C) 1995-2001, Duane Bristow. All rights reserved.